March 31st to April 1st marked my second year participating in Relay for Life at Endicott College. Last year, as a senior, I did it for the first time and it was one of the most emotional and powerful experiences I have ever had at Endicott. Relay for Life at Endicott runs from 5 p.m on Friday to 5 a.m on Saturday. Last year, I walked eight miles during the night and stayed until the end. This year, I walked my goal of 10 miles and stayed until the end.
The 12-hour Relay consisted of many events, but the Luminaria ceremony is where I cried the most. I sat down in front of the two Luminaria bags that I had made in memory of my mom and grandma and I cried. I had never visited my mother's grave since the day the put her in the ground nearly six years ago at the time. A friend came over and hugged me for a long time and we cried together. Last year, our team had t-shirts that said "Lighting the Way to a Cure" with the Endicott College LIGHThouse Leadership Society logo on it.
This year, almost all of my friends could not make Relay for Life. Since cancer has really affected my life, Relay for Life means a great deal to me. My mother died of oligodendroastrocytoma in 2010 after a seven-year battle where she suffered a stroke during the resection in 2003. My grandmother died of Waldenströms macroglobulinemia in 2011 after being diagnosed in 1997. My grandpa Cooper battled melanoma but died from a heart attack. My Great-uncle Bill died of lung cancer in 2010.
This year, I was the captain of the LIGHThouse Leadership Society team and I was able to raise $415. The funds that are raised through Relay for Life go directly toward "the American Cancer Society fund groundbreaking cancer research, critical patient care services, education and prevention initiatives, and so much more." As a team, LIGHThouse raised $1,341 and as a college, Endicott raised $45,383.
During the night, ECHO (Endicott College Harmonic Overtones), sang the song "Hallelujah," and one particular person singing near the end of the song made me cry. I don't tend to cry when people sing or when I watch sad movies, but I did this time. Her voice reminded me of when I was in Scotland at a cathedral where I heard a chorus sing and all the memories and feelings came flooding back.
At 11 p.m., the Luminaria ceremony began – the lights were turned off and the memorial bags people decorated were glowing atop the suspended track. We silently walked among them. We were among the fallen and among those who had survived. It is the chance to reflect on those who have died, to remember them, and honor them.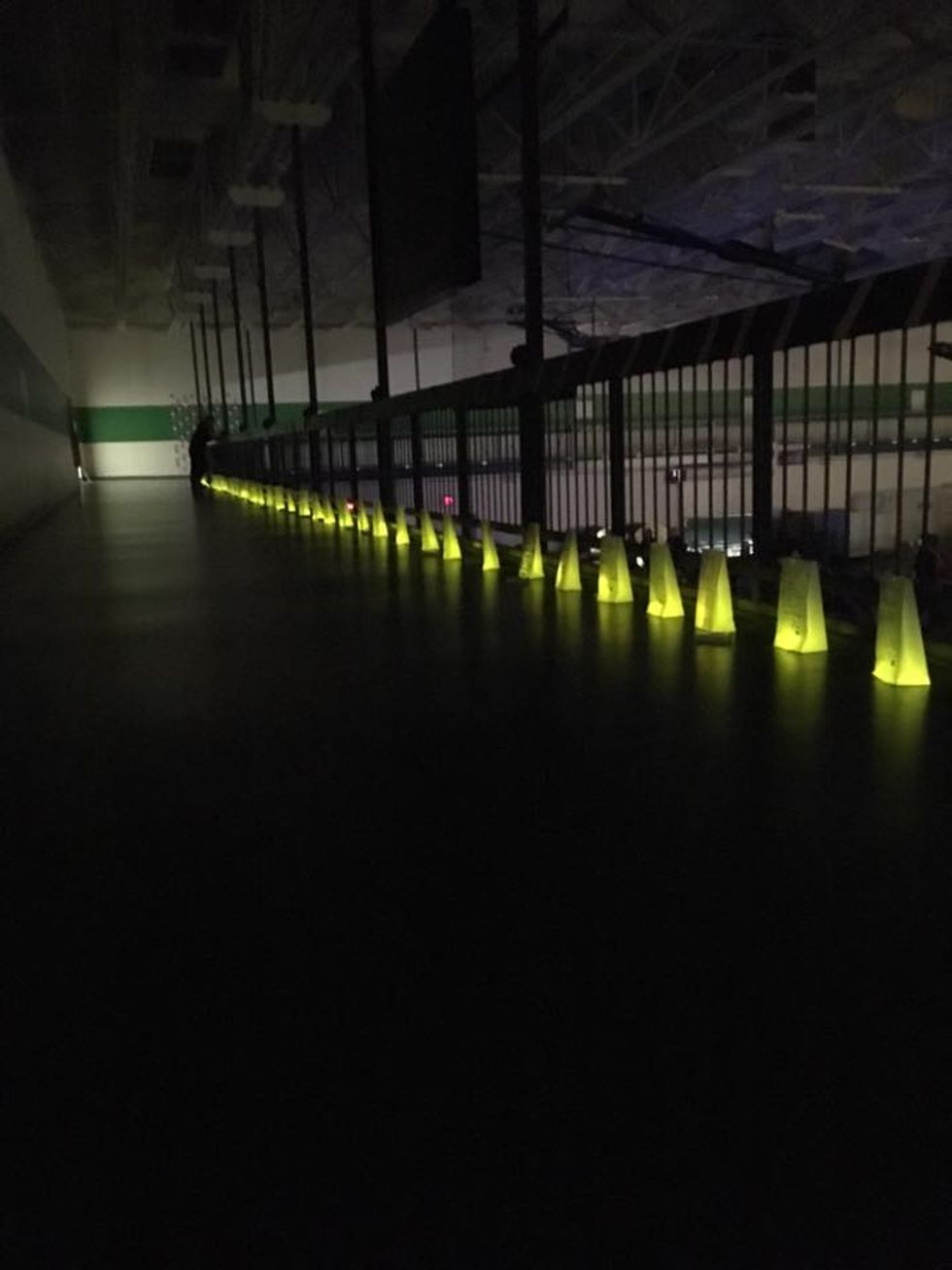 During Luminaria ceremony, I found my grandma's Luminaria bag and brought it to sit next to my mother's Luminaria bag and sat in front of them. I reflected on the past year I had without them, since the last Relay for Life. I graduated college, I got my first professional job, I started my Master of Education program, I made new friends, I lost close friends; my dog, who was my best friend died, and I got my first tattoo. In the past year, I think I found my passion of working with students in peer education. But, my mom and grandma have been gone for many years now. My mom has been dead for six and a half years and she was sick for seven years prior to that. Sometimes I feel like I never had a mom, that I just sprouted out of the ground or hatched from some egg. I don't remember much about her. I don't remember the sound of her voice, her favorite things, or her stories from her childhood.
During my reflection, two friends sat by me and just let me know they were there for me. I will be forever grateful for that. At this Relay for Life, I felt incredibly alone when I walked. I walked most of the 10 miles alone and reflected. During my last half-mile or so, someone I had never really spoken to started walking with me. We were the only two left on the track and he was on the Endicott Relay for Life committee. During that time, I didn't feel alone and as though I was carrying it all by myself. We walked slowly because of the massive blisters that had developed on the soles of my feet, but he helped me to keep going.
Because of him, I finished the 10 miles I wanted to do. I felt less isolated and as though the weight of those who I have lost was slightly lifted. I am very thankful to that person who walked with me. I am thankful to those who sat with me. I am thankful to everyone who planned the Relay event. I am thankful to those who donated and to those who participated. I walked for my mom, my grandma, my grandpa Cooper, my Great-uncle Bill, for anyone who has fought and died and for anyone who has fought and survived. Together, we are creating a world where there will be more birthdays.