If you haven't already heard, Green Party candidate Jill Stein is demanding a recount. Now you are probably wondering "who the heck is Jill Stein and what's the Green Party?" Dr. Jill Stein is a 66 year old environmentalist, physician, and politician from Illinois. She was the Green Party's candidate for president of the United States in the 2012 and 2016 elections. She also ran for Governor of Massachusetts in 2002 and 2010. After being a practicing physician for 25 years, Stein turned to politics. She became increasingly concerned with people's health and well being as it related to the environment around them. The Green Party is basically a more progressive version of the Democratic Party. Of course, it should also be included that the Green Party emphasizes grass roots action rather than money from big PACs or corporations. The party's core values include social justice, LGBT rights, and gender equality; mainly everything the Democrats stand for but with a greater emphasis on environmentalism.
Now, about three weeks after the election, Stein is demanding a recount of votes in Michigan, Pennsylvania, and Wisconsin. These were all states won by now President elect Donald J. Trump. In the event that these states are overturned in favor of Hillary Clinton, this would reverse the electoral vote count from 306-232 in favor of Trump to 278-260 in favor of Hillary. Stein has said that she needs about six million dollars in donations. The problem is she has reached that total and nothing has happened. The question to be raised becomes: is Stein trying to line the pockets of the Green Party for 2020, or does she really believe in the cause? On November 25, Stein filed a recount petition with the Wisconsin Election Commission. A recount was also filed by Rocky De La Fuente, who ran on the Reform Party ticket. The election board allows seven days for Trump's objection to the recount before it makes its decision. If a recount happens, all three million ballots would need to be recounted manually and completed by December 13. The deadline for a recount in Pennsylvania has passed, but can be brought to court and possibly overturned. In Michigan, the deadline is this Wednesday, November 30. Marc Elias, general counsel to the Clinton campaign, said that the campaign would join Stein's efforts in Wisconsin and possibly other states to ensure the fairness of the election. Donald Trump did denounce the efforts of both Stein and the Clinton campaign in the recount. Should Jill Stein even be taken seriously after this tweet?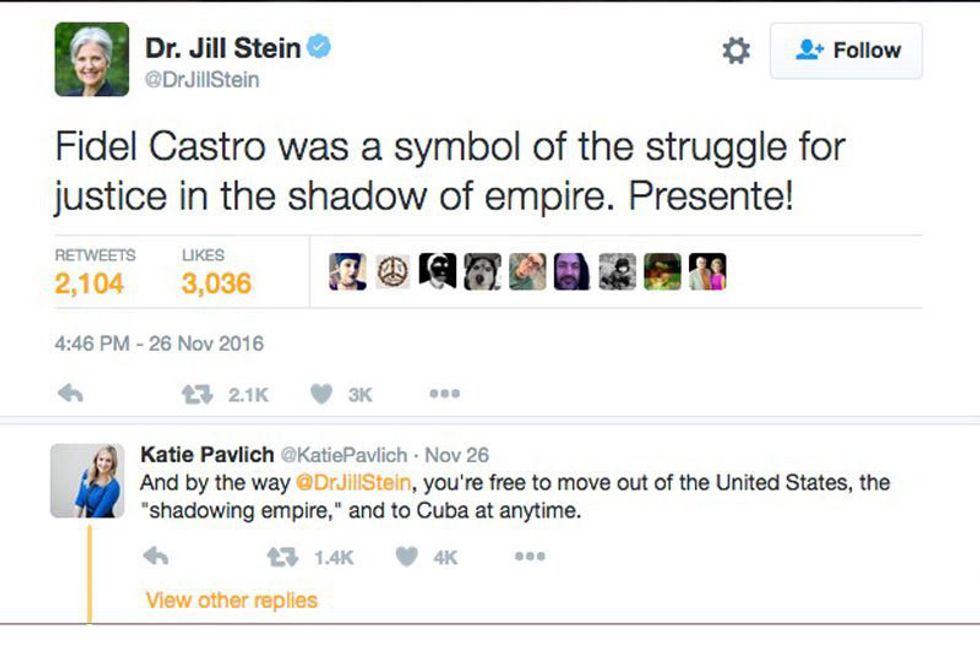 Of course, the left wing can get away with praising a brutal dictator who oppressed his people for years. The left wing lives in the past, which is why they are fearful that a Trump presidency might bring peaceful relations with Russia. OH, THE HORROR! PEACE WITH RUSSIA?!?! IT'S THE END OF THE WORLD AS WE KNOW IT! What's even more ridiculous is that they want a recount on grounds that Russia may have hacked into the voting machines in Wisconsin. Here's a lesson to both Hillary and Jill: votes are counted locally, not nationally. Basically, the state of Wisconsin would have to be colluding with Russia to get that done; with Scott Walker as Governor, I just don't see that happening.
Just when you thought this election was over, the drama is back at center stage. In my opinion, nothing will come out of this even if there is a recount. It's going to go the same way that the FBI investigation into Clinton's emails went. Nothing will be found and we will go on with business as usual. Maybe Democrats need to just get over the fact that they lost the election to the biggest dark horse in U.S. History. I do however find it funny that Hillary said Donald Trump would be "threatening our democracy" if he doesn't accept the results of the election, but her campaign is right on board with the recount. Just more double standards on the left side.