I feel I find myself explaining to people why Law and Order: SVU is the best. Not just in the whole Law and Order franchise, but maybe the best on TV. Everything from the cast to suspenseful plot lines to its theme song (you know you have memorized the opening narration and hum along), it's truly beautiful. That's why I wanted to take a minute to break down the best of the show:
1. Olivia Benson
The only one to have been there since day one isn't someone to be messed with. She's strong and tough in her own way, something that isn't shown much in the media. But she's also a human, she's kind with complex issues and emotions and we get to see that. We've been shown the ups, like her adopting a little boy and building relationships within the squad, and down, dealing with past trauma events she's experienced as a child and adult. She's dealt with a lot, but refuses to be "damaged." You're able to see yourself in her; she's bad ass. She's the one who really makes the show.
2. Raising Awareness of the Important Things
With SVU, many of the plot lines can be difficult to take in since it revolves around the victims of crime. They've talked about everything from sexual assault to all types of abuse to addiction to gang violence and more. They show how and who it affects in the aftermath of it all. Unlike others, SVU tends to do it in a more sensitive manner; they start conversations that are needed. The cast has also been in commercials for the "No More" campaign, which helps combat domestic violence and sexual assault. They know they have a role in leading these fights.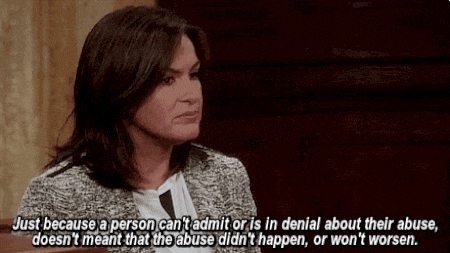 3. Relatively feel good endings.
I know you're probably think what does that mean? SVU has always has something bad going on? And yes, that's true, but we get more justice on the show than in real life. I've become numb and sad like many others because of the tragedies and injustice we see everyday, but SVU changes it up a bit. There are a few episodes where the criminals get off, but when you hear the jury say guilty to a rape, kidnapping or murder charge, there's something about it. It pans to the survivor's face, usually with tears in their eyes, and you can't help but have them too. Yeah, I know it's "just TV," but let's have a moment.

4. Elliot Stabler
I'm still *a little* upset with Stabler's leave five years ago, but I'm glad we still have the memories of him. I don't think people appreciated him as much as they should have. He was the protective family man, the big time feminist, and sensitive man that isn't shown much. Like Olivia, he's complex, he's normal. Him and Olivia were also the ultimate dream team, even when they fought. From their communication style that only they understood to truly having each others' back, they were partners against crime.

5. Thinking I Should Join the SVU
I'm sorry if you never wanted to work on the SVU team after watching. (It's honestly still my goal to work for the original SVU, Special Victims Department.) Not only do I want to hang out with the squad, but everything from searching for the suspects and solving cases sounds exciting. It also helps you remember the Miranda Rights and maybe even a better understanding of the law. It's also been shown that people who watch SVU understand how important consent is and actually seek it more. I'm sure their job isn't easy at all, but it looks so exciting. I feel pretty smart by the end of a binge too.