After days of hard work and days of hardcore stress from college, my sisters and I always watch at least a few YouTube videos of "The Late Late Show" with the notoriously funny James Corden as the host. Like Ellen DeGeneres, this guy never fails to make me laugh with his skits and his interactions. I think he is just so creative in his skits, that is what makes his show so refreshing to watch! I wish I can catch his actual show on television but his show comes on very late at night at 12:35 a.m., hence the title of his show. And for that reason, that is why my sisters and I watch YouTube videos of James Corden's "The Late Late Show."
If you enjoy watching "The Ellen Show," I recommend you also watch James Corden's "The Late Late Show" and here are the reasons why.
1. James Corden is super funny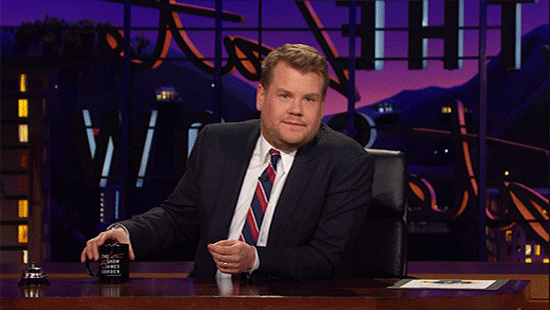 Giphy
On a scale from 1 to 10, James Corden's "The Late Late Show" definitely deserves a 9.5 out of 10! Every video with James Corden will always leave you laughing at the end. No matter what he does, no matter what he says, it's impossible not to laugh at him. His jokes will knock your socks off! That just only proves he is doing his job as a show host really well.
2. James Corden does parodies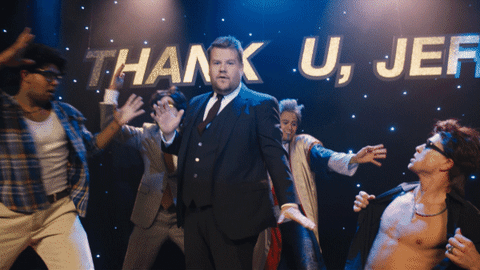 Giphy
If it's a famous song that is trending or if it's a classic well-known by many people, more likely, they will be parodied by James Corden. James Corden parodied many songs like hit classics such as Nat King Cole's "L-O-V-E" and popular songs today such as Ariana Grande's "Thank you, Next." You cannot help but enjoy these parodies because it's such a delight to watch. You will either smile or laugh hysterically.
3. James Corden comes up with OUTRAGEOUS games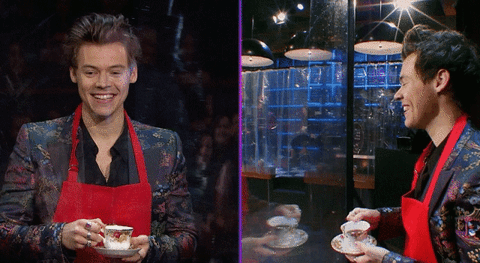 Giphy
Not only does he get creative with skits, but he also gets creative with his games. One game he has come up with is called "Tattoo Roulette," in which he and his guests have to pick a box that either says "Safe" or "Tattoo." Only one box out of the five boxes has "Tattoo," and if anyone has this box, they are to have the words "Late Late Show" tattooed on them and they are to get tattooed right there on the show. Pretty scary, huh? Another game he also comes up with is called "Flinch." In this game, the guests have to stand behind a glass screen while James Corden shoots fruits and vegetables at the glass screen. The only way to win is to NOT flinch from the fruits and vegetables being splattered at the glass screen, which is easy said than done.
4. James Corden has "Carpool Karaoke"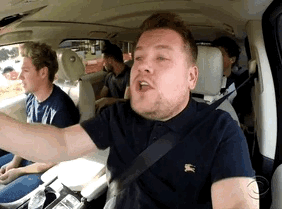 Giphy
Boy, not even Ellen DeGeneres or Jimmy Fallon has ever done a thing like this. Not only does James Corden converse with famous singers, but he takes them into his car and karaoke with them too. Numerous singers have sung along with James Corden like Madonna, Mariah Carey, Harry Styles, Miley Cyrus, and Ariana Grande, etc. He just makes me envy him even more because c'mon, who doesn't want to sing Harry Styles' songs with the singer himself?
5. James Corden created "Crosswalk The Musical"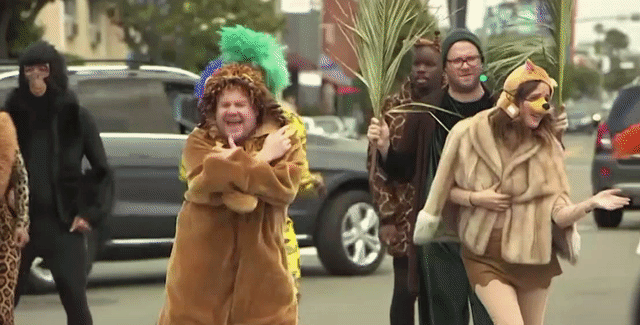 Giphy
Now, James Corden really brings the show on the road with this one. He literally has cast members and even guest celebrities participate in musicals outside on street crosswalks in front of cars that stop in front of traffic lights. He makes sure these musicals are GRAND. He does famous musicals that are well-known today such as "Phantom of the Opera," "Grease," "The Sound of Music," and even "The Greatest Showman." Pretty much he gives out free entertainment on sidewalks! How cool is that?
Given these reasons above, I really appreciate having an amazing show host like James Corden. I mean, he really makes your day, no matter how bad your day may be. He gives so much effort in filling us our lives with pure laughter. From there on, if I am ever going to be a guest in a talk show, it will be either be in "The Ellen Show" or in "The Late Late Show" with James Corden.