The technology industry may be one of the fastest-growing industries in the world. As the foundation for the digital economy, technology has permeated just about every facet of American society at some level. From progress in computer processing and data storage, to innovations in neural networks that form what we know as artificial intelligence, to advanced methods of market research through social networks, technology has developed many opportunities in the modern era. So, one can imagine that interest in the industry has been on a steady uprise as well.
Since the Great Recession in 2008, the US has seen a distinct rise in people seeking science, technology, engineering, and math (STEM) degrees. According to the National Center for Education Statistics and the American Statistical Association, the number of undergraduates majoring in statistics has nearly doubled in the past four years, shooting up by 95%. Computer science is still a leading STEM major, with 92% more degrees awarded over the same period.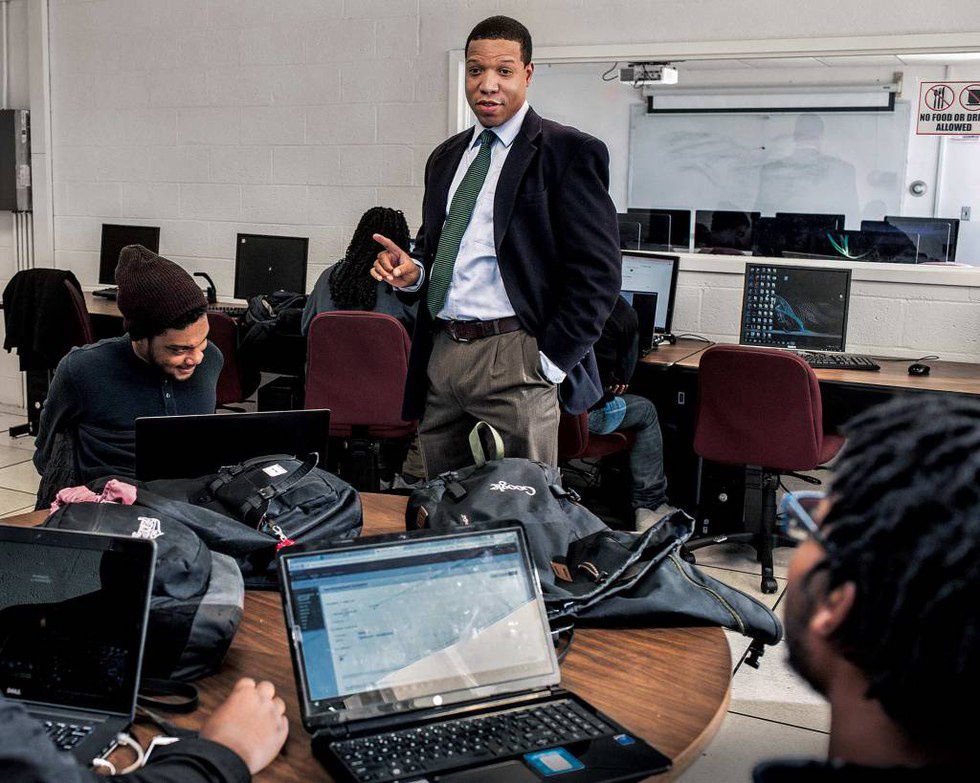 This rise in attraction to STEM career paths and research further allows the industry to expand. In fact, for some, expanding this STEM workforce is a top priority. According to the National Academy of Sciences, National Academy of Engineering, and the Institute of Medicine, STEM holds "high-quality, knowledge-intensive jobs... that lead to discovery and new technology," which further improves the U.S. economy and standard of living. After Congress passed the America COMPETES Act to increase funding for STEM education and research in 2007, it became clear that this has been a governmental pursuit as well.
However, the thriving tech industry appears to have masked its lack of diversity and lack of equal opportunities. There has been a deficiency of racial/ethnic minorities, especially Blacks and Hispanics/Latinos, and women since the inception of computer technology and the modern digital economy. In a report developed by the U.S. Equal Opportunity Employment Commission (EEOC), the high tech sector employed many more Caucasian and Asian American men than any other group. As well, the report showed that 80% of all Executives in the high tech sector are men; women make up only 20% of the Executives in the industry.
Amidst pressure from the public and media outlets about this lack of diversity, some of the largest tech firms released data on their workforces. Firms such as Facebook, Apple, Twitter, and eBay displayed an average of around 50% or more White US-based tech workers; Blacks and Latinos accounted for around 3-4%. In Santa Clara County, which holds arguably largest technology hub in the country known as "Silicon Valley," the Blacks and Latinos make up about 28% of the workforce; that is about seven times the proportion at many of the tech firms in the county.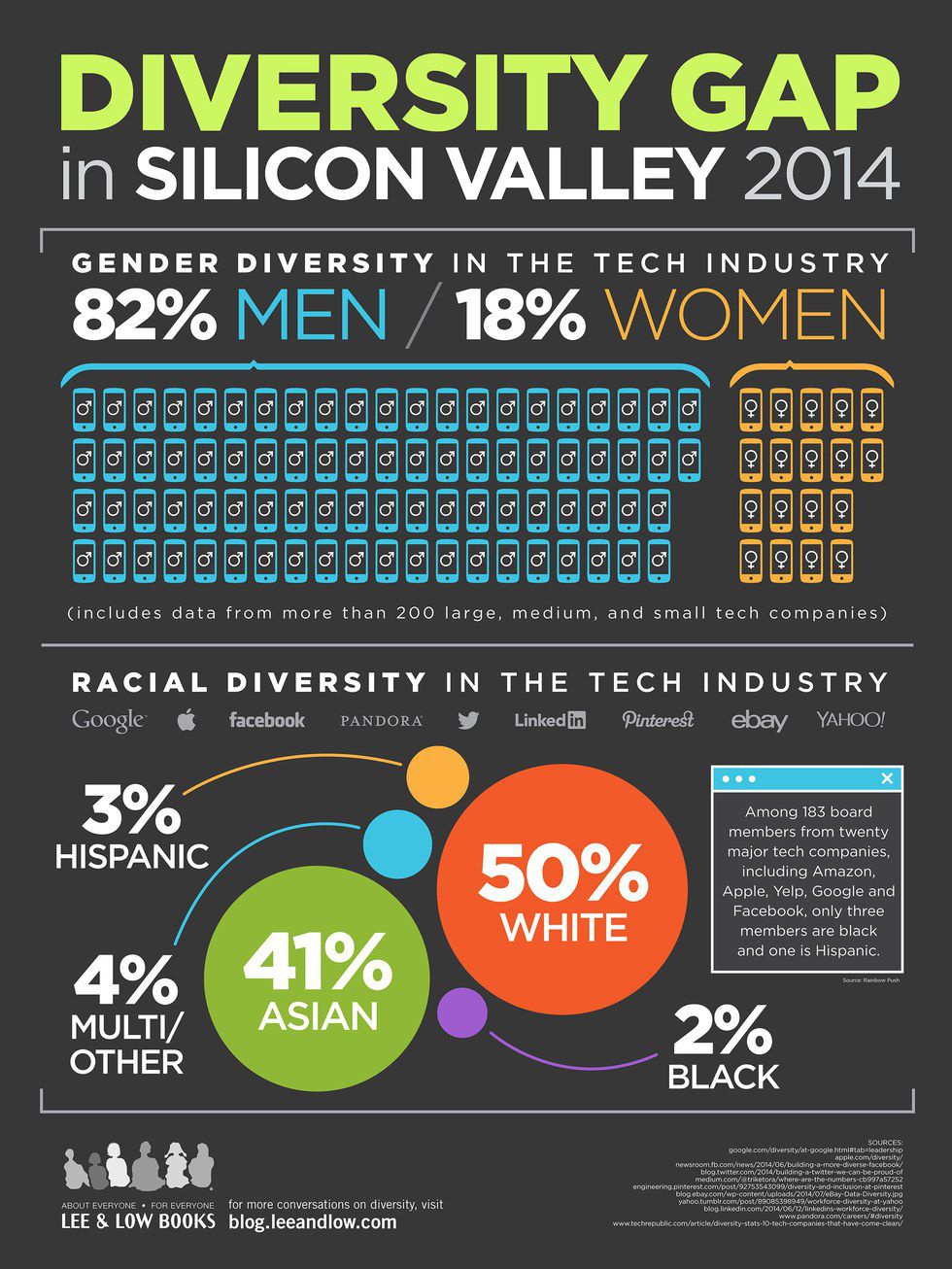 Yet, there is one key area of Silicon Valley's tech firms with plenty of opportunities for a more diverse workforce. Occasionally referred to as the "invisible workforce," Blacks, Latinos, and immigrants largely work as guards, maintenance, cooks, etc. for low wages at these firms. These contracted workers do not receive benefits or stock options for their contributions to keep the companies running, nor are they labeled on official employment rolls.
For computer and mathematical jobs, or engineering and architecture jobs, in the county, around 80-90% offer earned sick days; only around 40% of security and cleaning jobs offer even one sick day, including those who work overtime. As well, median wages for software developers could be over $60 per hour, while wages for janitors and security guards remains around just $12-13 per hour. With such wages, it is hard to believe that such low-paid employees can afford to pay rent and other expenses in Santa Clara County.
This dynamic further reflects the culture of Silicon Valley and a greater epidemic in the country as a whole. These top companies fail to generate suitable jobs with middle income wages for historically underrepresented demographics, while high tech jobs are basically inaccessible. As a result, Silicon Valley has developed a segmented economy, in which the wealthy and the poor share close communities and nothing else.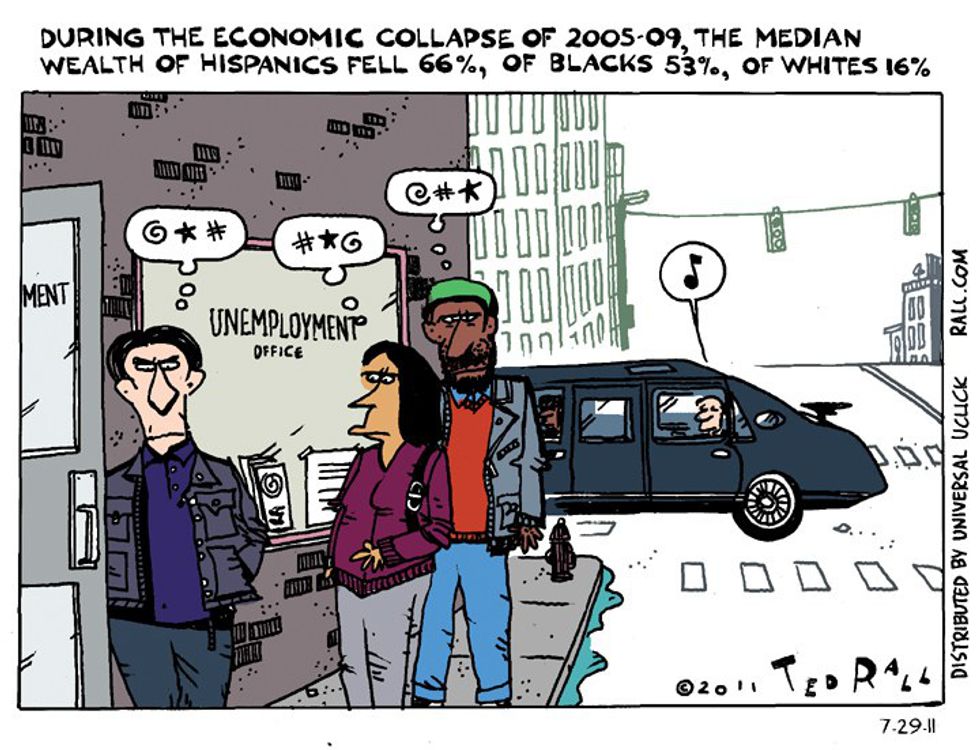 Economists Thomas Piketty, Emmanuel Saez, and Anthony Atkinson have conducted extensive data analysis and research to prove how extreme the disparity in wealth between the rich and the rest of the population has grown. In 2010, the richest 1% of the population had 34% of the accumulated wealth; the top 1% captured 95% of income growth from 2009 to 2012. So, it is easy to see how large technology firms may only be indirectly exacerbating this issue of wealth inequality by perpetuating racial disparities in their hiring processes.
However, to their credits, many tech firms have already been taking steps to make more progressive changes to their institutions. Google is already taking initiative to work with and visit Historically Black Colleges and Universities (HBCU) to encourage interest in STEM research and opportunities. The Google in Residence (GIR) program was created for this very reason, to actually teach students at HBCU's computer science classes. Intel is another big tech company with similar diversity goals, pledging to become the first high technology company to achieve "full representation" of women and underrepresented minorities by 2020.
In May 2015, the Congressional Black Caucus began CBC TECH 2020, an initiative to bring together the individuals in the tech, non-profit, education and public sectors to forms ideas about how to increase African American inclusion at all levels of the technology industry. As well, a group of 30 companies even recently made a pledge to the White House to commit to more inclusiveness and diversity at their firms.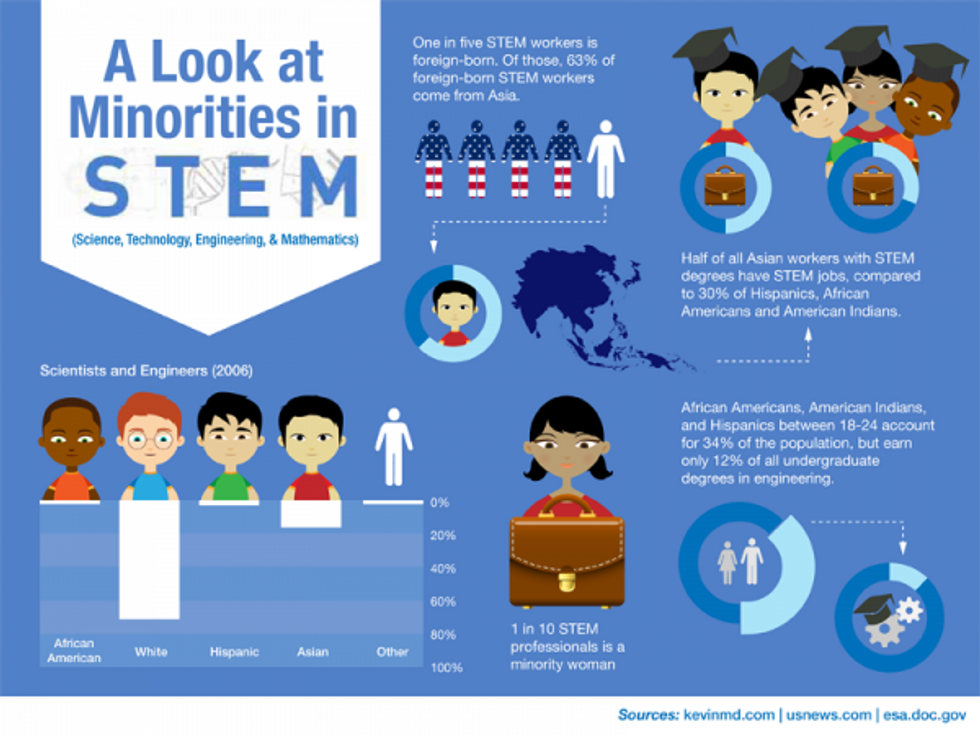 However, to further combat the issue of lacking racial diversity in the tech industry, I think that tech firms can do even more to raise awareness at an earlier stage of student development. One reason why minorities do not tend to pursue STEM majors as much is the lack of resources. For example, the time and skills necessary for many students to succeed in a STEM field is not as easily accessible for many minorities, especially those without proper guidance, funds, and training. As well, the accumulating debt for minorities in the millennial generation, and the generation as a whole, is often too high.
Popular massive open online courses such as Coursera, CodeAcademy, edX, and Udacity could do a better job of offering more free STEM-related courses and even potentially targeting minorities for their services. Tech companies could even work more with public schools, which likely hold the most minorities, to host tech events that specifically target diverse students as well. These ideas could help to encourage interest in STEM topics early on. To better reach various minority groups and dismantle racial disparities in the technology industry, more preliminary steps are necessary to change the current attitudes and expectations that many minorities have when it comes to opportunities available for them.