It's my favorite time of the year, Award season. Anyone who knows me knows I love award shows, especially the Oscars. The 89th Academy Awards will be going down the 26th of February, and I couldn't be more excited. I love the Oscars because it not only honors the people onscreen, but the people who work behind the scenes: the directors, writers, costume designer, and brings such a diverse group of people together to celebrate the movies.
The list of nominees this year is absolutely incredible from first time nominee Isabelle Huppert to twentieth time nominee Meryl Streep. Each category jam packed with amazing actors, and directors, and movie. I personally feel for the academy, I don't see how they can make a decision each movie is phenomenal, and I'm glad I was lucky enough to see most of the nominated movies. Since the Academy is always surprising us with a different winner then most of us expect, I made a prediction list so on Oscar night I can see how much I think like the Academy.
Best Picture: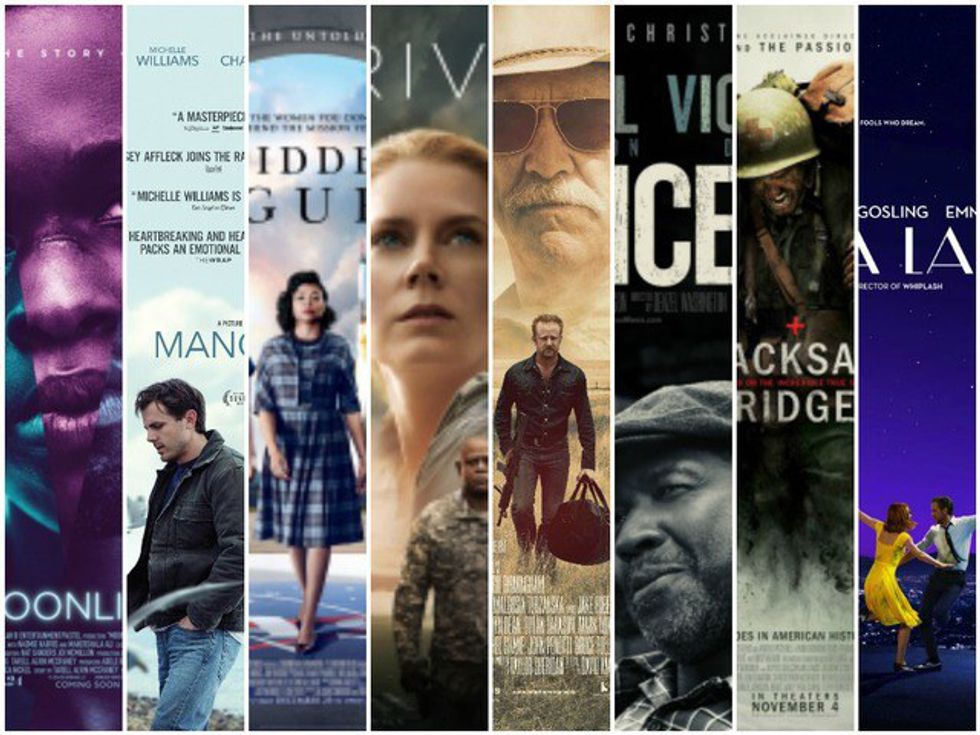 Moonlight
Manchester by the Sea
Hidden Figures
Arrival
Hell or High Water
Fences
Hacksaw Ridge
La La Land
Lion
I've seen about 5 of the 9 movies and each were great. They were some of the best films I've ever see. The winner of this category is really up in the air in my opinion. Moonlight surprised us all with winning Best Drama Motion Picture at the Golden Globes, While La La Land didn't surprise anyone with sweeping the Golden Globes. It wouldn't surprise me if Moonlight won, and It definitely wouldn't surprise me if La La land won I mean come on it got a record breaking 14 Nominations. I wouldn't count out any of the other nominees like Manchester by the Sea ( a gripping story about a man dealing with his brothers death and a responsibility he doesn't feel he's able to keep) or Fences (AMAZING) a play by August Wilson, or Arrival a complex film about language and how we interact through language.
The Win I Want: Manchester By The Sea

I fell in love with this movie, it was nothing less a phenomenal. This movie was so good the Acting, script, directing, everything. watching this I didn't feel as if I was watching movie, but peaking into someone's life. It was so emotional and raw i can saw i did not leave the movies with dry eyes. I left balling my eyes out, and if a movie can do that to me then its won my best picture.
The Probable Winner: La La Land or Moonlight

Best Actress: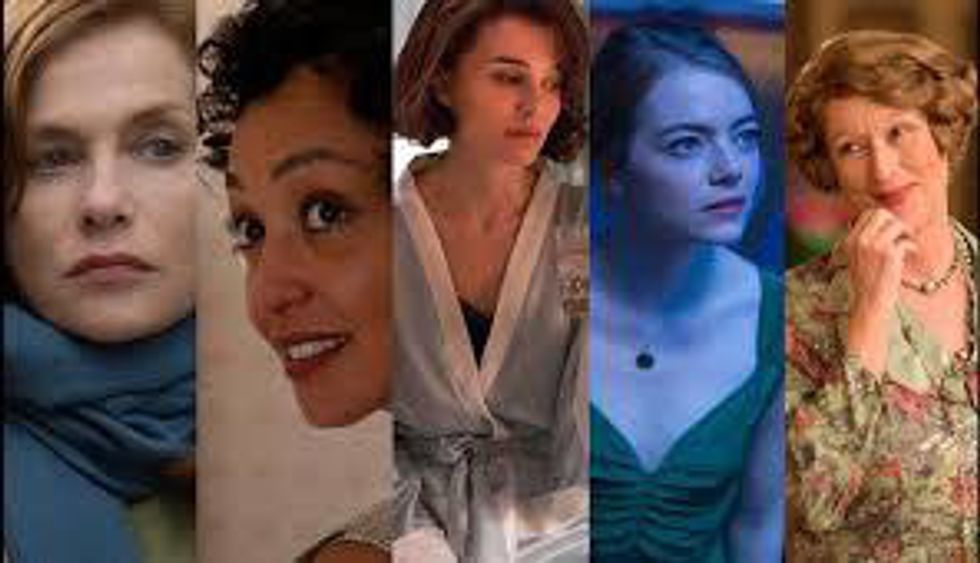 Nominees: Isabelle Huppert (Elle)

Ruth Negga ( Loving)
Natalie Portman ( Jackie)
Emma Stone ( La La Land)
Meryl Streep ( Florence Foster Jenkins)
Isabelle Huppert is fearless and unpredictable in Elle, Ruth Negga was stunning in her breakout role in Loving. Natalie Portman was Breath-taking as Jackie Kennedy, and Meryl makes us smile from ear-to-ear in Florence Foster Jenkins. But the winner in this category is Stone in La La Land , she makes us laugh, ans smile, and cry, and want to sing out loud. Emma Stone vibrant, fresh, and everything we could hope for in this role. I was upset though on how Amy Adams was snubbed in this category. She deserved be nominated for this role, and i hate to say it, but she deserved a spot over Streep. Now I love Meryl Streep I believe she is one of the best actors of this generation, but she doesn't have to be nominated every single year. Does she?
The Win I Want: I thought Portman was a shoo in for the Oscar win, but win she lost at the Golden Globes I knew Stone was probably going to walk away with the Oscar. I wanted Amy Adams to win,but unfortunately she wasn't nominated. One day Amy, one day.
The Probable Winner: Emma Stone ( La La Land) or Isabelle Huppert (Elle)
Emma Stones Oscar Winning Scene: Her singing the Audition Song (Fools Who Dream) was it for me, but I couldn't find it so here's another awesome scene by her.
Best Actor: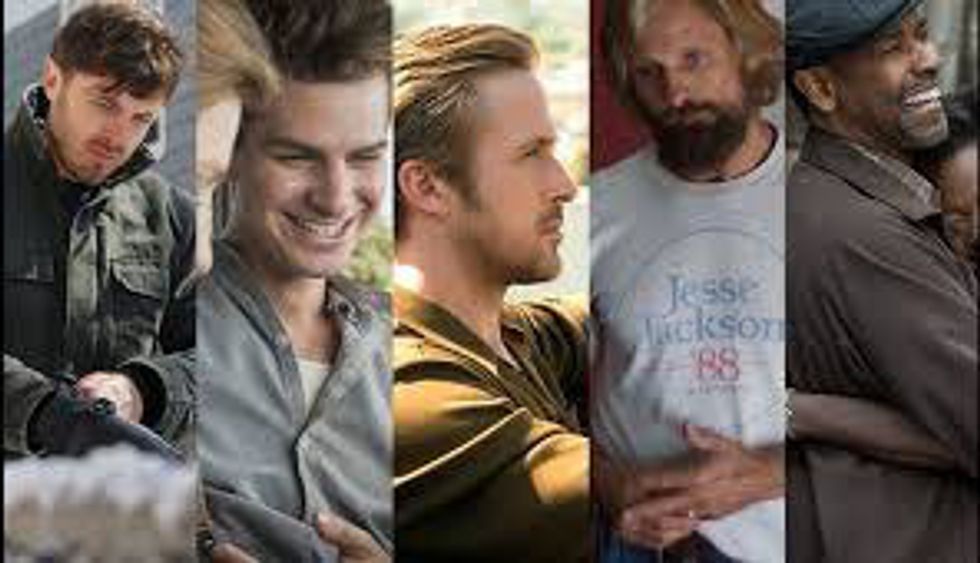 Nominees: Casey Affleck ( Manchester By The Sea)

Andrew Garfield ( Hacksaw Ridge)
Ryan Gosling ( La La Land)
Viggo Mortensen ( Captain Fantastic)
Denzel Washington ( Fences)
This is possibly my favorite category this year, because look at the nominees. We have Viggo Mortonsen who plays a strong yet struggling father raising 6 children in isolation, but his isolated home is soon shaken, it was a good performance, but he's not taking the win. Nor is Andrew Garfield unfortunately, who plays in Hacksaw Ridge (based on a true story) as Desmond Doss a WWII hero who didn't even fire a bullet. Ryan Gosling was a dreamy jazz pianist La La Land. He was wonderful and really easy to watch, and how awesome was it that he learned how to play piano just for this role. He's a pretty strong contender for winning, but ultimately I believe the Oscar is going to Denzel or Casey. I believe Affleck will win over Denzel, because his performance has surpassed anything I've ever seen. It was phenomenal, raw, and beautifully heartbreaking, I've never cried so much in a movie. Affleck won the Golden Globe and A BAFTA for his role as Lee Chandler, but Washington won The SAG which puts them neck and neck.
Then Win I Want: Casey Affleck
Who's Going Home with the Oscar: Casey Affleck (Manchester By the Sea). If by chance Affleck doesn't then Denzel Washington is my next guess.
Affleck's Oscar Winning Scenes:
Best Supporting Actress: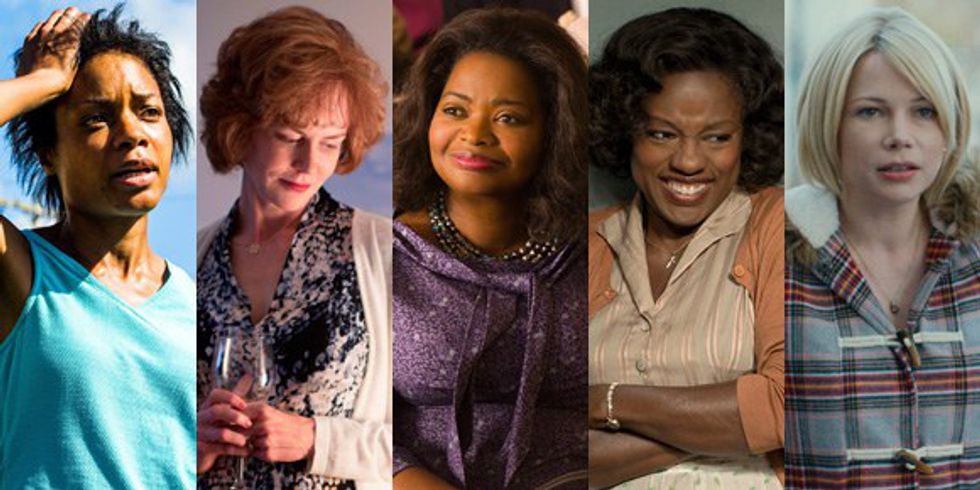 Naomie Harris (Moonlight)
Nicole Kidman (Lion)
Octavia Spencer (Hidden Figures)
Viola Davis (Fences)
Michelle Williams (Manchester by the Sea)
All of these women are amazing if they weren't they wouldn't be here. There's a lot to say about each of the women, but I'm just going to keep it short and sweet: MY GIRL VIOLA IS GOING TO WIN. She's fabulous, and so real and believable I know she's going to win. In second place though is Michelle William who probably had the least screen time as anyone else in this category, but stole every scene she was in.
The Win I Want: Viola Davis or Michelle Williams
Who's Going Home with the Oscar: Viola Davis (Fences)
Oscar Winning Scene:
Best Supporting Actor: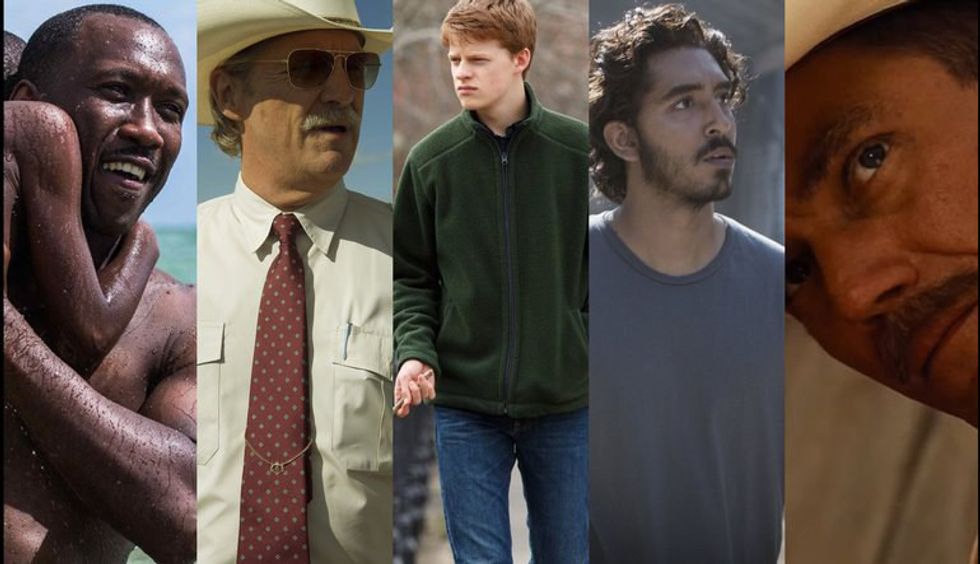 Mahershala Ali (Moonlight)
Jeff Bridges (Hell or High Water)
Lucas Hedges (Manchester by the Sea)
Dev Patel (Lion)
Michael Shannon (Nocturnal Animals)
I haven't seen most of the movies in this category, but I still think I have an idea who might be taking home the golden statuette. Dev Patel was wonderful in Lion all the recognition he's been receiving is definitely well deserved though I am confused about one thing, why is he in the supporting category? The movie is literally about him. New comer Lucas Hedges is also up for his first nomination for his role as Patrick in Manchester by the Sea. he brought a little sense of humor throughout the movie, he made us smile, and cry, and smile some more. I love Jeff Bridges and Michael Shannon, but I believe Mahershala Ali is going to win this year. Though the winner could be up in the air a different actor has won for this category at every other award show, so right now it could be anyone.
The Win I Want: Dev Patel or Lucas Bridges
Who's Going Home with The Oscar: Mahershala Ali (Moonlight)
Oscar Winning Scene:
Best Director: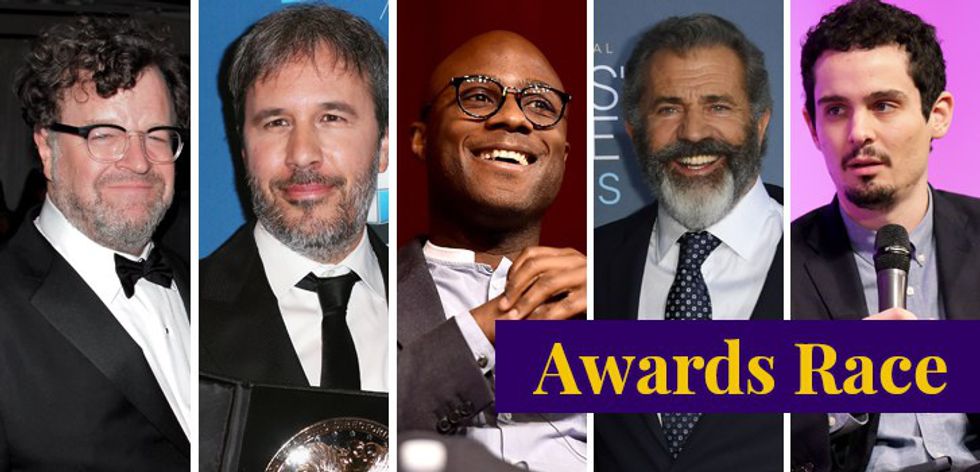 Kenneth Lonergan (Manchester by the Sea)
Denis Villeneuve (Arrival)
Barry Jenkins (Moonlight)
Mel Gibson (Hacksaw Ridge)
Damien Chazelle (La La Land)
I love all of them, and I would be ecstatic if any of them win. Kenneth Lonergan did an amazing job and deserves his first nomination in this category as well as Dennis Villeneuve. It's been 21 years since Mel Gibson won his first Oscar for Braveheart, and I know people think he's a little out there but he's a great director. Barry Jenkins will make Oscar history by being the first African-American winner of best director if he wins. Damien Chazelle was previously nominated in this category for whiplash, but this year is his lucky year, because he's a shoo in for this award.
The Win I Want: Kenneth Logernan or Damien Chazelle
Who's going home with the Oscar: Damien Chazelle (La La Land)
WRITING (ADAPTED SCREENPLAY)
Arrival
Fences
Hidden Figures
Lion
Moonlight
WRITING (ORIGINAL SCREENPLAY)
Hell or High Water
La La Land
The Lobster
Manchester by the Sea
20th Century Women
MUSIC (ORIGINAL SCORE)
Jackie
La La Land
Lion
Moonlight
Passengers
ORIGINAL SONG
"Audition (The Fools Who Dream)" from La La Land (this one is by far my favorite)
"Can't Stop The Feeling" from Trolls
"City of Stars" from La La Land
"The Empty Chair" from Jim: The James Foley Story
"How Far I'll Go" from Moana
CINEMATOGRAPHY
Arrival
La La Land
Lion
Moonlight
Silence
I'm really into Cinematography because it's what makes the movie. The different angles, what the camera chooses to blur, or make crystal clear adds an understanding and further enhances the film. La La Land was one of the most beautifully shot films I've ever seen. If It doesn't win then The Academy must have lost their minds.
This was such great year for movies, and I for one am excited to see what the 89th Oscars has in store for us and my predictions!