Thanks to the coronavirus (COVID-19), most of the United States has gone into its own version of quarantine. While no one loves this new way of life we're adjusting to, it's the necessity that will eventually help us fling open our front doors and frolic freely once again! Premature thinking? Maybe. But while we're in the midst of this quarantine time, we're chatting about the most terrifying, the funniest, and the weirdest thing that quarantine has forced us into recently.
We've all got the time to spare — why not?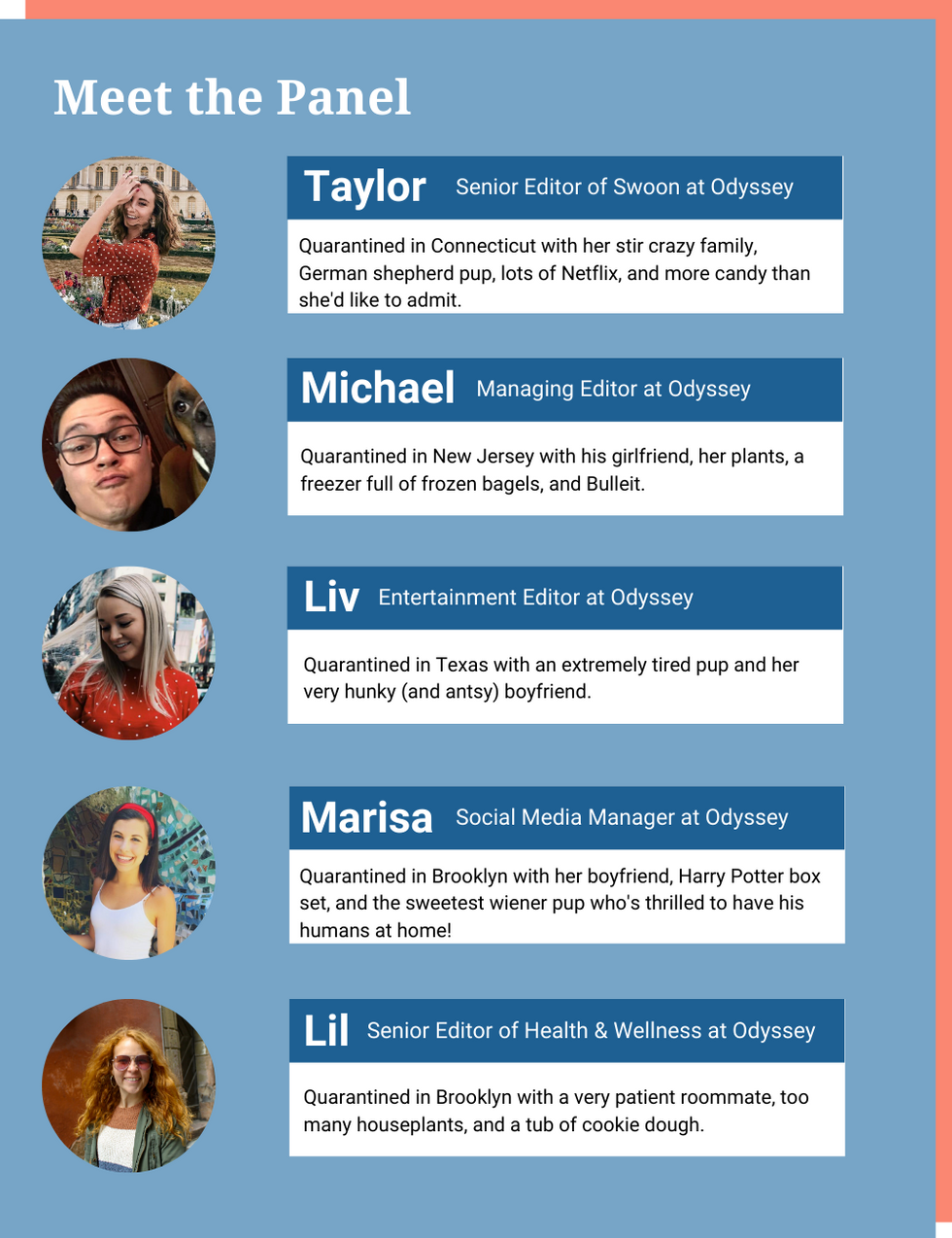 What is the scariest coronavirus thing you've read this week?
Taylor — I have been doing my best to avoid scary articles and simply stay up-to-date with whatever the CDC and WHO are posting, if I'm being completely honest. That said, this article about Vanessa Hudgens' Insta Live where she says people dying is inevitable is seriously disheartening and it's terrifying that people think this way.
Michael — The report from Imperial College FREAKED me out. But it's definitely worth reading to understand how serious this all is from such a distinguished source.
Liv — The extreme 40 percent increase of coronavirus cases overnight, from 6,500 to 9,400.
Marisa — An old roommate of mine reposted his sister's Facebook status, in which she outlined the day-by-day symptoms she experienced after contracting COVID-19. She is 28, has asthma, and is otherwise healthy, but her experience was horrible. She went through everything from unending migraines, to nausea, to extreme difficulty breathing. It was the first time I really heard how the virus can affect someone my age, and it proved I do NOT want to catch it, not just for the safety of other people, but even for myself.
Lil — I've read too many things from nurses this week and it's honestly terrifying to hear what's going on behind hospital doors. As soon as I log into Twitter, I'm sucked into a hole of coronavirus fear.
What has been the most reassuring thing you've read this week?
Taylor — If nothing else right now, we need each other and we need to be in this together. Despite how frustrating it may be to see people out and about not taking this seriously, this Currently article gave me hope.
Michael — That dogs cannot get the virus.
Liv — The 103-year-old Chinese woman who recovered from coronavirus.
Marisa — I recently read that life in China is much improved, with coronavirus rates declining, and residents' lives returning to relative normality.
Lil — Dogs can't get COVID-19 and that is helping me sleep at night.
What has been your favorite Odyssey article on the matter?
Taylor — This article about how people are decking their quarantined homes in Christmas lights to lift everyone's spirits is definitely a favorite of mine. I love the positivity and hope the idea brings and reading about it really lifts my spirits.
Michael — "Office' Superfans Are Writing Fake Scripts For The 'Coronavirus Episode' And We're SCREAMING." Self-plug here, sorry. But I was really happy about this one.
Liv — "Harvey Weinstein Has Coronavirus And It's The Only Decent Thing Coronavirus Has Done So Far." MHMM.
Marisa — "'Office' Superfans Are Writing Fake Scripts For The 'Coronavirus Episode' And We're SCREAMING."
In times like this, sometimes the best way to cope is just to laugh.
Lil — "19 Nick Miller Quotes To Use When Talking To Friends And Family About COVID-19" made me laugh way harder than it should have. But ya know, desperate times!
What has been the funniest meme you've seen this week?
Taylor — Ellen posted a gallery of some incredible memes the other day, all of which are worth swiping through.
Michael — The woman leaving her camera on while she goes to the bathroom during a work-from-home video call was very relatable.
Liv — This hilarious video about still working during coronavirus.
Marisa — This got me.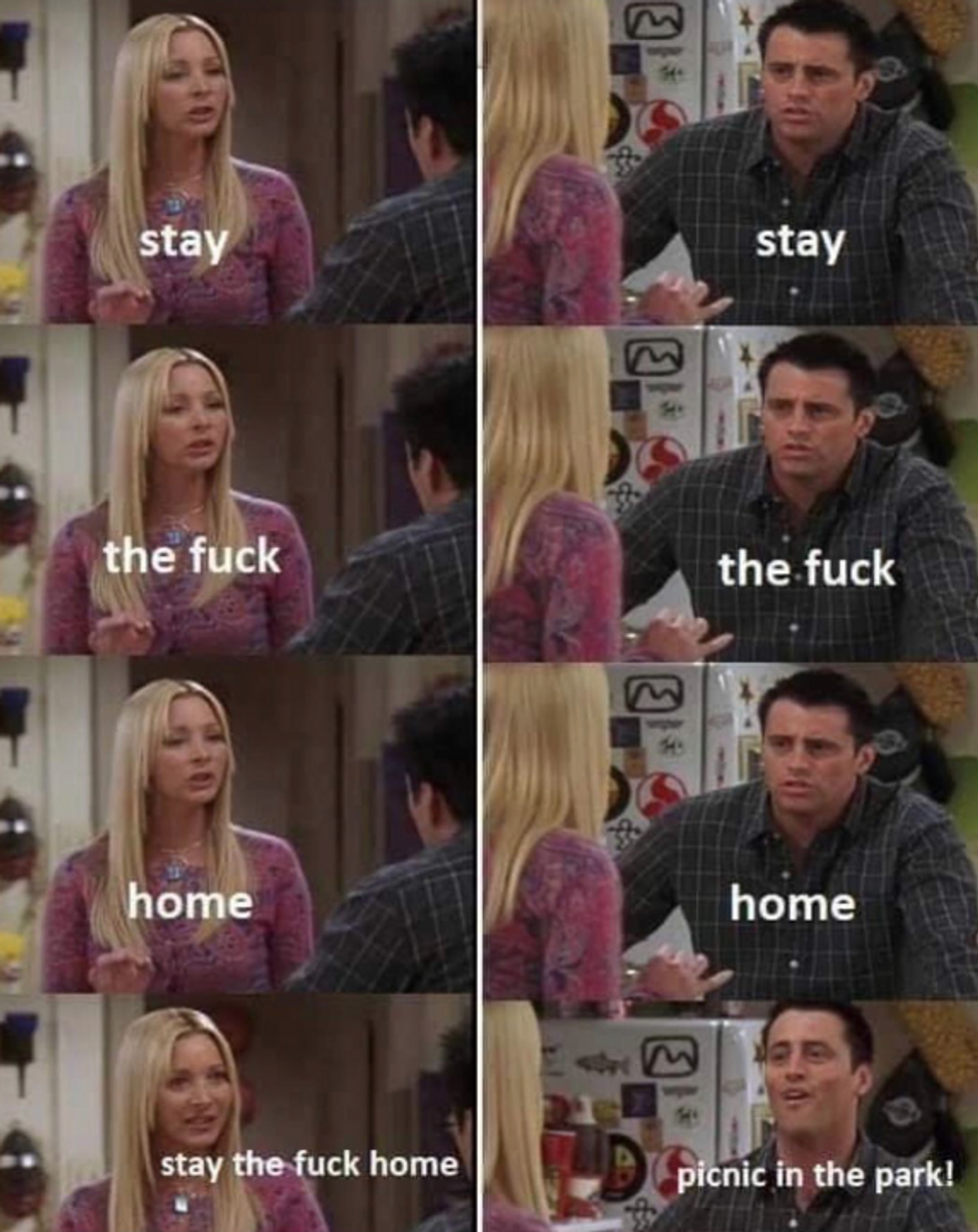 Lil — I found this tweet to be the highest quality of humor. Kids, man!
What has been the best internet dog you've seen this week?
Taylor — Hugo the Goldendoodle has been giving me life!
Michael — This bulldog tackling a trashcan.
Liv — This good boy.
Marisa — The absolutely sweetest little guy!
Lil — I need this good boy to be my coworker ASAP.
What have you been bingeing this week?

Taylor — I binged "The Stranger" on Netflix and it was really intense with so many twists. If you can get through the first episode when things are a little confusing, the storyline gets wild. Definitely a great distraction. I've also started "Little Fires Everywhere" and love it so far!
Michael — Watched both seasons of "Fleabag" and the show definitely lived up to the height.
Liv — I have been bingeing "Schitt's Creek" this week, definitely a good choice for some comic relief!
Marisa — I watched the first three episodes of "Little Fires Everywhere" and am counting down the days until the next episode comes out. I've also been making my way through "Dawson's Creek," one of my favorite comfort shows. And I started the Harry Potter series (for the thousandth time).
Lil — I finished season six of "Grace and Frankie." Oh, and I'm still watching "NCIS," because Gibbs ALWAYS gets the bad guy. I need some certainty in my life.
What's the best snack you've had this week?
Taylor — I simply haven't stopped eating since this quarantine started two weeks ago, but I'd have to say this week it was my mom's homemade crumb cake.
Michael — I made myself some Annie's Mac & Cheese and it hit the SPOT.
Liv — Air Fryer roasted bell peppers. YUM.
Marisa — I made chocolate chip cookies using a new recipe and they were so of the best I've ever had.
Lil — OK so I made chocolate chip cookies and froze most of the cookie dough. Now, whenever I want a cookie, I always get one that is fresh from the oven. Honestly, it's the smartest thing I've ever done.
What was the funniest thing to happen in your own quarantine this week?
Taylor — This week in quarantine everyone in my family will spontaneously break out in song — often during commercial breaks — and very few times have they actually been real songs, they're just made up. We're losing it, but it makes us laugh.
Michael — I poured myself a glass of apple juice in a fancy whiskey glass with a fancy whiskey ice cube at 9:30 a.m. to make it look like I was drinking whiskey and my girlfriend was like "ARE YOU REALLY DRINKING RIGHT NOW???" and it was a good laugh.
Liv — I've been trying to learn Tik Tok dances...
Marisa — My boyfriend (who I live with) has been hiding behind corners of the apartment and scaring me, and it makes us crack up every time. Apparently I am very easily startled.
Lil — My roommate and I are in this step competition and we take turns going on "walks" around our living room. It's getting absurd (and insanely competitive).
Want to be a part of this panel in future weeks? Want to host a panel of your own? Email lily.moe@theodysseyonline.com for more information!