"Black lives matter! Black lives matter!"
On July 9th, protestors of different ethnicities, ages and gender identities flooded one of New York's most iconic land marks, Times Square, in protest of the recent police-involved shootings of civilian citizens. Although an exact count is not available, around 300 Black Lives Matter (BLM) protesters were involved in a highly organized march to stop the traffic going in both directions down Broadway, in Manhattan. From Broadway, the group converged on Times Square, completely stopping traffic and capturing the eyes of visiting tourists from around our nation and the world.
"What do we want? Justice. When do we want it? Now. If we don't get it? Shut. It. Down."
I was just stepping out of a cab in front of my hotel on Broadway around 8pm when my head was turned by the shear mass of the group approaching. With no hesitation, my aunt and I joined their chants and, eventually, the crowd. As we walked down Broadway, passing taxis stranded in the sea of protesters and bystanders startled by our numbers, I witnessed people leaving their taxis, people running out of stores, in order to join the march. When taxis started to honk I became worried that the BLM protest was going to become violent. Just one honk or one wrong turn of phrase could be the spark that lights the flame. To my surprise, the taxi drivers were honking in support. They were throwing their hands out of the windows, giving high fives while cheering and chanting along with us.
"No justice, no peace! No racist police!"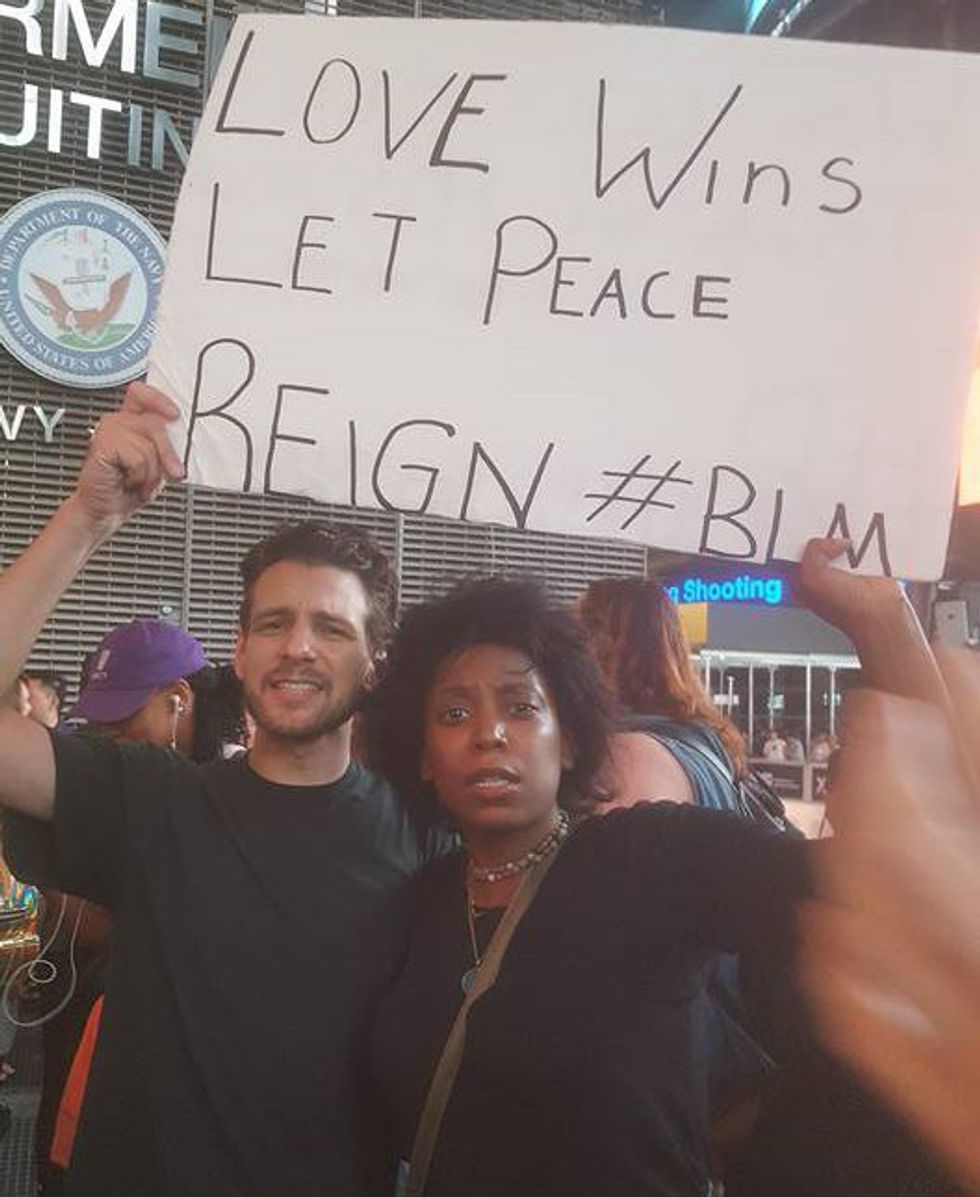 Even though I was in a different state surrounded by protesters of different backgrounds, there was a sense of love and togetherness that stifled my fears. As we entered Times Square, there were protesters shaking hands, giving hugs, and thanking people for participating. By that time, a light rain had started. I was taken aback by the number of police officers dispatched for crowd control. Rows of officers stood like statues as we passed by. Some were laughing at us, mocking the chants, and pointing out protesters that I heard an officer call, "funny looking." As the rest of the protesters occupied the square the rain began to pick up. With mega phones raised high, the leaders of the protests emphasized that we were all participating in a peaceful protest. They stated that we were all here to use our words, not violence. "Violence is the tool of NYPD, not us. Violence is why were are here. Violence is what we are here to stop," said one of the megaphone holders.
"White silence is violence! White silence is violence!"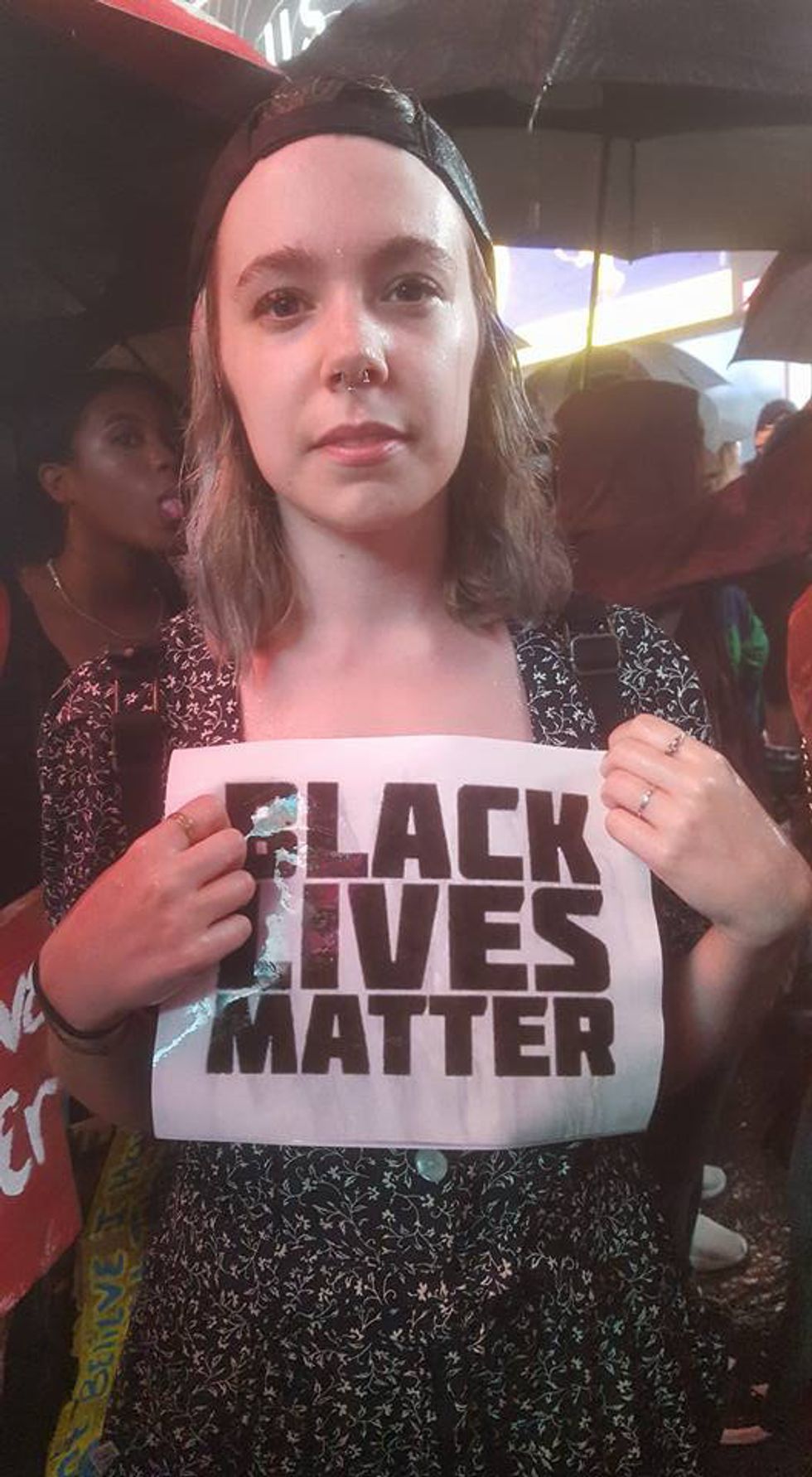 Even as the rain poured down in sheets the protesters stood strong. They chanted and sang and cheered and demanded change. They demanded support. They demanded respect not only for themselves, and for minorities, but also for the victims of the police shootings. The protesters preached, the police smirked and the onlookers had phones out recording.
Yet the most interesting part of this whole story is not what happened that night; it's what did not happen the following days. There was little to no news coverage of this peaceful protest. There was no camera crew, no headlines, no media coverage from any major network at all. The only coverage that can be found is all posted on back-ally websites. They are all in reference to sit-ins on previous days, protests turned violent or speeches and gatherings held the morning of July 9th. Where were the major news networks when hundreds of people, chanting and singing in unison, stood for an hour in the pouring rain asking for change?