Yes the weather is cold.
Yes it is also frightful; but damn the weather for making our beautiful skin all ashy and dry!
Yep! It's that time of the year ladies. The time where we stop shaving our legs and end up looking like Chewbacca for the cold season, leggings are our only best friend, finding inventive ways to stay warm when the temperature drops below 10 degrees, and even looking at products to keep us warm at the workplace. Don't sit there and act like you don't online shop for those cute products like whale slippers with a built in USB cord so you can dig your feet into them at work and keep warm--yeah you're just as guilty as anyone else.
But you're in luck!! I've compiled a small list of products that'll help you keep your skin super soft and warm.
1. Aveeno Anti-Itch lotion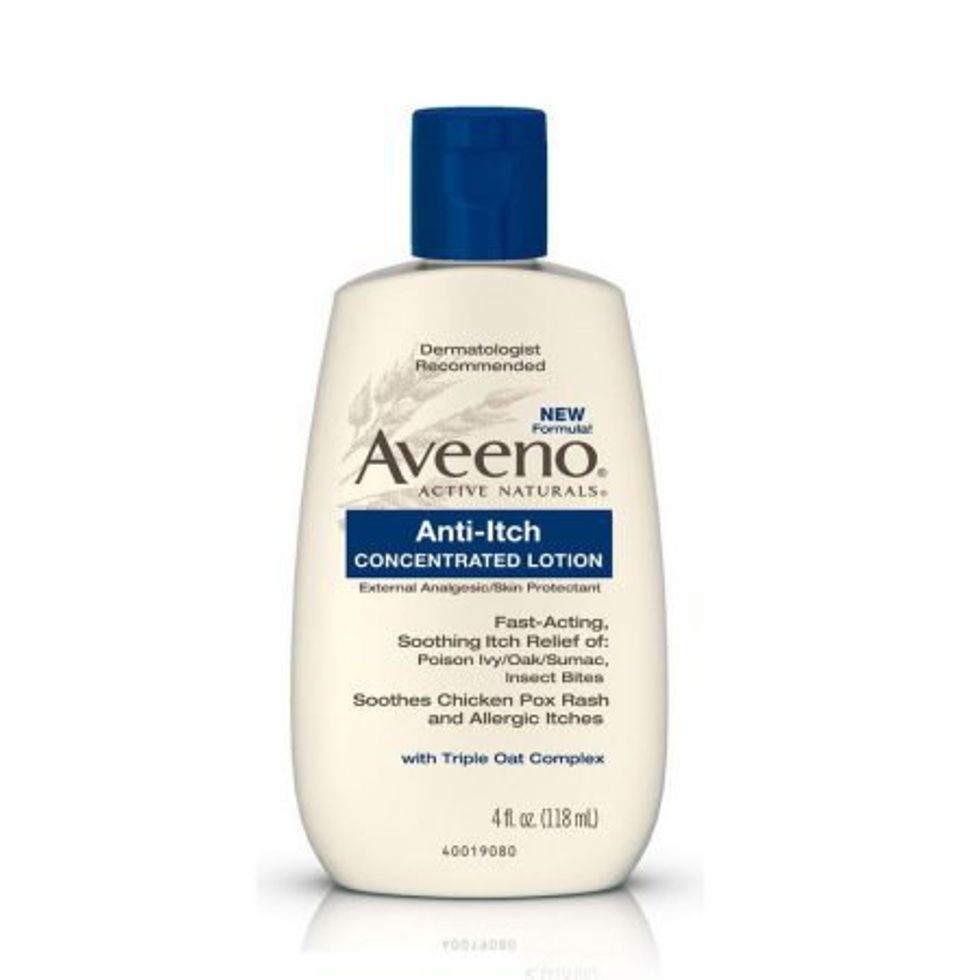 If you were a child that had severely dry skin and eczema growing up, then you remember soaking in a hot bath of Aveeno oatmeal bath. Yes, Aveeno is known for their oatmeal baths but now they have a whole slew of products for every type of skin. I have extreme dry skin to the point where I have to take a hair brush to just itch myself with and my skin also happens to crack open from the cold. This is one of the best (and affordable) lotions around. At $6.00 USD, it won't break the bank and you'll still have enough for an evening out with the girls and an Uber ride home.
2. Mario Badescu Buttermilk Moisturizer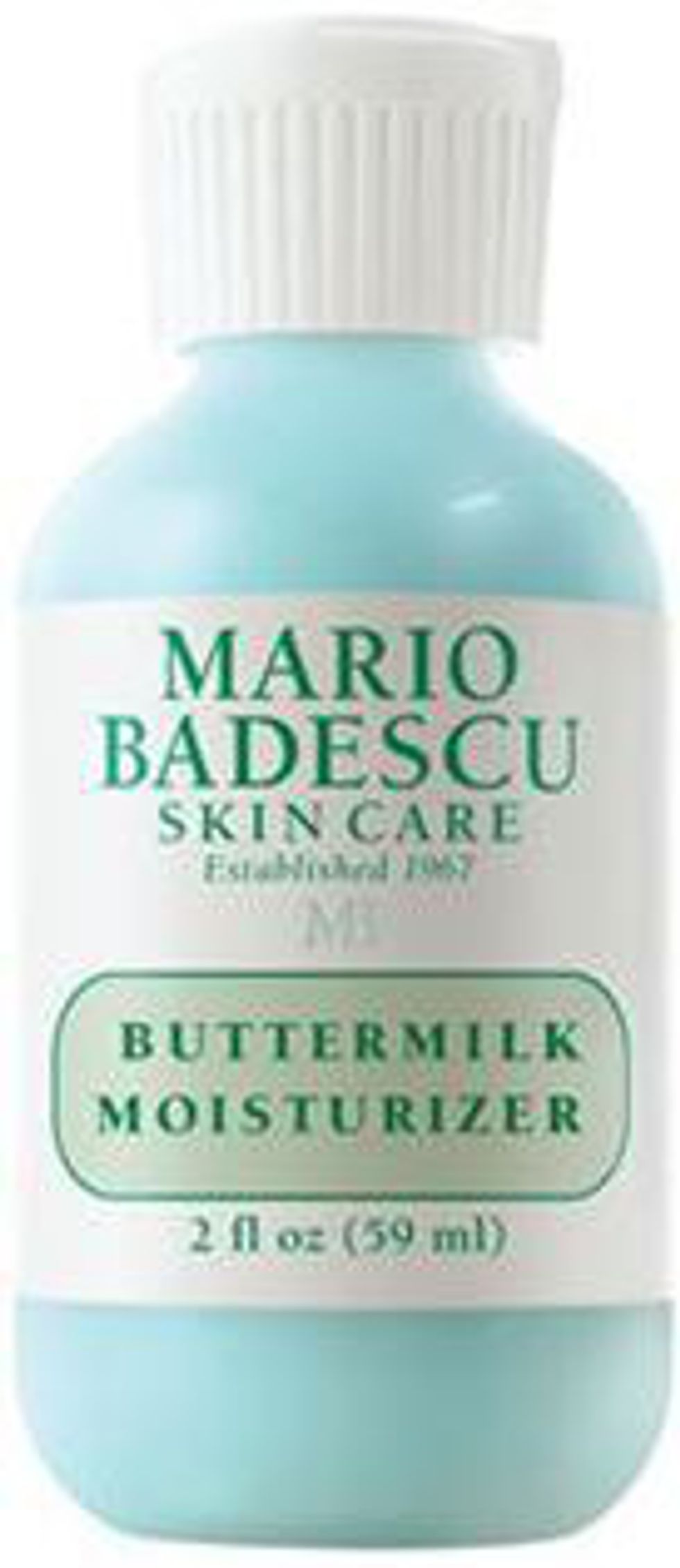 Along with the severe dry skin all over my body, I have dry skin all over my face as well (just imagine how pissed I am about that). White, flaky, scaly dry skin that flakes off if I touch, scratch or rub it. It was only three years ago that I started to notice the dry skin on my face and it's not only during the winter, it's ALL YEAR ROUND. When you have crappy winter skin, you have to MOISTURIZE MOISTURIZE MOISTURIZE!! I was introduced to Mario Badescu a long time ago but never tried their products until a few months ago. THEY WORK! This specific moisturizer is best for combination and sensitive skin and I usually slather it on (even thought they tell you to use a small amount) and it works all day long. $18.00 on Ulta.com and mariobadescu.com
3. Mario Badescu Chamomile Night Cream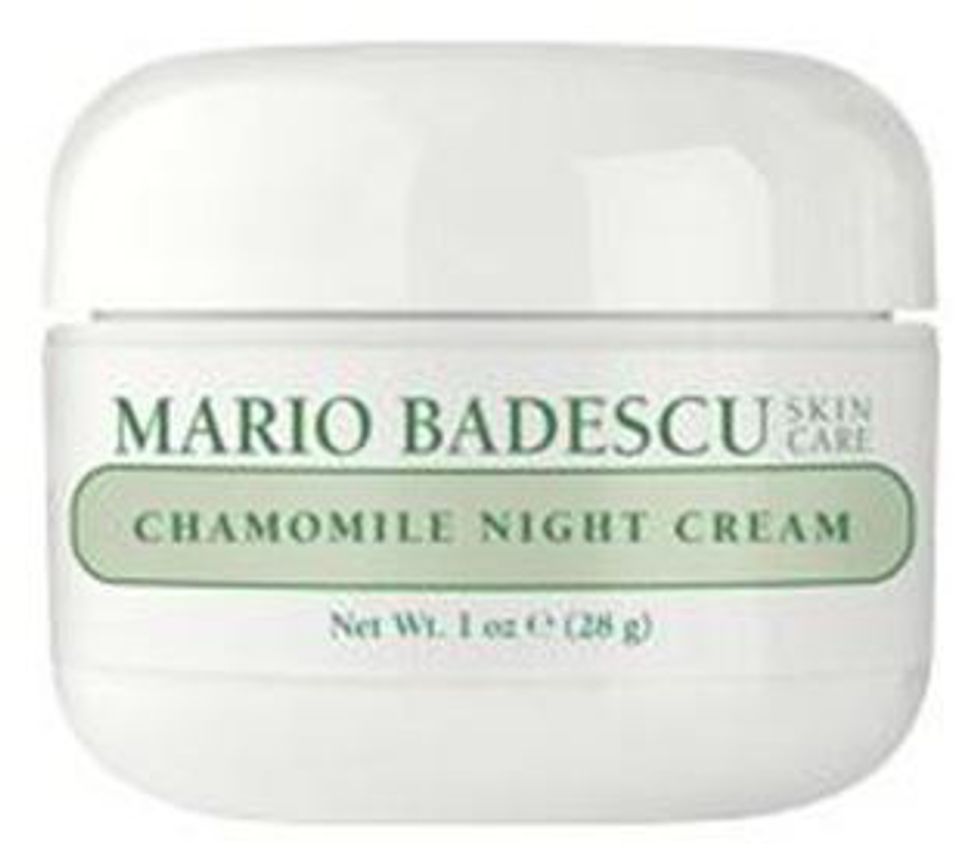 This is my favorite night cream and if you don't moisturize before bed and after a shower, I suggest you get up on that because it's so important!!! If you're worried about having your day moisturizer on and then putting your night moisturizer on top of that, either wash your face with this or invest in micellar water (I recommend using the brand SIMPLE). Slather this on before bed and it'll soak in over night. This is best for anyone that has combination, dry or sensitive skin.
$20.00 on ulta.com and mariobadescu.com
4. Victoria Secret Weighless Body Oil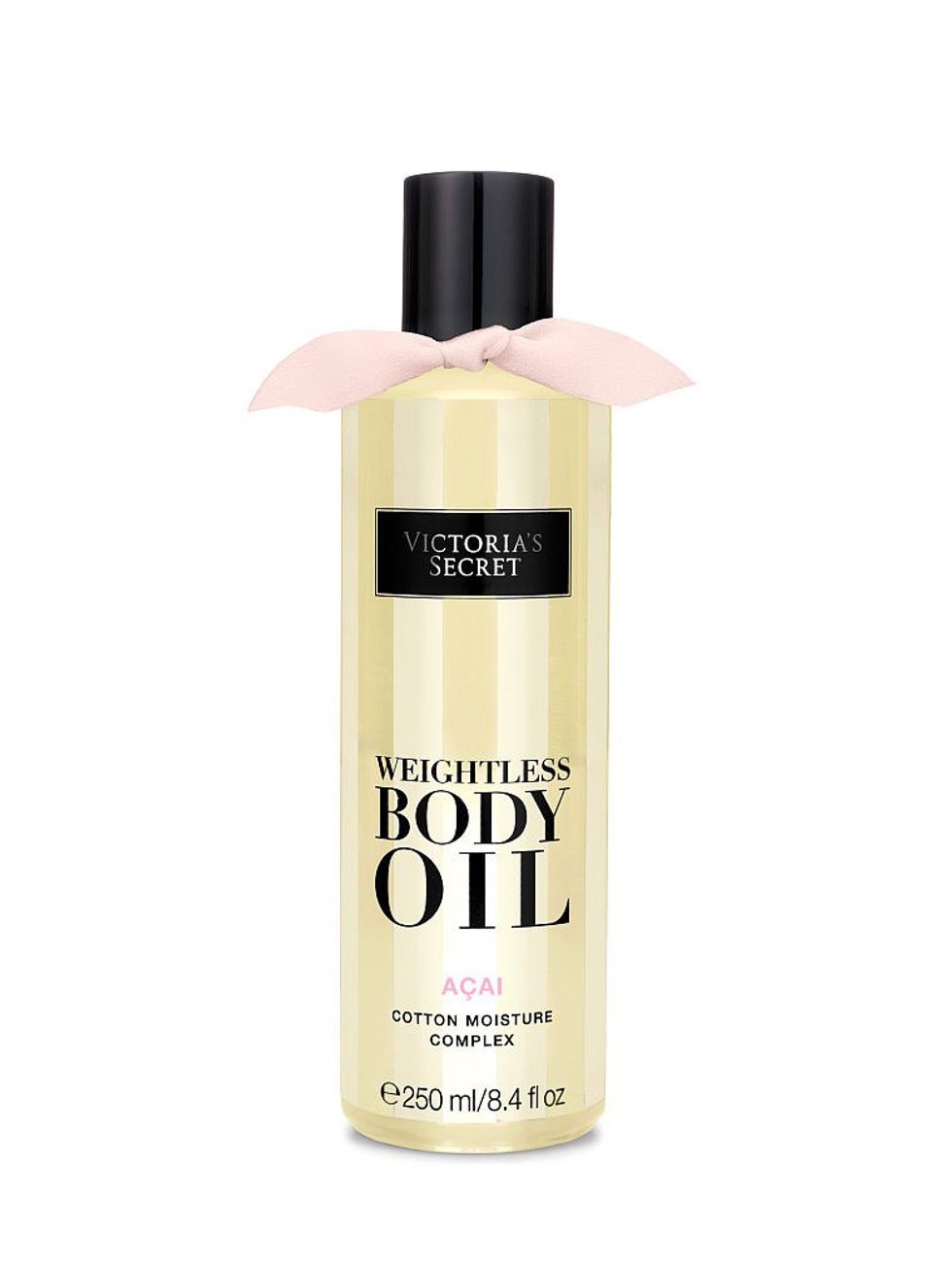 Now, normally I'm not a huge fan of dry skin and using a ton of body oil because I'm not trying to look like a bodybuilder in a competition. I'm just trying to get from the shower into warm pajamas. But, I have a personal exception to that rule. I freaking love Victoria Secret's Weightless Body Oil!! This is considered my "luxe" item for myself and before I finish my shower, I always put this on my legs, arms, chest, basically everywhere and rub it in and then rinse it off under the shower. I know it sounds like that defeats the purpose but trust me, it works and my skin is still soft the next day. I usually stock up on this where they have a huge sale and they recently just brought back the Acai scent thankfully!!
$18.00 each or you can get them on sale mix and match 5/$25.00.
5. Palmers Skin Therapy Oil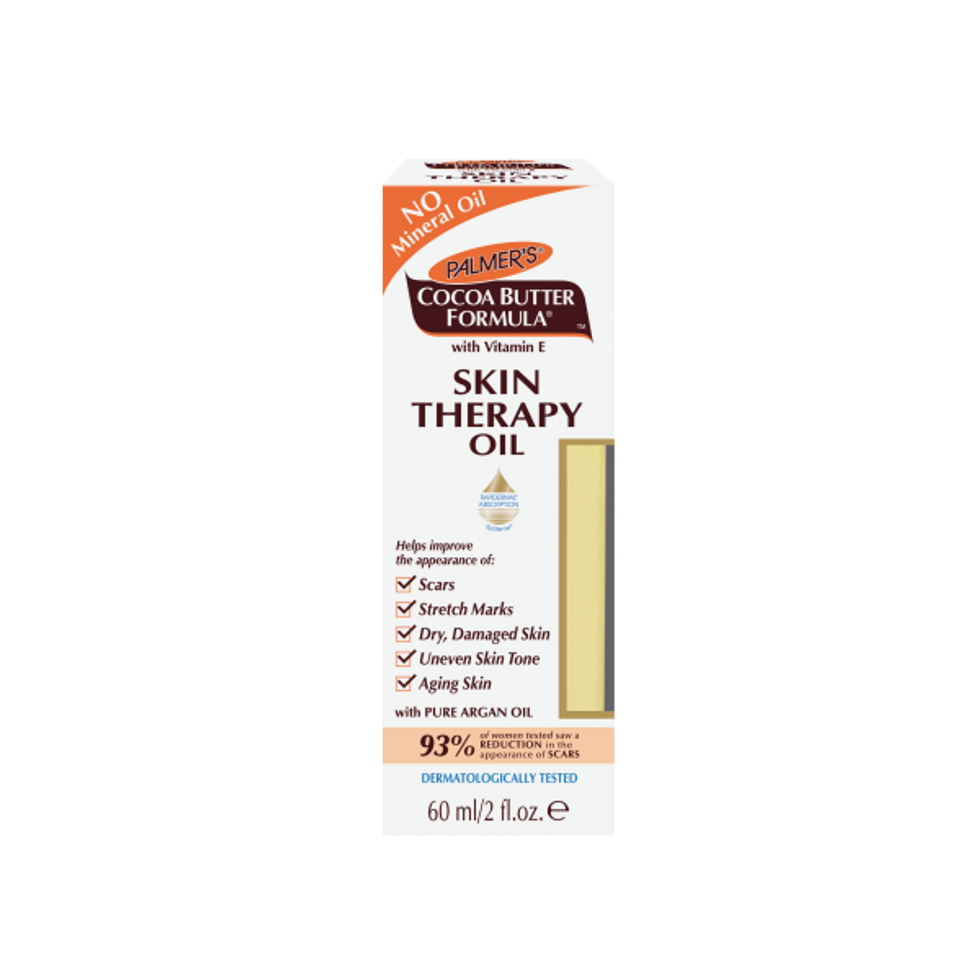 Again, I'm not a huge fan of body oils on dry skin, but yet, I'll make another exception to my rule. I won't lie, I have A LOT of scars on almost every part of me. Scars ranging from cat scratches to self-harming scars, but a friend of mine told me to try this oil for my scars and I've seen a significant difference but I really just use this on my body to get some moisture. It also has Vitamin E which is great for blocking free radicals and helps keep skin looking youthful--plus it smells great. $7.50 from palmers.com
6. King of Skin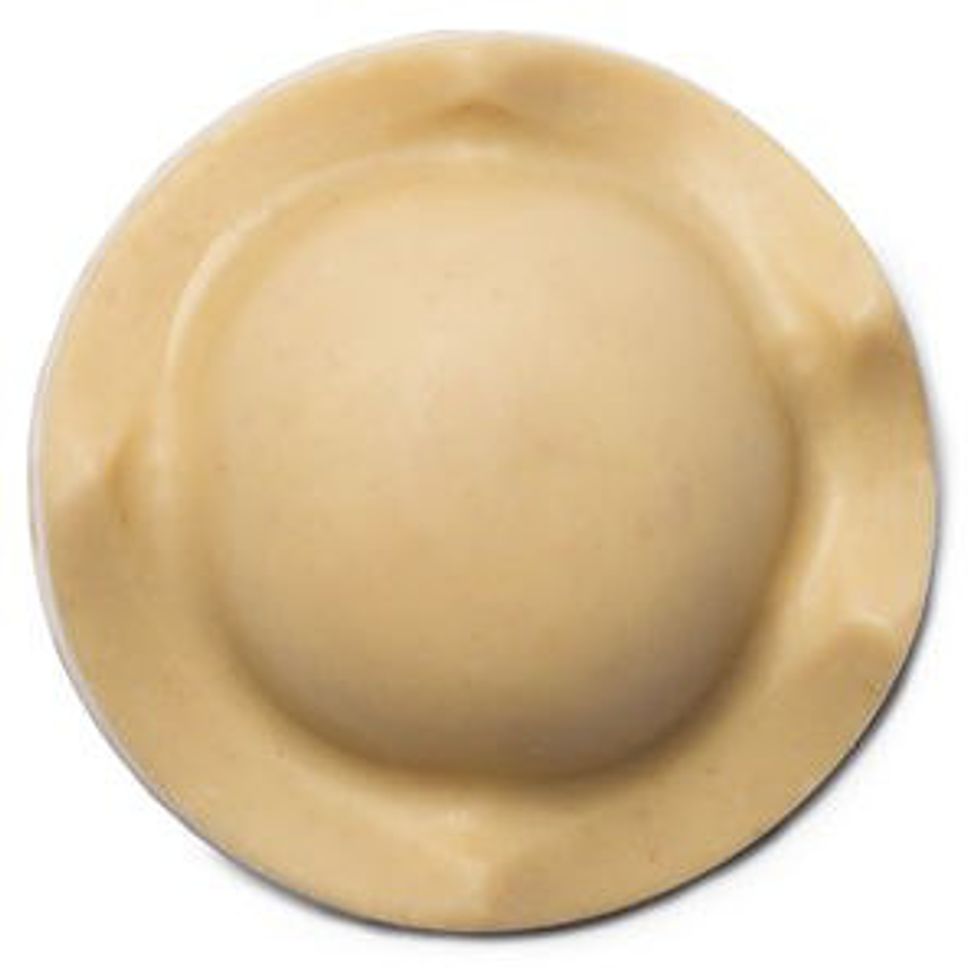 I. Love. Lush. There, I said it. I love Lush and I love everything that they stand for and I love their products even more so. I had tried this at the recommendation of a Lush employee who told me to try it because of my dry skin. It has since become one of my top, go to products to use. This is strictly used in the shower and you spread it on as you would anything else. Hold it in your hand and just start spreading it all over! You'll soon start smelling like bananas but your skin will be so soft and so moisturized that it's ridiculous. If you don't trust me on anything else, just trust me on this one. You can thank me later, I'll wait. $15.95 at any lush shoppe or lushusa.com
7. Head and Shoulders Clinical Strength shampoo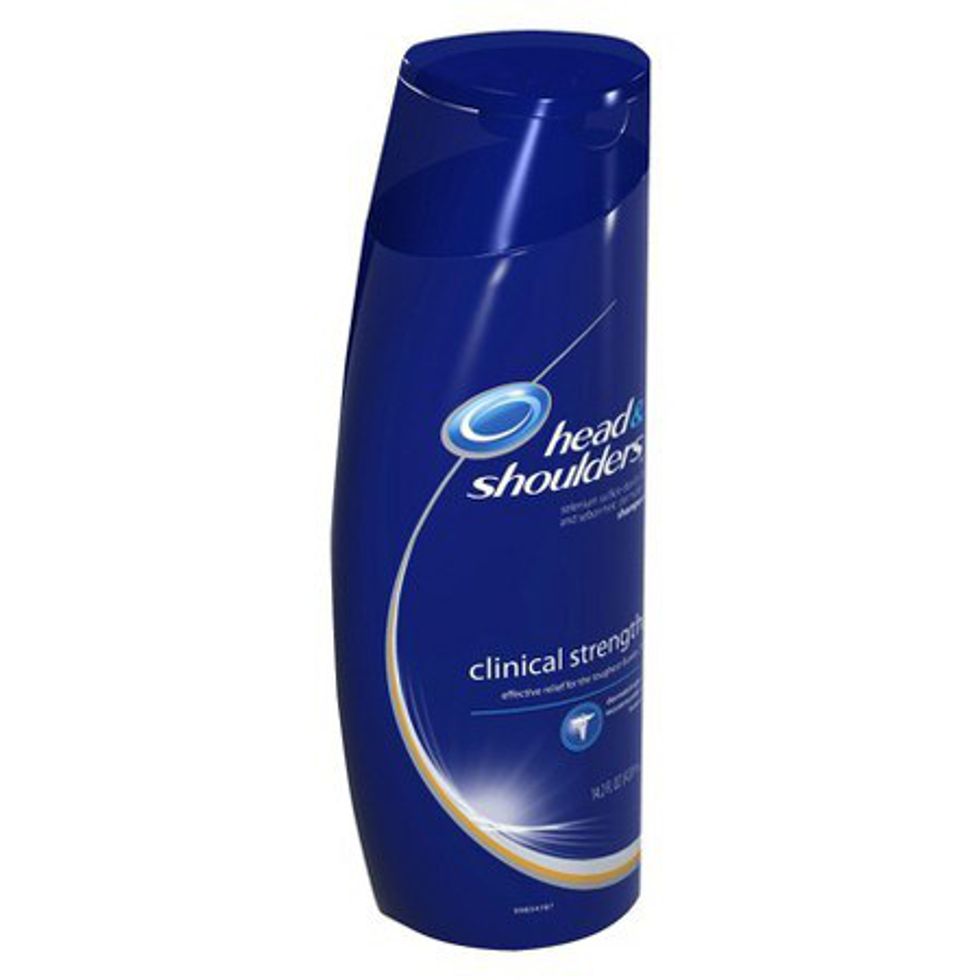 Well, I've reached that point where it's inevitable for me to keep this hidden. I also have dandruff. Many people with dandruff keep it a secret, lie about it or just try to keep it hidden until they cant hide it anymore. I'm one of those people. When I was younger, I always got made fun of and bullied for my dandruff, even classmates calling them "snowflakes" and then laughing. As I've gotten older, they got worse to the point where I would pick at my head and I'd have dandruff and scabs but I've learned to use Head and Shoulders. I've been using their shampoo for well over a decade, switching on and off between them and a medicated shampoo but then discovered their clinical strength shampoo. I use it two or three times a week and leave it in my hair for at least 10-15 minutes before washing it out and then brushing conditioner through. This really does work! I've curbed the dandruff and it's not as often as it used to be.
$6.79 at Target and Walmart.
8. H'Suan Wen Hua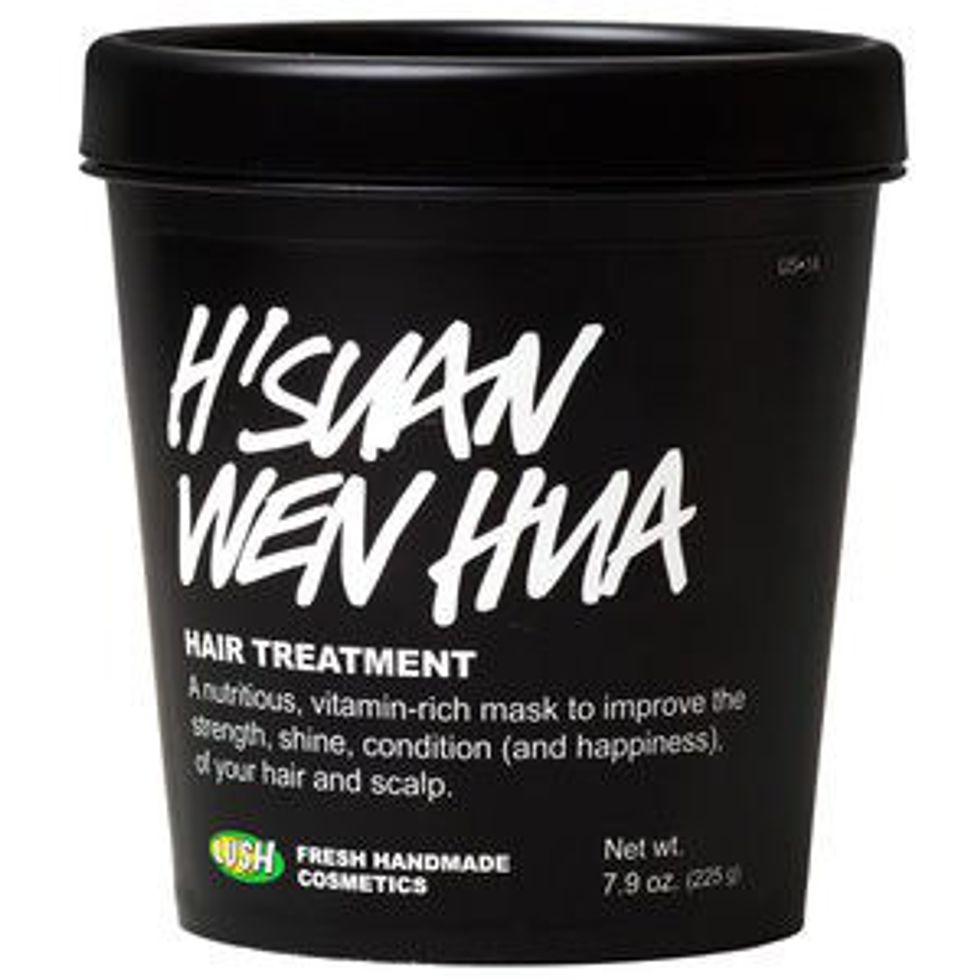 Dried, fried, dead, beaten hair. All the classic tell tail signs of you over styling your hair, or in my case, over straightening it at 455*F every other day. This hair treatment seriously is THE BEST at repairing your hair. Dried and fried hair looks beautiful, and shiny again and smells wonderful. Regardless of why you're hair is just a huge brillo pad, this really does the trick. I usually use it before I take a shower and slather it in my hair and comb it through and then I clip it up so that by the time I'm done in the shower, all I do is rinse and shampoo. No need to condition it (learned the hard way about that. Your hair will just look like a total grease ball). Your scalp is happy right after :).
$21.95 for 7.9 oz jar at lushusa.com or your local Lush store.
9. Maybelline Baby Lips Dr. Rescue Medicated Lip Balm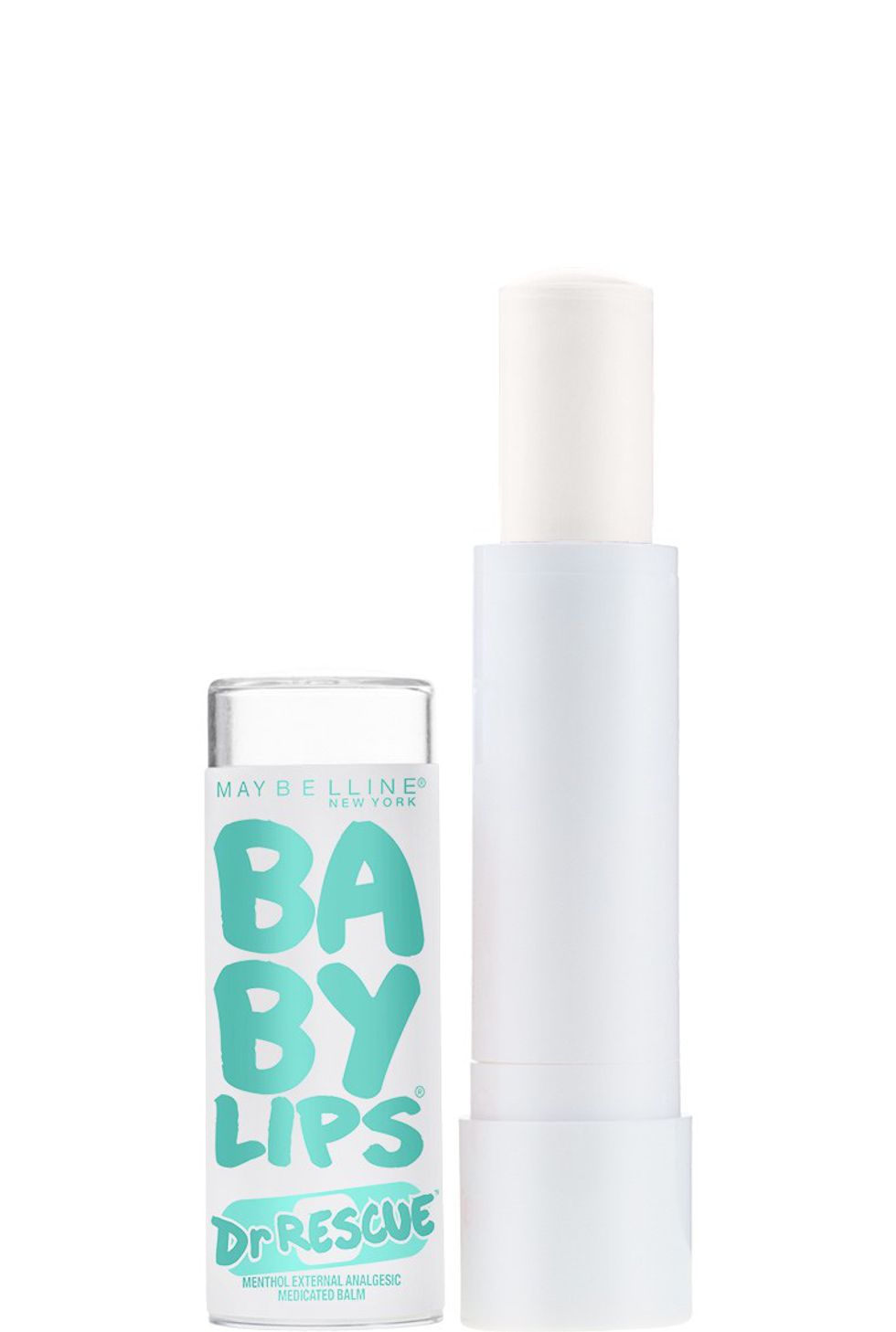 I've tried literally almost every lippy product on the market for chapped lips but I've been swearing by this one specifically for the last couple of years. I was told to buy this from a coworker back when I was working at Bath and Body Works and this is the only lip product that really works for when I get chapped lips. Baby Lips has been around since the late 80s, early 90s and then was discontinued for no reason. Maybelline has since brought it back with a vengeance and it works wonders. I really do wonder if they throw in some magic because after wearing Dr Rescue for a few days, my lips are all healed up. They do have Dr Rescue in different colors but I go with the original, tried and true for my lips.
$4.49 at ulta.com
10. C.O. Bigelow Rose Salve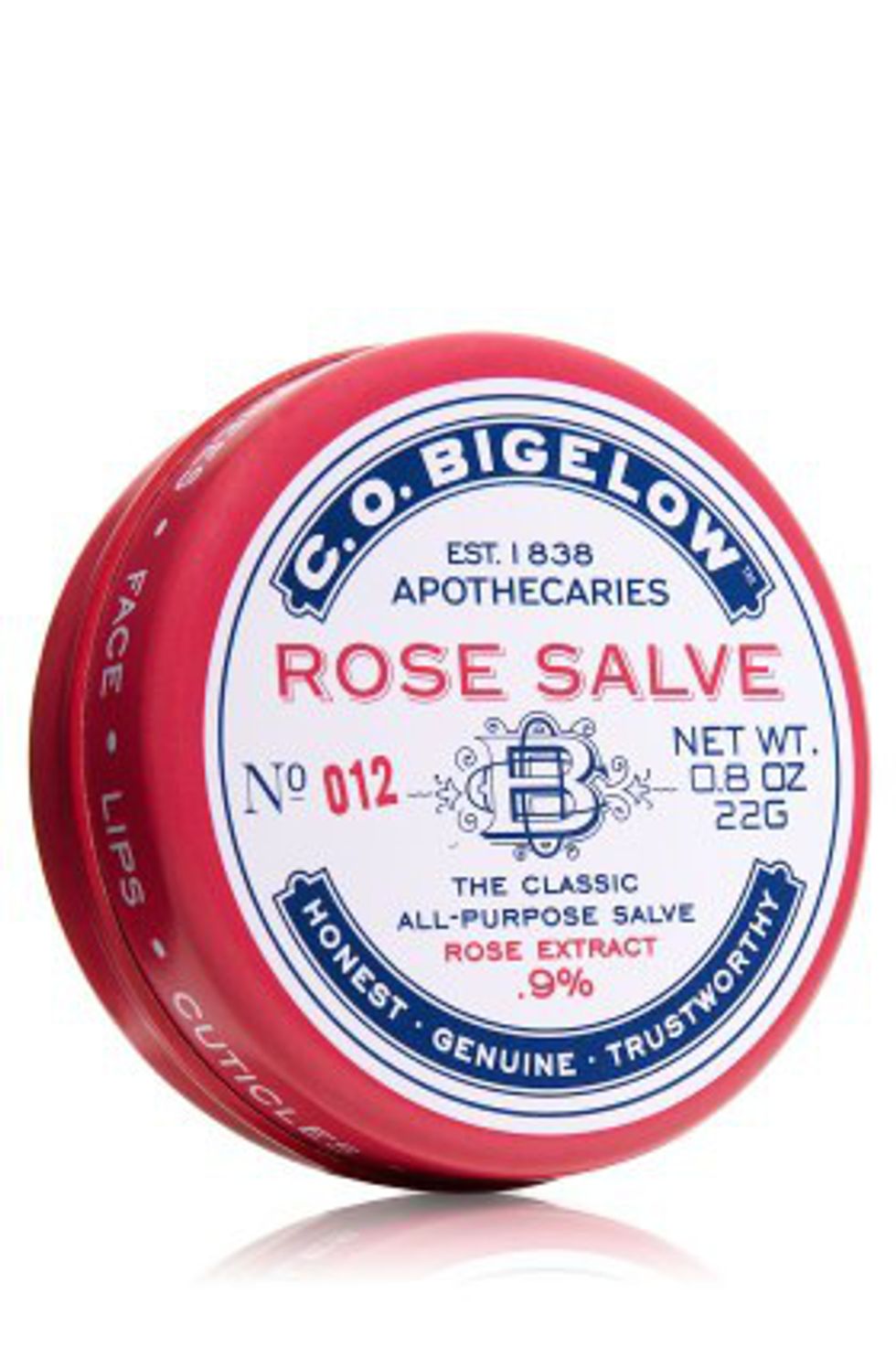 Got a hang nail? How about dried cuticles? This thing is the solution! When I worked at Bath and Body Works, I was always on the floor helping customers and eventually became my stores top seller. My anxiety kicked in more and that lead me to chew my nails and rip and ruin my cuticles, and ended up with constant hang nails. We always had the rose salve on display as a sample to try before buying and I always looked but never touched until one day my cuticles were actually red, bloody and hurting. I found myself going for the rose salve and rubbing it on and within an hour or two, it was starting to heal. This rose salve is an all purpose salve that you can use for the face, lips, nails, etc. I feel it makes my face too greasy looking so I just strictly use it on my nails and I'll never give it up. It really does work wonders.
$5.50 at Bath and Body Works or you can get it when they have their Buy 2, Get 1 Free lip care.
11. Shea It Isn't So! Foot Cream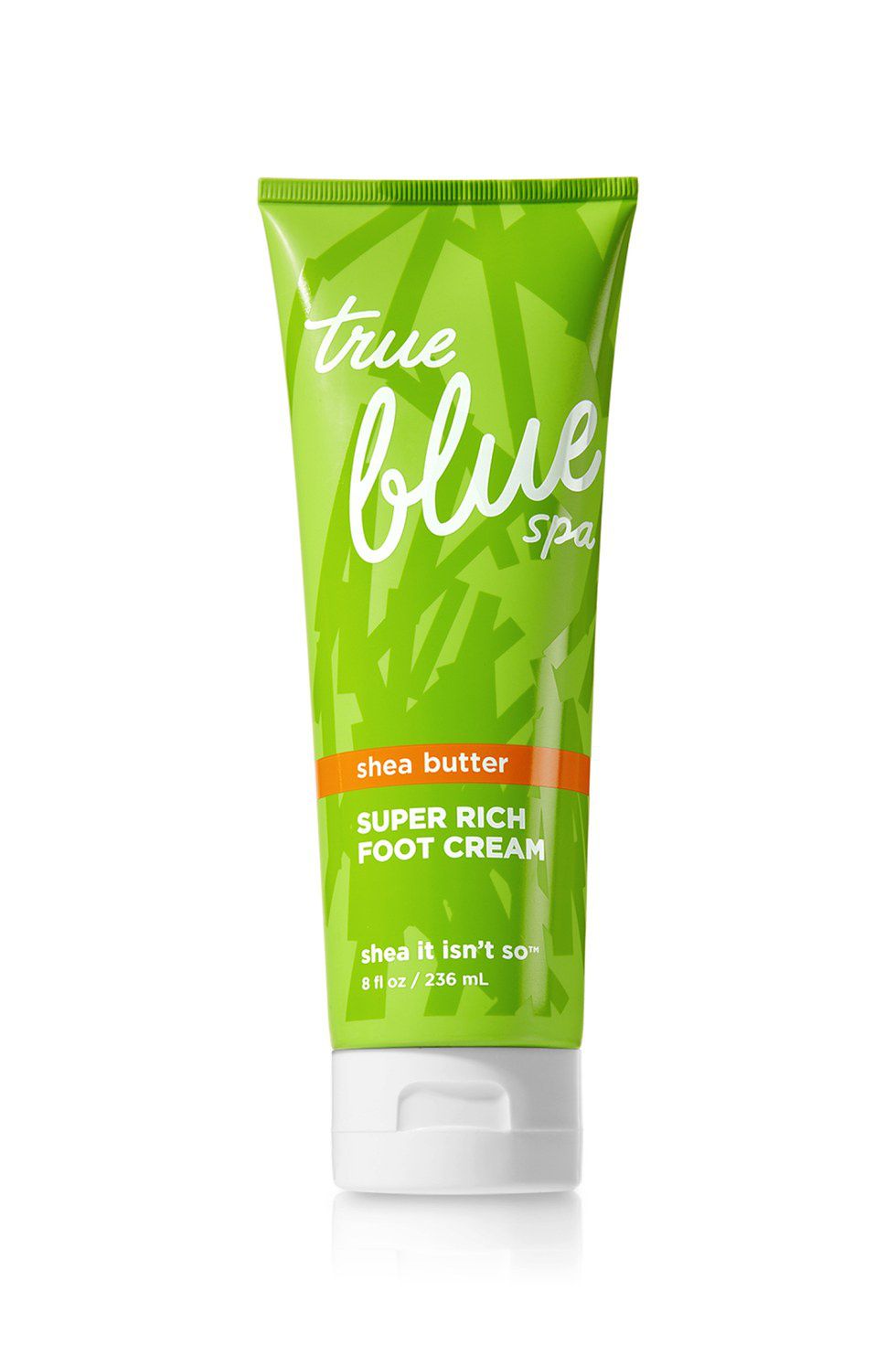 And finally, we get to the feet. My feet usually take a beating in the colder months, which is where this foot cream comes in. As I mentioned before, working for Bath and Body Works really opened the doors for me to learn about proper skin care and the longer I worked there, the more I started to discover which products worked for me and which didn't, and this was one of those products that really did work for me. It's pretty straight forward. Slather the cream on your feet and throw on some socks so that the moisture locks in and when you wake up the next morning, they feel smoother than a babies behind. Seriously, I really could stock pile this cream. It has shea butter in it which provides tons of moisture to dry skin and even some of their body products also work and most are now made with shea butter, but this one is my favorite. $20.00 at Bath and Body Works or Buy 2, Get 1 Free True Blue Spa products.
Now that I've showed and hopefully convinced you what my favorite products are, what are YOUR favorite products? What are your tried and true products that you can't live without?
Now go forth and make me proud!!