"Beerbongs and Bentleys", an album release from Post Malone April 27th, 2018 by Republic Records is his second album, following his debut album "Stoney". Featuring many different hip-hop and rap influencers, the album went double platinum with 2 singles peaking at number one on the Billboard 100. Needless to say, this album was wildly popular with young people all over the country, being played at bars and fraternity parties all over the United States. Beyond the catchy hooks and beat drops, the lyrics that Malone sings are also notable in highlighting his fast-paced lifestyle, newfound riches, and the respective troubles that come with his new lifestyle.
Post Malone, with a net worth of $8 million, is vastly impressive considering his first release, "White Iverson", was released only three years ago. With the new riches and lifestyle, Post Malone gives us a peek into the heartbreak and loneliness that comes with riches, letting his cynical and dour view of life shine through. Post also highlights social commentary within his beats, making it worthwhile to look at the lyrics of the wildly popular and catchy songs.
"Paranoid"
"Politicians and their lies // tell me, what's the point of pickin' sides?"
Here, Post Malone is making a commentary on the political state of America that is currently divided and controversial, with the propagation of "fake news" and biased news sources.
"Ay, mind is runnin' all day // Cost me more than money and I'm paying the price"
This clever wordplay on anxiety and paranoia that he discusses in this song highlights the stress that comes with his lifestyle and shows us that even though he has lots of money, he is still not content with his life, even losing sleep over it.
"Rich and Sad"
"Ayy, I would throw it all away // I just keep wishing that the money made you stay // You ain't never cared about that bullshit anyway"
Here, Post Malone is touching on his past relationships as he reflects how his newfound riches affected his love life, stating that all the money doesn't bring him happiness as he wishes that his love never left him (quite profound for Post Malone, if I do say myself).
"Psycho"
"My roof look like a no-show, got diamonds by the boatload // don't act like you're my friend when you're rolling through my boatload"
Post Malone is referencing his experience here on how his newfound riches has affected his friendships: he has realized that the amount of money he has attracts different types of people, and has realized that the quality of his friends also have changed ever since he has gained a lot of money.
"Better Now"
"I was so broken over you // Life it goes on what can you do? // I just wonder what it's gonna take // Another foreign or bigger chain //
Post Malone is obviously affected by heartbreak, which is a continuous theme all throughout the album, but this line is particularly poignant since it highlights his struggle throughout the loss of love and how he tries to use the money to fix his personal problems.
"Stay"
"We carry on, what's our motivation? // We're never wrong, how the hell we gonna make it? // Maybe we're used to this //
In this down-in-your-feels song, Post Malone reflects on the intricacies of living young with a lot of money to spend- he highlights on his existential crisis of wondering what his true motivation is, and also the arrogance and narcissism of being young, and how ordinary the money and the self-centeredness becomes.
Post Malone's lengthy, 18-track record is now playing through auxiliary cords everywhere- the recognizable riffs and beat drops that are present throughout the album make it enjoyable to listen to, however (in my personal opinion), the similarity of each track becomes monotonous after a period of time. However, the artificial veneer of the song topics (sex, money, fame), after taking a closer look, is backed up by Post's real experiences and emotions, which, like any good songwriter, provides a peek into his personal life, emotions, and lessons learned.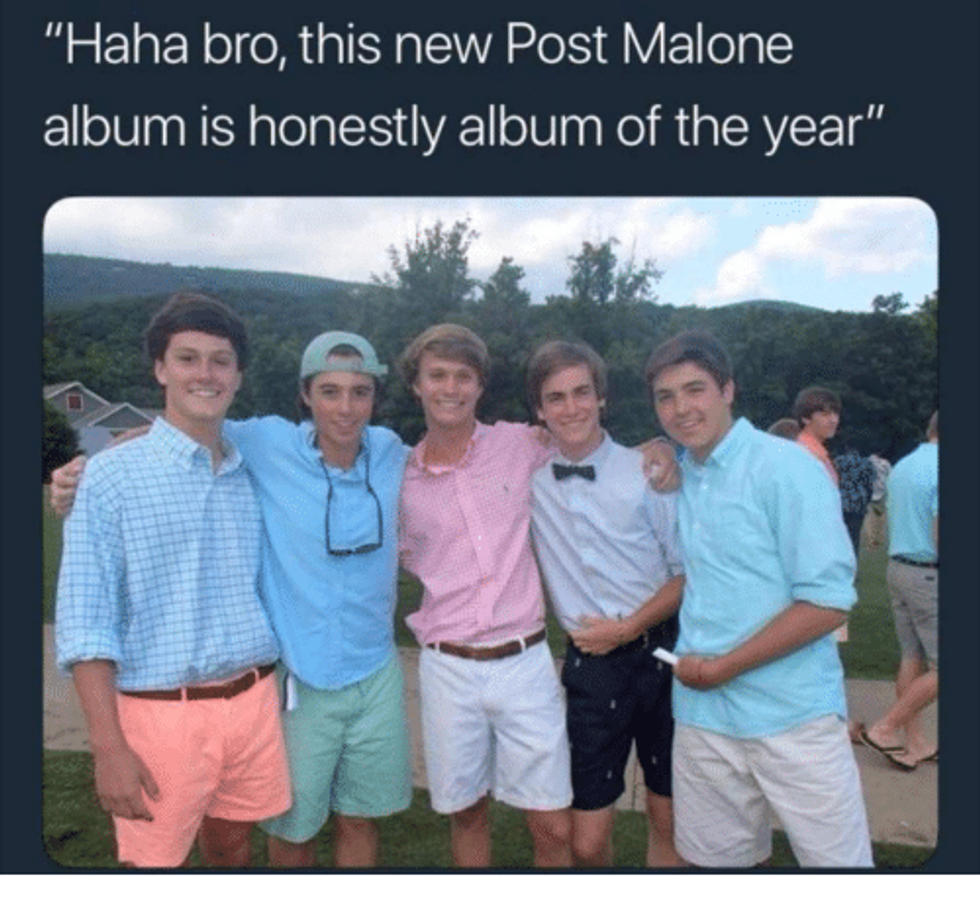 Relevant Memehttps://me.me/i/haha-bro-this-new-post-malone-albu...