College cafeteria food can get very old real fast. Eventually grilled cheese, cheese burgers, and fries tend to get boring. Below are some very easy recipes that you can make in your microwave in your dorm!
*Note: All recipes can be found on pinterest*
Mug Pizza (Microwave Mug Meals)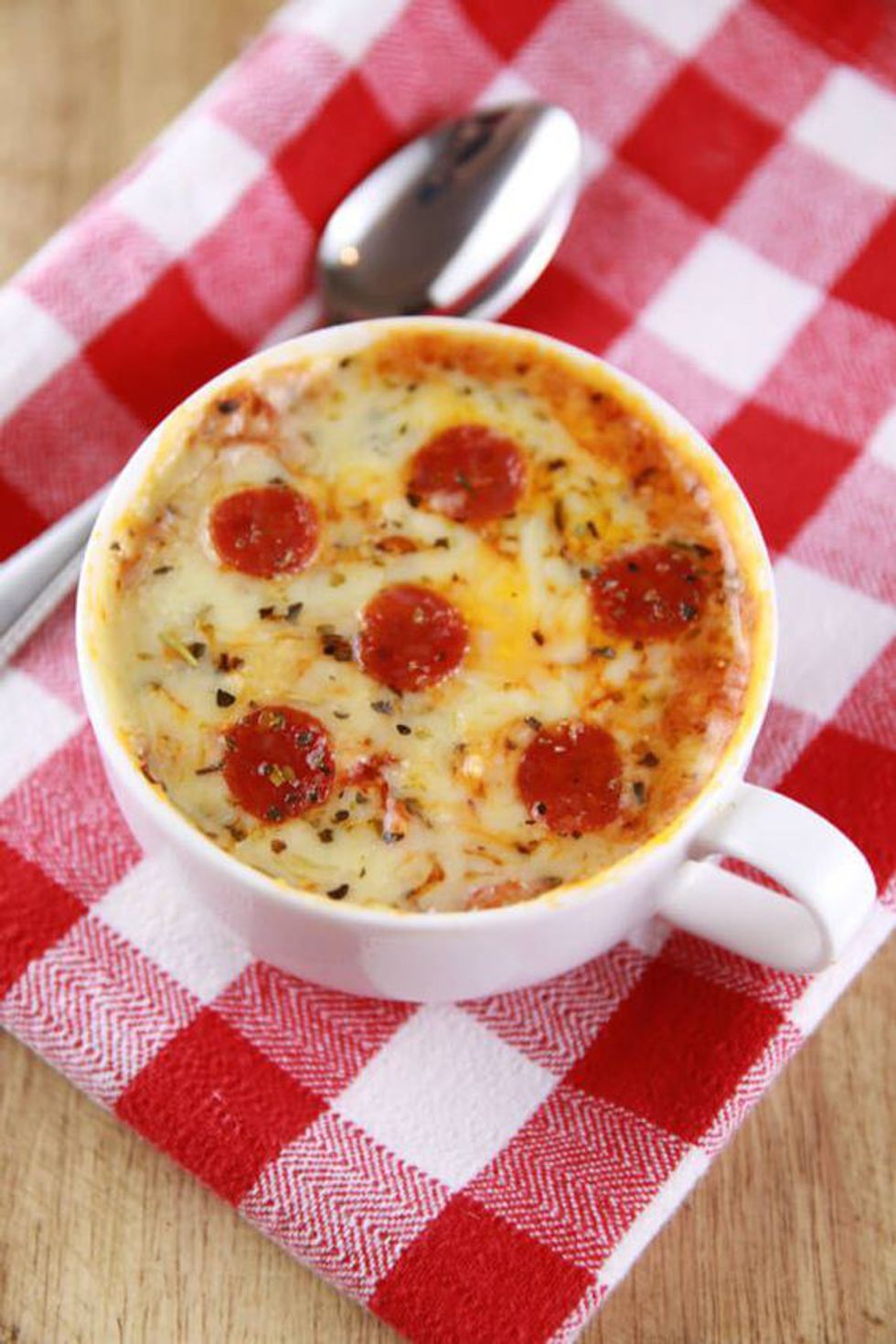 Meat
Produce
1/2 tsp Italian herbs, dried
Condiments
Baking & Spices
4 tbsp All purpose flour
1/8 tsp Baking powder
1/16 tsp Baking soda
1/8 tsp Salt
Oils & Vinegars
Dairy
3 tbsp Milk
1 generous tbsp Mozzarella cheese
Instructions
Mix the flour, baking powder, baking soda and salt together in a microwavable mug
Add in the milk and oil with mix together. There might be some lump but that is ok
Spoon on the marinara sauce and spread it around the surface of the batter
Sprinkle on the cheese, pepperoni and dried herbs
Microwave for 1 minute 10-20 seconds, or until it rises up and the topping are bubbling (timing is based on my 1200W microwave so your timing might vary)
Enjoy straight away!
Coffee Cake in a Mug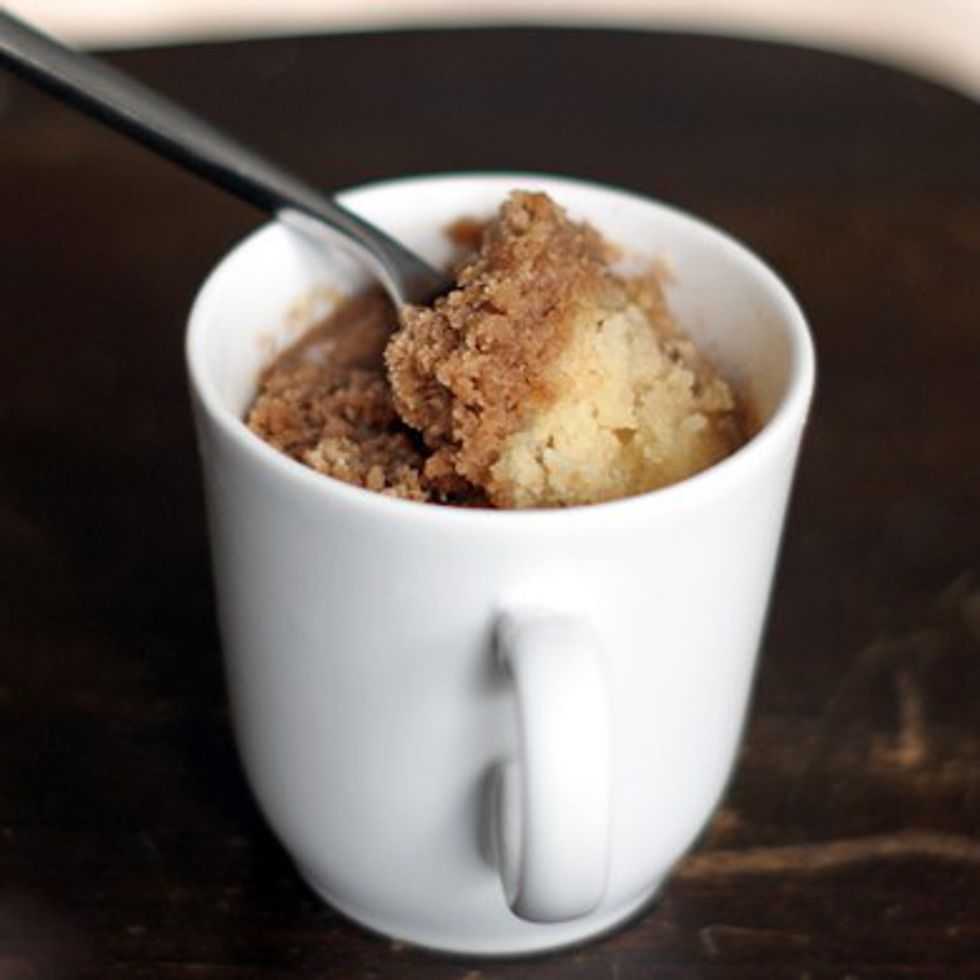 Canned Goods
Baking & Spices
1/8 tsp Baking powder
1 tbsp Brown sugar
1/4 tsp Cinnamon
3/8 cup Flour
1 pinch Salt
2 tbsp Sugar
3 drops Vanilla extract
Dairy
In a mug soften 1 tbsp of butter in microwave, about 5 seconds. You don't want it melted, just soft. Stir in 2 tbsp of sugar and mix until well incorporated. Stir in applesauce, vanilla (just a tiny bit, we're talking drops), flour, baking powder, and pinch of salt; stirring until just combined. Use the back of your spoon to smooth it out in the bottom of the mug.
Want struesel? Of course you do! In a separate, small bowl, combine 1 tbsp of butter, 2 tbsp of flour, 1 tbsp of brown sugar, and ¼ tsp cinnamon. Use your fingers to to pinch the butter and mix it in with the other ingredients. When it starts to look like lumpy sand (appetizing, eh?) and all ingredients are combined, pour on top of cake batter in mug.
Cook in the microwave for 50-80 seconds depending on your microwave. At 1 minute, my microwave cooks it perfectly. It will look just barely set on top. You don't want to overcook it and things tend to get ugly fast in the microwave. I suggest cooking it 50 seconds, and then in 10 second intervals checking after each interval until done. Eat white it's still warm. Once it cools off, it tends to loose some of it's magic!
Instant Mac & Cheese in a Mug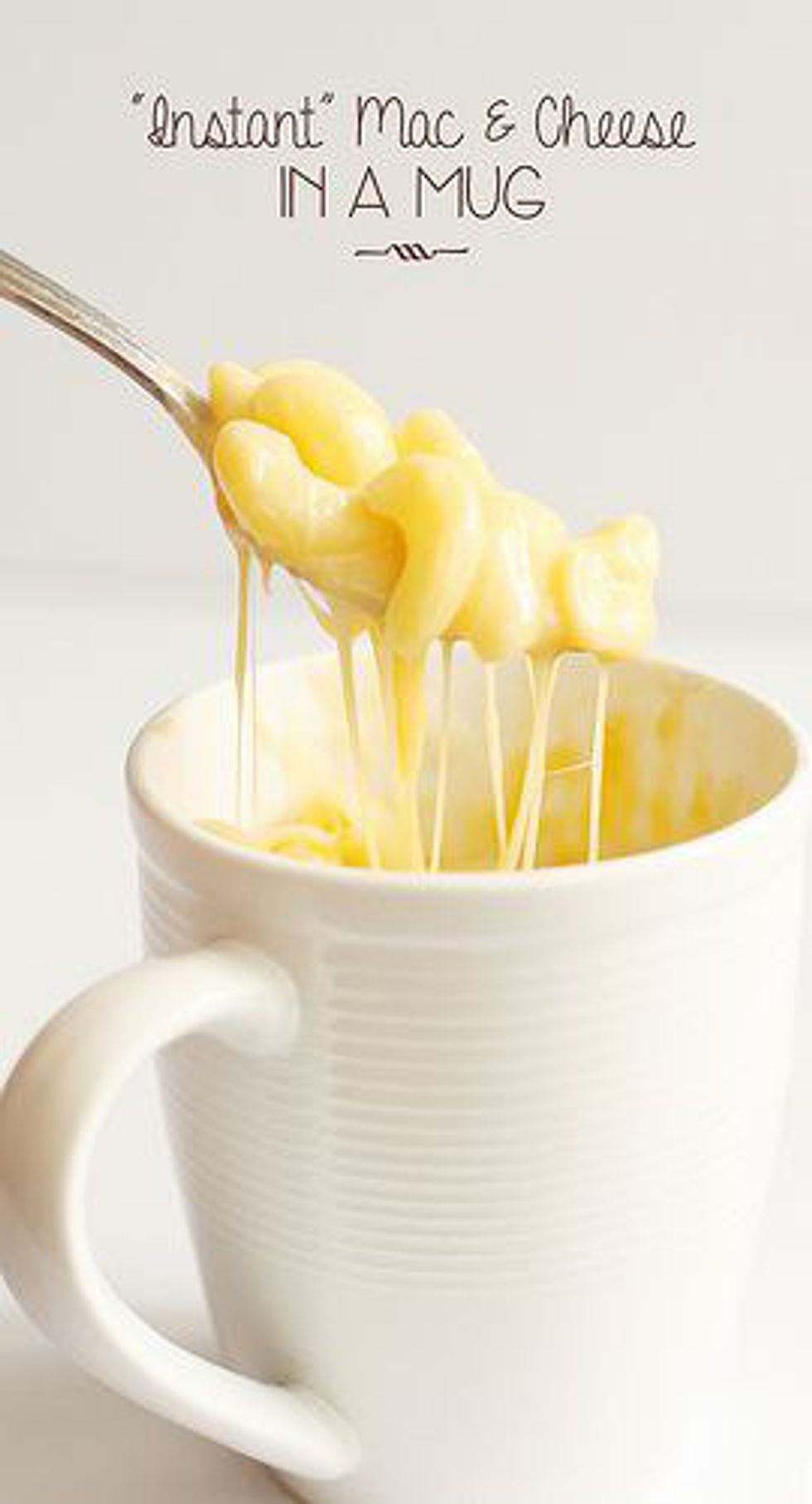 Pasta & Grains
1/3 cup Macaroni elbow noodles, small
Dairy
1/2 cup Pre-packaged finely shredded cheese
1 Scant 1/4 cup milk
Liquids
Directions:
1. Combine the pasta and water in a large mug or bowl.
2. Microwave on high for two minutes, then stir. A lot of times the water will overflow while it heats up. It is OK if this happens. If you don't want it to overflow just make this in a very large microwaveable bowl.
3. Repeat this for at least 2 to 4 more minutes, stirring at each 2-minute interval. The water should absorb completely and the pasta will be cooked through. If the pasta needs another minute it is okay to add one more teaspoon of water and microwave for another minute.
4. Remove it from the microwave and stir in the milk and cheese. Microwave for another minute. Stir the cheese thoroughly into the pasta and eat up!