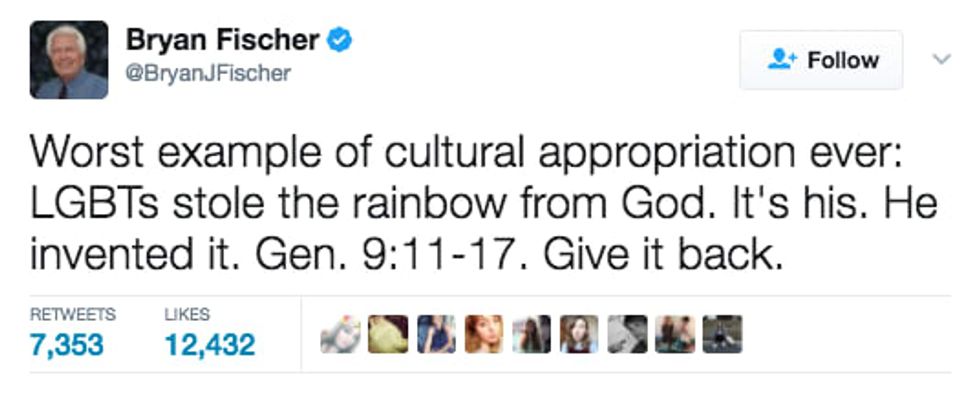 OK, Bryan, I'm going to be straight with you here: I am gay, and I am Catholic (yes, these two things are not mutually exclusive), and I disagree with your assessment that "LGBTs" stole the rainbow from God, or that this qualifies as cultural appropriation.

First thing's first: Let's look at the passage that you quoted Genesis 9:11-17:
"I establish my covenant with you: Never again will all life be destroyed by the waters of a flood; never again will there be a flood to destroy the earth. And God said, "This is the sign of the covenant I am making between me and you and every living creature with you, a covenant for all generations to come: I have set my rainbow in the clouds, and it will be the sign of the covenant between me and the earth. Whenever I bring clouds over the earth and the rainbow appears in the clouds, I will remember my covenant between me and you and all living creatures of every kind. Never again will the waters become a flood to destroy all life. Whenever the rainbow appears in the clouds, I will see it and remember the everlasting covenant between God and all living creatures of every kind on the earth."
The rainbow was a promise; it was something that God shared not with just his followers, but of all of humanity and going even further, all creatures on earth. It belongs to all people and all creatures. The definition of 'cultural appropriation' is the member of one culture adopting and using the elements of another culture. Christians (or the followers of God from the Old Testament) do not have cultural ownership over God's gift. To say such is bordering on silliness.
You still feeling superior, Bryan? Still feeling like a queer kid can't know the bible as well as you? Because you are not the only one who can quote scripture:
"Do not judge, or you too will be judged. For in the same way you judge others, you will be judged, and with the measure you use, it will be measured to you." -- Matthew 7:1-2

"For the Lord is good and his love endures forever; his faithfulness continues through all generations." -- Psalms 100:5

"When they continued to ask Jesus their question, he raised up and said, 'Anyone here who has never sinned can throw the first stone at her.'" -- John 8:7

"A new command I give you: Love one another. As I have loved you, so you must love one another. By this everyone will know that you are my disciples, if you love one another." -- John 13:34-35

I am going to go forth and do my best to be the best Catholic I can be, and I hope that you will go forth and be the best Christian you can. Bryan Fisher, I wish you nothing but goodwill; peace be with you. Maybe, if you read this, you can return the sentiment.