Recently on Campus Corner, the main shopping, eating and entertainment area just steps away from OU's campus, a little café was recently opened. Now, there are already a few notable coffee shops and cafes, both local and of chain businesses, that can be found around Norman and are frequent spots for college students looking for a place to get work done or meet up with friends. However, this new café is a lot different from the others—all of its products are infused with CBD.
Ever since the beginning of the year when CBD was legalized for commercial use in Oklahoma, the state has been getting a lot of attention and many weed enthusiasts have been taking advantage of this new legality. New CBD-related stores have been popping up all over Norman and Oklahoma, as well. Yet this new café, aptly named "Life Organics Cannafé", is the first of its kind in the state. Naturally, I was pretty curious to try it out and see if this was a new place that I could add to my list of study spots.
Now, before I really get into my thoughts about the café itself, here is a little background on CBD. CBD, according to the Cannafé website, "is one of the over 100 cannabinoids found in the cannabis plant" and "is commonly used for medicinal and therapeutic purposes" that range from things like epilepsy and Alzheimer's to anxiety and depression. Ironically, I thought that CBD was something you could only have access to if you had medical permission, but it's legal for anybody who wants to try it. Furthermore, CBD lacks the THC compound that causes the "high" that people experience when smoking or ingesting weed typically. The café's website claims that CBD is useful for improving your focus and helping you relax which are two things most college students, including me, could definitely use some help with.
So, last night I decided to drive over to the Cannafé and give it a go. Right when I walked in, I was greeted by a super welcoming and inviting environment. The people working behind the bar were super helpful and walked me through exactly what all their products were and how they integrated CBD into them. I ended up just getting a coffee with CBD-infused creamer, but they had a lot of different options of drinks (right now they are serving a CBD-infused apple cider, perfect for the winter) as well as snacks and sweets.
Once I had my drink and laptop ready to go, I was able to have my first taste of CBD coffee. I'm a pretty avid coffee drinker and in my opinion, the coffee was really good. However, it does have a distinct taste on account of the CBD creamer they mixed into it. It's definitely different than your normal cup of coffee and it may taste strange to those who aren't accustomed to marijuana products. Yet, it wasn't too overwhelming, and it was still nice to sip on. While I was working, one of the baristas even came over and offered me a free pastry to try: a CBD-infused pumpkin bite which, by the way, was really good.
After about 20 minutes of having been drinking and eating, the effects started to kick in. It wasn't anything severe, but I really did feel more relaxed and was able to crank out much of the paper I had been working on at a rate a bit faster than I would've been able to at home. I can also attest to the fact that it helped me relax and even feel less stressed about the things I needed to get done. Either way, there was a definite boost in my productivity and overall mentality about my work.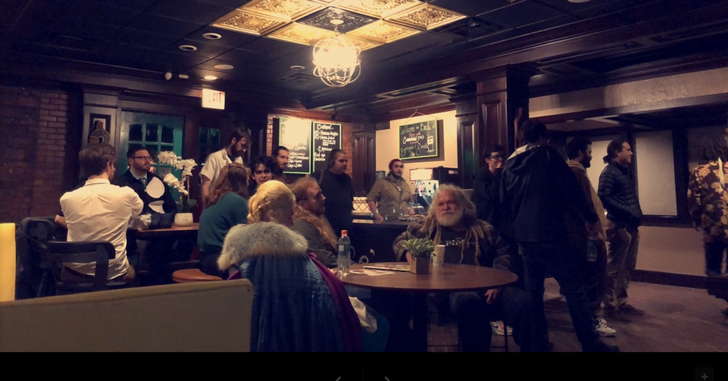 Inside the Cannafe.
In terms of the café itself, it was super pretty inside. It has a lot of dark brown accents that are aptly contrasted with yellows and other calming colors that really made it a nice place just to sit and relax. Additionally, the furniture and detail given to the walls, and even the ceiling, gave it a bit of an elegant flair. They have multiple TV's which are perfect for people who want to come to just socialize and hang out. Additionally, there is a small performance area for live bands to really complete the whole cozy coffee shop aesthetic.
In conclusion, I was really pleased with my experience at this one-of-a-kind café and can not recommend it enough to other students who are looking for a new place to go around Norman. I hope that this local business thrives for a long time and that more and more people become interested and accepting of introducing CBD into their study regime as well as integrating the Cannafé into the local culture.