On August 8, a friend of mine, named Jody, contacted me through Facebook about something horrific she heard about a flea market in Ohio allowing the sale of animals left in bad conditions every Friday. Knowing her as a huge animal rights activist and having quite possibly the biggest heart for every animal, I knew this was something she was very passionate about. She had said that what was happening had been going on for years, and though many people have voiced their disgust, nothing has been done about the situation. So we made a plan. On August 14, she and I went up to Rogers Flea Market in Ohio, posed as potential buyers, and sought out the tents selling the animals. What we found was more than expected, and incredibly overwhelming.
First, we came across a pen set up with three Boston Terrier puppies. Two were energetic, while one was absolutely petrified. She was shaking and hiding in the corner. The man selling them was standing at the back of his truck, claiming he would take $300 for one puppy. When I asked about their shots and health records, he told me that they had up-to-date shots and showed me the paperwork. However, he also said they were not de-wormed, and did not have any other health certificates to show. These dogs were in the heat with no fans on them; however, they did have food and water in the pen.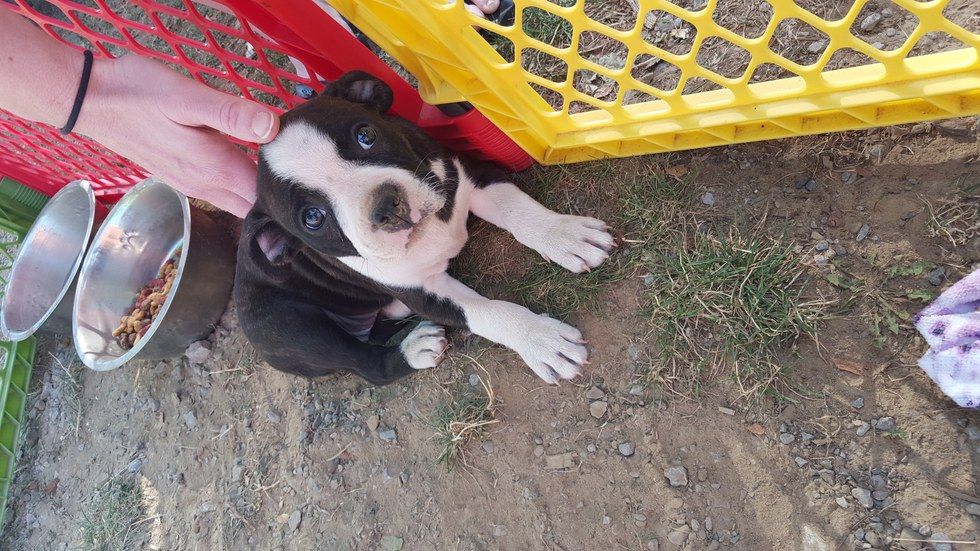 A little thrown off by that first vendor, we knew we had more to look for, as there was no way that was what the accusations were about. As we circled around to another line of tents, our hearts were immediately broken as we came across a tent with cages propped up on plastic tables with dogs lying in the heat with dirty water and no food. These cages were small, except for one larger one which actually held two medium-sized young dogs. All of them were just put on top of newspaper, and there were blankets over top of the cages. The dogs honestly looked dead as they lied there, unmoving and inattentive.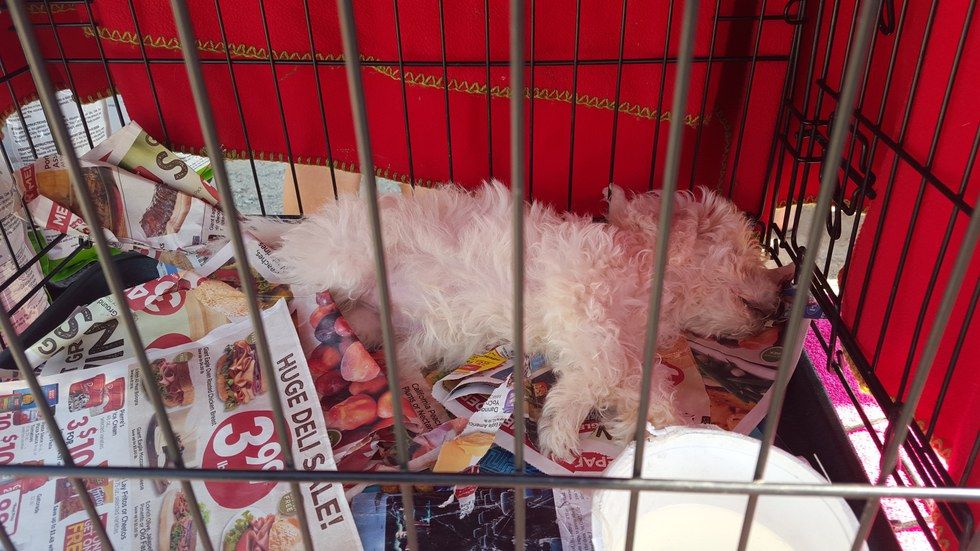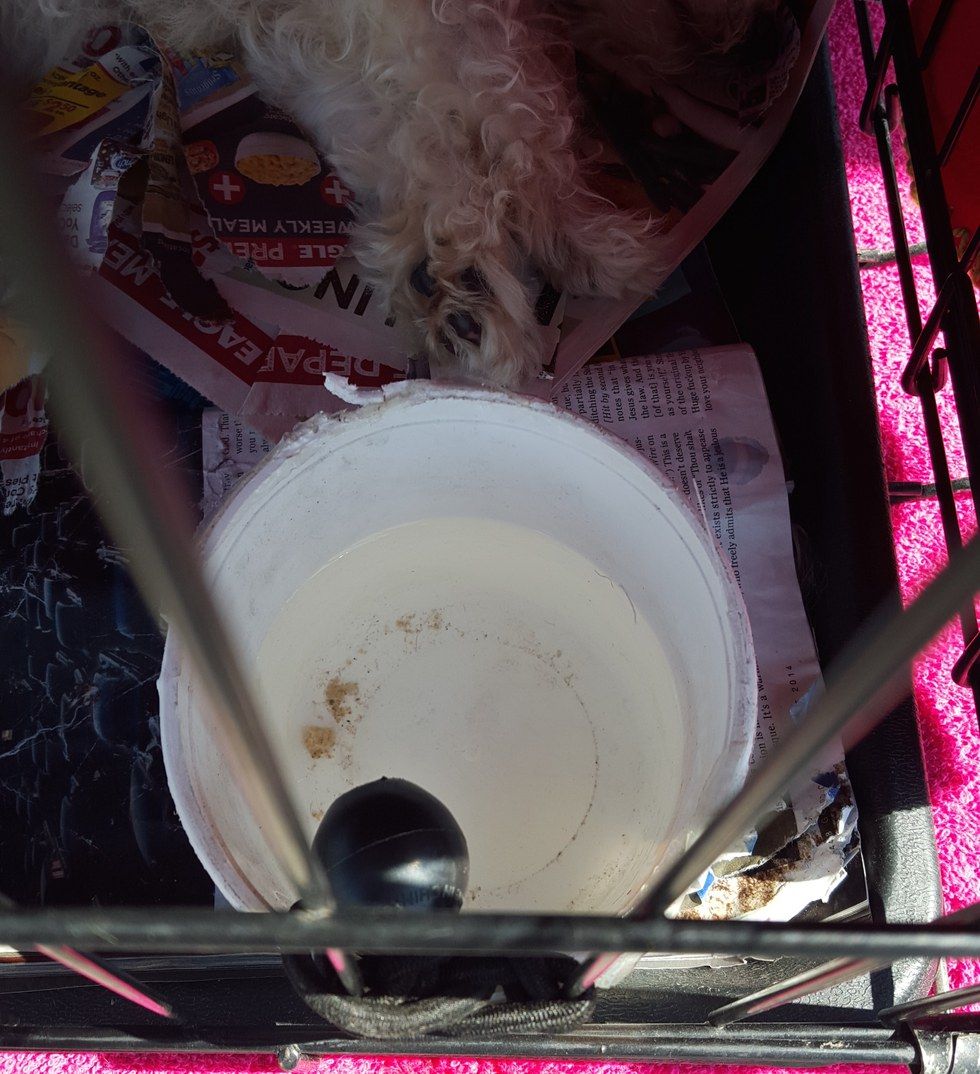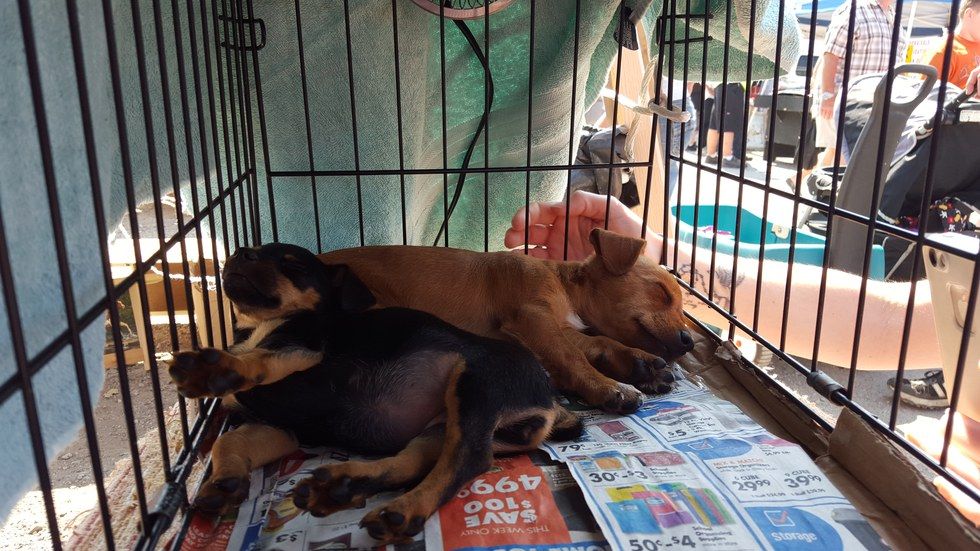 The two larger dogs, a black lab pup and a boxer/beagle mix, were more energetic and playing with each other. However, when not playing, the lab would be crying out, and the mix would be chewing on the rungs of the cage.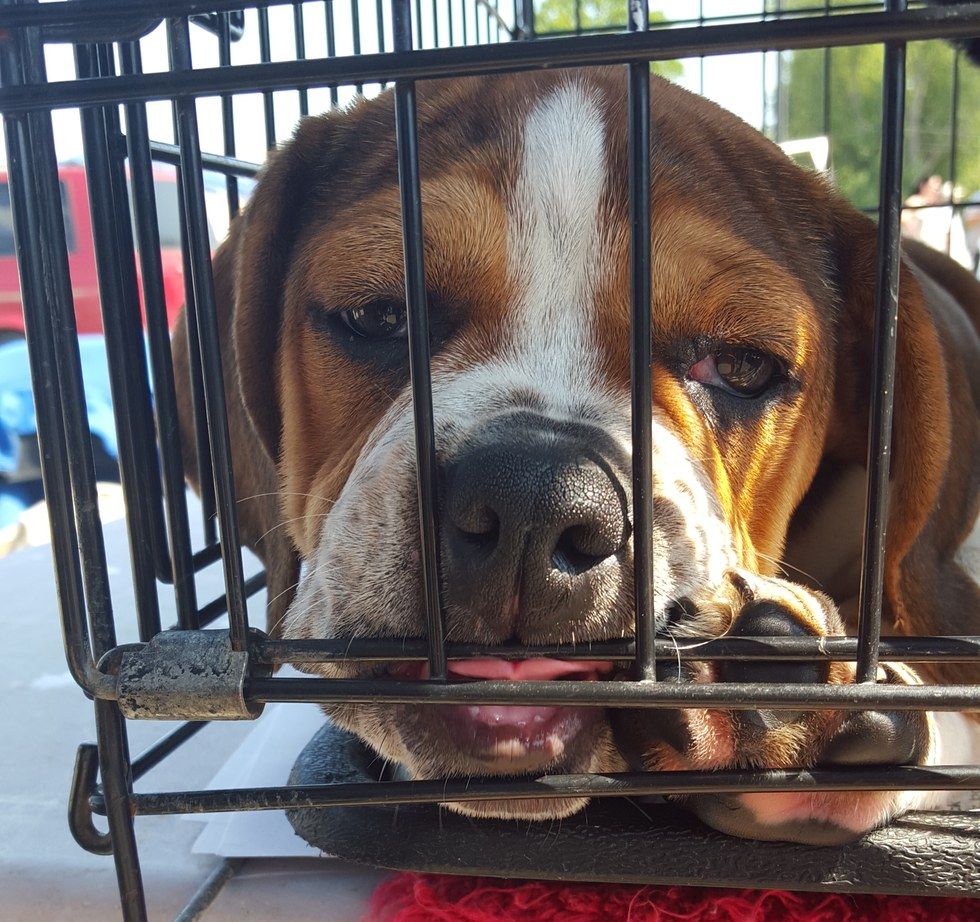 Often they would be digging under the newspaper to find a couple bits of kibble to eat. The lady who was one of the vendors at that tent sprayed the dogs down with a solid stream of water from a spray bottle. Let it be known that this does not cool dogs down, and the stream should have been a fan spray, not a jet. Those two dogs were soon let out, as one family held the boxer/beagle mix, and I held the lab. Both seemed calm and happy to be out of the cage.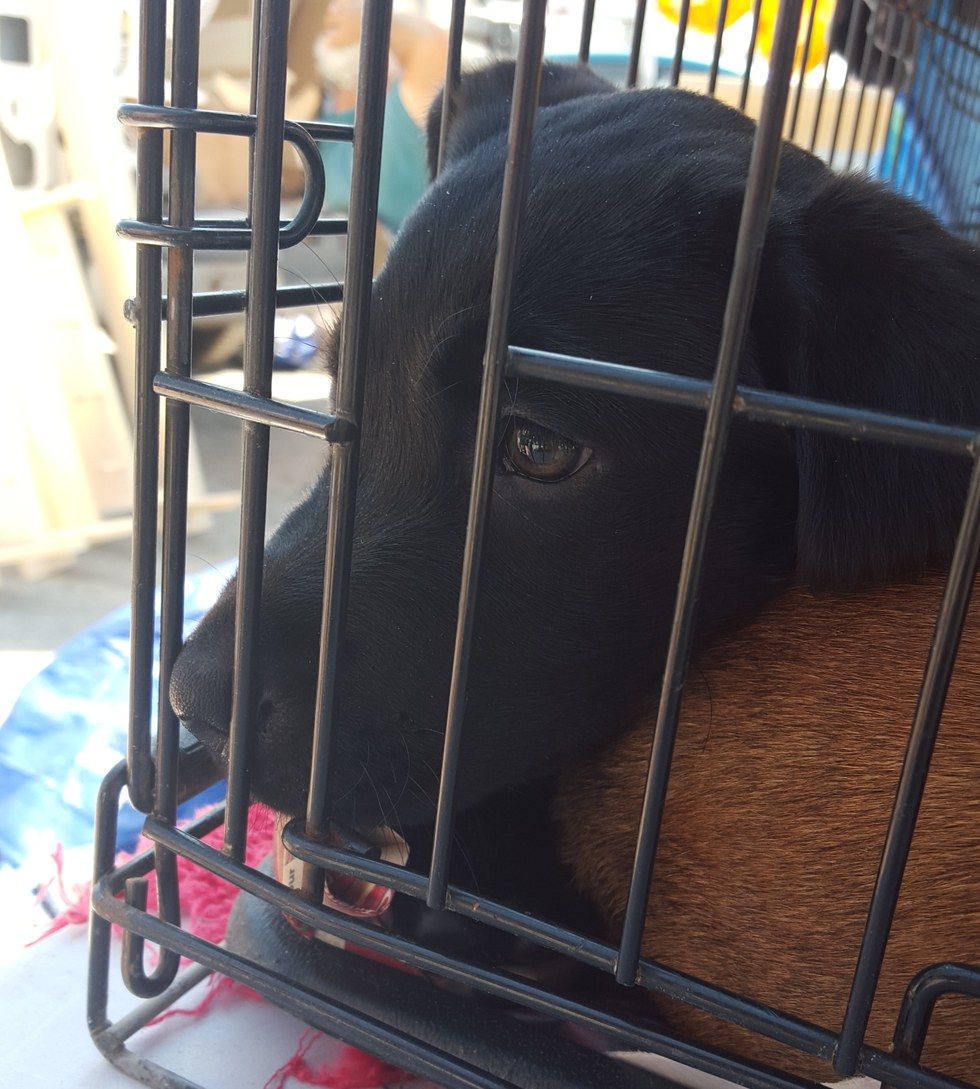 The tent did not have a name to which you could refer, and the closest thing they had to a business card was a small piece of thin paper. When I asked to see shot records and paperwork, she pulled out a small envelope with shot records for all kinds of dogs, most of which they didn't even have at the tent that day. They also claimed that their vet would send a health certificate if a dog was bought; however, we later found out that that claim is not true, and many times no paperwork would show up. Also, few animals at the flea market were registered animals. Horrified and annoyed, Jody and I moved on. No less than 100 feet down the way, we came across another tent. However, this one gave us relief.
We first saw the large, multi-level cage housing three kittens. There were toys hanging from the rungs and fans directed down onto the cats.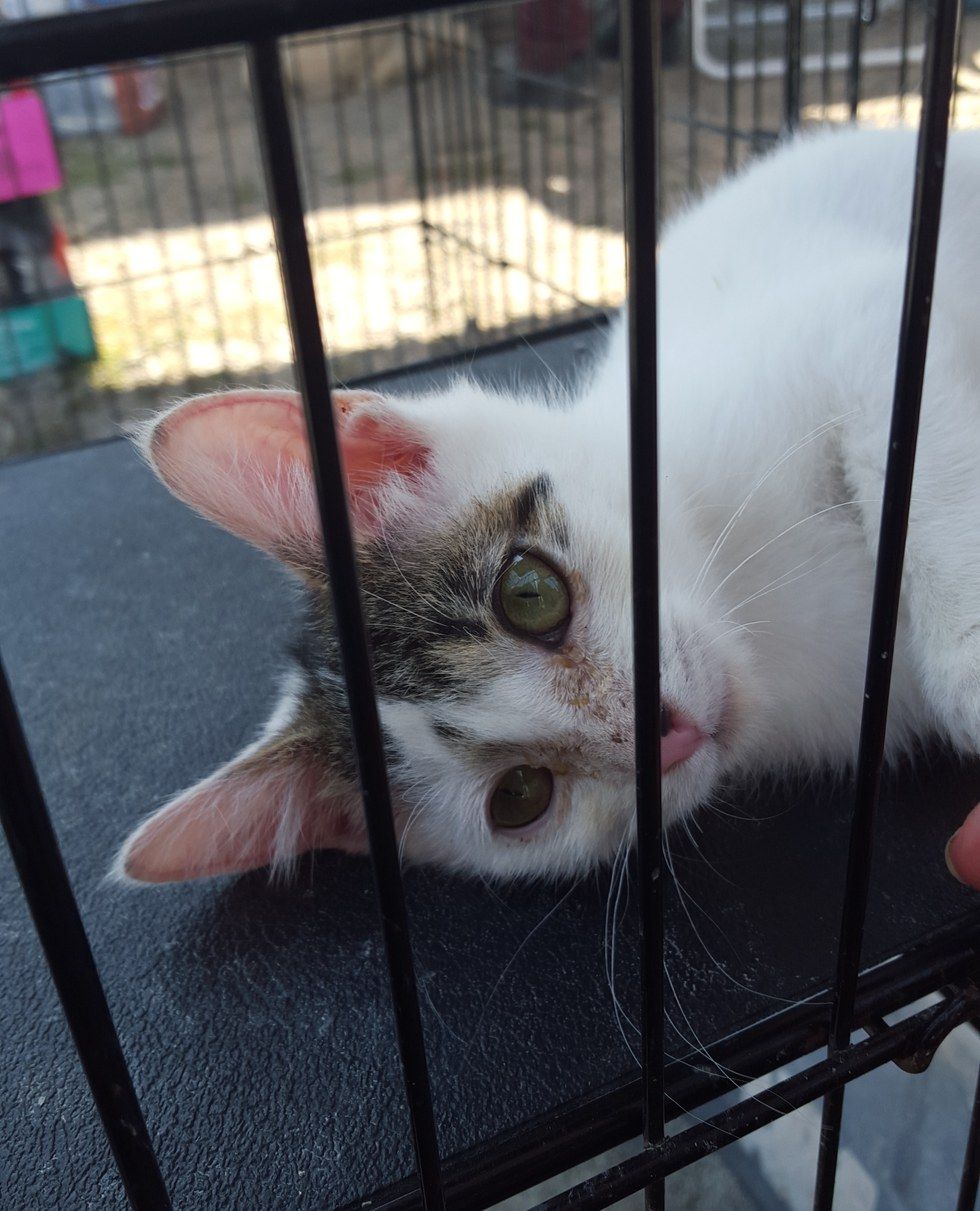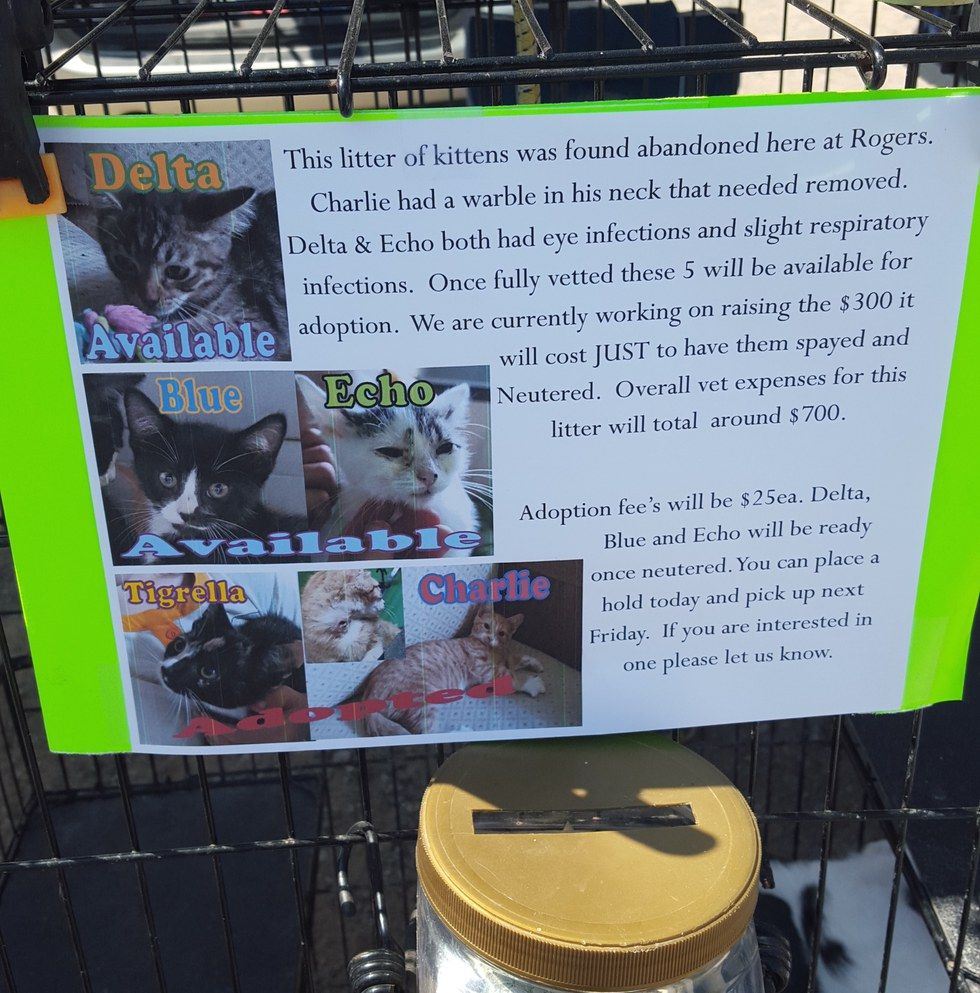 As we looked among the brightly colored posters showing information on their animals, we found a cage with one dog in it, and a pen on the ground with two other dogs in it. The pup in the cage was tired, but attentive if woken up. There was food and water, as well as a fan blowing on the dog. The pen housed two dogs who looked like they were adult age. The one was barking because he wasn't getting enough attention from the many passersby who stopped, and the other was just quietly looking around. In their pen were toys and water, as well as two fans.
With the negative idea in our heads that anybody with animals at the market are bad, we began to talk to the owner of the tent, a lady by the name of Ruth. She had her whole family there, talking to guests and selling drinks. She told us that the tent was for her animal rescue, and none of these animals could be adopted that day, as there is an extensive application process she goes through for each animal. The rescue was called Pinalope Animal Rescue, and operated out of Ravenna, Ohio.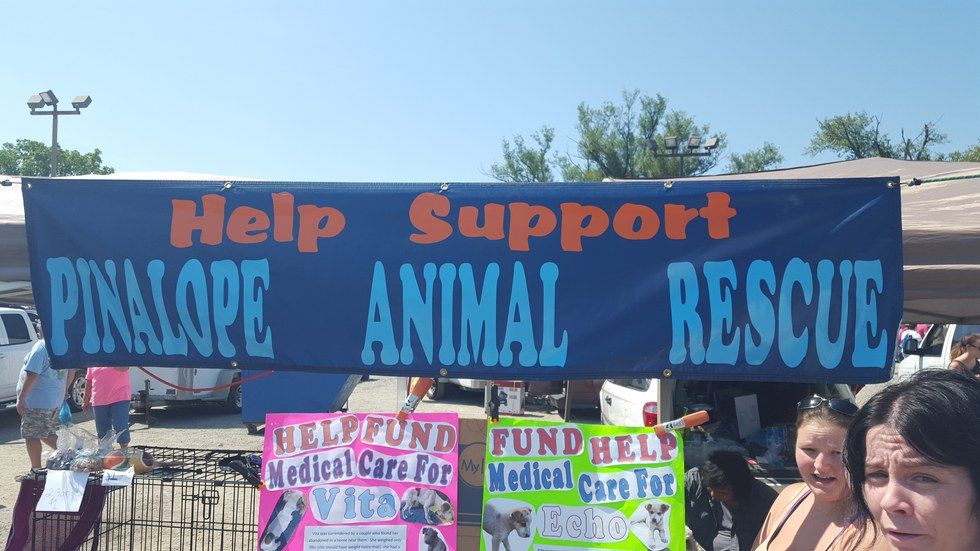 The posters they had hung up were asking for donations to help fund medical care for certain animals they had. One was for Vita, the dog in its own cage. She was an abandoned pup who weighed only half of what she was supposed to when found, and was full of worms. When we saw her, she had clearly put on weight, and looked much better than the pictures taken of her at first.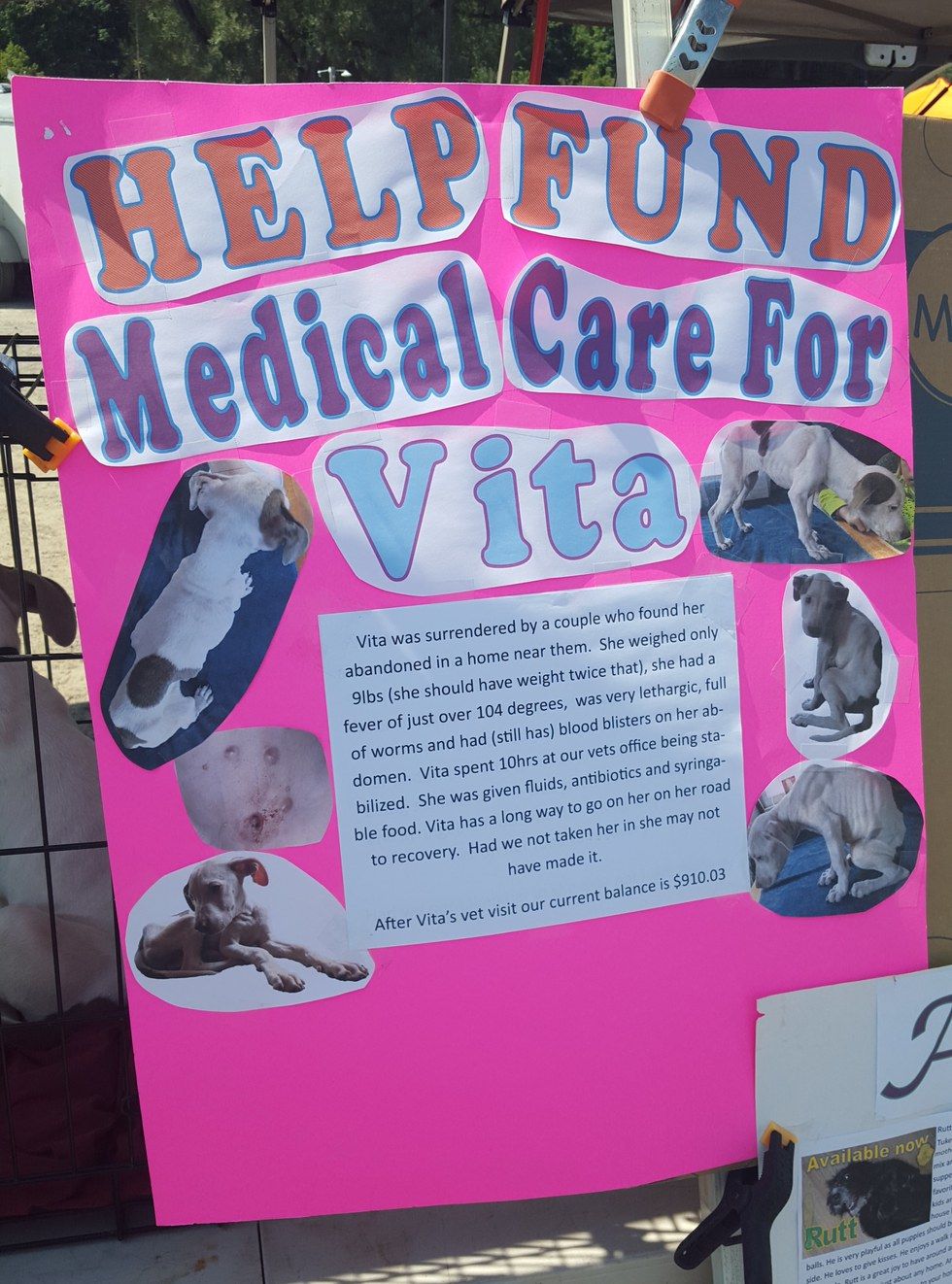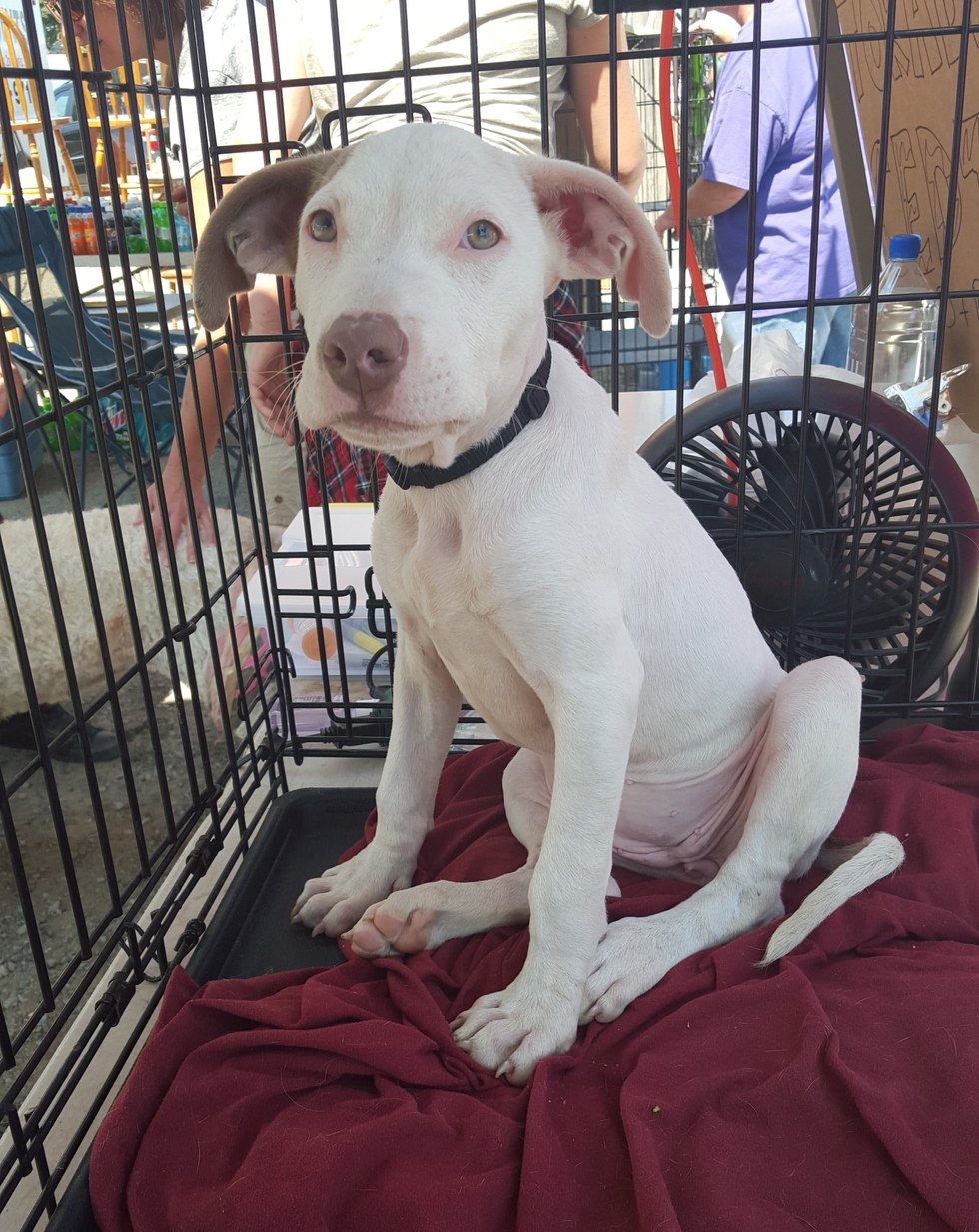 Vita looks much better now!
Ruth and her daughter, Destiny, told us how many of the cats and a few dogs they have are animals they have rescued from the market grounds and from other vendors. Ruth told us about Echo, a dog she rescued from a vendor at the market. He had a hole in his head and had been diagnosed with Canine Distemper, a contagious and serious virus, and because of his issues was being sold for only $50. The illness has now reached its later stages with Echo, and now gives him seizures and fits. Ruth says he will never be adoptable, yet has many fans at the market who come to see him. He even has his own Facebook page!
Feeling relieved that we found somebody competent and caring with animals, we asked her daughter, Destiny, if she could show us what we were missing, as she said she knew of many other vendors in the market we should be scouting. She took us to a set up in one of the pavilions, for a company called Bree & Steff's Pets. Long tables were topped with multiple cages with all different kinds of dogs in them. Each cage was labeled with what type of dog was in it, and listed a price for each one. They also had two topless cages on the ground, one which acted as a playpen for dogs, and another which housed a couple Norwegian Elkhounds. The people working the area were college-age kids wearing bright colored tee-shirts, as some few Amish women stood by with glaring stares at anybody that seemed suspicious. AKA us. The most horrific part of that vendor area was the rancid smell of waste coming from underneath the pens on the ground. The animals in those pens were walking on bare metal rungs. This was so that if the animals had to use he bathroom, they could go right in the pens and it would sink between the rungs into the pan on the ground. Yet every time a dog had a bowel movement, it would not sink, but be dragged around by the restless puppies. On top of that, those bare rungs were probably hurting the dogs' paws.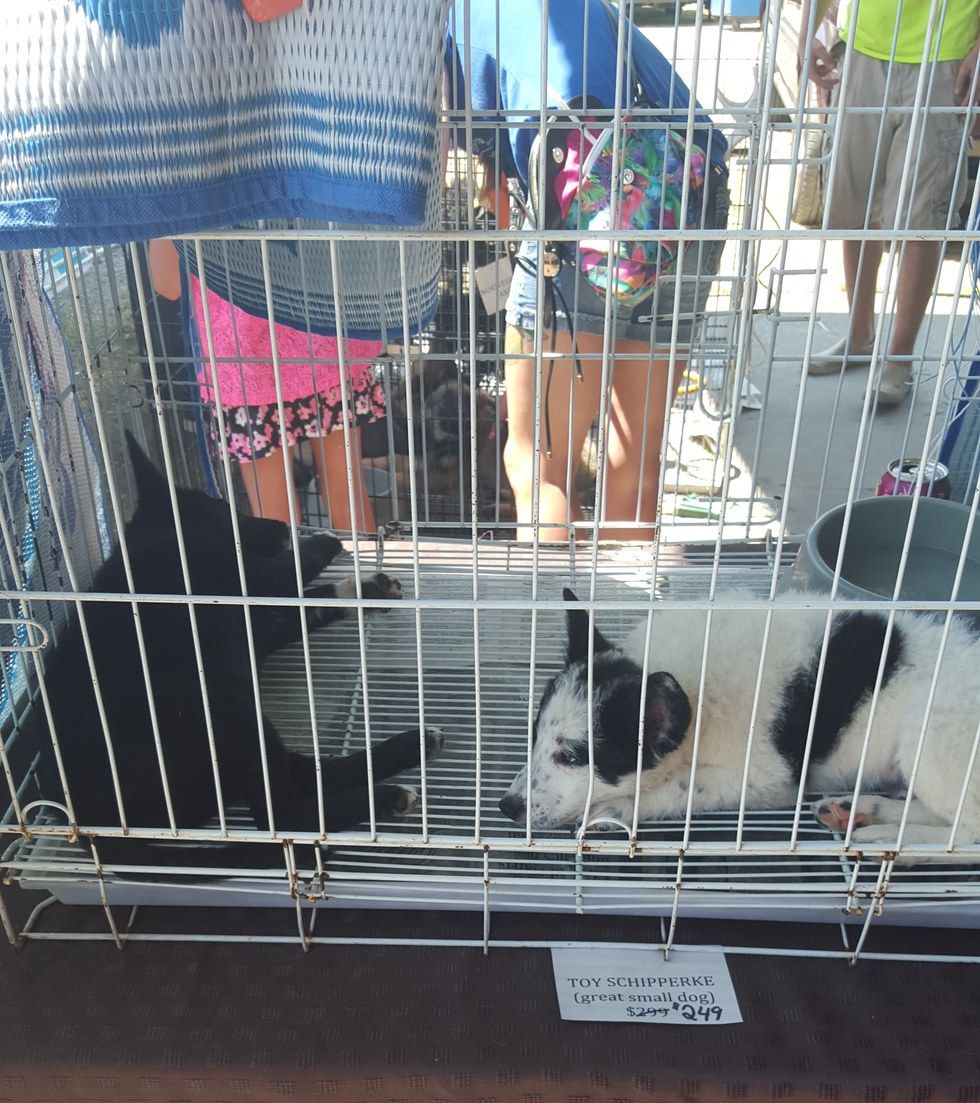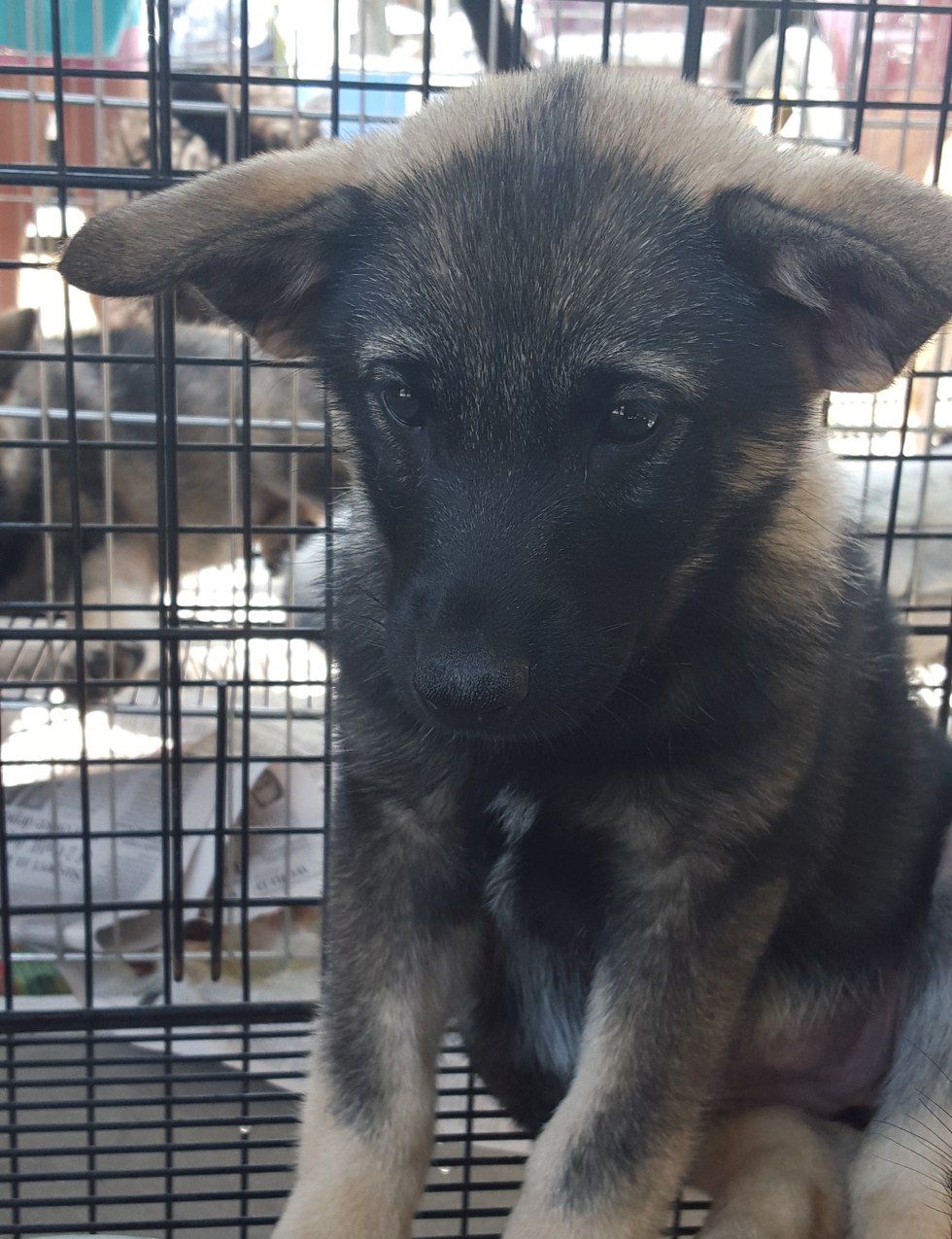 Moving on from them, we came across another vendor who sold many things far from animals, yet had a cage of bunnies and hamsters on their table. Why are these animals treated as nothing more than souvenirs?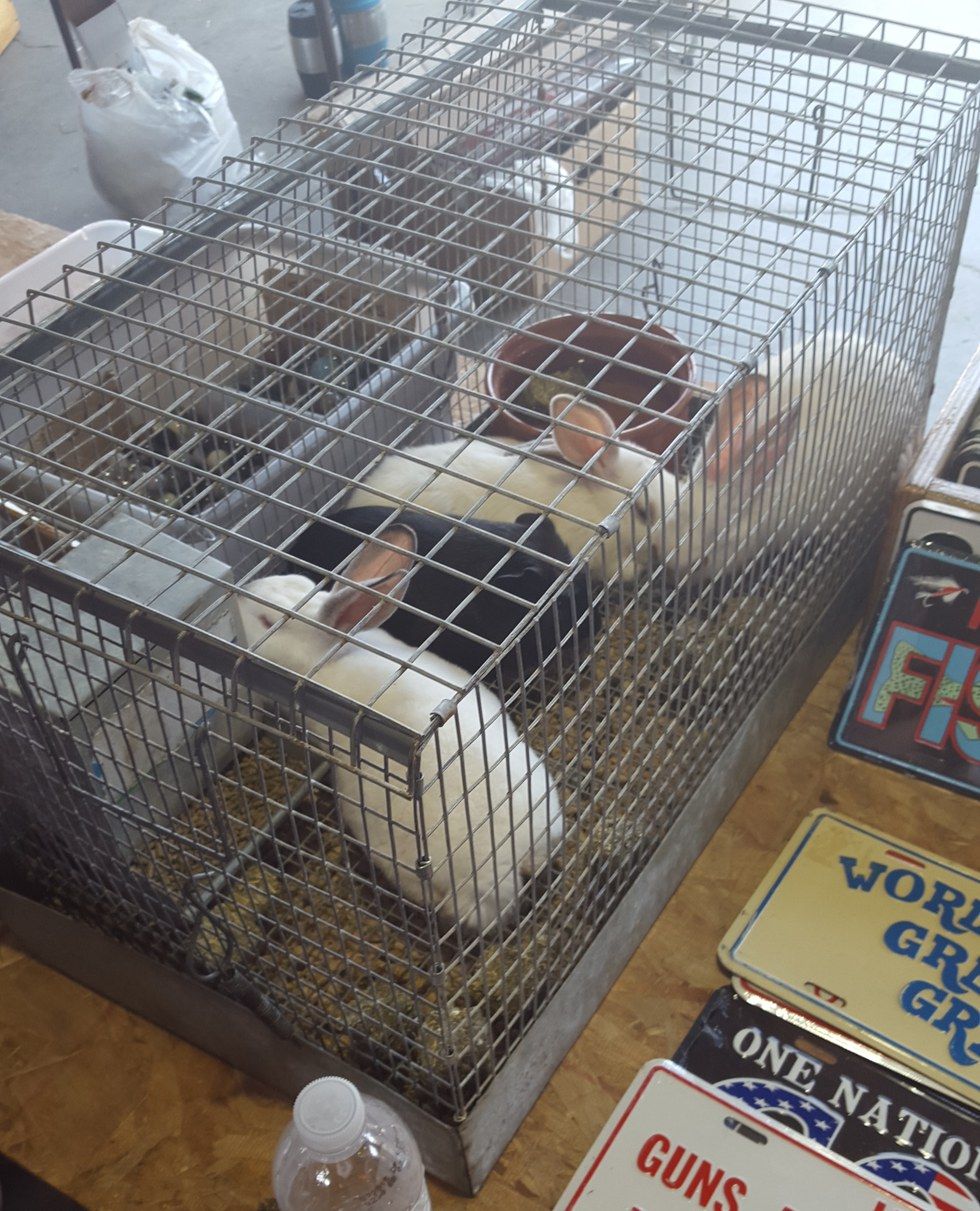 As we walked to another pavilion, we came across a family holding a golden retriever puppy. Jody intercepted, and asked them if they bought the pup at the market. The family said yes, from people selling animals in cages out of that back of their truck. Immediately infuriated, we vowed to find them next, but before we left, Jody picked a flea off of the ear of the puppy. She warned the family as we left to check his health as soon as they got home, and to make sure there are no more fleas on him.
We searched for the truck of dogs, yet did not find one. As we retreated back towards the rescue tent, Destiny pointed out a truck in the field with a cage on it. As we headed towards it, we realized it may have been the worst we came across all day. A family, parents and three little kids, were set up out of the back of their truck with two other tables, selling bunnies, hamsters, and a lamb. The adult bunnies and hamsters, kept in cages and meat crates were being sold for only $5 a pop. All of these animals were being held in the blazing sun, with no cover and no fans. The father was sitting atop a stack of meat crates full of bunnies. Jody paid for Destiny to buy one of their bunnies because she saw it was blind, and when asked if they still wanted $5 for the blind bunny, the man said, "Yeah, because actually I've got another way I can go with it, but I won't say which way it is..." and then laughed. I've never felt more disgusted in my life than by him making a joke out of killing a blind rabbit.

We then asked to see the lamb, which was being kept in a dog crate on top of the bed of the truck. This carrier was so small the lamb couldn't even lie down, and it was being held right in the sun. When the lady pulled her out of the crate, the poor lamb was petrified, trying to hide back behind the woman. One of the lamb's horns was broken, and when I asked why, the lady gave me a detailed explanation of how female lamb's horns are weaker than male's, and so they break more easily. They wanted $75 for the lamb, being sold for meat or as a pet.

We had to leave. The fury raging through Jody and I at what we had witnessed that day was too much for us to handle any longer. As we left the market, Jody and I discussed how we would approach the situation, and she said she was going to call the office when she got home to figure out what their restrictions were on selling pets. After calling, she said that the only stipulations the market had for selling animals required them to be 12 weeks of age and up-to-date shots to be sold. No other registration or health records were required.
Jody contacted me later in the week and said one of her rescue friends wanted to spread the word as soon as possible, though I hadn't had a chance to write this article yet. When I gave her permission to pass our proof onto this woman, the issue immediately went viral. Thousands of views and shares later, Rogers Flea Market pitifully attempted to clear their name by fighting on the Facebook posts with Jody and I, claiming we were third-party accusers who were using stock photos and trying to be internet activists because we let the story go four days after we witnessed it. They said we weren't doing anybody or anything justice by not immediately calling authorities or the offices (though Jody did call the office that day). Other people replied saying that it would not have mattered had we contacted the authorities that day, considering this has been an issue for years and nothing has been done about it. Rogers tried to pride themselves on removing one vendor the Friday that we were there, and we constantly reminded them that there were many more than just one vendor that needed to be taken care of. All of these comments are publicly posted on a Facebook review of the Flea Market.
Since the social media takeover, Rogers Flea Market has since changed its policy to completely ban the selling of animals, or even pets on the premises at all. But the fight isn't over. Writing this article and bringing the issue to light had a purpose. Jody and I, as well as many rescue leagues and animal rights activists everywhere, want you as society to fully understand where you are getting your animals from. Please make sure research is done on the health status of your next pets, the registration, and where your animals come from. If you buy from breeders, buy from home breeders. Do not buy from puppy mills, ever, as many of those dogs have health problems that stem far from what you see on the outside. Don't pass up an animal because it has something wrong with it, and please understand that these creatures should be treated with as much respect and love as you would any other human being.
If you have any questions, or request sources to find information as well as trusted sellers, please contact me at npkalafatis@gmail.com.
If you would like to follow Echo's story, like their Facebook page at: https://www.facebook.com/pages/Echo/16117768190703...
Rogers Flea Market Facebook page: https://www.facebook.com/RogersCommunityAuction
All photos courtesy of Nikki Kalafatis.

Cover Image Credit: Nikki Kalafatis