The fourth time is the charm, right? Ladies and gents, Nick Viall is back. Again. For a fourth chance at finding love on national television. He's set out to prove to America that you can find love if you don't give up (and if you're extremely good-looking and cast in a popular TV show). Meanwhile, ABC is desperately hoping that Nick will finally find his true love so that the network doesn't look like a bunch of morons for casting him again. I think we can all agree that by this point, we're pretty sick of Nick Viall. Let's hope that this time, the producers managed to pick the right girl for him.
Any true Bachelor fan knows that the only way to watch the show is with yoga pants and wine. So let's raise a glass to Nick and toast his never-ending quest for love on national television.
Take a sip when...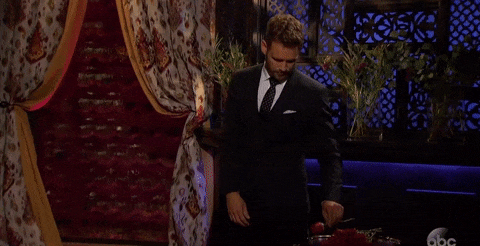 A rose is mentioned.
A date card appears.
A girl says that Nick is "hot."
Nick calls one of the girls "hot."
Anybody gets kissed.
The word "amazing" is used.

Somebody has a wardrobe malfunction.

A black box gets put over someone's body parts.

Someone says that they just "can't do this anymore."

You see anyone else on the show drinking.

Chris Harrison says, "Ladies, this is the final rose tonight."
Anytime Chris Harrison shows up.
Take two sips when...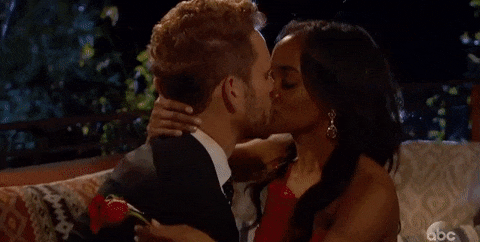 Nick says that he's "done this before."
Corrine steals Nick away from another girl.
Corrine refers to herself in the third person.
Corrine talks about her nanny or her multi-million dollar company.
Corrine does or says anything annoying.
One of the girls wants to talk to Nick about another girl and why she's bad for him.
A girl talks about how hard it is to see Nick with other girls.
One of the girls cries.
Someone mentions their journey to find love.
Andi is brought up.
Kaitlyn is brought up.
Nick and a girl make out in a pool or hot tub.
Nick and a girl make out on a rooftop.
Nick and a girl make out in the snow.
Nick and a girl make out near the other girls.
One girl calls another girl a name.
Take a shot when...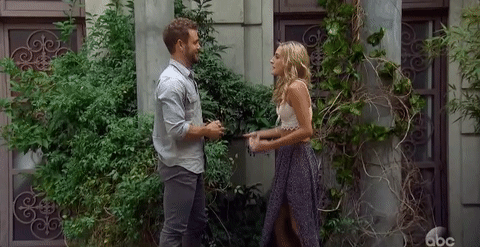 Someone gets bitch-slapped.
Girls get into a fight over Nick.
Girls get into a fight about another girl.
Corinne starts a fight.
Nick visits someone's hometown.
Nick tells a girl that he is falling for her or that he can see himself falling in love with her.
A girl tells Nick that she's falling in love with him.
Nick says that he believes that his future wife is in the room.
Chris Harrison claims that this is "the most dramatic season yet."
Refill your cup when...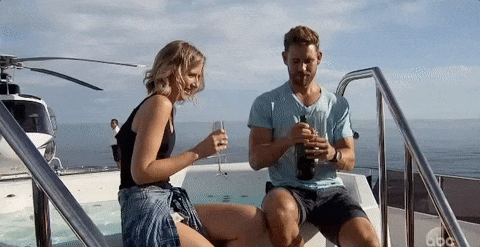 Nick references a specific event from one of his past Bachelorette/Bachelor in Paradise seasons.
Someone's parents don't like Nick.
Someone's siblings think that Nick has bad intentions.
Someone brings up a past relationship.
The camera people do a weird shot of a random animal.
Finish your cup when...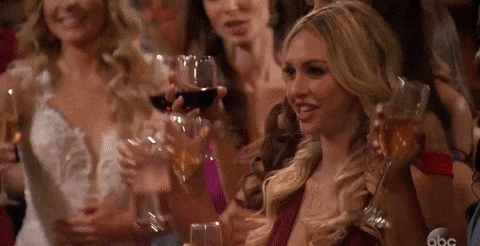 Neil Lane (the engagement ring guy) shows up.
Nick starts crying.
A girl leaves the show before the rose ceremony.
Someone gets sent home on the two-on-one date.
The rose ceremony ends.
Drink the whole bottle when...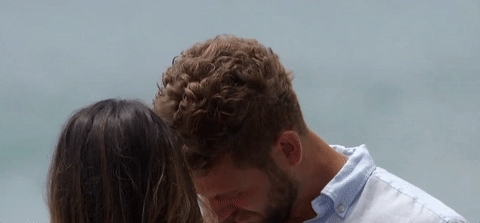 The girl you were rooting for gets sent home.
And at the end of the episode, don't forget to ask yourself, "Was that worth the two hours of my life I just wasted?" Because it usually isn't. But you'll tune in and play again next week.