Every Millennial fondly remembers their childhood. Waking up early on a Saturday morning to watch cartoons. Caring for your Tamagotchi every day after school. Playing with Barbies and Littlest Pet Shop with your friends. Baking yummy snacks out of your Easy Bake Oven. Having slumber parties with your friends on your birthday. Jamming to Boys II Men or Destiny's Child in the car. Freaking out over NSYNC or Backstreet Boys. Spending countless nights watching original Disney movies like "The Cheetah Girls."
Growing up in the '90s was such a simpler time for us Millennials.
It is no wonder we would want to hold on to anything that reminds us of our past. The unicorn trend taking over 2017 is proof of that.
"I think the political climate has created a state of unrest for a large amount of the population," says Jessica Washick, a color designer at Nike and creative director at Van Court nail salon in NYC. "...I think that this unicorn trend could very well be kicking that off and highlighting how badly we want something incredible — like a unicorn — to exist."

We all remember the famous Starbucks "Unicorn Frappuccino" that came out around April 2017. Though it received horrible reviews based on the taste, this frappuccino made waves on social media for the beautiful swirl of pastel pink, purple and light blue.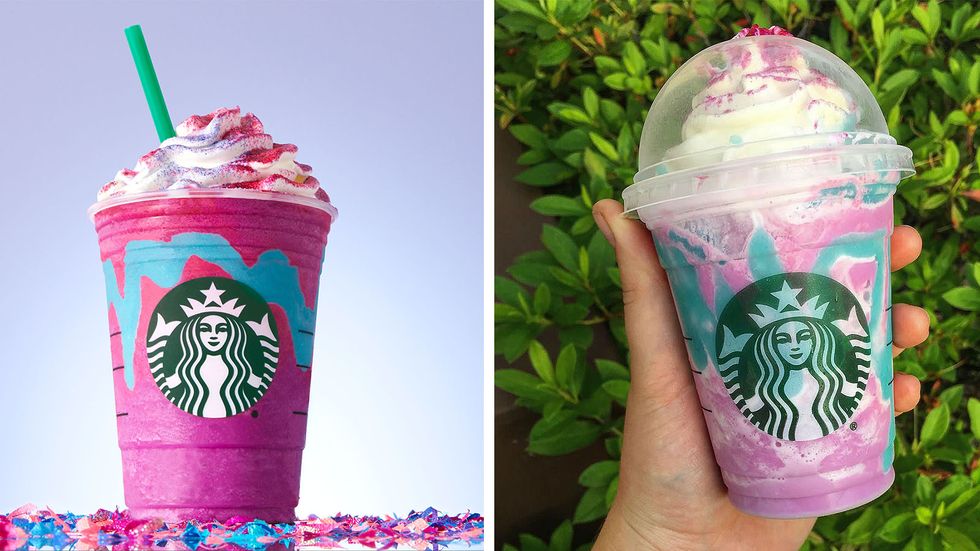 Around the same time the unicorn frappuccino came out, Google Trends noted a spike in searches for everything unicorn.
Since then, if people could find a way to turn their food into unicorn food, they did. There was unicorn cheesecake, unicorn toast, unicorn hot chocolate — even cookies inspired by unicorn poop! Unicorns literally popped up EVERYWHERE.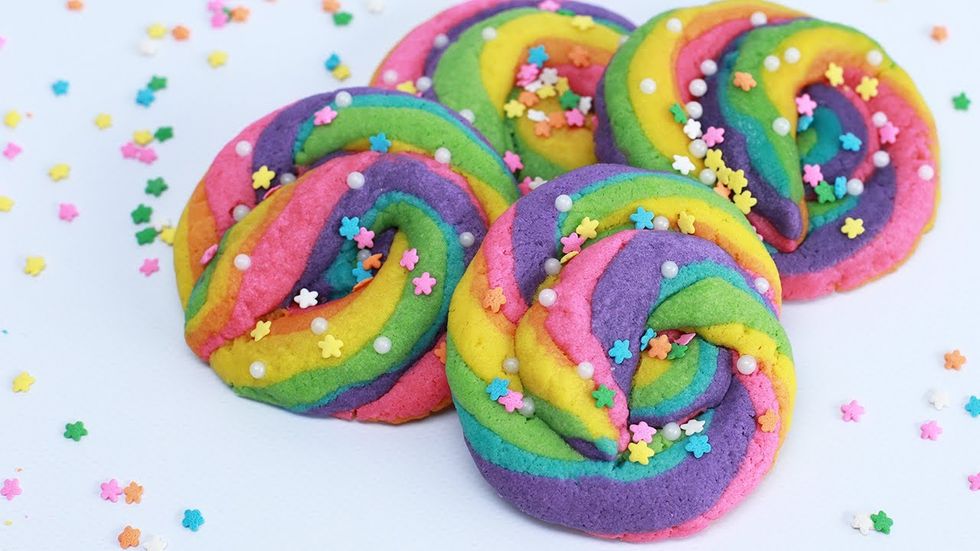 But while unicorn food found a place for itself on Instagram and Pinterest, unicorn beauty products really took off this year.
Actually, unicorns made a slow entrance into the beauty world since 2008. It started with makeup company Lime Crime and their tagline "Makeup for Unicorns," and then it went to Guy Tang, a hair colorist who debuted a series of unicorn-colored hair on his Instagram in 2014.
But especially in 2017, beauty products everywhere had some form of unicorn in them.
Tambeauty offers unicorn highlighter. Unicorn Cosmetics, a UK company, is seen as the first to bring us makeup brushes with unicorn horns as handles. Tarte came out with their own line of unicorn-inspired makeup in March of this year as well.
And for a big blast from the past, Lisa Frank teamed up with Glamour Dolls Makeup to come out with cruelty-free makeup for adults. That's right, the pioneer of the neon-colored world that took over the '90s is coming to the present.
Every '90s girl knows about Lisa Frank. You could not have a binder, folder, pencil case or other school supplies without her designs on them. The hugging penguins with their neon pink auras under the rainbow Aurora Borealis. The majestic white unicorn with pink hooves, a rainbow mane and rainbow spiral horn.
Everything about her was magical and whimsical.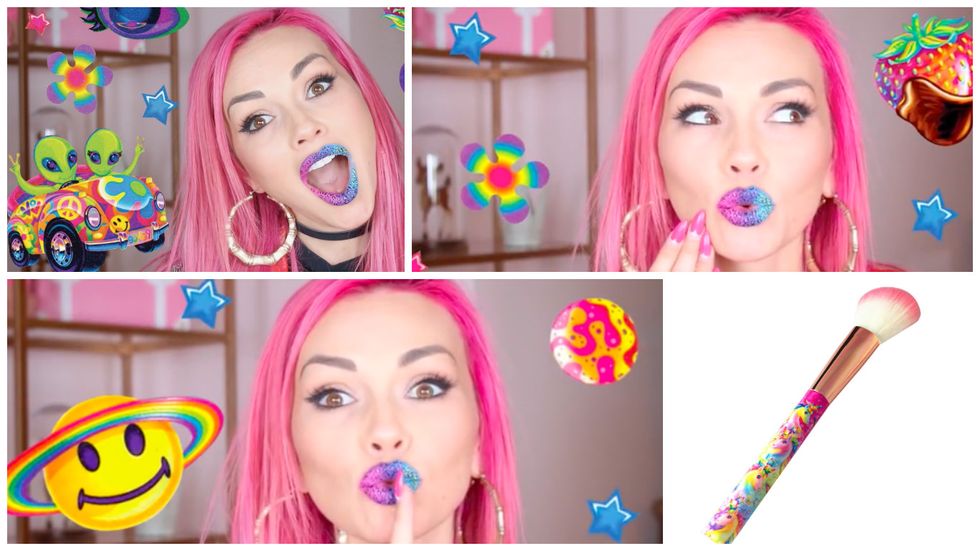 "Women are in need of fantastical magic in their lives right now, because we're surrounded by culture and politics that are very bleak and dark and oppressive," brand strategist Jess Weiner says. "Unicorns are rare, they're powerful, and they're imaginary, so they're capable of anything. And they do have a certain girly undertone because many of us associate them with our childhood, so they're unapologetically feminine. Why wouldn't we own something that's just for us and inspires us to believe in our otherworldly capabilities? We're being faced with some dire messaging around being female. Unicorns are our chance to escape and have some fun."
Social media is another big reason why the unicorn trend took off in 2017.
We are drawn to tutorials on YouTube that can elevate our makeup skills in an easy manner. The iridescent and shimmery shades of pastel hues in pink, purple and blue make for a perfect and mystical Instagram picture.
In fact, searches for #UnicornMakeup came up to more than 37 thousand on Instagram. Unicorns aren't a new obsession for us, social media just makes it easier to present it in a new way.
With unlimited filters available and almost every type of makeup coming in an iridescent or holographic shade, becoming mystical, and almost like the imaginary animal, is easier than ever.
Products like "unicorn snot" body glitter, "unicorn essence" skin serum and "unicorn tears" lipsticks are not only beautiful on any shade of skin — they are also made from plants and other things that are supposed to be really healthy for the skin.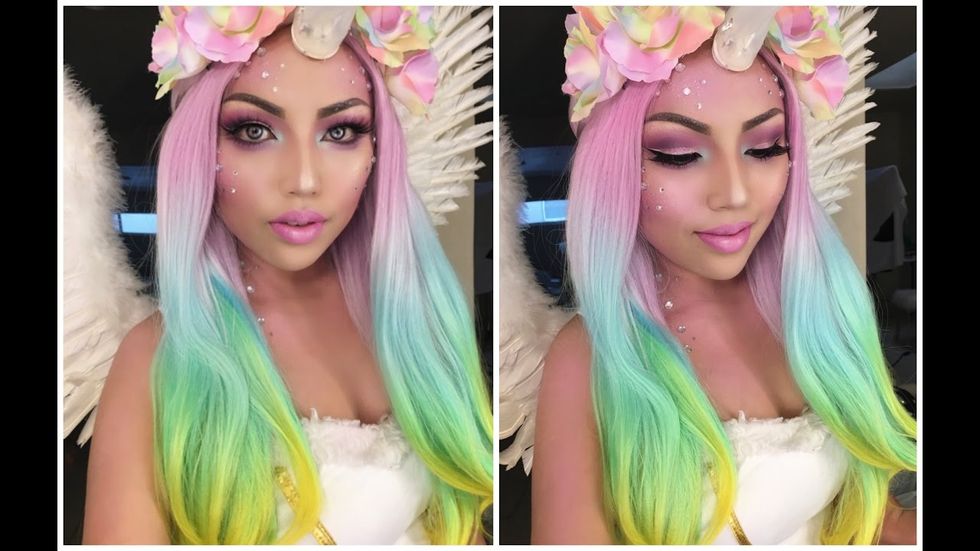 Many feel the unicorn trend has run its course. Some predict that by 2018 we will no longer see this trend. Regardless of if that happens or not, this trend is truly magical and can easily help us cling to the past while still look amazing in the present.