Normans Rare Guitars is located in Tarzana, California near the San Fernando Valley. Norman Harris, the owner, was originally an keyboards player from Florida. During his touring days he realized that he had a passion for collecting and selling vintage guitars. He eventually put up a store and has been selling vintage guitars now for more than 30 years. Norm's has always had the best selection in Los Angeles and celebrities have taken note of that.
Normans Rare Guitars is a store that specifies in vintage instruments. They have just about every cool guitar you can think of and any guitar that is historically significant. The workers there have more knowledge about guitars than guitar manufacturers do. It is an incredible store with an incredible selection.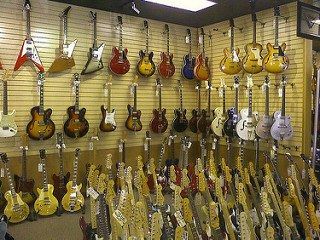 Image Source: Flickr

This store is so special because it is a main source of guitars for many celebrities. Anything from Tom Petty to Joe Bonamassa to even Bruno Mars. Norm has been dealing guitars to these celebrities for years and through that he has formed close relationships with these celebrities. He is definitely a good guy to know if you ever need to get in touch with a famous musician. Every time a celebrity comes in, Norm likes to document it with a photo and they upload it to the store website.
My personal favorite part about the store is their YouTube page. Every day they do a video called "Guitar of the Day." In this segment, store manager Mark Agnesi showcases an interesting guitar that they have around the store. He explains the significance of the guitar and then gives a demo playing some licks that have been played on those types of guitars in the past. "Guitar of the Day" is something I look forward to every day and in a way has become part of my daily routine. Another cool part about YouTube channel is how Norm often makes videos while chatting with various famous musicians. It is very cool to see some of my favorite guitar players just lounging back playing and talking about music.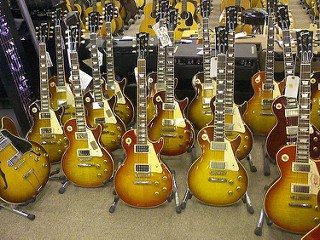 Image Source: Flickr

This store is special because vintage guitar lovers from around the world often make the trip just to see the store and just to talk to Norm. Norm's is the world's leading premier showcase for these instruments. If you love vintage guitars, I suggest you go make the trip to Normans Rare Guitars!