You would think that 2018 would be the beginning of the end of racism in our society. Once again, we are disappointed, but not surprised, by a large retailer's offensive slogan on apparel.
(Throwback to 2014 when Urban Outfitters was under fire for glamorizing mental illness on their t-shirts.)
H&M has released an extremely unacceptable display of product in the last few days. In H&M's children's clothing line, there is a green hoodie printed with the phrase "coolest monkey in the jungle," modeled by an African American child.
Modern-day racism really isn't a good look, H&M.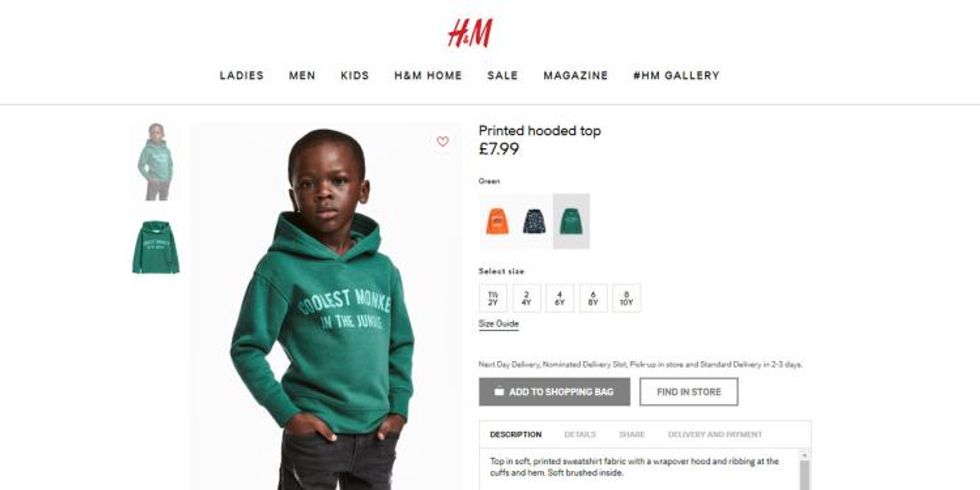 I don't understand how there is still racism in our world in general, but from a top retailer, no less.
As such a large company, it's shocking that no one caught this wildly inappropriate photo to be released onto their site, let alone taken in the first place.
You cannot be as successful of a retailer as H&M and not have several people review the line and the website before it goes live. A quick apology greets you upon entering H&M's website: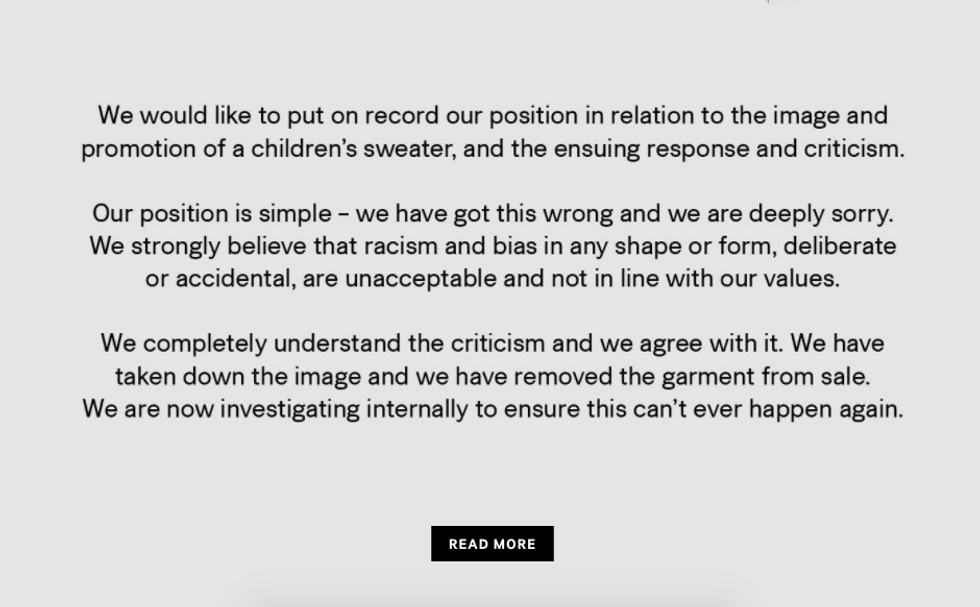 Who is apologizing, though?
Are we to assume it's the entire company or actually the specific parties involved?
Clearly, the entire company isn't involved because otherwise, someone would have caught this irresponsible act of racism.

Many celebrities with present and future collaborations have stepped away from H&M, refusing to be associated with them any longer after this scandal.
The Weeknd got a lot of Twitter attention as he has modeled in collaboration with H&M and tweeted his disappointment and embarrassment to be associated with such a company.

G-Eazy also had an upcoming collaboration with H&M, which he has stepped away from as well. You can also find a longer list of celebrity statements on this incident here.

It's 2018. It's time to start moving forward instead of backward with our progress in the elimination of racism. More people need to be speaking up, and bigger companies need to care enough to prevent this from happening EVER again.
Everyone is equal, and everyone deserves respect, and with us entering into the new year, I think it should be a priority to implement both of these things into our lives on a daily basis.