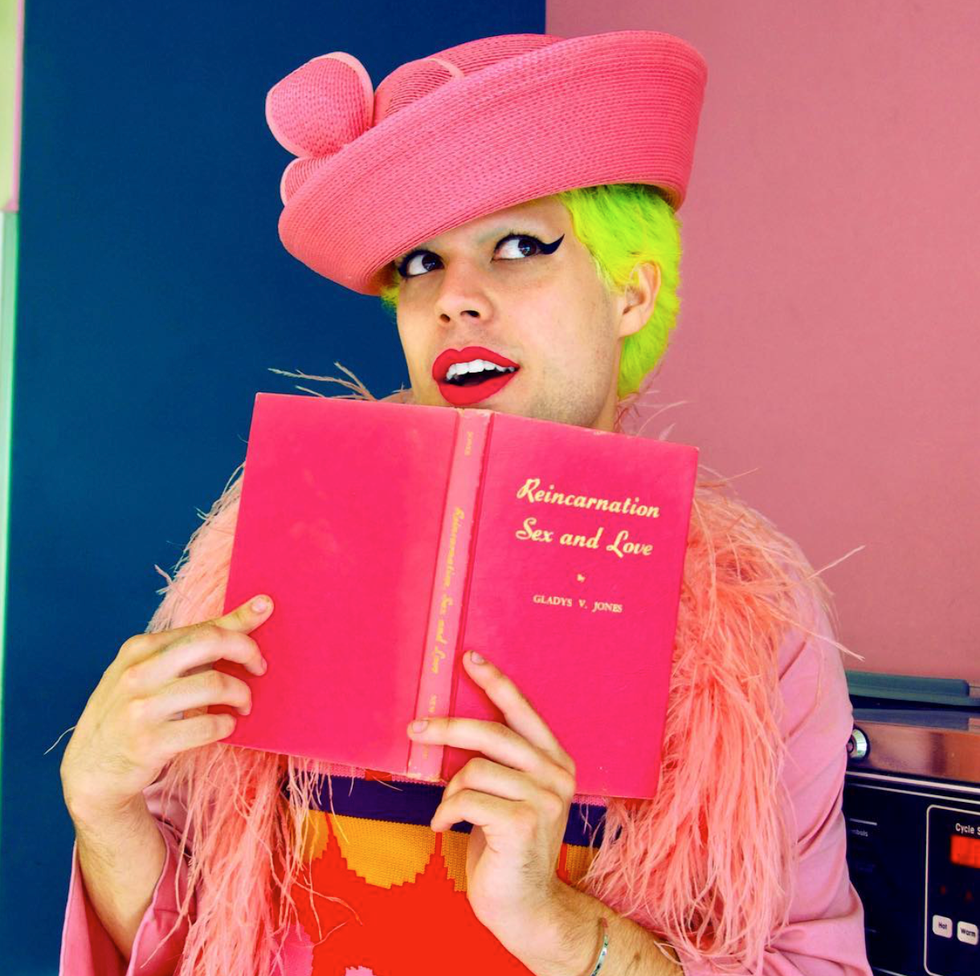 I first spoke with Nicky Ottav in the Spring of 2015. After reaching out via Instagram, he was awesome enough to meet a friend and me in NYC and take us to all of his favorite spots in the city including a handful of year-round halloween stores and costume shops. You can read all about the excursion here if you want a little back story on Nicky's lifestyle and a brief take on what Club Kid culture is all about.
From the small screen of YouTube to top brands such as Marc Jacobs and Vogue, Nicky has been everywhere and is taking the art world by storm. I recently reached out to Nicky to catch up on his accomplishments over the past year and a half – his success and exposure seems to be growing exponentially.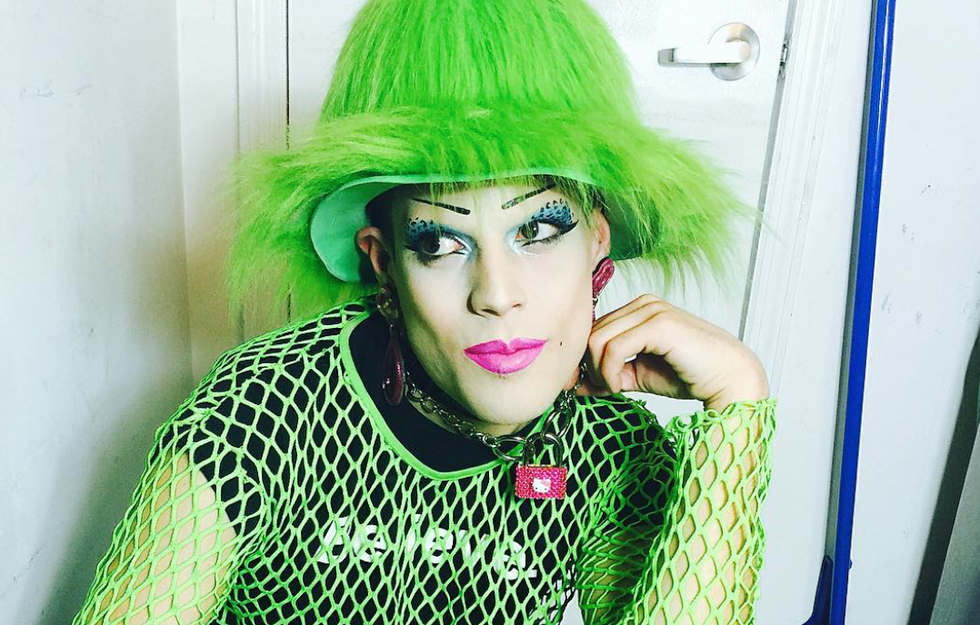 [LUKAS]: When we first met, you were attending NYU. Are you still attending?
[NICKY]: I'm in my final semester at NYU and I'm luckily graduating a semester early from the photo program. You know, what I learned from the experience is that I'm not necessarily a photographer: I am artist, period. My tools and materials change every new project I take on and that's totally fine because I embrace all mediums.

[L]: You were featured in a photo series on New York Times online! What was it like experiencing that level of exposure and where else have you been featured that most excited you?
[N]: I'm lucky enough to say that I've been able to be featured all over the place since I've lived in New York. Being in the Times, Vogue, Paper, Surface, Bullett, and in Bill Cunningham's Style Section are just some of where I've been featured and every time it's really a thrill, especially when it's alongside friends. Most recently I was in China's Modern Weekly in a shoot by my good friend and amazingly talented photographer Ethan James Green. That photo (below) ended up on Marc Jacobs' Instagram too and seeing all my friends, family, and fans comment with love for me was just the best feeling ever.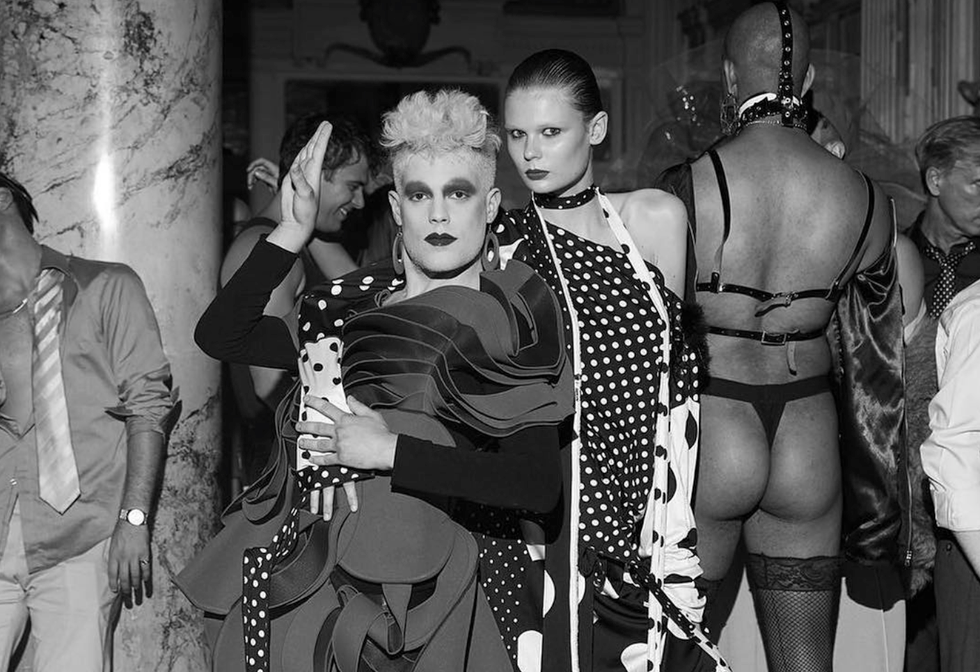 [L]: Love your song "See Me" & your feature on Zolita's "Champagne Bitch." You have a great tone to your recordings – any plans to return to the studio?
[N]: That song is no longer online unfortunately but I always love making music. I have been writing pop songs for years since a few breakups inspired me to write and it's something I feel like pursuing once school is over for me this December.
[L]: James St. James is one of the mainstream pioneers of Club Kid culture. Since we last spoke you got to do a Transformations video with him for WOWPresents. Had you met him before then? How did you land that gig? And what's your opinion of St. James?
[N]: I have been on James's show again since we first met and he continues to be a huge inspiration for me. James is one of the original clubkids that spun his nightlife success into icon status and a full-blown career. Everyone knows him and he is a writer and one of the most brilliant hosts of a show I have ever been a part of. James is enigmatic but he makes you feel so worthy and that's why I love him most.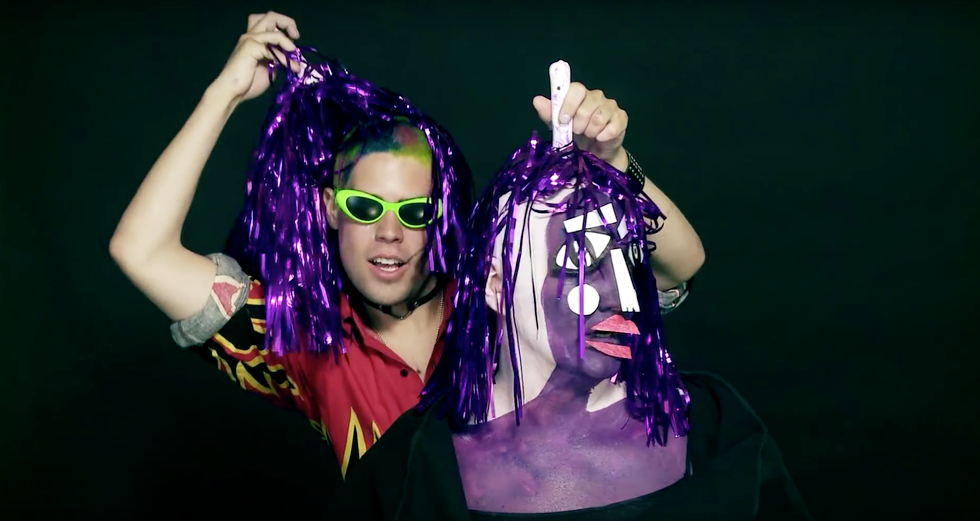 [L]: I have to ask – any big Halloween plans!? Is your recent back injury going to affect your celebration?
[N]: I actually just fractured my spine so my Halloween plans are going to be really limited because I'm not able to move that freely at the moment. I was styling a fashion show and I fell backwards off the catwalk, which I guess is a fabulous way to fracture your spine, but it still sucks. Anyway, now I get to be Frida Kahlo or Regina George for Halloween, so that's cool. And I'm taking over Milk Makeup's Snapchat this weekend to do some Halloween tutorials so I'm making the most of this injury.

[L]: You consistently tag the designers of your outfits on your Instagram. Have you ever teamed up with any fashion houses to release your own line? Is it something you would be interested in?
[N]: I teamed up with PrintAllOverMe a few years ago to make some custom prints for their brilliant patterns. We came out with an artist collection together that I presented at Miami Art Basel. I am totally interested in doing more with designers, especially my friend Olivia whose brand House of Olivia Anthony is pretty brilliant and similarly concerned with color. So we'll see what's to come in the future. Fashion will always be important to me and my work.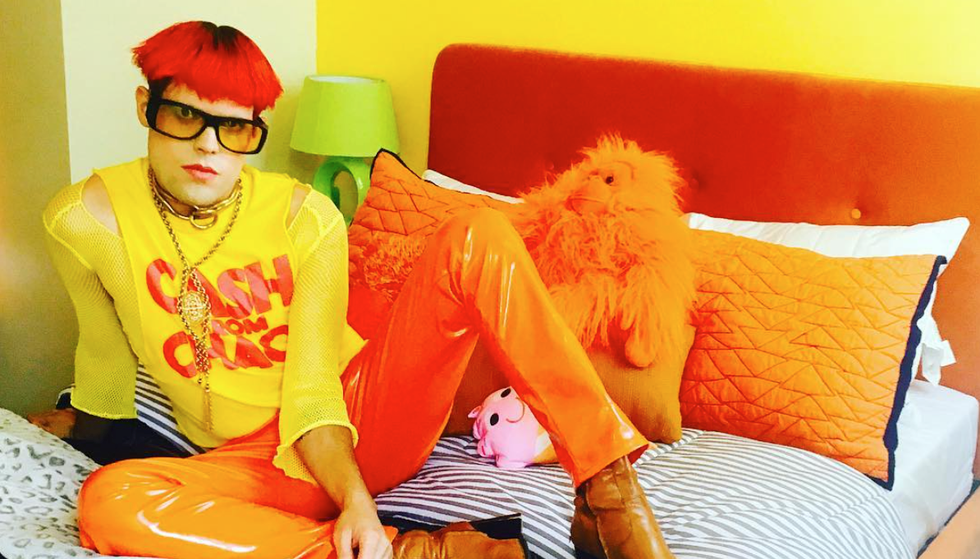 [L]: Would you describe yourself as an introvert? Or would you say you never get tired of networking and being around people all the time?
[N]: This recent injury is making me stay in my apartment and realize how bad at being an introvert I am. I am constantly surrounded by people, morning to night every single day of my life. That is one of the great joys of being me; I get to have so many friends because of the several different industries I enjoy a role in. Nightlife, fashion, and art are all about making connections, but I truly have so many wonderful friendships in all three worlds.

[L]: Lastly, what have you been working on that you want to shamelessly plug / tell everyone about? And what are you hoping to accomplish in the next year?
[N]: My next art series 'Isolated with Mass Appeal' is going to be coming out in February and is my senior thesis project for art school. It is a series of collages and sculptures that incorporate my photos and photographs by other photographers that I have art directed. It's focused on people in my life who are so beautiful and colorful and stylish but also so outsider in terms of the cities they live in, the worlds they inhabit, and just society in general. Punks who need to look as different from other people as they are on the inside. It's about feeling beautiful because you're different and choosing that for yourself in an extreme way: it's about saying 'fuck you' to being one of the rest. I want people to connect with my art and remember that first and foremost I am an artist, not just someone who throws colorful parties.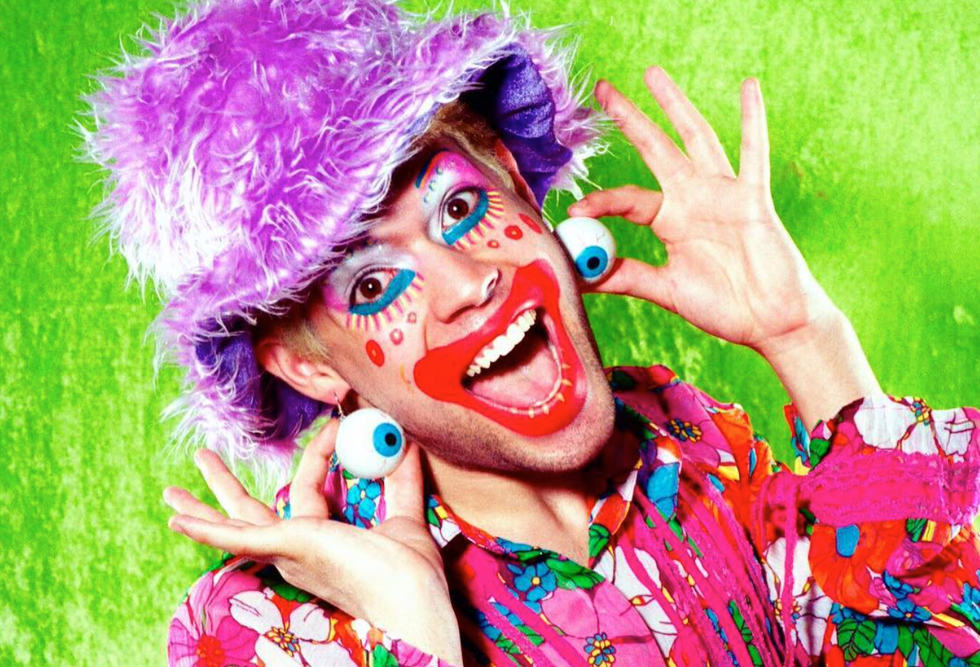 Nicky's passion for the art world, confidence in self expression, and genuine kindness has earned him every amazing opportunity that has come his way. His love for his friends and colleagues is incredibly evident whenever he speaks of his experiences and ventures. With a humble yet proud attitude and a unique take on color theory, Nicky is set to take the entertainment, fashion, and art worlds by storm. Brace yourself – his best is yet to come!
Follow Nicky Ottav on Instagram @nickyottav, check out his website http://www.nickyottav.com to keep up with his newest gigs, digs, and wigs (just kidding, that's his real hair).