Brutal. Bloody. Depressing. Broken. Those four words are the best way to describe the premiere of The Walking Dead. For months, there has been much speculation about a death of a beloved character that Negan killed in the finale of season six.( For those who have not seen the premiere of season seven, I would encourage you all to stop reading, spoilers ahead ) I have been a huge fan of The Walking Dead since the start; it is by far my favorite show and I am beyond emotionally invested not only just in the story itself but the characters as well. When I see the group's pain on screen,it almost feels as if it's one of my friends or family members that are in pain which hurts deeply. For instance, I remember when Hershel Greene died in season four,that broke me in more ways than I thought possible, and that was not just because he was a great character who was so essential to show, but also because I felt for Maggie. She lost yet another family member.
In Sunday night's episode, the writers of the series once again sent their audience on an emotional rollercoaster of killing fan favorites. "It's a tease you guys, they won't kill anyone too important." Those are the famous words that I have continued to reiterate to my friends on and offline, though we all knew that was not a guarantee. Writers love to pull at their audience's heart strings through emotions and I must say, I am no always a fan of them doing that. Abraham Ford is an amazing character and I know many fans were stoked about his arrival into the tv adaptation in season four. Though I must admit, it took a while for me to warm up to him but when I did I fell in love with his badassness, tenacity, background story and complicated relationships on the show. I was quite devastated when his journey came to an end due to Negan slaughtering him like some animal. #DamYouWalkingDead. Then there is Glenn Rhee. From the moment we met him in season one, I fell in love with him. Glenn is such an exceptional character who I adore. I love his romantic antics, kind and caring heart as well as his strength in fighting, so you can imagine how devastated I was when Negan also slaughtered him inhumanely. #IHateYouTWD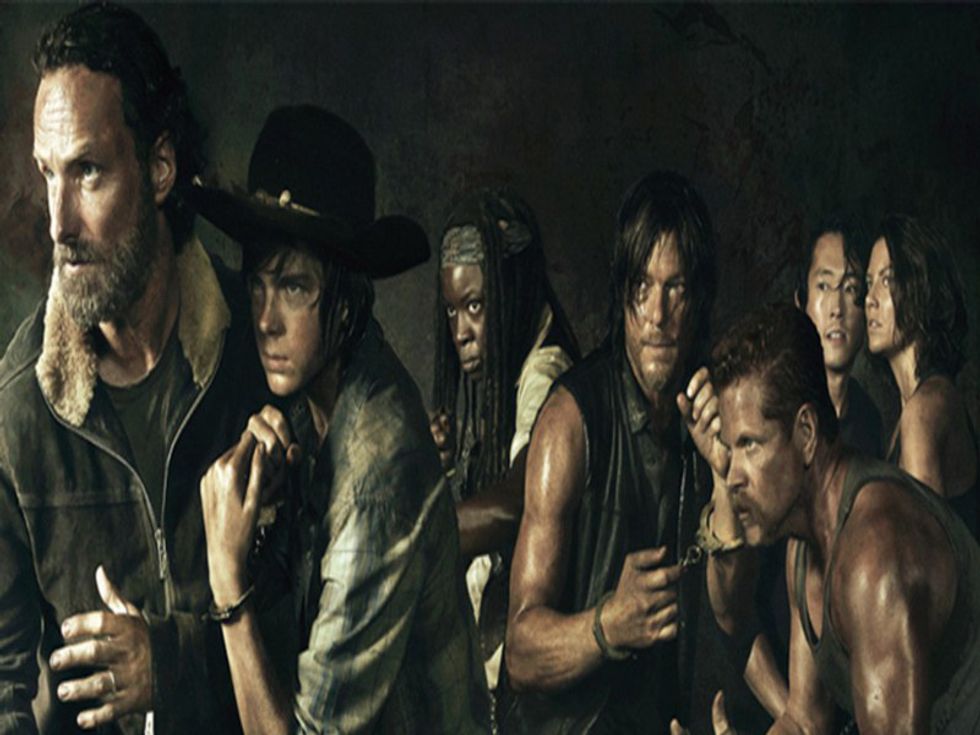 I know The Walking Dead is a survival apocalypse show, so deaths are inevitable of course, but Sunday night I thought The Walking Dead went too far. Before the comic book lovers get offended and remind me that many of these events happened in the comic series, I must argue that television adaptations are different than comics, especially American television. It is no secret that audiences don't handle character deaths well, therefore I think killing off two main characters in the same premiere was not a shock effect, but instead it was just cruel. It almost felt as if it was a message from the writers stating that "no one is safe". I also was not a fan of the episode because you as the audience are watching Negan torture your favorite characters the entire episode in a gruesome manner, quite frankly I was turned off by my favorite show for the first time ever. Before arguments begin to swarm in, I want to make it obvious that I am not a squeamish person, in fact, I love when we see badass fights, but this was just cruel, nauseating and heartbreaking to watch. When Abe and Glenn were tortured to death, I literally broke down in uncontrollable sobs of pain. Like Rick, I felt like I had lost two family members and there was not one thing I could do about it. It broke me to see Rick's desperation. He is such a strong person and always had tenacity and resilience regardless of the situation, but to see him at his weakness and giving up I couldn't handle it. When Maggie lost Glenn and had to watch the love of her life tortured in front of her eyes, it killed me inside. My heart is shattered and I know I can never recover. I pray they don't give up, they have to beat Negan!
[rebelmouse-proxy-image https://media.rbl.ms/image?u=%2Ffiles%2F2016%2F10%2F24%2F636128890218827921187832782_636128867398653019-1858001824_cryyy.gif&ho=https%3A%2F%2Faz616578.vo.msecnd.net&s=275&h=8cf0c2b79038e086ce2595fe72dcd81ae95c9e42dbf813dde3ff72841754f062&size=980x&c=3372849428 crop_info="%7B%22image%22%3A%20%22https%3A//media.rbl.ms/image%3Fu%3D%252Ffiles%252F2016%252F10%252F24%252F636128890218827921187832782_636128867398653019-1858001824_cryyy.gif%26ho%3Dhttps%253A%252F%252Faz616578.vo.msecnd.net%26s%3D275%26h%3D8cf0c2b79038e086ce2595fe72dcd81ae95c9e42dbf813dde3ff72841754f062%26size%3D980x%26c%3D3372849428%22%7D" expand=1]

The Walking Dead is still my favorite show, that cannot be argued, even if I am not pleased with the direction season seven seem to be going in. This series does an extraordinary job at telling an intriguing story, which is so rare for television series that have more than four seasons, however, I'm not sure AI am emotionally able if I loose any more of my favorite. All that I want is my team to be happy, safe alive and together; that's my wish. RIP Glenn & Abraham.