I'm a writing this article because I am genuinely confused why gun violence is on the forefront of our "problems being solved" list, yet we seem to be making no progress. It's like we're stuck in the dizzying world of groundhog day.

This past Wednesday, September 28th, CNN reported that a teenage boy opened fire at a South Carolina elementary school. School shootings have become a ritual and we can't become desensitized to them.

The New York Times wrote Mass Shootings materialize: "More than [once] a day"
I know Congress is passing bills, but legislation doesn't have immediate impact. The media, journalists, and public health officials can put all the pressure on the President and Congress they want, but while we say they have the power and obligation to keep Americans safe, we also have to say we have the power and obligation to keep each other safe. In fact, part of why the nightmare persists is because we tune out anytime we read another school shooting headline or news story.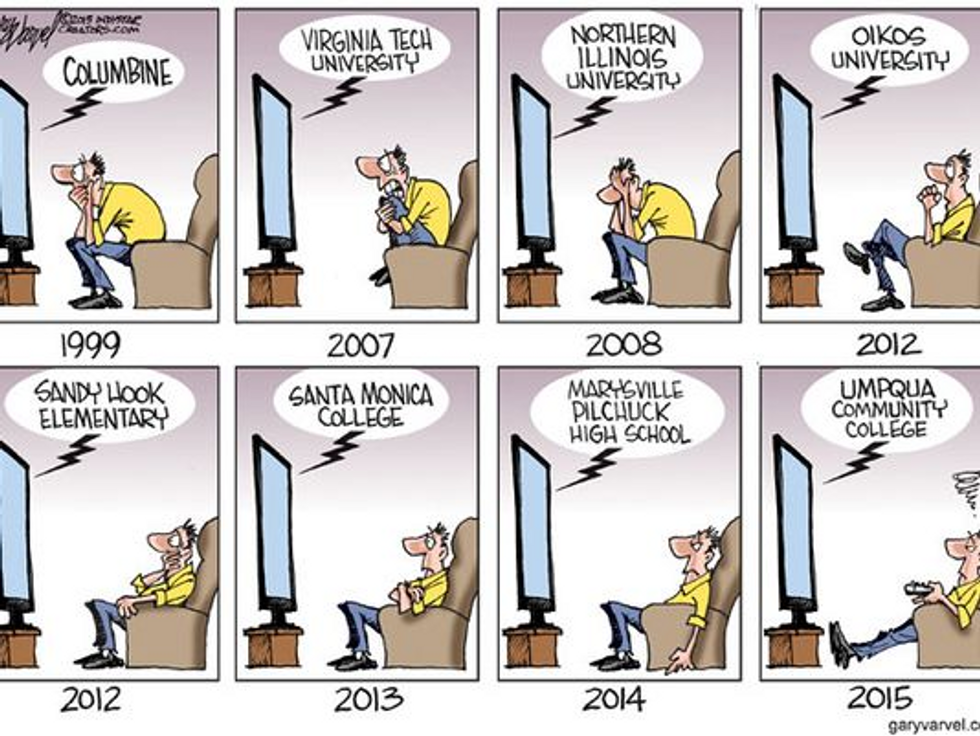 The huge and concerning problem is that the national government has been able to do nothing about school shootings.
Pressure from public health advocates to take action on this issue has lead government officials to have knee jerk reactions and have mediocre solutions. The fact of the matter is that it doesn't matter what executive order Obama passes or what laws congress pass, their national efforts can do nothing at a local level.
Still, we need a solution--something that will guarantee that no one else is shot in a mass shooting. We don't need scapegoats, we don't need pieces of paper with laws written on them. We don't have time.
The first step is to invent something that schools and public places can use to defend themselves. If we are creative enough, I bet we can come up with some sort of common sense and accessible household defense mechanism to prevent people from getting shot on a daily basis. We have to assume mass shootings are going to continue to happen at the same rate as they are currently, and because lawmakers don't understand the individualized nature of local environments, it's up to us to work to find solutions in our local communities to combat school shootings. Ordinary citizens, celebrities, business owners, pageant winners, teachers all have the power to contribute to a better understanding of school shootings.
Congressional Lawmakers only make up .00017% of this country (535/318.9 million), which is why we can't rely on less than 1 percent of our country to solve a national issue.
Nightmares don't go away until we wake up and stop dreaming. It takes a coalition of Americans in solidarity to make any real terrors go away. National trickle down legislation is not the solution to stopping school shootings. It takes communities, not governors, states, not representatives to develop solutions on a case by case basis for their town.
We need a cure for a national issue, but national legislation isn't the cure for this localized issue.