For the past few years, I have always wanted to go to the Gwinnett School of Mathematics, Science and Technology's International Night! I have seen people's snapchat stories and Instagram posts on how excited and different it actually is compared from our regular high school international night.
However this year, I had the opportunity to come and support my friend's group that was performing at GSMST's international night. I finally had the option to go and see the international night they everyone goes to. My friend Maham and I decided to go and cheer for our friend's team.
A week before international night, we figured out our outfits and bought our tickets. We originally thought international night was late like around 6:30 p.m.-ish. However we found out on that day that it was from 3 to 7 p.m. I thought to myself, "Wow it's going to be lame since it is starting that early, like who starts that early!"
Anyways, Maham and I were somewhat late and decided to get in line for the performances. The line was triple times longer and the amount of security was crazy. There was even a teacher on top of a table to make sure kids weren't cutting in line! We waited a whole hour in the hot, sweaty line. I was very surprised to see how seriously the security was taken at GSMST.
I know at my school there aren't 20 officers roaming around and looking at your wristband during international night. And there were teachers every two feet away to make sure you would not cut the line. I saw these two girls right behind us who cut through the line, and five minutes late they were sent to the back of the line.
It felt so weird how seriously they took the security over there. While we were in line we met the performers and told them good luck before we went inside to find a seat. Now, I was expecting the performances to be in a auditorium however as we were walked past the security, we realized it was in the cafeteria.
We were lucky and found front and center seats close to the place where the performers were seen best. We sat down patiently waiting for our friend to perform. When we looked at the list, we found out that Jazba, their team name, was performing last.
I whispered to Maham, "They saved the best for last" And she agreed.
Looking all the performances, there was something from each culture. It felt really weird seeing this much diversity because at my high school the only performances are Bollywood and like some type of American dance form. One by one each performance taught me something about their specific culture and then comes our best friend, Rhea's performance.
We quickly pull out our phones and start to scream as the performers come on stage. As soon as the music dropped, they killed all the moves and added a bunch of extra spins and jumps that made the audience scream their lungs out!
I recorded their dance performance video, but now when I go back at it, all I can hear is my screams. The vibe we all were getting from the performance was on another level. It caused the audience to jump out of their seats and dance to the beat of the music.
After their performance, we eagerly went up and hugged the whole team and told them how they killed it on stage! When I was walking about with Maham and Rhea back to the performer's room, Rhea asked me how was GSMST's international night? That's when I realized how different their international night is from my international night.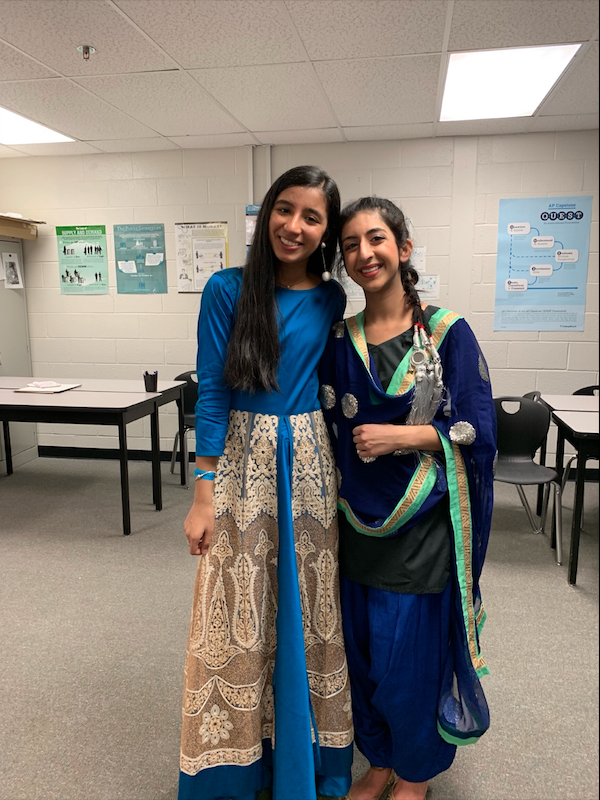 International night is meant for a diversity of people from all different backgrounds of the world and what each culture has to offer to the world. I was definitely excited going to my first GSMST international night, and I suggest you to come as well to learn something from their unique school!