Mississippi State had what could be described as an ~average~ 2018 football season, winning eight games (including wins against SEC opponents Auburn and Texas A&M) and making it to a decent bowl game (lost to Iowa, which had two players go in the first round). First-year HC Joe Moorhead did the best he could with a quarterback in Nick Fitzgerald, who was recovering from a horrendous ankle injury, and a team that had very little offensive identity. However, Mississippi State prided itself on defensive toughness and grit, which showed in the 2019 NFL Draft. Of all the schools in the country that had draft-eligible players, only three had three players drafted in the first round of the 2019 NFL Draft: Alabama, Clemson, and, you guessed it, Mississippi State. And yes, those are the same "Alabama" and "Clemson" that have played against each other in three of the last four College Football Championships. It's safe to say that Mississippi State is in good company.
Below I will list the players, discuss their past collegiate seasons, and give my expectations for their rookie years.

Jeffery Simmons, Defensive End - Tennessee Titans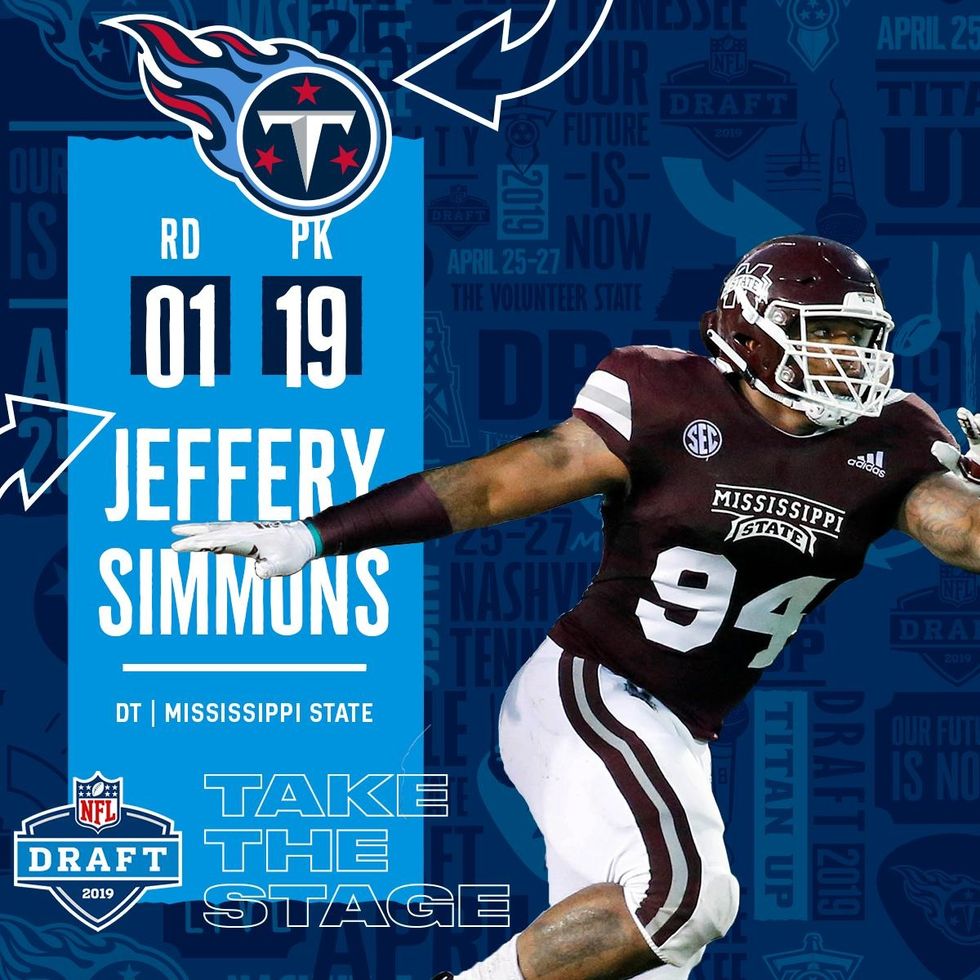 Expectations for Jeffery Simmons were high coming out of high school. A graduate of Noxubee County HS, he decided against Alabama and Ole Miss to stay near home and travel about thirty minutes up the road to Mississippi State to be a Bulldog. Simmons was a member of the 2017 All-SEC football team, and continued to have a stellar career for Mississippi State. He decided to forgo his senior season and declare for the 2019 NFL Draft. Simmons had some concerns, though, as he tore his ACL during pre-Draft preparation. There was also a video that surfaced of Simmons punching a woman during his senior year of high school, which raised the concerns of many teams. Regardless of these issues, Simmons' ceiling is still very high, and Tennessee selected him to pair on their defensive line with Pro Bowler Jurrell Casey. If he can heal from his devastating injury, I could easily see him having a double-digit sack season.

Montez Sweat, Defensive End - Washington Redskins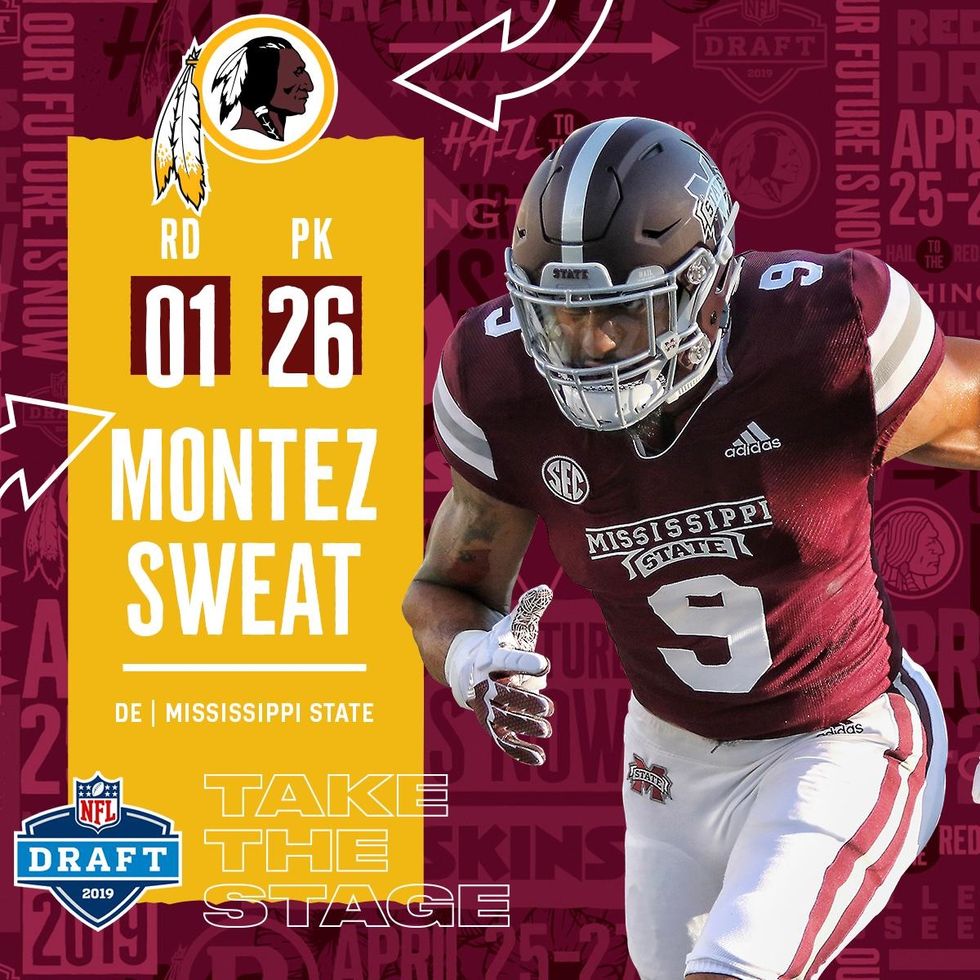 Montez Sweat began his college football career as a Michigan State Spartan, but his stock didn't take off there. He only played in two games as a freshman and redshirted as a sophomore before leaving and enrolling at Copiah-Lincoln Community College, where he had a very good year. Sweat picked up big offers from LSU, Texas A&M, and Mississippi State, but eventually chose the Bulldogs. At State, Sweat reached his true potential, racking up 22.5 sacks in two seasons and was one of the best defensive linemen in the country. At the 2019 NFL Combine, Sweat also set the record for the fastest 40-yard dash by a defensive lineman, running it in only 4.41 seconds.
However, Sweat was "potentially misdiagnosed with hypertrophic cardiomyopathy," which is when the heart thickens for no obvious reason. Although many teams were prompted to remove Sweat from their draft boards because of this, Washington was not one of them, and they actually traded back into the first round to select him. Sweat has reportedly already locked up a starting role, and he will fit very will in Washington's defensive line rotation with former Alabama rivals Jonathan Allen and Daron Payne.
Johnathan Abram, Safety - Oakland Raiders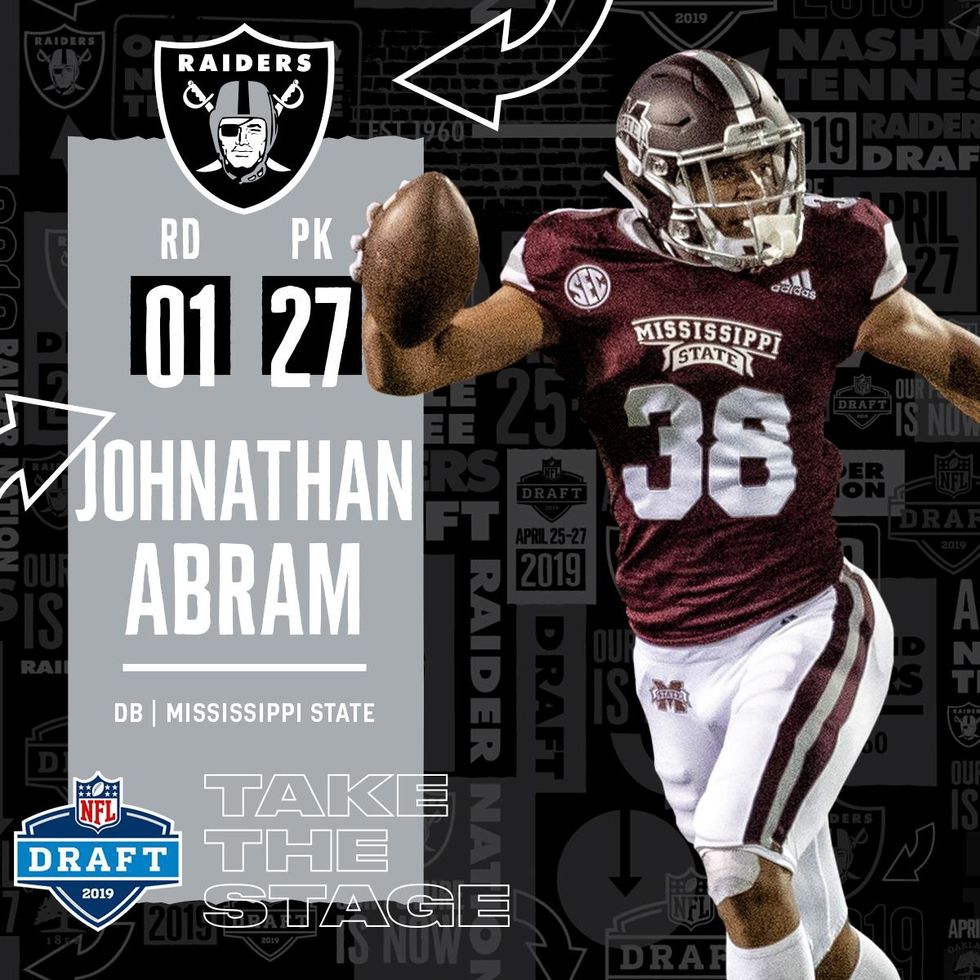 Abram had a very slow start to his college career. As a two-star recruit, Abram signed with Georgia, but transferred out after just one season. Abram transferred to Jones County Junior College, where he received another offer from Georgia. However, Abram decided he wanted to be a Bulldog somewhere else for his final two years of eligibility, and he transferred to Mississippi State. He quickly established himself as one of the best defensive backs in the entire country, and shot up draft boards during his senior season. He was one of the Oakland Raiders' three first round draft picks, alongside Alabama's Josh Jacobs and Clemson's Clelin Ferrell. He is projected to start alongside new free agent acquisition S Lamarcus Joyner, who the Raiders signed away from the Los Angeles Rams. Abram is a ball-hawk player and I predict him to have at least four interceptions during his rookie campaign.