The MLB regular season spans from April to October and consists of 162 games. Within those 162 games there will be trials and triumphs, excitement and disappointment and for some teams pure dominance. For the New York Mets and us fans through 118 games we have experienced all of those aforementioned feelings and it is far from over. Not even 4 weeks ago I was posting content ripping the Mets coaching management and players, I was a disgruntled fan that just wanted to see his team win. I was calling for people to get fired, players to get traded, but looking back at it now, I could not have been more wrong. Over the last 3 weeks the New York Mets have forgot how to lose. Literally. They have won 15 out of 17 games and woken up from the dead, erasing a 11 game deficit while jumping 6 teams in the Wild Card standings. During this turnaround the Mets have had a 7 and 8 game winning streak, they have absolutely dominated their opponents with strong pitching and clutch hitting but per usual there is always some type of skepticism when the Mets are winning. Before this weekend the Mets were beating up on what is called "the bottom half of the league", teams that are out of playoff contention and are playing sub .500 baseball. It was said they had not had a real "test" yet and that this past weekend vs the Nationals would be that test to determine are the Mets actually for real?
The hype going into this weekend series was playoff like. Sold out crowds, great pitching matchups, it was something Mets fans had been waiting for since the season began. Friday night was the beginning of something special. There is simply no other way to put it. Trade deadline acquisition and hometown boy Marcus Stroman made his Citi Field debut and although he struggled throughout the night he kept the Mets in it and got out of jam after jam. The Mets fell down 3-0 early only to find themselves answering with back to back homeruns by Pete Alonso and JD Davis to tie the game. The game hit a stalemate until the later innings until the Nationals broke it open leading 6-3 going into the bottom of the 9th, the Mets had 3 more outs to turn this game around....It was at that moment, with our teams back up against the wall, that us Mets fans found the answer to the question of are the Mets for real. They are. Down by 3 in the ninth the Mets got the first two men on and in stepped up Toms River's own Todd Frazier. Frazier stepped up and ripped a game tying 3 run homer right down the left field line to tie the game. Citi Field went crazy, I went crazy, the friends I was with watching the game went crazy, nobody could believe what was going on. The funny thing is, it was not over yet. After two were retired the Mets got another two base hits and Michael Conforto stepped up to the plate. Conforto ripped a first career walk-off double over right fielder Adam Eatons head and somehow the Mets scored 4 runs in the ninth and won the game 7-6. I was shocked I was calling my brother, my dad, my uncle and we all had the same reaction .. "holy s*** did they just win?"..... yes, it was that unbelievable, a pinch yourself type of win.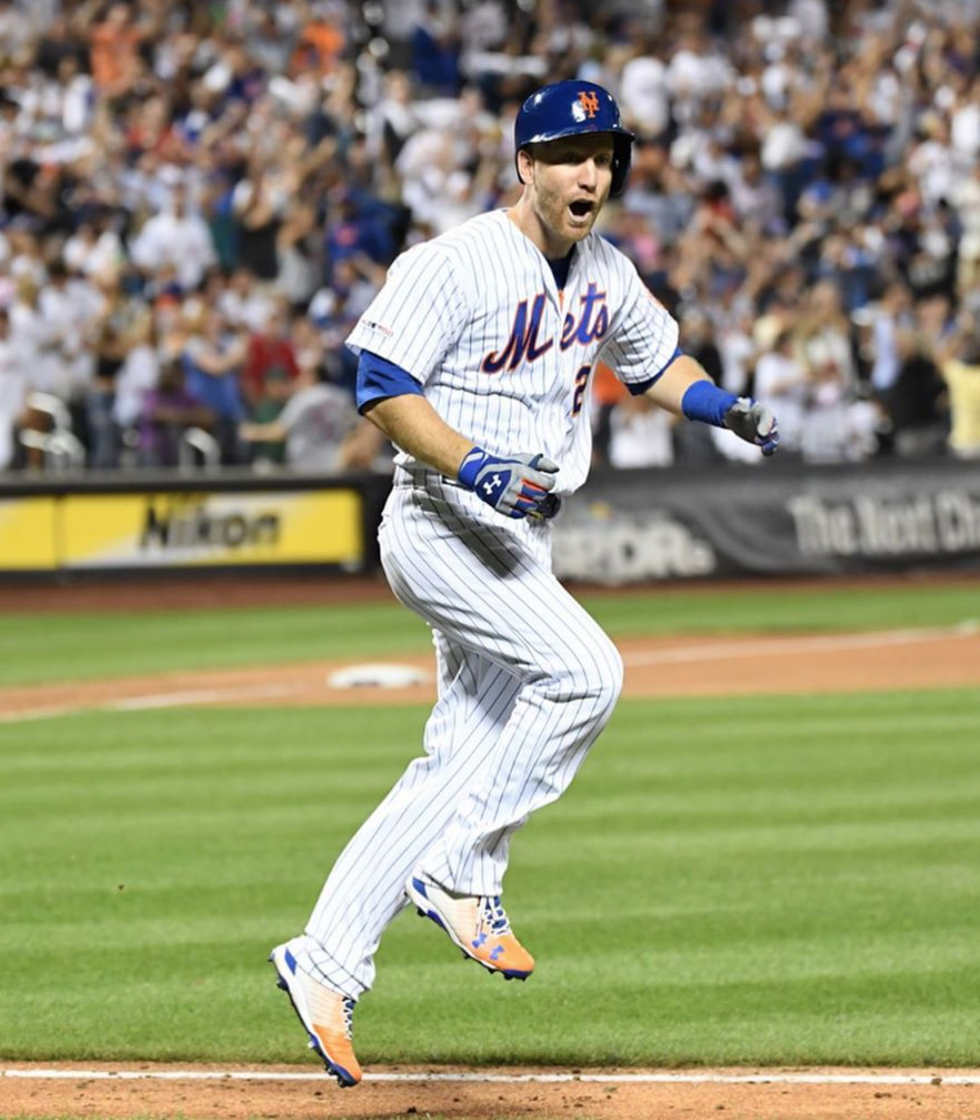 Todd Frazier after his game-tying 3 run homer in the bottom of the 9thNew York Mets Instagram
So, after Friday nights sleep it was on to the next one. It had to be that way, everything about Friday's win was great but the Mets needed to show it was not a fluke. With Noah Syndergaard on the mound it was a must win situation for the second night in a row. Annnnnnd for the second night in a row the Mets found themselves down early, 2-0 to be exact. Andddd for the second night in a row the Mets responded quickly with back to back homeruns by everyones new favorite Met JD Davis and birthday boy Wilson Ramos. It was crazy just how similar these nights were becoming and believe me it got even crazier. The game stayed tied until the top of the 8th when Juan Soto (who hit a 2 run HR in the first) hit the go ahead homerun to put the Nats up 3-2. Going into the bottom of the 8th I remember sitting at my friends house going "can they really come back again?". Well I think you know the answer...Yet another magical moment was happening if front of us which as a fan just makes you feel that this season just might be really special. Luis Guillorme, a career .180 hitter stepped up to the plate as a pinch hitter and hit a game tying homerun. The first homerun of his career. I mean come on, that is just movie script type stuff right there. Later in the inning the Mets put a couple of more hits together and a JD Davis sac-fly gave them a 4-3 lead going into the ninth. Yet another late inning comeback. Lugo shut-down the 9th and just like that us Mets fans just witnessed two improbable comeback victories in the biggest series of our teams season.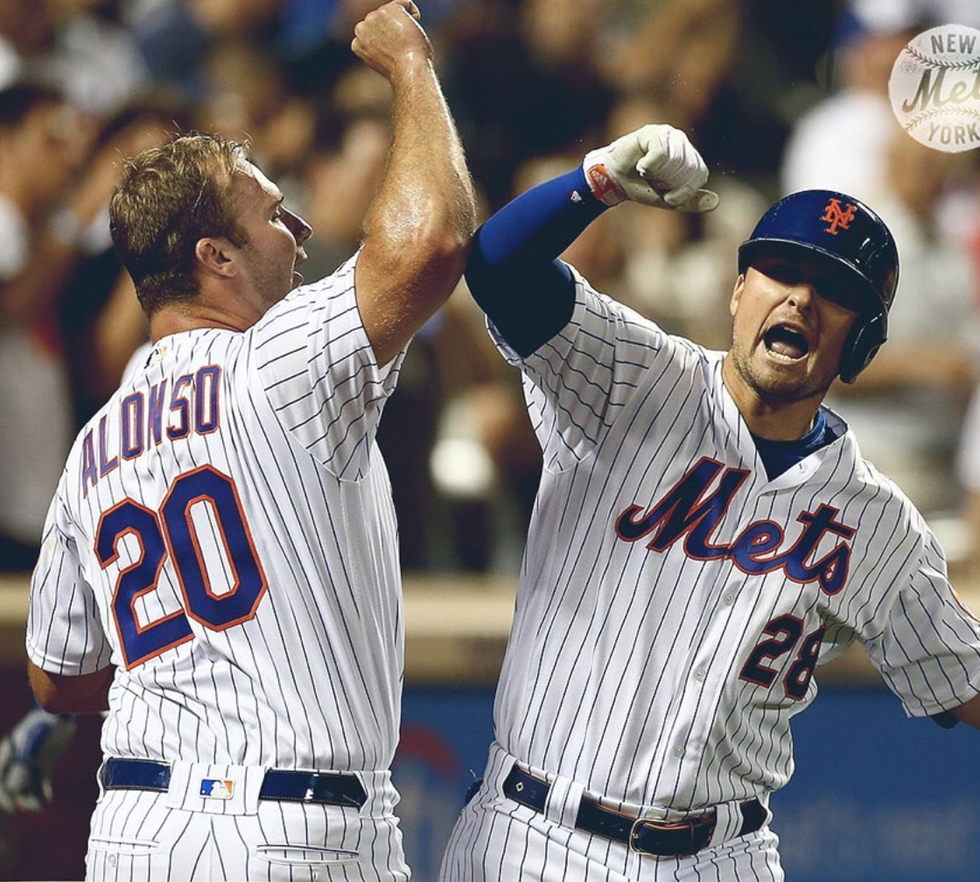 JD Davis (right) Pete Alsono (left) celebrating after Davis' homerun New York Mets Instagram
Although the Mets could not finish out the sweep Sunday, losing 7-4, they still finished off a 6-1 home stand and head into yet another big series with the Atlanta Braves winners of 15 of 17. More importantly though they have made us believers again. Like I stated before, a little less than a month ago this team was 11 games UNDER .500, they are now 4 games over. They were 10 games back of a playoff spot and now they are only a 1/2 game back. Mets fans this is our reality now, we have meaningful baseball to watch heading into the middle of August, an idea that would have been laughed at 3 weeks ago. It is time to enjoy this, believe this and hope that they can keep it going and get us some October baseball. Nobody wants to see our Mets in the playoffs with the pitching staff, we can beat any team in baseball head to head in a playoff series so let's get there. As we all know in this game and what we were assured this weekend is that anything is possible, miracles can happen and we might just be witnessing one as we speak. There is still A LOT of baseball left but my confidence level for this team is through the roof and it should be. I hope I am not made a fool again by this team, but I truly believe they have a real shot at this thing but for now, after this crazy run, it has to be one game at a time. As the great Tug McGraw would say "YA GOTTA BELIEVE" and trust me I am believing. LFGM!.