It is impossible to express everything I want to say about what I have been feeling and thinking since I saw the announcement just two days that Amy Bleuel had passed away. No cause of death was listed, and that is never a good sign. I kept hoping that perhaps she had a hidden heart condition or had a hidden terminal illness. All I kept thinking was, "please don't let it a suicide."

In case you don't know anything about Amy Bleuel, I have included links about her and the nonprofit called Project Semi Colon in this article. This project and Amy had a been a part of my work as a crisis counselor and suicide education/prevention trainer since 2013.
In April of 2013, Amy put a message out on social media asking anyone who dealt with depression, anxiety, suicidal thoughts, mental illness, or self-harm to draw or tattoo a semicolon on their wrist, take a picture, and share it. Amy explained that a "semicolon represents a sentence the author could have ended, but chose not to. The author is you and the sentence is your life, and you chose to continue."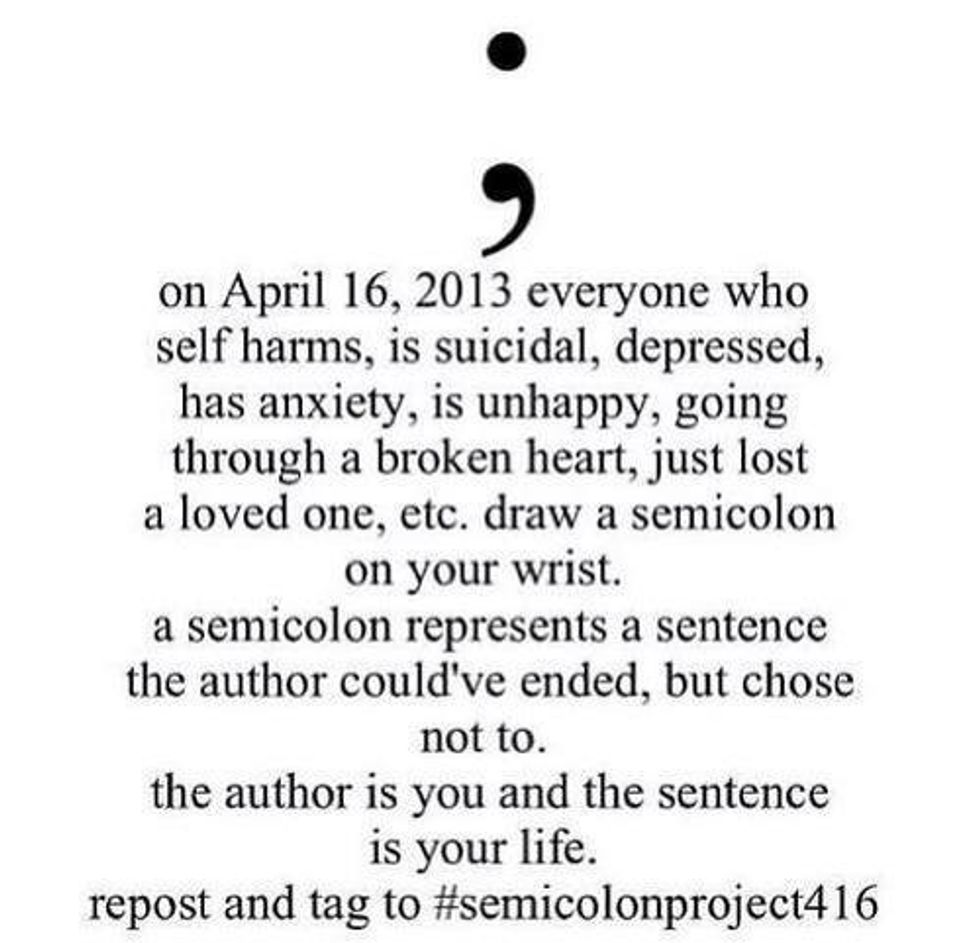 Since then the program has grown and become a global movement. In a 2016 interview with the Washington Post, Amy said, "being the face of the project was healing but also difficult because of the expectations people had of her and some of the negativity that she endured from trolls on social media."
Yesterday, the news was released that her death was ruled a suicide. Even though I suspected as much, I was devastated when I read the news. Someone asked if I was angry at her. That is often something people experience when someone they know takes their own life. I wasn't angry; I was sad. I was sad, and I was scared. I was saddened because I couldn't imagine the pain and anguish Amy was experiencing that brought her to that choice.
I was scared for other reasons. I have survived a suicide attempt. I also have a couple of mental health diagnoses that include depression and anxiety. I take medication. I have had two amazing therapists in my life help me with coping skills. I have friends and family who love me and support me. I am well educated about these issues and worked in the field for over 17 years. In many ways, I was a lot like Amy. If someone like Amy made that choice, how could I be sure I wouldn't make that choice someday.
I don't have a definite answer for that question, but I have seen it expressed my many since her death. What I can tell you is that I will continue to do the things are working in my life today. If something changes, I will seek help. My friends and family who know me best are my touchstones. They are my eyes and ears to help me know if I am of course. I will continue to reach out to others who need support.
My faith is something that brings me strength, and I will continue to pray and hold on to that. I am also in long-term recovery from alcohol and drugs. Many people seek these as ways to alleviate the pain, but they never do. On April 11 of this year, I will celebrate 30 years of continuous sobriety. This is one more tool I use daily.
Amy's physical life may have ended, but her work and her presence will continue to be felt. In the article mentioned above, she said, "I wanted to start a conversation that can't be stopped, and I believe I've done that." I know she did that. People have tattoos, t-shirts, and jewelry displaying the semicolon. The website and social media presence reach the public every day. These things open the door for conversations to begin, and lives to be changed.
An article from the American Foundation for Suicide Prevention reminds everyone that there are ways you can help. Learn the warning signs and learn the ways to help yourself and others.
College of Charleston as most colleges offers counseling services to anyone needing them. Here is the link if you would like to find out more. http://counseling.cofc.edu/ or call 843.953.5640.
---
If you need help right now, please call the National Suicide Prevention Lifeline at 1-800-273-TALK (8255) or contact the Crisis Text Line by texting TALK to 741-741.