Everybody knows the saying: "Never meet your heroes," because they won't be the amazing person you imagined them to be. Sometimes, that's not true and you get lucky.
Most people who have access to the Internet can recognize the voice or face of Thomas Sanders, the Storytime guy who made it big on Vine narrating strangers' lives, doing Stewie Griffin impressions, and creating vines that are relatable to every day life. For me, he became my personal hero ever since I first started following him regularly.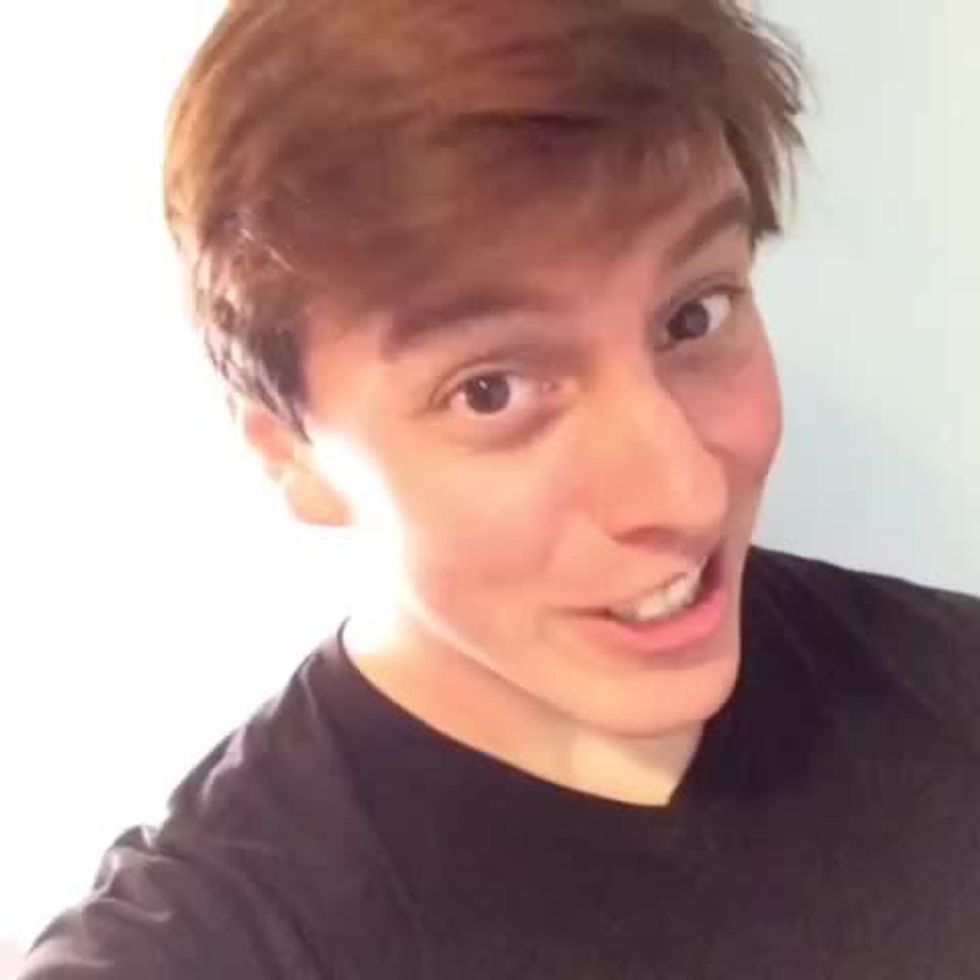 The earliest video I remember seeing of his was posted on June 14, 2014, during a time when I was having sleeping problems, and the Vine was about your brain not letting you sleep by thinking of things like "that time you got embarrassed in middle school." It made me laugh since it was pretty relatable to me at the time, so I gave him a follow. Throughout the next few months, I would see his "Pokémon Pranks" and "Storytime" vines online all over, but it wasn't until I saw his vine called "Camoflauge" on March 2, 2015, that I decided to follow him regularly and get updates for when he posted a Vine. Very soon after, I began to see him as a personal hero.
At first, I saw him as a really funny guy, and that's why I followed him, but I quickly began to see what a truly amazing person he is. I saw his YouTube videos and read his tweets occasionally, and I realized Thomas is a truly beautiful soul. The man seemed to just love spreading joy to everyone he met, and he seemed so humbled and blessed whenever he met someone who was a fan of his. As someone who grew up dealing with bullies and being alone a lot, I decided to spread joy in as many ways as I could to help make the world a more gentle and happy place, and that's exactly what I see in Thomas in pretty much everything he does.
This is mainly why when I got the opportunity to meet him in person at VidCon 2016, I was both off-the-walls excited and terrified. This man had done exactly what I've always wanted to do and became a celebrity because of it. He inspired me to try and do more for that cause, but what if he was not the man I believed him to be?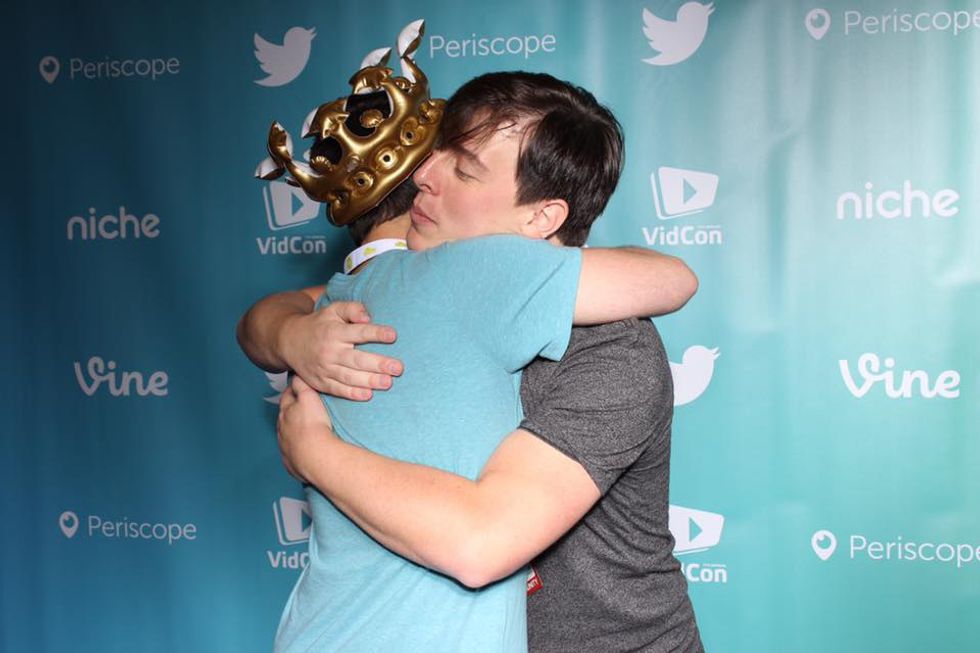 That fear disappeared instantly the second it was my turn for the meet and greet with him. At first, he thought he recognized me from somewhere which made me happy that maybe he has seen my work before. Then, I told him how this was an amazing 21st birthday gift to meet him, and the reaction he gave and the way he hugged me to congratulate me proved to me that this man truly is the joy bringer that I imagined him to be. The way he talked and how he reacted to the things I brought up in conversation truly showed me that he cares about everyone he meets and sees them all as wonderful human beings. I asked him for an epic high five picture, and he replied with, "How epic?" in a way that said to me, "That is an amazing idea. Let's do this."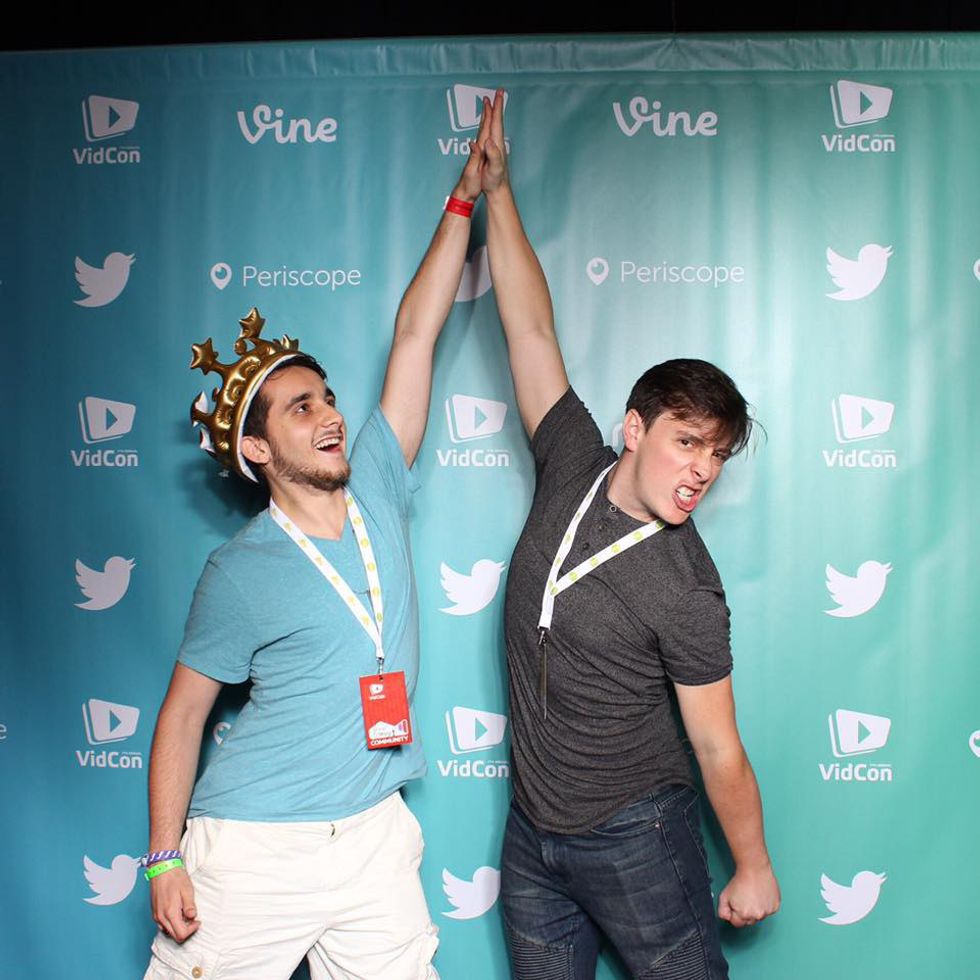 I told him about my friends who he met that did a Peter Pan and Tinkerbell Steampunk cosplay and he instantly remembered them telling me that they were amazing. I then told him about a cosplay I am doing with those friends at the First Annual VidCon Cosplay Contest and he told me to send him the pictures, which I did and he replied back by saying, "@bryancreevy you guys are always SO amazing!!! I love this!!" My time was getting short in the meet and greet, so I told him I hope to get the chance to meet him again, and he said he hopes so too as it was a pleasure meeting me. I finished by telling him my dream is to be a famous author one day and that my name was Bryan Creevy. He then repeated my name as if to try to store it in his memory, and then he said bye and that he'll keep an eye out for me. I can tell you right now that I was fangirling so hard as soon as I walked away. That man put a smile on my face that didn't leave for the entirety of VidCon.
The next day, I went to a Viners Panel that he was on dressed in the cosplay I was entering the contest in, and I sat on the end of the row in the middle aisle. I saw Thomas was waving to people, sending them hearts, and he even told one fan, "Yes, you can have my baby." I knew he would eventually see me, which he did and it looked like he mouthed the words, "Whoa!" and smiled at me. I wasn't even sure if he would remember me, but just the reaction made me realize he does do his best to remember everyone he meets.
Thomas Sanders is truly a blessing on this earth and someone I would love to get to know. He has inspired me to spread as much joy as possible, and is such an amazing role model. They say to never meet your heroes, but Thomas Sanders is a hero everyone will be glad to have met.