If you've watched the news, talked to a friend, or browsed Twitter and Facebook lately, you've probably noticed the world is still reeling from the Brussels terrorist attack. Social media has been covered in hashtags and politicians have been quick to offer their stance on ISIS. People have expressed fear, anger, and have frequently asked "what can we do" and "who will be next". The world is up in arms and is ready to fight to avenge the lives lost in Belgium. In the midst of all of this, another conversation has been circulating surrounding Western media's lack of coverage of various other terrorist attacks.
In case you weren't aware, ISIS has not simply targeted Brussels. Most recently, Turkey, Iraq, Côte d'Ivoire and Pakistan have been ravaged by suicide bombers. Yet, there has been little to no mention of the terror occurring in these countries. And when the media does discuss it, the stories are brief and to the point.
Doesn't the media care? One might chalk it up to whitewashing.
The Western media has highlighted Brussels because it hits home; they're just like us. If it can happen there, it can happen anywhere. What about those who aren't the stereotypical white, Christian Westerners? Pew Research Center notes that there's a large majority of Muslims in various Asian, Sub-Saharan, and Middle Eastern countries. Since many people equate all Muslims with ISIS or, at least, feel implicit emotions towards them, it's no wonder that the media has "forgotten" to cover the attacks on Turkey, Nigeria, Iraq and Pakistan. The media is partially to blame for such prejudiced emotions. When the media actually takes the time to focus on the Middle East and Africa, they tend to use buzzwords and insinuations that brand Islam as the issue. This only plays into the sentiment that all Muslims are to blame.
Another might blame the media's focus.
It seems as if they are insanely concentrated on ratings and profits, but not the real issues. I'm not saying that the local newspaper — The Washington Post, WSJ, CNN, FOX or whatever you prefer to read/watch — is evil. But I want to make the American populace aware that the media monopolizes news coverage. Since the same few outlets cover big stories and fight for screen time, they have the power to pick and choose what is most important. To them, Donald Trump's comments might be better to air because they'll garner more ratings.
Each time the media overlooks the terror occurring in non-Western countries, they dehumanize the people involved and de-legitimize their struggle. It only furthers this notion that Western countries matter the most in the international system. I'm not here to condemn the coverage of the Brussels attack. It was terrible, horrifying, and I pray for the people who now feel unsafe. But the people of Belgium aren't the only ones who feel this way.
Turkey also feels unsafe. On Facebook, a local resident asked: "You were Charlie, you were Paris. Will you be Ankara?" Nigeria fears for the future of its children who, according to Al Jazeera, have been "particularly targeted and have often been the victims of sexual abuse, forced marriage, abductions and brutal killings." Côte d'Ivoire, which had seen two attacks on tourist regions, now has seen the loss of native Ivoirians and is in a state of instability. The people in Iraq were simply trying to play a game of soccer but were left with a massacre. One journalist mentioned to The New York Times that his "cousin was a soccer player, and he wanted to win the final match but his dream was uncompleted." And in Pakistan, there was utter and complete chaos; in the middle of several Easter celebrations, families were separated and many were killed.
After these attacks, non-Western countries deserve airtime because regardless of ethnicity, religion, or status, they too are made up of human beings who have been hurt by ISIS. They are not to blame. In fact, these countries have the same goals as the U.S. post-9/11, Paris after the November attacks, and Brussels after the recent bombings.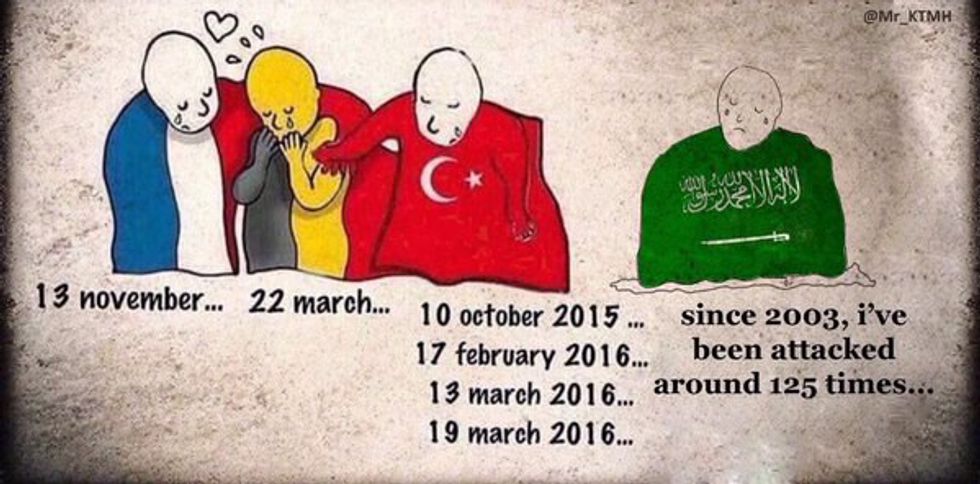 The next time you hashtag for humanity or pray for Brussels, ask yourself if you're really seeing the whole story. Critique the media and critique yourself. Remember that the rest of the world just wants to be noticed, prayed for, and taken seriously.