I grew up in an art-loving, art museum going family. Seeing the latest exhibits as well as revisiting old favorite pieces was a part of me weekend routine as a child and, as a result, I've always loved the incredible museums available to me here in Houston. The Contemporary Arts Museum here or CAMH always has fascinating, thought provoking exhibitions. They vary in style and tone, but they never fail to impress me. While they all are enjoyable, it feels rare for an exhibit to feel as real and impactful as Mark Flood's most recent collection, "Gratest Hits" (the misspelling is intentional and is meant to represent the self-proclaimed lack of importance as an artist), which shows some of his work dating back to 1980s. Flood stated in an interview with Houstonia Magazine that "great art speaks truths that people don't want to hear. Great art trashes the past and opens the way to the future. Great art is always a problem." He wanted to make a statement and I feel he achieved this incredibly. As you walk in, the artist is introduced through this.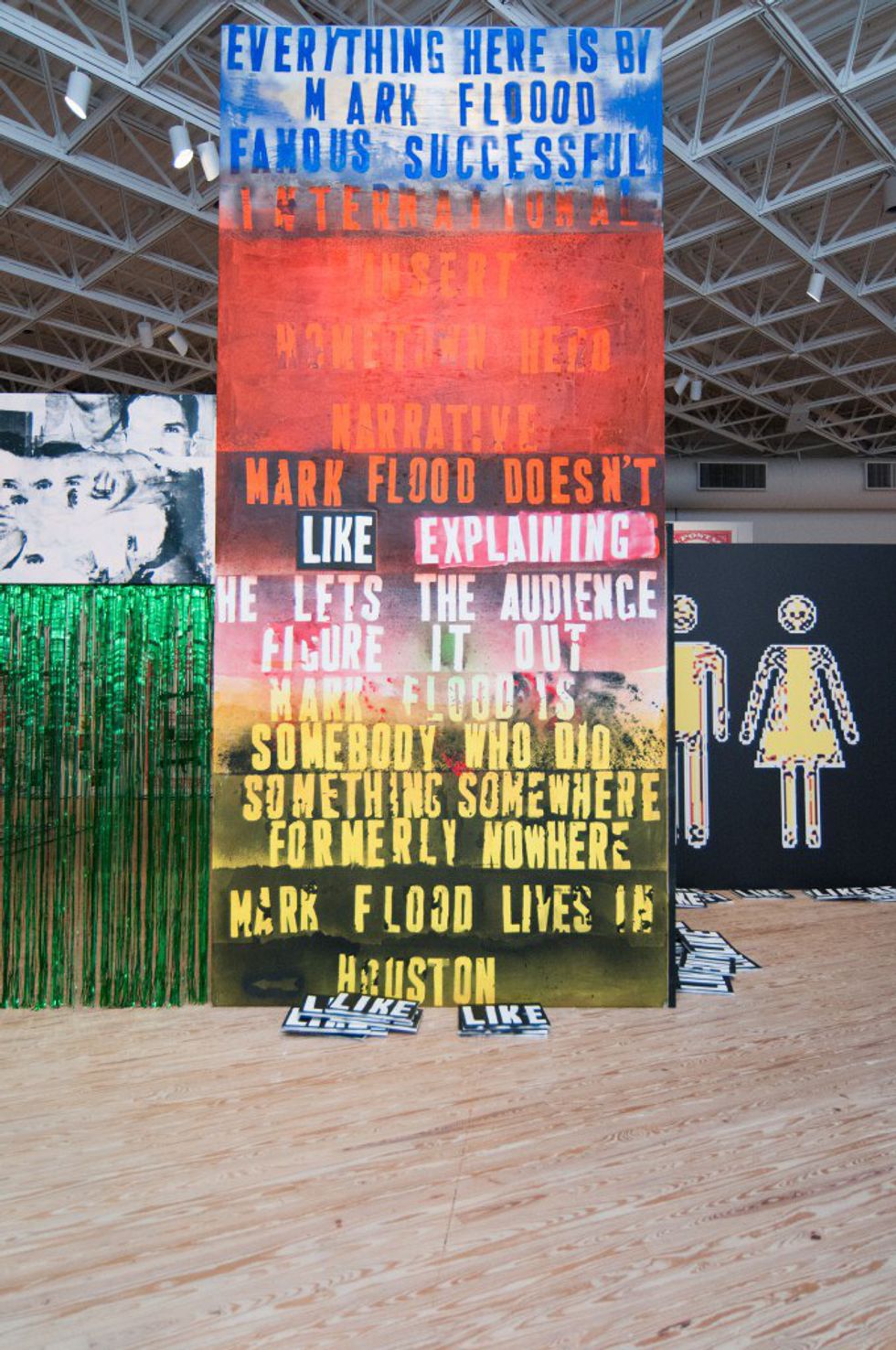 Because the pieces span such a long period of time in the local Houston artist's career, they vary in overall message, but many of the works present a dark perspective on modern pop culture, the art world, consumerism, and development of social media. Right at the start, the room is filled with 5,000 black and white paintings that both symbolize and mock the incessant need to selectively or generously provide others with our approval. Beyond that though, the "like" is fascinating because it's providing approval and opinion without actually having to engage. Some might say it enhances human interactions, but others might say it inhibits. These small canvases (pictured below) are available for the viewer to move and place in front of the works within the space that they most enjoyed. The interactivity of the exhibit was fun and engaging, but also appropriately represented and satirized this aspect of social media.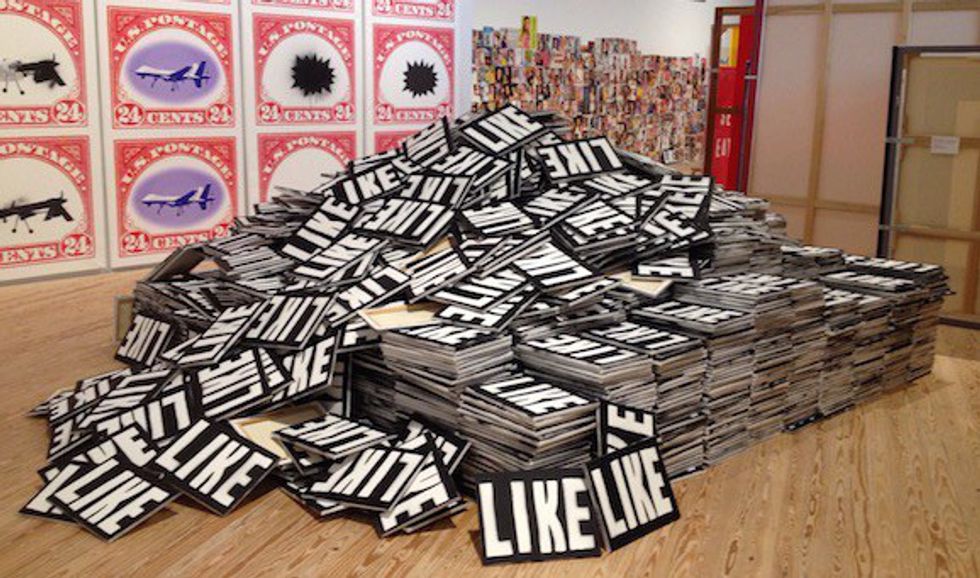 The artist has mixed emotions about social media, and why not mock it? It's something that's taken over our lives when the human race survived without it for centuries (of course, that's coming from someone who willingly writes weekly online articles). Flood has said he questions why we all participate in the sharing of free content on Facebook (once again- something I'm contributing to). We revel in the freedoms social media provides but, at the same time, it's completely filled our day to day routines.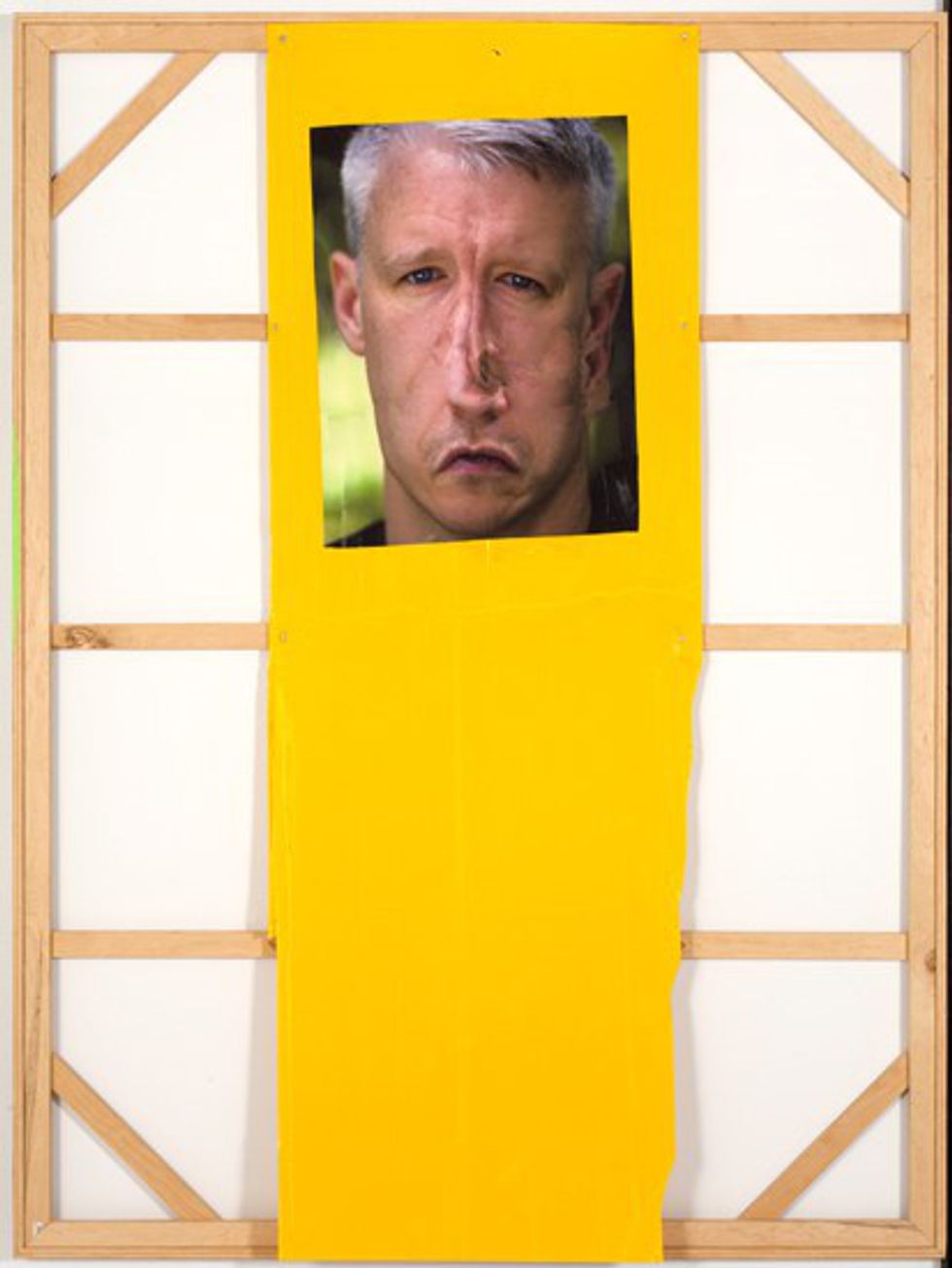 Celebrities are present throughout many of Flood's pieces, their photos and magazine appearances hung up on walls and canvases. For many of them, though, their faces are warped and twisted, just like this 2009 piece showing Anderson Cooper (above). In a video installation within the exhibit, it is stated that Flood warps the faces of celebrities to take away their power, and I felt that was a statement worthy of discussion. Why do we give those in power that level of authority? It seems blatant to me that we prioritize physical beauty to an extreme in society and, when thinking about Flood's statement, I realized that we do give an immense amount of power to individuals who have the physical ideal. Social inequalities are a massive issue in our society, and our expectations of beauty are something that needs to be reevaluated at its core- though I realize that's a lot to ask. I feel Mark Flood's work conveys issues with the media realm successfully. His work is dark and punk, but I felt it was one of the more real exhibits I've ever experienced.
There is a brilliance and dark sense of humor visible in Mark Flood's "Gratest Hits," and I encourage everyone living in or visiting Houston to stop by the CAMH and take a look for themselves before it leaves next week. A few more of my favorite pieces include the following.