This past week I was on vacation on Topsail Island in North Carolina (Surf City, specifically). My family first came here last summer and, to be honest, I was a bit skeptical of the place at first. When thinking of Topsail, I pictured someplace like Myrtle Beach or other areas I'd never been to but deemed to be crowded tourist traps, all gimmicks and noise. I doubted if it could come make me feel the same comfort and contentment that the family cottage in Maine that we went to in childhood could. However, I soon found that while the beach house we stayed in wasn't quite the level of isolated that the cottage was, and that there weren't as many fun rocky shores to climb around on, I could certainly get used to hanging out on a sandy beach with warm water to swim in. So, when I heard we'd be able to come back this summer, I was super excited! Here are a few of the reasons why I really enjoy Topsail Island (and why you guys might too)!
1. It's really pleasant to drive up and down the island looking at all the other houses. They all have fun architecture that makes them distinct from one another and they're all painted pastel colors like yellow, peach, or sea glass green.
2. It's also pleasant to walk the beach hunting for shells and looking for the roped off areas in the dunes signaling that a loggerhead turtle has laid her eggs there (so don't mess with 'em). My sister and I started walking up the beach one evening and mentioned jokingly that we should walk to the pier way off in the distance. I got determined. So we walked three miles there and three miles back because I totally didn't realize it was that far away. We were pooped, but we got a fantastic view of the rare strawberry moon rising over the ocean!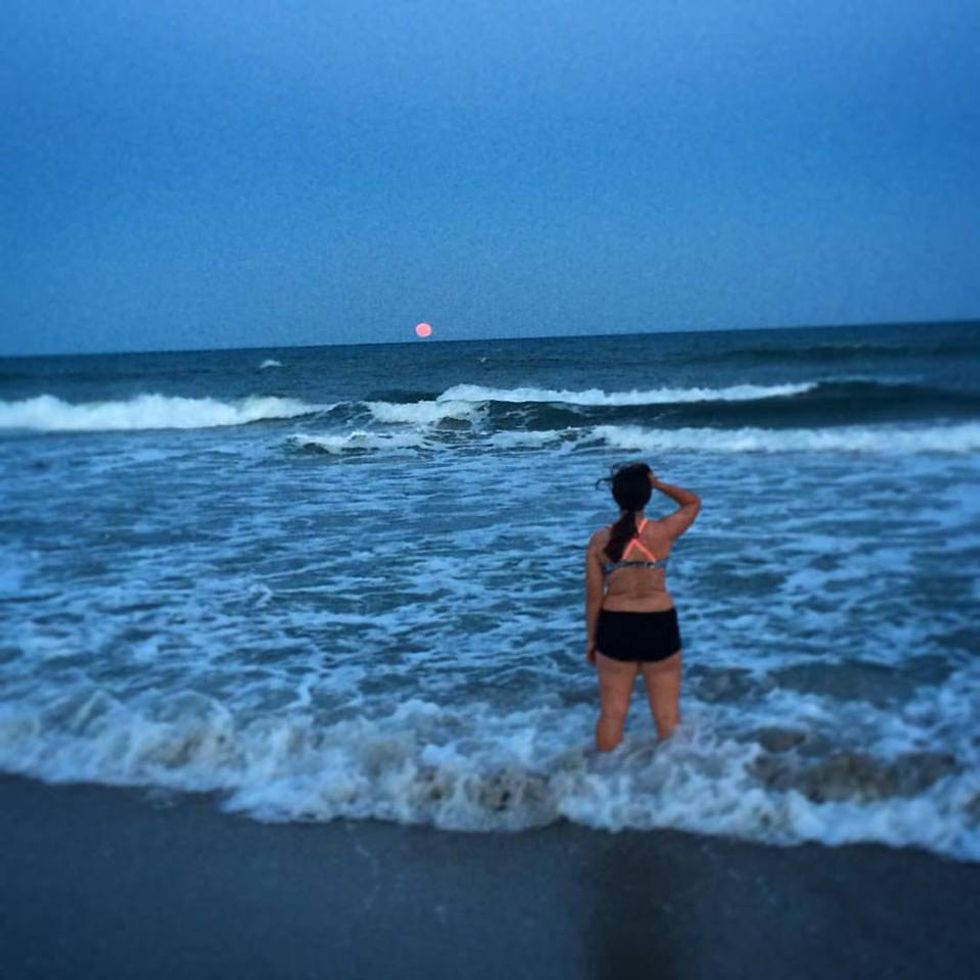 That's my sister!
3. Speaking of loggerheads, there's a rescue and rehabilitation center on the island! There you can see turtles that are recuperating from injuries before they are (presumably) released back into the wild.
4. SANDPIPERS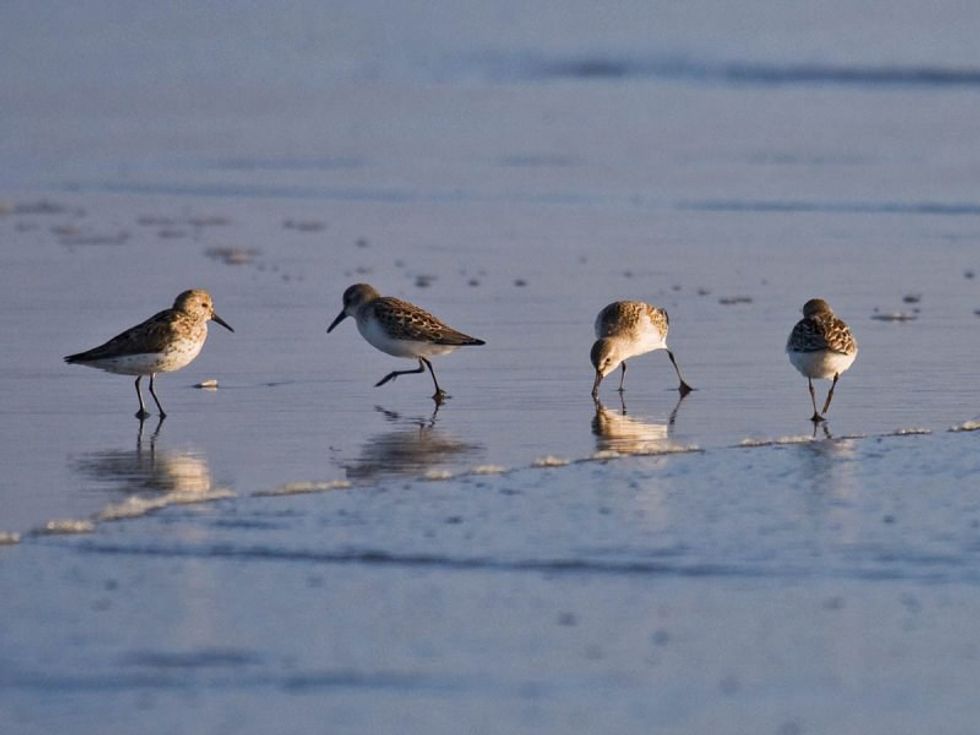 5. There's also a pretty good variety of restaurants to choose from, not all of which are expensive. If you dig seafood and hushpuppies, this is your town! I tried clams and scallops earlier in the week and they different, but yummy (although I can't say for certain if I truly liked them because I was recovering from a cold and hadn't fully regained my sense of taste). They've got everything from a seafood market, to Italian food, to a novelty hot dog shop!
6. Waves. Eagles. Wings. I'd never heard of these stores before, but I very much appreciate them now that I've been here. T-shirts for $7? Sounds great to me!
7. The chill-out vibe. While we did a lot of relaxing in Maine, we usually had a schedule for each day: visit the Pemaquid lighthouse one day, go to Popham Beach another, and go into Bath or Brunswick. Down here it's more about relaxing in the cute beach house or relaxing on the beach across the street. And I'm pretty okay with that.