Loading video...
Imagine coming home from a tiring day of work to find your four children brokenhearted because they found their family pet had suddenly passed on. How does a parent even begin to help their children process and heal from a traumatic experience such as this? Anna Gonzalez-Smolski, Howell, New Jersey resident and owner of For The Love Of Sandy Rabbitry, would know a thing or two about healing.
Growing up, Anna was always a bunny lover and passed that love on to her four children. "[Before the rabbitry] Sandy and Sydney were the last family bunnies, both were lops. We didn't know not to keep bunnies outside. In mid-October, we would bring them in, but Vinny built them a hutch [for outside]. Back then, it wasn't about keeping them inside."
Since the bunnies were in a hutch outside, they were exposed to various elements (weather conditions and unwanted animals). They were also known to be quite the Houdinis and notorious for getting out of their hutch. Gonzalez-Smolski recalls the life-changing afternoon for her family:
It was October 2011, and it was a hot month, so Sandy was still in her hutch. Before Vinnie went to work, he saw a neighbor's dogs outside on top of our pool cover. He shooed them away but never thought to check the hutch. That afternoon the kids got off the bus, and Aidan found Sandy underneath a tree. He was only eight at the time. He said, 'Sandy is sleeping under the tree.' Sandy was domesticated. She would get out of her hutch, and go to the same tree and wait for us, but she was not sleeping. It was probably the neighbor's dogs that did it; they were acting on instinct.
The Smolski family had a wake and funeral for their beloved family pet and buried her under the family tree. The family tried to heal, but the kids were very angry. It was hard for the children to see those dogs roaming the streets often; just another reminder their Sandy was gone. It also didn't help that everyone kept saying, 'Oh, it's just a rabbit.' As Anna argues, "but she was a member of the family."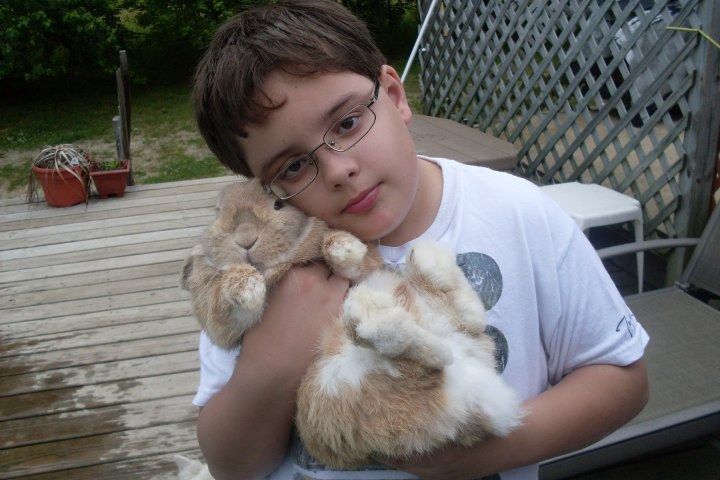 Sandy and Tyler
You can never replace a beloved pet; however, after the period of mourning, the family was ready to give their love to another bunny. This adoption sparked an idea for Anna. "We went to a local breeder. When I met the owner and saw the love and the setup she had, it inspired me to breed bunnies. I decided to start the rabbitry after Sandy. I wanted to give the kids something positive after negative."
In 2012, For The Love Of Sandy Rabbitry (FLS) was started with three bunnies. Since that time, FLS has 10 (soon to be 12) girls and five boys. FLS specializes in purebred Holland Lops and Lionhead's, with lines of chocolate, blue eyed whites, torts, broken patterns, and harlequins. Anna keeps a record of all the hundreds of bunnies and gets to keep in touch with some of the owners.
Talking with Anna and watching her with the bunnies, you can see the passion in her eyes and hear the excitement in her voice. Contrary to popular belief, her focus with FLS is not about the money; it is quite the opposite. "This is not to make money. All the money I make goes back to the rabbitry." This is all for the love of bunnies--especially Sandy.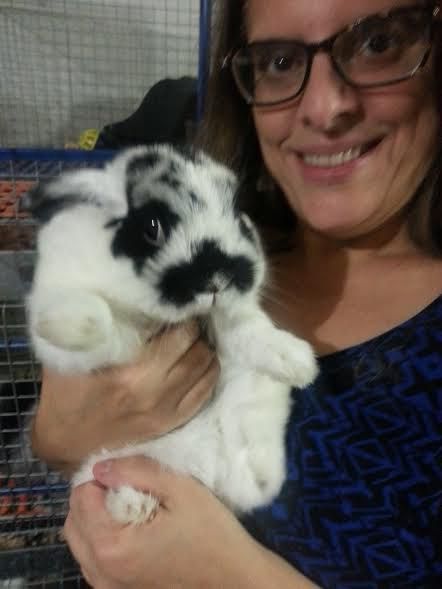 Diesel and Anna
Having lots of bunnies to love requires a lot of helping hands. The kids help feed the bunnies and clean the cages while spending quality time with the bunnies. Moreover, Anna's husband, Vinnie, was a huge support system. "He thought I was crazy, but once he saw the personalities, he fell in love with the bunnies. I would come home, and he would be folding laundry with bunnies around."
FLS not only helped the Smolski family move on after Sandy, but it was also a source of comfort to the family after their patriarch passed away. When asked how the bunnies helped in the healing process, Anna replies, "To answer your question. The bunnies have given us unconditional love and holding a baby bunny and knowing how much he was a part of their everyday care and love for them has helped me immensely in the grieving process."
Life throws a lot of unexpected challenges, but it is what we do with those obstacles that define us. Anna turned a tragic event into a positive outcome for her and her family by bringing the furry joy of bunnies to other families, and she has no intention of slowing down. Anna one day hopes to have her own 4-H club to "teach people to understand how amazing rabbits are and what joy and comfort they bring." She also hopes to one day be involved with pet therapy for seniors and children with developmental disabilities. For now, Anna is satisfied with her rabbitry, "I would love to do it as long as I can."
For more information on For The Love of Sandy Rabbitry, please check out their website, Facebook page or Instagram.
Loading video...
Cover Image Credit: Anna Gonzalez-Smolski