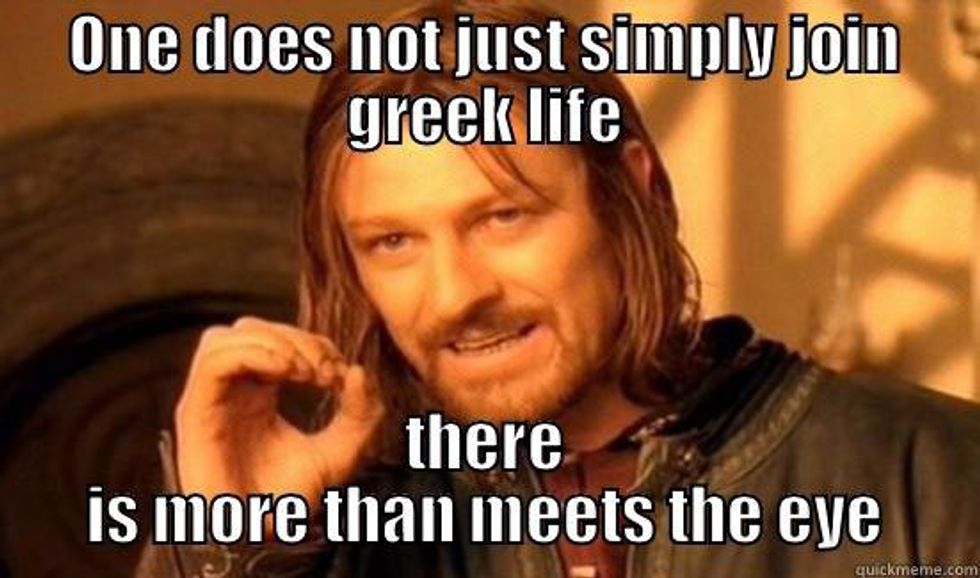 Today, Greek life is one of many organizations that are present on most college campuses. Whether your opinion on Greek life is negative or positive, there are many things that you wont know until you go through recruitment and become a sister or brother of an organization. But when it comes to being a sorority, you quickly learn it's one of the biggest love/hate relationships you've ever been in.
Going to weekly chapter sucks.
There is nothing fun about going to chapter once a week. Basically everything they tell you within that 45 minutes could have easily been sent out in an email. It's a Sunday night, all you want to do is lay in bed and piece back the pieces of what happened over the weekend. The last thing you want to do is go to chapter, especially if its formal attire.
Recruitment is the bane of everyone's existence.
Recruitment? No one likes it. The practices are miserable. You scream and jump for hours just to do it all again during the real recruitment. Plain and simple, its long, hot, tiring, and did I mention long? I guess finding new people for your chapter is cool and all, but the process straight up sucks.
On top of everything else, there's school.
Already stressed out about classes and all of the homework you have to do? Just remember in order to stay in your sorority you have to maintain a specific GPA. But remember, no pressure…
Annoying stereotypes.
There is no good stereotype about Greek life. Everyone who isn't apart of Greek life has their views on sororities and frats and most of the time they aren't very nice things. But it's safe to say its not all true. Yeah sure there are some people that do live up to the stereotypes, but majority of everyone else don't.
With the bad, there's always good...
But regardless of all the little headaches being in a sorority comes with, it sure does come with a lot of good. When we talk to the potential new members, we don't talk about all the bad. But, we talk about all the amazing things that joining a sorority has given us. Because in the end, were proud of it.
You always have someone.
No matter the time of day or night you know you always have sister to call or text, have sleep overs with, talk to, cry to, whatever you need you always have someone that will be there for you which is such a blessing.
Becoming a better you.
Being in a sorority teaches you to be your best you and to always show that. The confidence your sisters give you to be the best you and to never give up is amazing and something that never gets old. They always make sure you strive to work harder and to never give up which goes a long way.
Involvement.
Each chapter has its own Philanthropy. Regardless of what it is, it's for something good. Getting to learn more about it and getting involved with volunteering is so much fun and such a rewarding experience.
Yeah sure it can get annoying having to maintain a certain GPA but honestly why wouldn't you want a good GPA? It'll do nothing but help you in the future and get you further with graduating and finding a good job.
Functions.
Ah, the one thing everyone can agree on regardless if in a sorority or not is that functions are a blast! Functions are so much fun, getting all dressed up, theme or no theme it never gets old within the years you're at college. They can be without a doubt some of the best nights of your life with your sisters.
Shirts, shirts and more shirts.
One thing to know before joining a sorority is that by the time you graduate expect to have triple the amount of t-shirts then before joining.
But most of all, meeting my best friends was completely worth it.
We talk about how even though joining a sorority is taking on a lot, it is 100 percent worth it. We never expected that the girls we meet end up being our life long best friends. They will be there for you through your worst and through your best. They wont ever hesitate to help you with school work, eat, have a dance party, have sleepovers, whatever it is you need/want, your sisters are right there with you. These girls become your home away from home and being away at college, everyone needs that. College is hard enough, but when you have best friends by your side it makes it all a little more bearable.
Sure, joining a sorority may be a crazy love-hate relationship but deep down, you know at the end of the day, there will be more love then hate.