I'm really bad at watching TV shows — or, at least, starting a new TV show. I'm very commitment-phobic when it comes to some novel franchise and I have about a million (not exaggerating) shows / movies in my Netflix list that I haven't even gotten close to broaching. I can keep up with only one current show at a time ("Game of Thrones") because I can't dedicate my brain to more than one running storyline.
But I love familiarity. (Change scares us, after all.) One of the shows, besides the obvious staple of "Friends," that I often go back to is "30 Rock." Liz Lemon is my spirit animal — my kindred spirit. She had me at (flips table), "Where's my mac n' cheese?"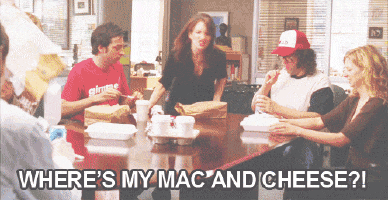 When Carmen Chao asked Liz Lemon, "What is wrong with you?" and she replied, "Almost everything," I was like, "Girl, I feel."
(And by the way I'm writing this as "30 Rock" is playing on split screen.)
More recently, however, I realized there's more to Liz Lemon's relatability than her excellent singular pursuit of comfort, food and avoiding social contact. It's how she skates through it all that's amazingly reassuring to me. I definitely see a Liz Lemon-ish vibe in my future.
We're both dorky females who are very awkward, not only in social situations, but also just...being. We suffer from the occasional "hangry" temper tantrum. We don't know how to comfort crying people.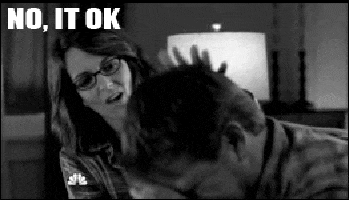 We're aspiring writers. We're feminists who maybe sometimes take it too far without quite demonstrating the right way, without the correct experience to validate the soapbox. (Like, girls should be allowed to play football? Maybe?) We love cheese and wearing exclusively comfy clothing and have weird feet.
We've also both been, at some point — and more frequently than not — loud, proud proclaimers of flying solo.
I know everyone is so afraid of ending up alone, but we're never really alone unless we're just terrible people — or everyone around us is just terrible. People make such a big deal over being the "last" singleton, and yeah, I'm definitely guilty of that too, but is it really such a huge problem? I know especially for us females, time is a-ticking and we're running on an unfairly quick-moving biological clock. Nevertheless, we live in a modern era where you can make something happen for yourself, on your own, if you want it enough. And to be honest, I'd rather be Liz Lemon with a Jack Donaghy — in my opinion one of the best friendships on the screen mainly due to its lack of the cliche will-they-won't-they — than Pete with his miserable marriage.
Yes, I'm aware Liz Lemon may kind of defeat my point since (spoiler alert) she ends up with the guy and the kids, a family of her own, but I could still believe it if by the conclusion of the show's run, she was still spinster Liz Lemon wearing a one-piece bathing suit as last-resort underwear on laundry day. I'm not saying I wish that's how it went down. I'm just saying it would be believable and acceptable and wouldn't detract anything from the show. Not everyone believes in soulmates and not everyone finds — or needs — the one person to spend the rest of his / her life with, soulmate or not.
Liz Lemon taught me (well not singularly because that might be kind of sad) that it's OK if it doesn't happen. And let your freak flag fly, even if it romantically attracts no one because dammit I should be able to wear an all-gray sweatsuit if I want to or wear sparkly silver Birkenstocks with green socks if it tickles my fancy.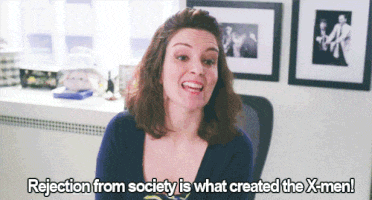 I'm quite happy with who I am, and with a few (or more than a few) improvements, I'll probably be a stellar gal. And I definitely do not need a significant other to verify that. I know — it's a tried and true message, and we're maybe a little tired of hearing it. But I highly recommend Liz Lemon's version of it. It's a hell of a lot more more entertaining than your own (often annoyingly self-righteous) brain.