A little more than a year ago, my roommate and I were placed in Swig as a last resort after having a late housing time. We were horrified – separated from our friends – to be living in the infamous freshmen party dorm where nights are always lit and it's loud all the time.
Fast forward to the present and with half a quarter left of sophomore year, I can't believe I'm saying that a part of me is going to miss living in Swig next year.
As a sophomore, living in Swig has been quite the experience and one different than most of my floormates. Unlike the rest of my floor who are all friends and go out together all the time, my roommate and I are on our own schedules. Most of our friends live on other parts of campus and so the reason we go back to our dorm isn't to socialize but to relax, sleep, or have personal time for ourselves.
Having lived in Dunne last year, I'll be honest: Moving to Swig was indeed a downgrade. I was initially horrified when I saw the tiny double that my roommate and I currently live in this year.
However, over the past year, I've learned to appreciate my room in Swig. It's cozy, and living in such a small space has taught me to be more organized and live a more minimalist lifestyle, only buying things I need and not things I want.
What I'll miss most about Swig is the penthouse view, the tallest viewpoint on campus. Every day, my roommate and I wake up to the most beautiful view of Santa Clara and San Jose.

Looking out the window, we see the residential houses surrounding SCU and the distant city lights of San Jose. I also love staring at the diversity of trees, the abundant greenery a nice reminder that we are very interwoven with earth's natural elements even here in the suburbs.

And don't get me started about the sunsets: hues of orange, pink, and gold hanging out with the clouds over the mountains. (And an extra perk of living on the 10th floor? On weeknights and weekends, my roommate and I have a clear view of the Bellomy parties.)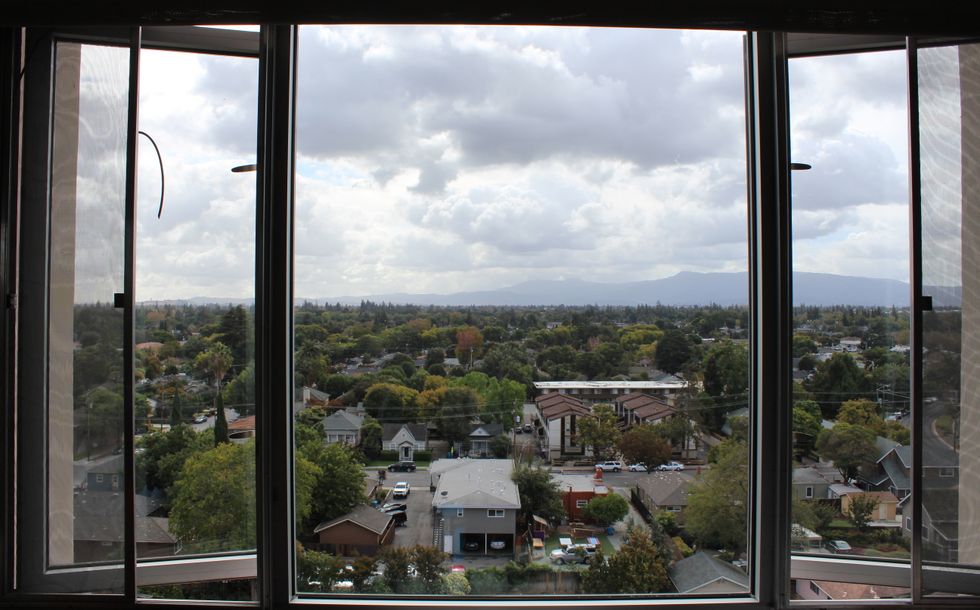 Additionally, living in Swig has enabled me to put my privilege in check. After participating on immersions, I am more grateful than ever to have the opportunity to live on-campus, have a room to call my own, and a bed to sleep in. There are many people in San Jose, just 10 minutes away from SCU campus, who are living on the streets and don't have the luxury of a roof over their heads. Myself, on the other hand, I've never had to worry about finding a place to live with running water, electricity, and access to the food.

Buddha once said, "The mind is what you make it. What you feel you become." As soon as I started feeling more grateful for having a place to live, my experience in Swig immediately improved.
So, here's to you Swig. You've taught me the power of perspective and allowed me to appreciate how I am living with basic necessities. It's been a year like no other, and I honestly wouldn't trade it for any other dorm experience.