A father's approval. A job. A new set of clothes. A handsome man's gaze. These are the benefits of having light skin or as the skin bleaching cream Fair & Lovely would like its audience to believe. In one of their advertisements, a rural woman from India searches for a job to help her family. After going on interviews and failing to impress her future employers, she returns home disheartened and overhears her father saying, "I wish I had a son." She runs to her room, eyes tear stained. While sobbing, she looks through the classified ads and sees an opportunity to be an air hostess. She walks up to her mirror, dismayed and disgusted by her appearance. She thinks to herself I'm too dark to be an air hostess. Yet, comes her savior, blasting from the television: an ad for Fair & Lovely skin lightening cream. In that instant, the music changes to a confident tune and our jobless daughter approaches an office for her job interview. She swipes her head around to reveal her new "fair and lovely" skin tone to interviewers. These higher-ups, all of whom are white, smile indicating that she nailed her interview. She brings the good news to her father, who finally accepts her.
This illustrates that the belief in the power of light skin is common place in not only India but all over the world. This woman was seen fit to hold a position that involved traveling all over the world – providing all her passengers with the representation of what a proper Indian woman looks like. She looked successful, unlike the image most foreigners received from Indians and what she was before her magic cream. The popularity of skin lightening creams and bleaching agents is not a simple beauty regime but a remnant of classism and racial inequality from centuries of imperialism and social stratification.
For several centuries, India was ruled under foreign leadership such as the Muslim Moghuls and the British. Under the rule of these empires, Indian society and culture experienced a great transformation. From repeated racism and inequalities implemented by their rulers, the Indians began to instill upon themselves the beliefs of their oppressors. However, colorism was a common practice in India prior to British or Moghul rule because of the structure of the caste system, a social hierarchy built into Hinduism, which reinforced the idea that those of darker skin are the labors and workers and therefore of the lower class. The tremendous popularity and widespread use of these creams in India reveal the lingering of these colonial beliefs, as well as the prevalent view that those who are darker are members of the underclass.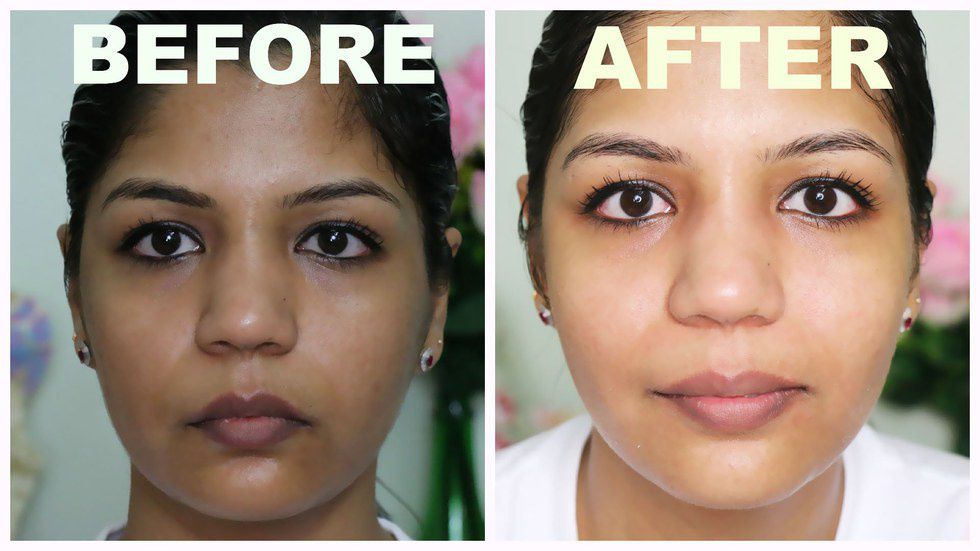 Whitewashing and skin bleaching are common practices in countries all across the world. Light is right and dark is wrong. This is something I and many girls learned growing up. We were children of immigrants who had white superiority engraved into their culture because of colonialism. My parents, my relatives and my family friends always proclaimed by darkness to me while I was growing up. I never considered myself "dark" until these statements were made. I knew from school I was different - I lived a predominately white-Jewish neighborhood in suburban New York. I knew that my skin tone was different but I never associated it as something to be ashamed of, until I was constantly berated for it by not my white classmates but my fellow brown family. Standards of beauty governed the Indian American view on life. It was about assimilation and acceptance - be like the oppressor they will accept you. That is what I grew to believe. However, my story and experience is unfortunately not unique. While there are also several other brands of skin lightening creams such as White Radiance and White Perfect, Fair & Lovely proudly boasts their title as the country's first and most popular one. Today the cream has spread to over 30 countries and is sold to over 250 million consumers (Karnani, 2007). In 2012, the cream had estimated sales of 258 tons. The brand had an estimated value of $428 million in 2010; while Hindustan Unilever had estimated $3.5 billion revenue for the 2011 to 2012 economic year. Racism and discrimination produce responses from the people they oppress. In many places it takes the form as revolution and revolt and in other places it takes the form of internalized self-hatred and racial capital. The heavy use of skin bleaching products and creams in India illustrates they responded with the latter. Centuries of colonialism and conquest under lighter Empires forced the native Indians to internalize the hatred and racism their oppressors put upon them. This combined with the rigid social structure of the caste system emphasized the need to have fair skin. Having fair or light skin is not something as simple as other beauty regimes, such as applying eyeliner or lipstick. The use of these creams and lightening products is not a simple beauty regime but a method for the people of India to cope with years of oppression and the rigid social structure of caste system which perpetuates inequality based on skin color.