We can learn a lot from our own life experiences, but sometimes we can learn even more from others. I spoke with a lot of people who shared their life stories with me. Here is what they told me:
"Rainbow"
So, this is the story of my ex Emily and I. We started dating the beginning of 2016, both knowing she was moving to Spain for work eventually. We had an amazing year traveling and having tons of adventures. September 2016 we found out she was moving in January, so we knew how much longer we had left. We contemplated ending it right then but decided to stay together until she moved.
We cherished all our time together. She helped me grow as a person and showed me a new kind of love. A mutual breakup when you are both still in love was a new experience for me, but it showed me a lot about life. It was an amazing chapter in my life and I will always remember it fondly. Things don't have to be forever if you enjoy all your time with said thing. I actually wrote a poem about this about looking at the bright side of things that you know won't be forever.
"You painted bright clouds in my sky when I could only draw raindrops. You were like the rainbow peeking out after a day of rain and sorrow. The bright color that reminded me things can get better after your darkest hours, as long as you don't give in to the sadness. And then you were gone, just like the rainbow in the sky. There is some comfort in the temporary because even short-lived rainbows can bring happiness and joy. You were my rainbow, and your color will still shine bright in my mind, no matter how long you have been gone."
"Sometimes You Have To Be Hurt"
I was in a relationship for six years. It was never one of those relationships where we were on and off all the time; we were together. We met when I was 12, started dating at 15 and he was the guy I was sure I would spend my life with. Through the years we would have arguments and get into fights, but we always worked them out because we knew what we had mattered and we wanted to be together.
Then in the late spring/early summer of 2016, things changed. I started getting jealous and angry because I knew there was a girl from work (who I did get along with and considered a friend. We all worked at the same campground, but the two of them worked in the same department). They were all of a sudden working basically every shift together, and then they were texting outside of work every day even when he was with me. I knew in my head that something was going on and I needed to worry, but when I talked to both of them about it, they assured me nothing was going on and I had nothing to worry about.
They lied. I had every right to be concerned. Behind my back and in front of my face I basically watched the guy I loved fall in love with someone else. After a while, he finally admitted to me that they had feelings for each other, but that he still loved me and wanted to be with me. For some reason, I believed him and I stayed. We tried to work it out, but in the end, he wanted to be with her and the night before my senior year of college started, we broke up.
I never wanted to fall in love again. I was broken. I cried constantly, didn't sleep, didn't eat, and started making poor decisions as different coping mechanisms. I hated who I was and never thought I'd be capable of love again.
I would a few months later end up meeting a guy at a party, going to his fraternity's formal but then never again giving him the time of day until months later when I was almost too late. I've now been dating that goofy guy from the party for over a year and I couldn't be happier. It took me the most painful heartbreak I ever could imagine, to finally realize what I deserve. So you could say I am now a cliched believer in the "sometimes you have to be hurt in order to find happiness." So thanks, asshole, for breaking my heart. Because of you, I found out what it feels like to truly be loved unconditionally.
"Time Heals"
So a girl and I met and we became pretty close friends. She was my rock really... She began seeing a guy who was basically a drunk, had a girlfriend and kid, and I never liked him... We went on with our friendship, but it was never the same. Then randomly she messaged me saying she didn't want to be my friend or have anything to do with me. I was absolutely devastated. We spent a whole summer not talking and I really tried everything to try to figure out what happened. We've spoken twice since the whole thing and it seemed fine, really. I thought maybe we could be friends again.
In my sad attempt, I sent one last email explaining all the shit I had been through and how awful I felt about the mess. In response, I got a call from the Bowling Green police telling me to never talk to her again. All I said in the email was I'm sorry and Merry Christmas. I presume the guy and she are somehow back together...he's a monster and I lost someone I valued so much.
Anyways, now the happy part:
I look back and I say wow I'm a great artist, I'm a great person, I have a great guy who loves me somehow why did I try to get someone who never gave a shit about back into my life. The lesson I learned is that time heals...and recently I met a girl who is a doll! Usually I have a hard time connecting with other girls, but lately she and I have gone out to dinner together and I feel like she could be someone I say that's who matters to me that's who helped me heal.
"A Rare Case Of Life"
When I was 15, I was in a bad car accident. I was ejected from the car and basically died on scene.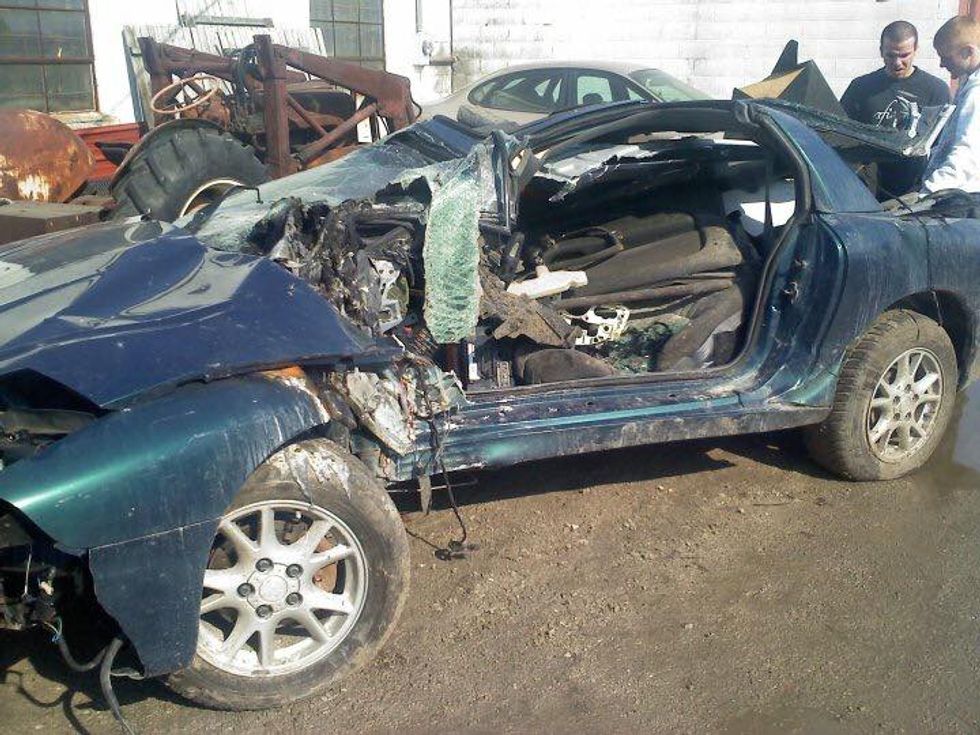 Not wearing a seat belt actually saved me, but it was a rare circumstance. I went through lots of therapy mentally and physically. I was in ICU for a week and in a wheelchair for a while.
It made me learn how to grow up quick. It just made me learn to be cautious driving. I wasn't even the one driving but it made me realize to not get in cars with strangers because you never know what could happen. I didn't know the guy but my boyfriend at the time trusted him, so I did too.
"Things I've Learned"
Throughout my youth, I was taught to respect other people's differences. In school, we were taught to love one another. At home, I was taught to treat others how we would want to be treated. Yet, no one ever taught me how to love myself and my own differences. Learning to love myself has been the most difficult journey I've ever taken. I never realized how much I have hurt myself by not being my own friend. For those who may be thinking about taking their own journey or are currently on their own, here are just a few things I've learned so far.
1. The only approval you need is that of your own.
Do things that make you happy. Wear things that make you feel good. Make the choices that fit your dreams. There will always be someone who disapproves but you are living for you. Your happiness matters.
2. The road to loving yourself does not mean you will always be happy with you.
You'll criticize yourself still but, self-love to me is not losing myself in other people. It is learning how to build yourself up when life gets you down. It is speaking to yourself the way you would speak to a friend. It is refusing to make yourself small.
3. Self-care can take a physical, mental and emotional form.
Healing is not linear, and everyone does so differently and that is okay. Your past self serves a purpose. Learn from them and grow through them.
4. Putting yourself first is not selfish.
Self-care is not selfish. Loving yourself is not selfish.
5. Things that define your worth: You.
Things that do not: your past, your grades, your mistakes, your body.
These are only a few things that I've learned the past few years. I think the biggest lesson so far was telling myself it wouldn't be easy. It takes days, months, years even. I had to learn not to rush myself. If you're reading this, I want you to know you're not alone. Take time to acknowledge your own magnificence! You are sunlight and I am so proud of you.
"Lessons From My Dad"
Be kind to others, not in a fake way. Don't just half-assed ask someone how their day was. Genuinely care about others -- luckily for me, that comes easily, I'm happy that I got that trait from him.
Have an imagination and stay a little immature. If there is one thing I really miss about my dad, it's the conversations about aliens, conspiracies, and what he learned that week. Continuing to learn throughout your life is beyond important and if you don't have an imagination or stay a little immature, then you won't have any fun and your life will literally be miserable.
I think that the main point is to be kind. If someone needs to talk -- LET THEM, don't change the subject and avoid a topic because it makes you uncomfortable. Don't take your time here for granted. (Everyone says this, but I don't think they really comprehend the importance of spending your time wisely).
If you enjoyed this, be sure to read Life Stories: Heartbreaks.