It's no secret that Mindy Kaling is #lifegoals. She got her start as writer and producer on the hit show "The Office," for which she earned numerous Emmy nominations. She then went on to create, write, and produce her own show, "The Mindy Project." Though it was cancelled by Fox, the show was picked up by Hulu and premiered its fourth season last week. She has also published two books, "Is Everyone Hanging Out Without Me? (And Other Concerns)" and Why Not Me?", which have been met with widespread critical acclaim. Finally, she co-starred in the animated summer blockbuster "Inside Out" as Disgust.

So obviously, Mindy Kaling has had a very successful career. But that's not the only reason you should look up to her. Her advice and ideas on life, as detailed in her various works, have greatly inspired many people, including myself. Here are eight life lessons that I have learned from Mindy Kaling that I hope will be as inspiring to you as they are to me.
1. Popularity
In her first book, Mindy Kaling describes herself as being quiet and a "nerd" in high school. But as she aptly says, it doesn't matter in the long run.
"Teenage girls, please don't worry about being super popular in high school, or being the best actress in high school, or the best athlete. Not only do people not care about any of that the second you graduate, but when you get older, if you reference your successes in high school too much, it actually makes you look kind of pitiful, like some babbling old Tennessee Williams character with nothing else going on in her current life. What I've noticed is that almost no one who was a big star in high school is also big star later in life. For us overlooked kids, it's so wonderfully fair."
--Mindy Kaling, "Is Everyone Hanging Out Without Me? (And Other Concerns)"
2. Friendship
As we grow up, our types of friends and actual friendships continually change. Friendship has a different definition for everyone. The older we get, the less time we spend our lifelong best friends. And Mindy Kaling confirms, that's okay.
"With my friends, the sad truth is that our best 'best friend' days are behind us. … We will never come home to each other again we will never again have each other's undivided attention."
--Mindy Kaling, "Why Not Me?"
3. How To Correctly Use Social Media
When it comes to social media, Mindy Kaling wins all the prizes. Between hilarious tweets and enviable Instagram photos, she puts the rest of us to shame. Here are a few of examples: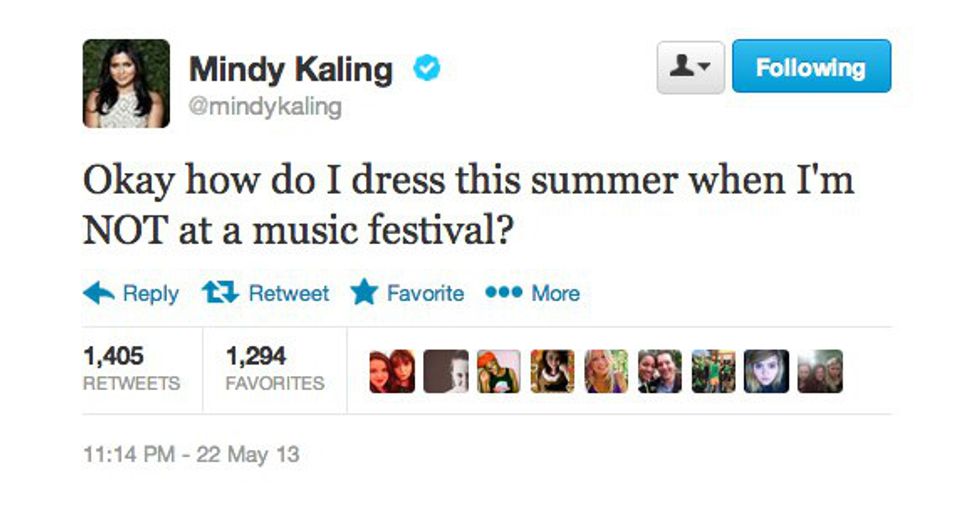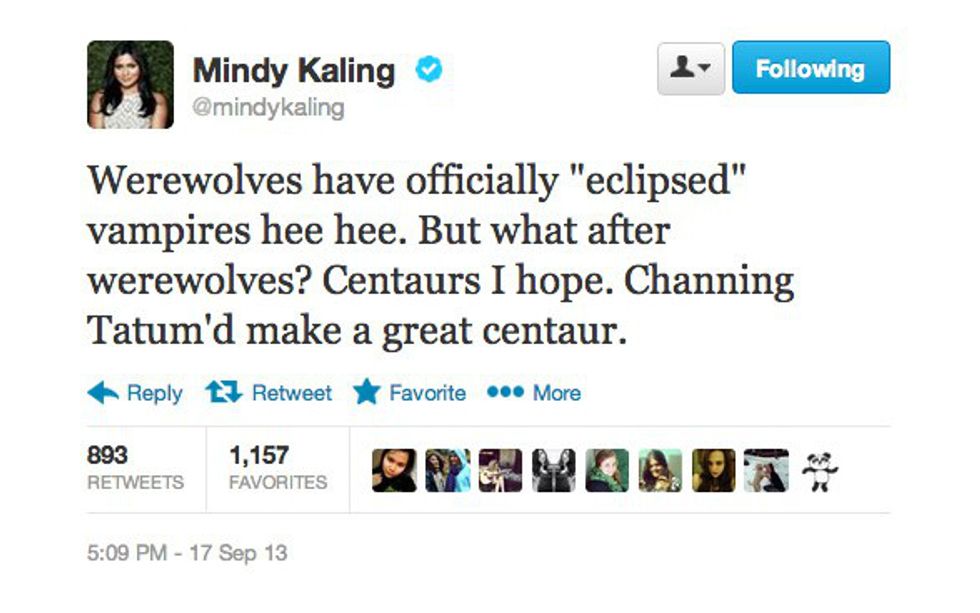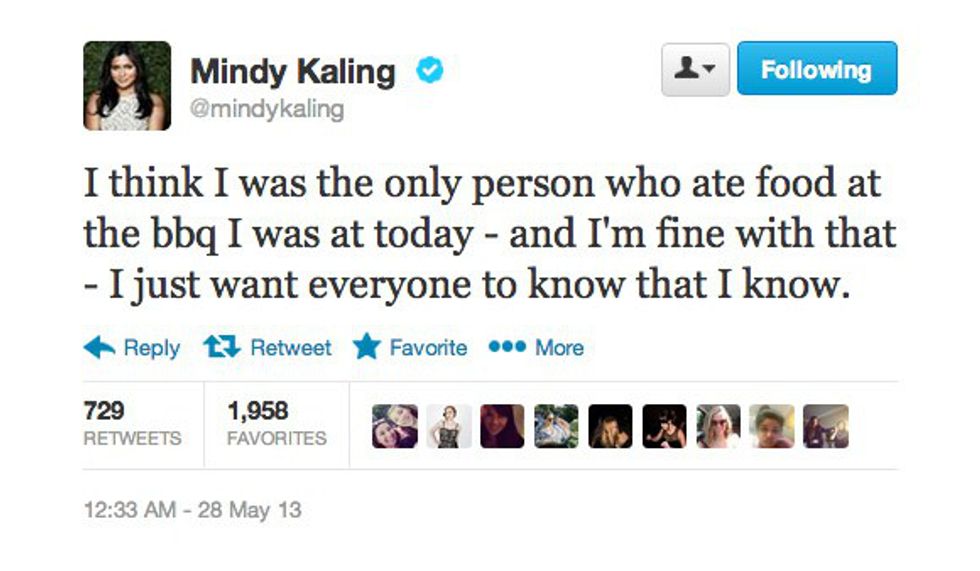 4. Fashion
If you have ever watched "The Mindy Project," you know that Mindy Lahiri's (Mindy Kaling's character) outfits are always on point. And it's the same way in real life. Scroll through Mindy Kaling's Instagram whenever you can't figure out what to wear; I guarantee you'll be inspired by her smart fashion sense. She's not afraid to break rules and defy expectations with what she wears. And that's a great lesson we can all learn.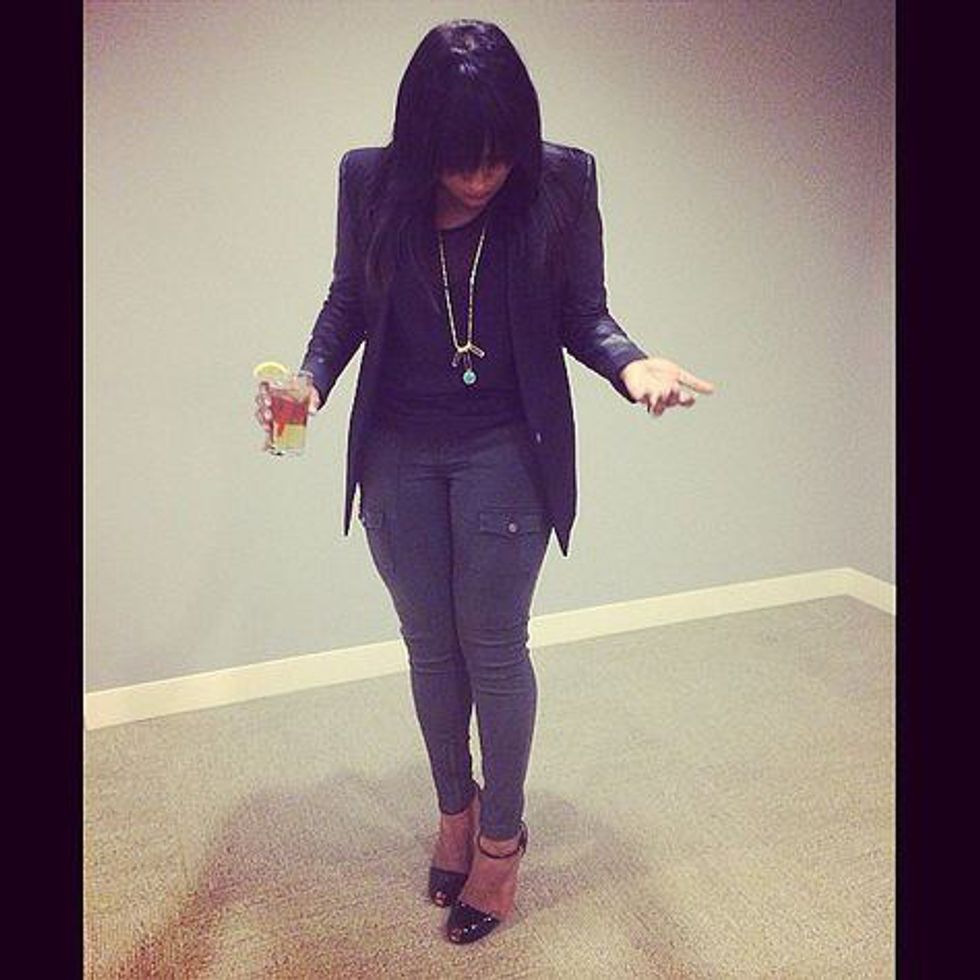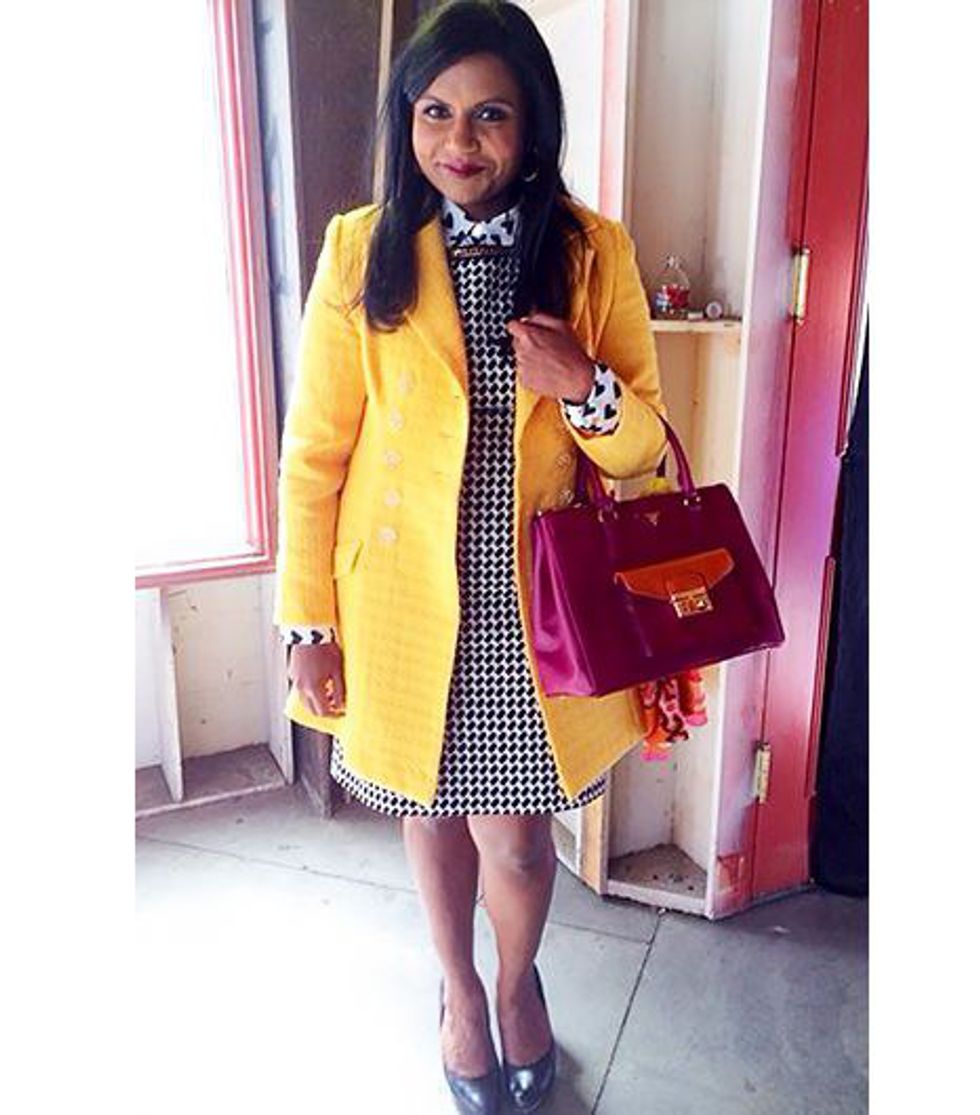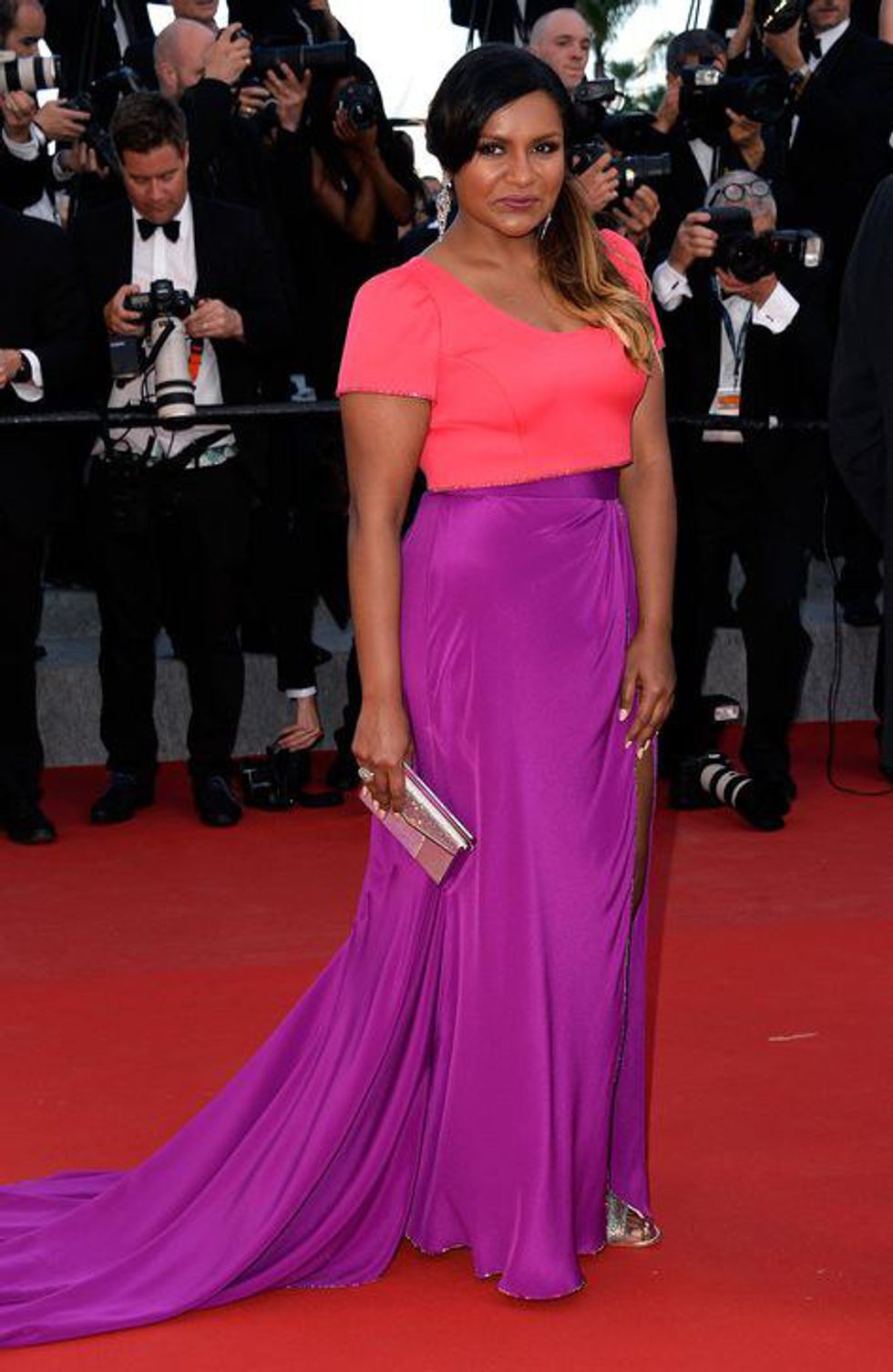 5. Relationships
Relationships are some of the trickiest situations we'll face in our lives. Even Mindy Kaling agrees she doesn't have it figured out. She talks extensively on her transition from dating boys to dating men and the maturity it requires. She also knows it's OK to not want to get married right away.
"When I was younger, I wanted so badly to be married and have kids in a rush. Now, I don't need marriage. I don't need anyone to take care of all my needs and desires. I can take care of them myself now."
--Mindy Kaling, Good Housekeeping, Jan. 16, 2015
She also discusses the difference between soul mates and soup snakes, saying:
"Soul mates' is what you aim for, but soup snakes is what you get sometimes."
--Mindy Kaling, "Why Not Me?"
In other words, when a relationship is close but no cigar, you can fight the inevitable, or you can sit back and enjoy it for what it is.
6. Leadership
As executive producer, writer, and star of her own show, Mindy Kaling knows a little about being in charge. She agrees that it is a hard job being the boss and sometimes you really just don't want to be the one in charge. And that's all right.
"I want to be part of the gang. I don't want to be the gang leader who has to stay on gang schedule and pay gang taxes. I have to do that stuff now. Sometimes I just want to shoot my machine gun in the air, you know?"
--Mindy Kaling, Rolling Stone, Nov. 11. 2013
7. Family
Sometimes the importance of family isn't realized until it's too late. Mindy Kaling lost her mother to cancer a few years ago and writes about how important family was and has become in her life. Her advice to us is to love our family unconditionally.
"Later, when you're grown up, you realize you never really get to hang out with your family. You pretty much have only eighteen years to spend with them full time, and that's it."
--Mindy Kaling, "Is Everyone Hanging Out Without Me? (And Other Concerns)"
8. Confidence
Finally, confidence: It's something we all struggle with in our lives. We want to be the best and we want to be liked by others. It's hard out there in the world for anyone who is even a little different. There's a lot of good advice from Mindy Kaling about self-confidence, but here are just a few of my favorites.
"Write your own part. It is the only way I've gotten anywhere. It is much harder work, but sometimes you have to take destiny into your own hands. It forces you to think about what your strengths really are, and once you find them, you can showcase them, and no one can stop you."
--Mindy Kaling, "Is Everyone Hanging Out Without Me? (And Other Concerns)"
"Work hard, know your shit, show your shit, and then feel entitled. Listen to no one except the two smartest and kindest adults you know, and that doesn't always mean your parents. If you do that, you will be fine."
--Mindy Kaling, "Why Not Me?"
And if all else fails, "Sometimes you just have to put on lip gloss and pretend to be psyched."