If you know me, you know that I have three interests: watching "The Office" on loop, petting dogs and applying lipstick. That's it, folks. That's literally everything you need to know about me.
But I'm not here to talk about dogs or "The Office" (maybe next week). I'm here to talk about my obsession with lipstick and give you my best suggestions and tips for beautiful lips.
For a lot of people, wearing lipstick seems like a daunting task, like a fading light at the end of a treacherous tunnel, but I can assure you it's a road you should travel down. Lipstick is fun, versatile and can spice up any look or outfit. Not to mention it gives you this wild confidence. Whenever I have my contour done with a pair of dark lips I feel like a 50-year-old woman who exclusively drinks brown alcohol and buried her cheating husband in the backyard. You know what I mean?
Anyway, here's a list of my favorite lipsticks and how to take the plunge into the world of pouting.
DOSE OF COLORS
I repeat, DOSE OF COLORS.
This brand is exclusively online and it sells the best liquid to matte lipsticks in the world. Matte lipstick is a huge craze right now and finding the perfect one can be challenging. Some people have dryer lips, some people prefer lips with some shine. But if you're like me, you go crazy over a nice matte lip. These lipsticks go for about $18 each, which I know seems expensive for a lipstick, but I promise you, they are worth every penny. The formula is thick, but dries beautifully on your lips and doesn't feel heavy or too dry. Not to mention these last ALL NIGHT. I went abroad to Spain last semester and I would apply some nice red lips in the color "Brick" at midnight and my lips would look fresh and perfect after drinking, dancing and eating. You have my word. The colors are all super pigmented and look wonderful on any skin tone. Also, I love the brush that comes with the matte lipstick, because it has a lot of give, so you can really cater to the curves of your lips without worrying about harsh corners from the brush. I have seven of these bad boys (I'm obsessed) and I can't even decide which is my favorite. If you like nudes/pinks try the shades "Bare With Me" or "Stone." Bare With Me is more of a neutral pink nude and looks great with subtle eyes and a nice face highlight. Stone is absolutely stunning and is a gorgeous pink/mauve color that can be used as a flirty look or just a casual lip.

Summer color suggestions: Stone, Bare With Me, Truffle, Berry Me, Coral Crush
Fall/Winter color suggestions: Desert Suede, Mood, Brick, Cork

You can check out all the colors here.
ANASTASIA BEVERLY HILLS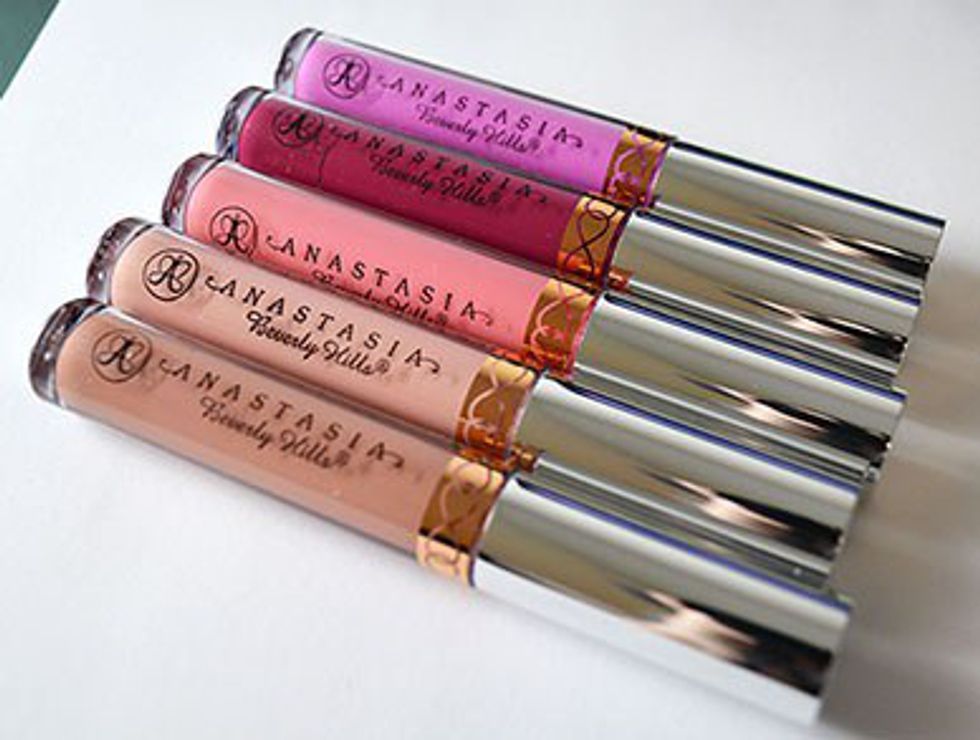 Anastasia has incredible products ranging from contour palettes and glow kits all the way to liquid lipsticks. I tried out the liquid to matte lipsticks recently and I love them.
The good thing about this brand is that the lipsticks are available online, as well as in stores like Sephora and Ulta. If you're a novice and don't want to rely on the color provided online, this brand is great because you can swatch some colors in the store and see if you truly like them. Each of these lipsticks go for about $20 each. Again, expensive, but if you're looking to splurge on a color you love, definitely try them. I have one of these in the color "Heathers," which is a fantastic deep red. These lipsticks are also long lasting, but have the tendency to crumble a bit, so re-application might be necessary. However, the color is fantastic and this line has a ton of colors to choose from.
You can check out all the colors here.
COLOURPOP

Everyone and their mothers are talking about Colourpop Ultra Matte Lipsticks, and for good reason. These online exclusives are only $6. That's right, six bucks! I couldn't believe it either. But it's true. These lipsticks are unique because they're more of a lip stain than a lip stick. They're liquid to matte just like the two aforementioned brands, but these dry almost immediately where as the other two formulas take a minute or two to dry completely on your lips. For me, I think Colourpop is a great place to start for someone who is just starting out with matte lips. Although all these colors are online, I suggest picking out some colors you like and then searching them on YouTube. There are hundreds of tutorials of different people trying on the colors of all different skin types and skin colors. I find it super helpful to watch lip tutorials before purchasing a new color. It'll make you more confident about the ones you buy.
Colourpop Ultra Matte Lips are definitely ultra matte. After application it feels like nothing's there!
Pros: Cheap $$$, HUGE color selection and ultra matte/beautiful finish.
Cons: Not as long lasting, requires lip primer/exfoliation prior to application.
My favorite colors: "Guess," "Bumble," "Tulle," "Lumiere 2."
You can check out all the colors here.
NYX COSMETICS

Honestly, why isn't everyone talking about this? NYX cosmetics has so much to offer - great mascara, eyeliner, face powders and lipsticks - and the best part is, they're all affordable!

After this past semester, I was considering selling an organ on the black market to try to make some money. I couldn't stop buying lipsticks, but I couldn't keep buying expensive lipsticks either. What's a girl to do? My life changed when I started using NYX lip products. They have a bunch of colors and they have matte lips called NYX Soft Matte Lip Cream. This stuff is amazing and lasts all day. It's soft, easy to apply and doesn't feel crumbly on your lips.
If you love the liquid lipsticks but don't want to keep using matte lipsticks, try NYX's Liquid Suede or Lingerie lipstick. Both are soft and beautiful on any lips.
Best part of these lipsticks is they're all under $10. INSANE.
So do yourself a favor and invest. You can get these bad boys at Ulta, as well as some drug stores and even Target.
You are WELCOME.
You can check out all the colors here.
MAC COSMETICS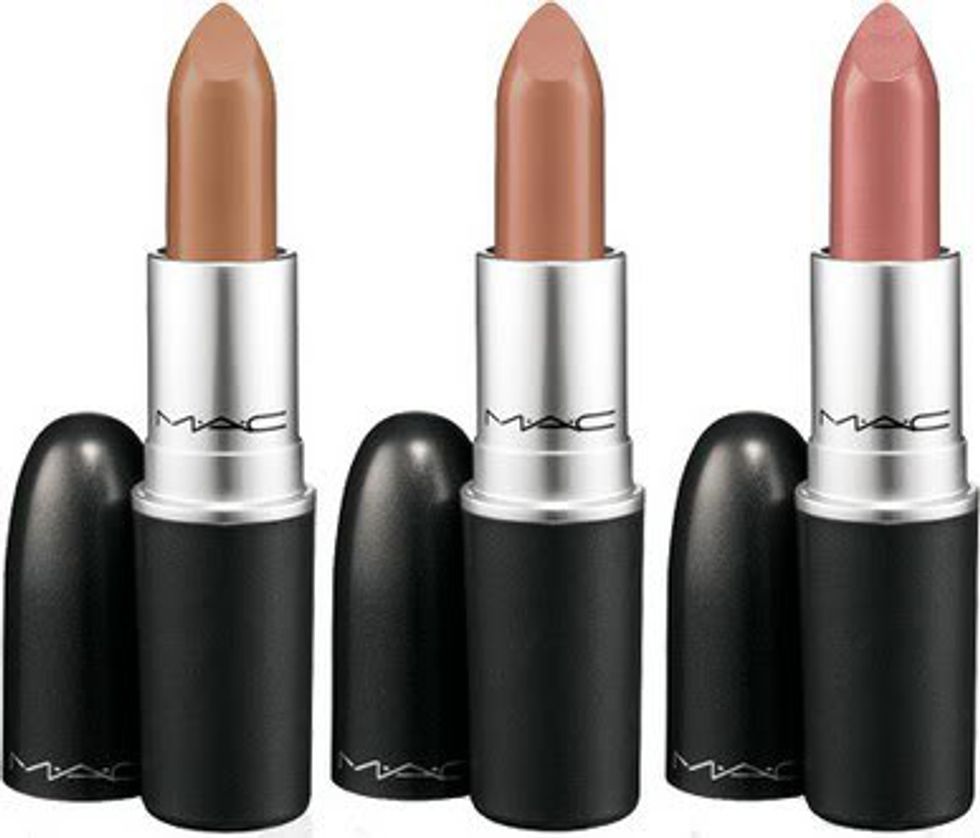 Okay, so I'm sure you've all seen these glorious lipsticks before. I'm pretty sure every makeup artist on the planet has at least five of these lipsticks stowed away in their bags. These beautiful little lipsticks come in these black tubes that look like they're worth a million bucks. Well, not exactly, but they're about $17 each.
I have this lipstick in the shade "Mocha," and it's gorgeous and works for any look. The best part of these lipsticks is that they're creamy and have a beautiful finish. Their liquid-to-matte formula makes them more hydrating and a little softer on the lips. They look great all day and require very little maintenance.
They're pretty expensive, but these lipsticks are definitely worth it, especially if you don't want your lips to get overly dry or cracked. They have a ridiculous amount of shades to choose from. They've got ruby red's and deep plums, as well as subtle pinks and neutral nudes.
If you go out and get one of these, please hold it up to the sky and whisper my name. I will shed a single tear.
You can check out all the colors here.
ULTA COSMETICS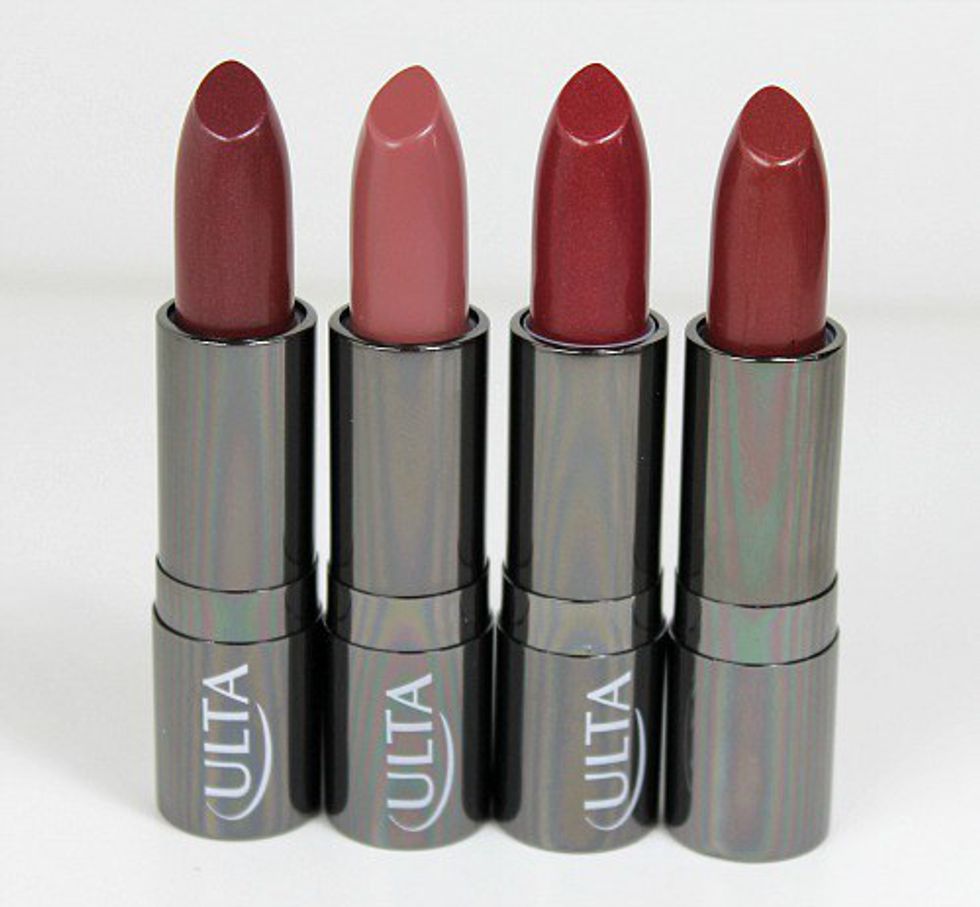 So I've saved this for last for two reasons: Ulta brand lipstick is super affordable and great for beginners and experts alike. When I first started wearing lipstick, I was too scared to try crazy or dark colors, so I looked for a sheer lipstick that could give me nice color without overdoing it. These lipsticks are great because they're $8 each and have a huge selection.
If you go into Ulta, they have an entire wall dedicated to their brand of makeup and you'll find these lipsticks in no time. The first color I used was a sheer lipstick in the shade 211. It's a very subtle, sheer pink that adds just the right amount of color without being too dramatic. It looks great with any look and really completes the face. It's easy to apply and feels great on the lips. Just make sure to carry it with you if you're going out for the day, because you'll definitely have to reapply.
Once I was comfortable with lip color, I bought the regular cream lipstick in the shade 241, which is a deeper pink shade with brown undertones that look mature but versatile. This brand is great because you can get sheer colors, creams and even matte shades for $8. It's a great place to begin and really get to know what looks great on you.
You can check out all the colors here.
Wearing lipstick should be fun, not a chore. So find a brand you like and a color you love and wear it until the sun comes up. Lipstick boosts confidence and pulls together any look. Quit second guessing yourself and take the plunge. You won't regret it.
As Elizabeth Taylor once said, "Pour yourself a drink, put on some lipstick, and pull yourself together."