When you think of Kim Kardashian you may think of a lot of things: her large and in charge booty, large and in charge family or large and in charge empire that she has acquired through her fame journey. What may not come to mind is her mogul mentality or revolutionizing ideas for the modern world. For these reasons and more, the reality star bears some striking similarities to another revolutionary icon and Founding Father, Alexander Hamilton. I know what you're thinking: you must be joking, it's actually offensive to compare Kim K to a Founding Father. So here's a list of the reasons why Kimberly Kardashian and Alexander Hamilton are both founding "fathers" of similar mentalities, of their generations.
Disclaimer: Most of the Hamilton facts come from the modern, but historically accurate, play "Hamilton" by Lin Manuel Miranda. If you want a more historical depth, I hear Google is doing great things these days.
Mind on their money, money on their minds.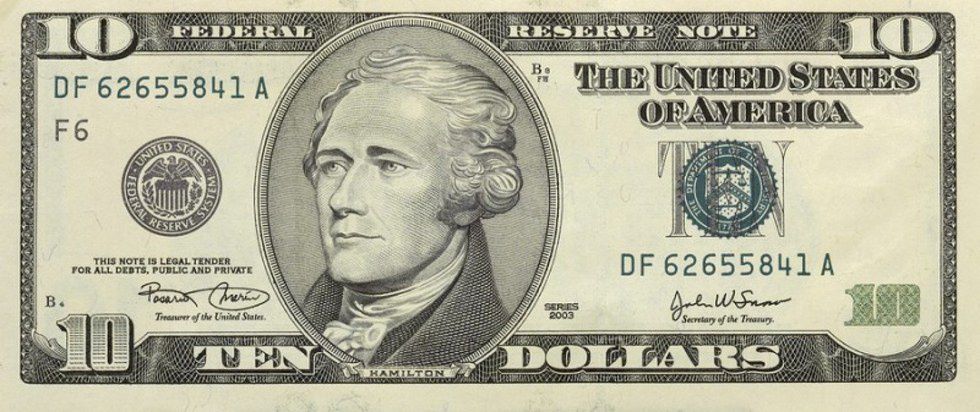 Alexander Hamilton being our $10 Founding Father was no accident. His role as the first Secretary of the Treasury of the USA gave him plenty of power to construct how we deal with money today. He created national banking as we know it, made sure NYC was the center of the finance industry and most importantly, made U.S. currency worth something, which was a huge step for our independence. Jump to 2016, where Kim Kardashian has spent the past seven years building an empire of TV shows, night club appearances, beauty products, boutique shops, etc.
Took control of their sex scandals.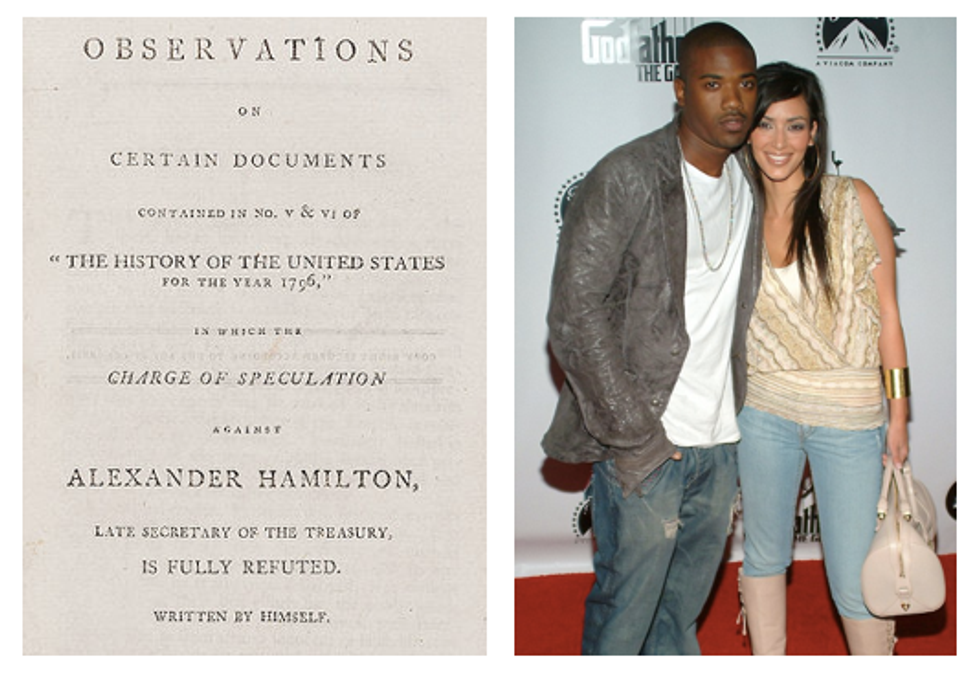 The largest similarity between Hamilton and Kardashian is undoubtedly their involvement in sex scandals. Both exposed, Hamilton for paying the husband of his mistress to keep quiet and Kardashian for having a video of her and Ray J spread like wildfire, these two rose up out of these disasters and both benefited in some way. For Hamilton, he proved that he was willing to tarnish his personal reputation for the good of the nation when he wrote the Reynolds Pamphlet, exposing his misdeeds in order to show he wasn't keeping government money for himself, and politicians respected him much more for it. For Kardashian, her sex tape launched a media buzz as to just who this girl was, which eventually led to the now hit show "Keeping Up With The Kardashians" and started her journey to mega stardom.
Influenced how and why we communicate.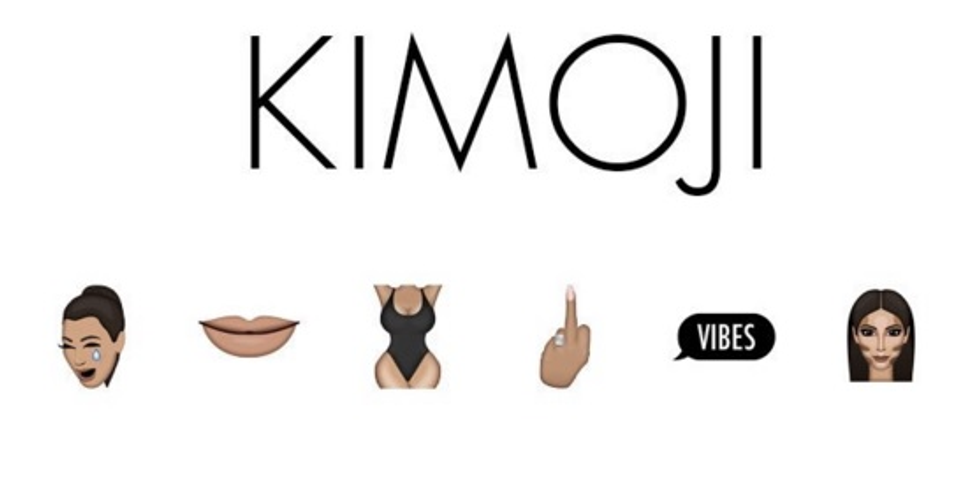 Both nonstop communicators, they realized the power of taking a stand through words to the public. Hamilton was the OG of "An Open Letter To" when he first wrote his way out of poverty on an island. When he sent his content to the mainland, people were blown away. Flash forward to the revolution ending when he decided to team up with two other influencers to write the Federalist Papers aka "An Open Letter To People Who Don't Like U.S. Constitution," where he wrote 51 of the 85 essays defending the doc to the public.
Communication for Kardashian has been equally important. Her tech-savvy business ventures of the Kim K game, Kimoji and the Kim Kardashian-West official app, have infiltrated phones everywhere, letting her make a million a minute from Kimoji alone. These hyped apps along with her own social media presence communicates a "woman of the people" from her constant interaction and content for fans. Kim has changed the way we text, post pictures and play games without us even knowing. After all, you don't get on the cover of Forbes purely based off your assets.
Started out young, scrappy and hungry.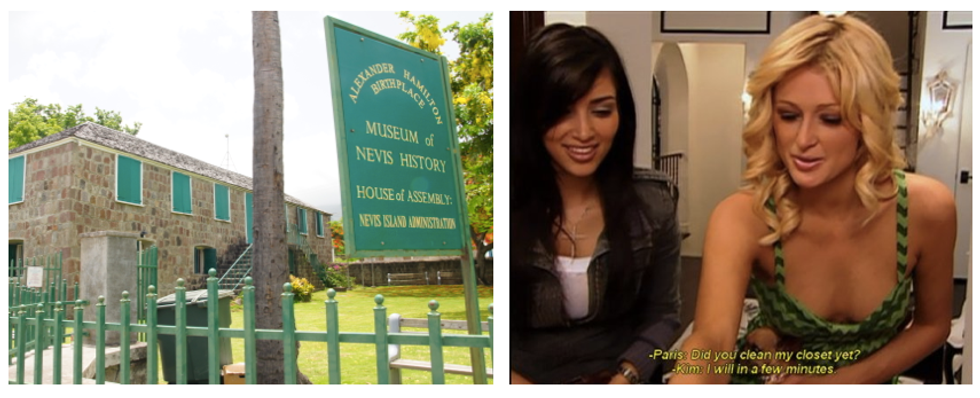 Now this may be a bit of a stretch, but both Hamilton and Kim were young, scrappy and hungry for success so much so that they took jobs they didn't want with people they knew could either make or break them. You know Kardashian and her bootylicious backside had to be a new kind of determined to survive being Paris Hilton's assistant at the height of the "it's hot" phase, and getting put in charge of a trading charter at age 14 had to be difficult too. From these beginnings, both climbed in the ranks, made their own big moves (moving to America, moving to reality TV) and worked hard to become known for their own ideas and accomplishments.
Call out the haters.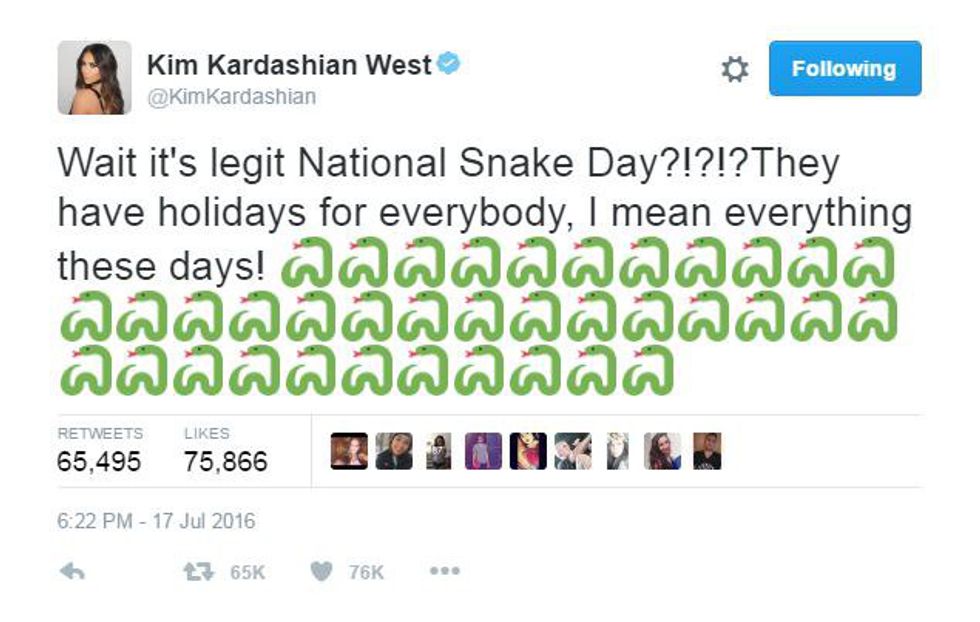 In recent history, Kardashian, the keeper of receipts, exposed to the world what happens if you stand for nothing besides yourself (insert Taylor Swift). As Hamilton, or at least his modern musical counterpart would say, "If you stand for nothing, what will you fall for?" In a lot of ways, Swift is the Aaron Burr to Kardashian's Hamilton, the Founding Father frenemies. Historically, Burr was known for never voicing his opinion if he knew it might turn unpopular, and changing sides for personal gain. Just like when Burr changed political parties because there was an open seat and fame to gain, Swift changed from a country artist to a pop sensation because she saw a market with a larger reach. In Hamilton's case, the constant calling out of Burr eventually lead to his death by duel and Burr lived to tell the tale of killing his "friend." Swift was not so lucky.
For all the self-promotion, Kardashian is one of the few young influential celebrities that has chosen to use her platform to talk about important issues such as the Black Lives Matter movement and genocides around the world while others chose to stay silent (cough, TSwift and Selena Gomez, cough). That's one of many reasons why Kimmy was so annoyed by Swift and her constant need to play the victim and stay silent about things that matter. Plus, once you mess with her man, there's no stopping this momma bear. With a simple Snapchat story the #KimExposedTaylorParty was born and finally the death of Taylor's innocence was gone.
From changing America's financial structure to changing America's texting structure, these two icons have revolutionized their eras and proved that just about anyone can rise up and make their mark on the world.