This past weekend, Friday July 28th - Sunday July 30th, I attended an event by the name of Steubenville.
Steubenville is an annual weekend retreat for Christian, specifically Catholic, youth. I attended this with my own personal view point, because while I am a practicing Christian and have been for most of my life, I am not a confirmed Catholic.
However, I had heard a lot about this conference from my girlfriend and her family, and I was very drawn to it. I love worshipping the Lord and while the idea of going to a conference with thousands of Catholic students made me slightly nervous, due to being the black sheep of the group, I got up the courage to commit to it. I didn't want to miss out on an opportunity to learn more about the Catholic faith, because it does interest me, and I was very excited at the chance to completely focus on God for an entire weekend.
So, I committed to being a chaperone on this retreat, to engage with the Lord and also help out with the youth group students we were attending with. I tried to document as much as I could, but did not get nearly enough to accurately portray this entire event.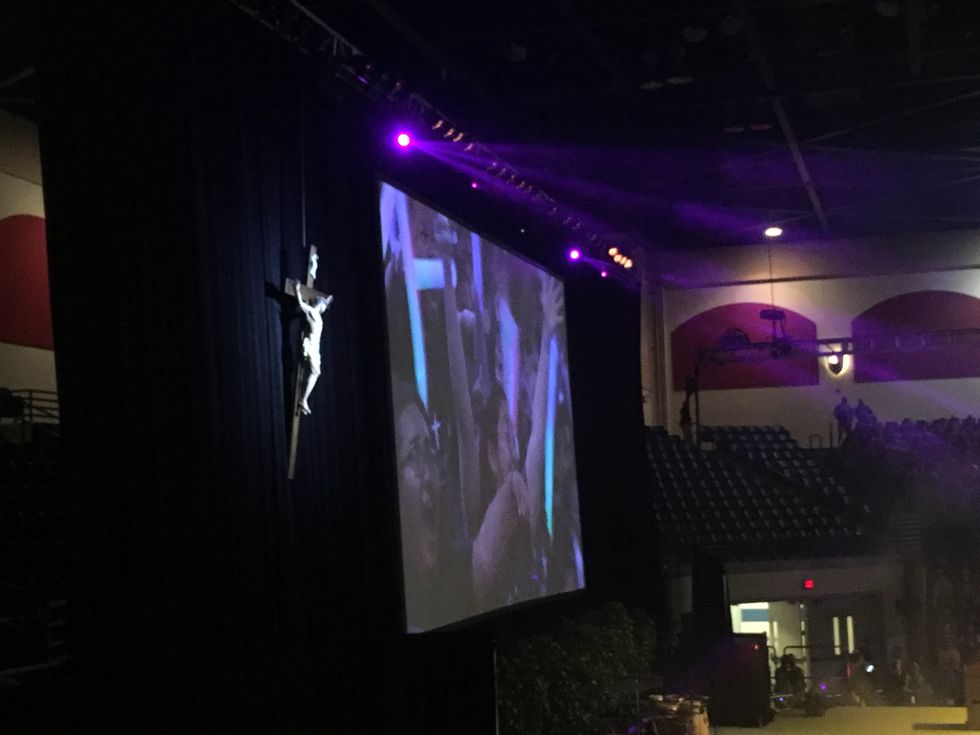 Day One - Friday
We all piled into cars and made our way to the campus that it was being held on. Being from San Diego, our group didn't have to travel that far (barely a 30 minute drive) versus other Parishes who were coming from all over the country. Places such as Hawaii, Wisconsin, Minnesota, Oregon and Nevada. All in all, there were over 4,400 students in attendance.
Check in, dorm assignments, settling into rooms...done! We explored the gift shops, the campus and had some down time before heading into dinner. Soon enough, we headed to the stadium, where all 4,400 of us piled into our assigned seats, and for the next few hours we worshipped. We sang, because God is Holy! We yelled out our joy, with not a care in the world of who could hear us, because everyone was singing, dancing and praising, all night. We had Eucharistic Adoration. For those who have no idea what that is, it is basically bringing the Blood and Body of Christ out for everyone to praise and adore. In the Catholic faith, it is believed that at the altar, the bread and wine are transubstantiated (transformed) into the actual Blood and Body of Christ. So, anyone who is witness to this is in the presence of the Lord, and this in turn is the deliverance of the Blessed Sacrament.
Basically, the priest takes the host (Blood and Body) from the tabernacle, places it in the Monstrance (large, golden vessel) on the altar to be adored. In turn, the faithful pray (usually kneeling) to the Lord in the presence of the sacrament.
Later on, some kids made it to Reconciliation to confess their sins before attending Adoration, which would be held the following evening.
Day Two - Saturday
The longest day! We woke up, had breakfast and got the day started. Saturday was one of those non-stop days where there is always something happening next to the most downtime we really had on Saturday was maybe an hour. So, from 6:30 a.m. until around 1 a.m. for most of us, the day never seemed to end. However, it truly flew by. Everything was well scheduled, well planned and I really enjoyed everything I attended. After breakfast, the day started with a morning session in the stadium, where all 4,400 were together for about three hours, for Praise and Worship and Mass. Since I am not a confirmed Catholic, I did not take communion and instead walked up to the Priest with my arms crossed over my chest as a sign that I am not Catholic. After mass, the boys and girls were split into two different sessions, each one with a different keynote speaker.
The Women's Session was led by Sister Miriam Heidland. She gave a beautiful talk and shared her stories. We all sang some songs and learned about Sister Miriam's life. The Men's Session was led by Joel Stepanek and also had a great reaction from all of the boys.
Soon we had lunch and then some girls stood in line for Reconciliation, since they were unable to attend the night before. After some downtime, the workshops all began, which all started around 2:30 p.m. and lasted for about 45 minutes. One was dedicated to seniors in high school and continuing a solid faith after graduation. Another was about How to Pray, which was also led by Sister Miriam. Lastly, they had a workshop on how to elevate the presence of God on social media and how to spread the word correctly online.
After that was the afternoon session, where all 4,400 people came together again for nearly two hours and Worshiped some more before listening to another speaker. Dinner followed and then everyone relaxed for a small amount of time before heading to the evening session.
The evening session consisted of Praise and Worship and Adoration. The entire session lasted for about 3 1/2 hours. It began with singing and listening to the speakers, and soon we started to prepare ourselves for Adoration.
So, before I got to Steubenville I had no idea what Adoration was. But after deciding to go, it was explained to me as easily as possible, and I will do the same. However, as I learned from others, it is not the easiest thing to explain, and after attending one, even though I am not Catholic, I can still see how it would be difficult to explain.
So, in the Catholic faith there is the belief of the Gifts of the Spirit, and that while spending time adoring the Lord in Eucharistic Adoration, the Spirit can bestow certain gifts upon those He decides.
The gifts are as follows: wisdom, knowledge, faith, healing, power to effect miracles, power of prophesy, to tell spirits apart, to speak in languages they don't know, and to understand the languages another is speaking. During this time frame, as Father Joseph took the Monstrance around the entire stadium, all 4,400 students and adults stood, knelt and sat in prayer and worship. I started with kneeling, but eventually had to sit for a bit to rest my knees. Once the Monstrance was closer to our section of the stadium, I stood with my arms and hands held out in front of me, putting my entire being out towards the Lord as much as I could.
This was an interesting experience for me. I had never attended Adoration before and obviously since I am not Catholic, I did not grow up knowing about things like this. I didn't grow up learning about Mass and Adoration and transubstantiation. However, I felt the grace and joy pouring through my body while I expressed my love and adoration for God throughout Adoration. it was easily one of the most pure experiences I have ever had.
It seems easy enough to explain, but trust me. Just the pure magnitude of the entire thing has a level of explanation that I just can't reach.
Because with all of the great and good that came about during Adoration, there are some other things that would have freaked me out if I had not known about it ahead of time.
During Adoration, when someone is given a gift from the Spirit, they sometimes have a very outward reaction, and it isn't always portrayed by love and happiness. Sometimes it is, like just laughing uncontrollably or crying from being so overwhelmed with love. Some people yell out names from the Bible for reasons only God knows. Others might feel "slain" or rested in the Spirit, where their entire body just goes kind of lax and they may need to be rested against someone because their mind is temporarily separate from their body.
Another experience separate from the gifts is scarier, and it is when people are screaming. And when I say screaming, I mean loudly, where the entire stadium can hear, in a very blood-curdling way. Since many youth in our group were new to Adoration, the group leader explained afterwards that this was something more evil. Throughout Adoration, we heard girls from all over the stadium shrieking in terror, uncontrollably. This was because a demon had been present in the room and was bouncing around the stadium looking for someone to basically take hold of.
This is an aspect of Christianity that I think most people believe in, no matter their specific denomination. It kind of goes hand in hand- God and the Devil. Good and evil. Luckily, we're on the side that wins in the end. But the battle is uphill and there is still a whole lot of evil in this world.
After Adoration, we came together in small groups to discuss people's experiences. A couple people saw the images of Jesus and the Holy Spirit near the Monstrance. Others saw dead relatives and were given messages to pass on. Some were resting in the spirit and spiritually traveling around the room praying over people.
It was a very holy experience and one that I won't forget.
Day Three - Sunday
The shortest day. We woke up, packed up and headed to breakfast. Afterwards, we all headed into the stadium for the last time, all 4,400+ people. Everyone praised their hearts out, listened to some more speakers before going into Mass. At the end of the three-hour session, tons of blow-up balls were released, the band started up and the stadium full of mostly teenagers and adults gave their all to God.