As journalists, we often come across founders and PR reps aggressively selling their brands and products to us. Kee Taylor is the stark antithesis to this. Not only is she a genius at styling hair into art, she is a salon owner, CEO, and author.
A woman of many talents, her biggest fans come together to celebrate her on her social platforms where she's built a sense of community amongst women of color and hair enthusiasts alike. Amongst her many pursuits, one thing rings true: Taylor isn't just a talented creative, she is an extremely savvy businesswoman with a massive amount of passion for beauty.
Taylor emphasizes that her passion for beauty isn't just about making people feel pretty after their hair, makeup, and nails are done. Her emphasis has been, and always will be, on empowering women to feel in control of their beauty defined by themselves rather than by external validation. You can see her success in that in every single one of her pursuits, from her Philadelphia natural hair care salon to her nourishing haircare line, and her "All Hair Is Good Hair" book she managed to write in between.
What stories do you hope to tell with your brands?
My mission is to make everyone feel beautiful, but with the understanding that beauty is more than just the top layer... that's why I called my brand Deeper Than Hair.
Yes, the makeup, the nails, the hair all make us feel better, but it's what's going on underneath that really defines our beauty.

What has been your biggest challenge and highlight as a business owner?
Biggest challenges are staying patient and giving myself authority within the business world.
I'm the type of person who loves making friends and having a good time at work.
So, being authoritative can be a little tough for me: when you make friends in the workplace, it can be hard to step into that boss role (and, on the flip side, it can be harder for your employees to accept that when they know that you're friends). It's a delicate balance.
Biggest highlight is watching myself grow.
As business owners and dream chasers, we sometimes get too focused on the end results: the cars we're going to have, the money in the bank, and so on.
But the truth is that's not the important part; the journey is the important part. I heard that on your tombstone, it's got your year of birth, a dash, and your year of death... but the dash in the middle is the only part that matters.
How much does coming from a marginalized community play into the way you conduct business?
While I conduct business in a way that anyone can benefit from what I put out, I do always keep my community in mind.
I want to make sure everyone feels involved and welcomed, but at the end of the day, I am doing this for my people.
I was talking to my brother the other day who is opening a restaurant soon. He was worried about appealing to everyone, but I told him that when you start a business, you have to focus on developing that cult following.
No matter what happens, if you have that core following of people who love what you do, that's going to be more valuable than you realize.
How do you feel social media has changed the way you do business?
Instagram and YouTube have literally changed my life. Before I joined Instagram (I am a lifelong Android user, so iPhone users had Instagrams a long time before we did!), I was big into Twitter.
The day Instagram landed for Android and I suddenly had this visual platform to work with, I think I tweeted something like "We've got IG for android now, peace out, Twitter!"
Being able to showcase my creativity and market my products with social media has helped me so much.
I owe SO much of my success to my social platforms and the communities that follow me.
I think social media is one of the greatest things that's ever happened. It's amazing how many people you can reach, and it's FREE. In fact, it's almost weird now if you don't have a social media presence.
The new wave is technology, and if you don't keep up, you'll get left behind. Speaking of, I'm currently trying to teach myself how to use TikTok.
What advice would you give to your younger self?
I would tell my younger self to just relax, keep your credit straight (and make sure you build it!), and probably most importantly, to be patient.
In regards to patience, "comparison" is the thief of joy.
When you're on Instagram, you're only seeing what people choose to show you, so when you look and see people who might not be as talented as you, it's easy to get lost in the thoughts of "how can they be millionaires and I'm still hustling?"
All you're doing is comparing your entire life to a small fraction of theirs; that's their story and you need to focus on your own unique blueprint. And don't be too hard on yourself, because it's going to work out.
What can we expect from you in the future?
Definitely more from the brand: more products and tools. You'll also see new brands, product lines, and more YouTube content. I'm also focusing more on education now that I'm spending less time behind the chair. Most of all: more creativity!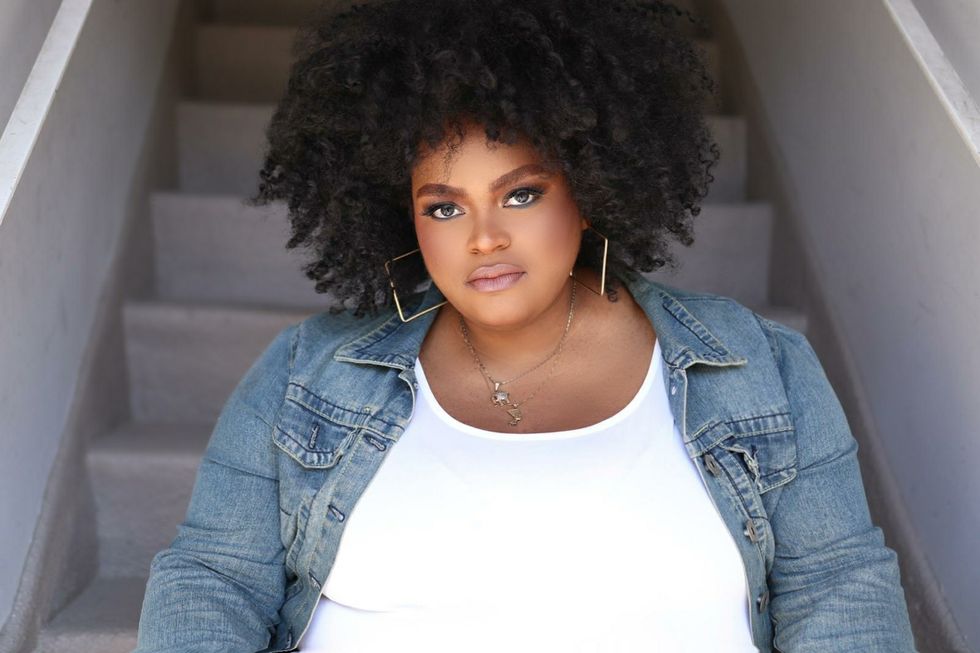 Rapid Fire
What are your favorite accounts to follow on social media?
@iamminglee, @iammilanrouge, @spiritualword, @healthy_hair_journey
To what do you attribute your success?
God, my angel & the hard work
Tell us a book you'd recommend.

"The Secret" and "All Hair Is Good Hair."

What charities do you support?
The Deeper Than Hair Project & The National Domestic Violence Hotline.
What is the item in your closet you wear the most?
My hats — I'm a hairstylist who's always in a baseball cap!
What is the one skincare product you can't live without?
Vitamin C serum.
What is on your nightstand?
A photo of me and my dad.
Odyssey may earn a portion of purchases made via links on this page.