The James Charles v. Tati Westbrook drama has been arguably the most memorable YouTube feud in 2019.
On May 11, 2019, Tati Westbrook, a 37-year-old beauty blogger, uploaded a 43-minute video entitled "BYE SISTER..." exposing 19-year-old makeup artist James Charles for two main actions: selfishly endorsing her top competitor for her vitamin product and for using his celebrity status to prey on straight men even with the knowledge that they are straight.
James Charles found fame when a tweet of his wearing a full face of makeup in a yearbook photo went viral. He then found success as the first male CoverGirl, and amassed a whopping 16 million+ subscribers on YouTube. Before the scandal, he even attended the Met Gala on May 6. Not even a week after the event, Charles lost more than 3 million subscribers after Tati uploaded her video. Even stars like Miley Cyrus, Kylie Jenner, Katy Perry, Demi Lovato, Tana Mongeau and Shawn Mendes have unfollowed him on various social media platforms, not to mention Grayson Dolan, Ethan Dolan, and Emma Chamberlain, his fellow members of the "Sister Squad."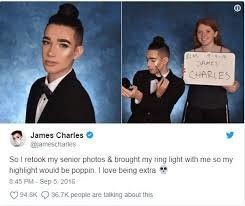 The James Charles tweet that went viral and began his careerheightline.com
However, James is no stranger to scandals. In February of 2017, prior to a school trip to Africa, James tweeted, "I can't believe we're going to Africa today omg what if we get Ebola?" which many found extremely offensive. He defended himself by saying that he was simply making fun of his friends mistake, "but did not think about what the tweet as a whole was implying." In April of 2019, James revealed that he was going on a nationwide tour to meet his subscribers, but fans were frustrated to find out that the tickets ranged in price from $60.50 to $551.50. The $500 package included a pre-show hangout with James, a professional picture opportunity, and a goodie bag valued at around $250. James responded, "I am sorry that we disappointed many of you. We have worked very hard to put this tour together and want it to be accessible for everyone & an amazing experience no matter the ticket."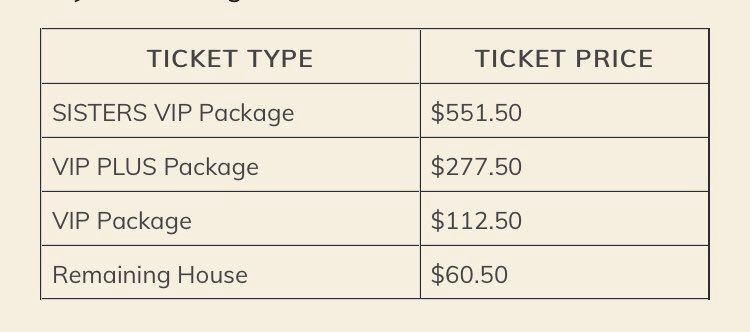 James Charles' tour pricesreddit.com
Tati Westbrook, formerly known as GlamLifeGuru on YouTube, posts beauty hauls, tutorials, and reviews on her channel and earned nearly 6 million subscribers before uploading her video about James Charles. Westbrook chose to take James under her wing when he was only 17 years old when he was just starting out as a YouTuber, even allowing him to do her makeup on her wedding day. As he began to gain success, Westbrook continued to promote him on her channel, constantly encouraging her subscribers to use his code "James" for 10% off on a Morphe order, thus supporting his sponsorship with Morphe Cosmetics. She said in her video that she "wrapped as much love as [she] could around this kid, more from a parental stance than... a best friend stance." But seeing his story advertising Sugar Bear Hair was the last straw. Westbrook defended herself for uploading the video by saying that James betrayed her trust, and that if things were handled privately, her words would be twisted.
In her video, Westbrook's first claim was that James lied about his contract with Sugar Bear Hair. James posted an Instagram story endorsing Sugar Bear Hair vitamins, the rival of Westbrook's own brand Halo Beauty, saying they provided him with security during Coachella. Though this specific action might not seem like a big deal from an outside perspective, Westbrook emphasized that James previously refused to endorse Halo Beauty because of his younger audience, but he suddenly had no problem supporting Sugar Bear Hair. She claimed that James even lied about how he obtained the contract from Sugar Bear Hair, saying that it's impossible the company had extra artist passes worth thousands of dollars. Westbrook then explained that she and her husband James aided James Charles tremendously in jumpstarting his career, from helping him monetize his videos (causing him to immediately make $2500 each video) to getting him a sponsorship with StyleHaul, known for its influencer campaigns with major cosmetic brands, when no one wanted to work with him after his Ebola scandal.
Westbrook's second claim was that James used to his fame to prey on straight men for his own sexual gratification. She claims, "You're [pressuring straight men] to have them behave sexually in your favor, even if they're straight, and you know what, that's not okay." Westbrook is probably alluding to the situation with James and model Gage Gomez, who James brought to this year's Coachella. Gage uploaded a video saying that he was bi-curious and simply wanted to attend Coachella with James to see where their relationship could go, but James tweeted that Gage was "a disgusting con artist." Westbrook also explained a situation at her birthday dinner where James outwardly described the sexual acts he wanted to perform on the waiter. When she told him he was straight, James responded, "It doesn't matter; I'm a celebrity." Upon the release of the video, many stories of his predatory acts began to emerge including those of the waiter in Westbrook's video, Swedish singer Zara Larsson's boyfriend, and even classmates who went to high school with James.
In response to Westbrook's video, James posted an 8-minute apology video, which has become the 9th most disliked videos on YouTube, at around 2.8 million dislikes. Many people thought the apology was insincere and scripted. In his emotional apology, James said, "I hate knowing that I disappointed not only [my fans], but two people [Tati and James Westbrook] that have been role models for me doing this." He also apologized for the boy situation, stating, "I've been involved with very unique and strange situations that have left people very confused and upset, and I've learned the hard way about ways that I can interact with boys I'm interested in and also ones that I should or shouldn't be talking to." Finally, when addressing his own mother, James gets emotional, appearing to fight back tears (even though no tears are actually visible). He says, "Mom, I know you want to defend me, and fight for me, and go off on comments, but I ask that you don't—this is my problem that I got myself into and this is my job to deal with this."
To insert my opinion into this situation, I would side more with Tati Westbrook. This is not to say that Westbrook was a little bit in the wrong with the fact that this debacle could have been handled privately, but I still understand the reasons behind why she uploaded the video. Even though James denies many of the allegations Westbrook brought up, enough people have come forward to make me believe that James is a predator and has let the fame and money get to his head. Yes, James is 19 years old and young people make mistakes, but James is also fully an adult and can think for himself. It's surprising that the numerous scandals have not caused him to learn his lesson, and it took Westbrook's tell-all video and losing millions of subscribers to humble James a little bit. Even then, James only apologized for what he did, but didn't necessarily own up to it. The apology video seemed more like damage control rather than an actual change of character.
While it is unknown what will happen to James Charles' career, I hope that James doesn't treat this as just another scandal. Even those who were once subscribed to him know that something about this feud was different than his previous ones, and they unsubscribed for a reason. I hope he takes some time to rethink his brand and how he carries himself online, but for now, James truly needs to take some time away from the public light before he makes anything worse.