If someone asked me to move to Italy right now, with an opportunity to continue my education, I would pack my bags without hesitation and jump on the next plane. I'm lucky enough to know Italy and my father's hometown intimately, having visited there every August since I was a baby.
My Father is from the region Chieti, Abruzzo in a small town called Casacanditella. What's so unique about Italy is that every region is very different from each other, each has its own dialect, mannerisms, traditions, and of course, food.
Abruzzo is in central Italy on the East coast. The region has both beautiful mountains and the coastline, within a thirty-minute drive you could descend from the top of the valley to the beach. Along with the luxury of having both the mountains and the sea, comes a wide variety of food selections.
Arrosticini is an Abruzzese staple that can be found at every party; it's like what chicken wings are to Americans. Baby lamb meat is skewered on wooden sticks, seasoned with some salt and herbs, and cooked on the grill. There are even arrosticini cookers that rotate meat skewers for you! It has a distinct and lovely smell that makes your mouth water.
The Abruzzese coastline is also known as 'Costa dei Trabocchi,' or Coast of Trabocchi, named for the many trabocchi that line the coastline. A traboccho is an ancient fishing machine that is on stilts, often found at the end of a pier or a makeshift bridge. They are no longer used for fishing and many have been converted to restaurants.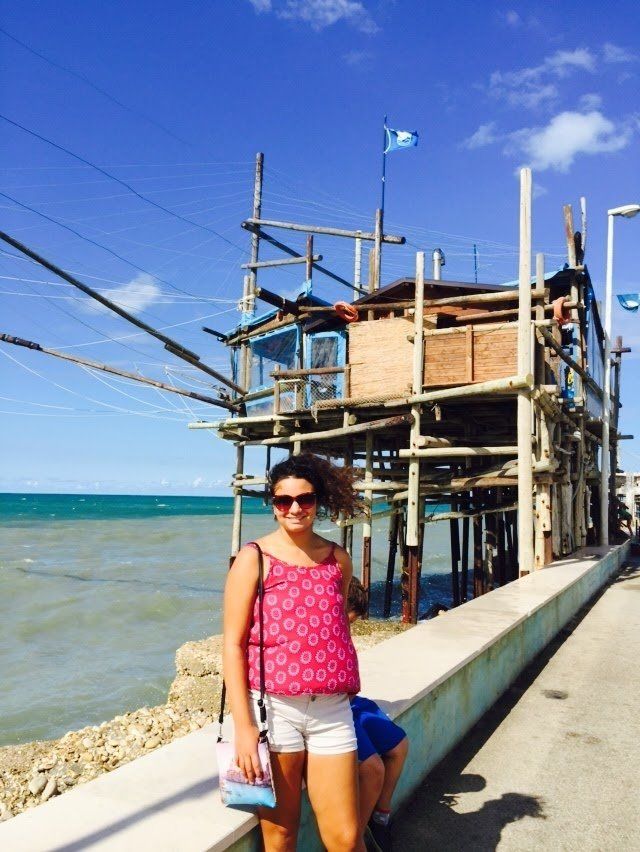 Silvia Cavalieri
With the tradition of the trabocchi comes along a culture of serving freshly caught fish. The standards for taste are set high, something that can be found throughout Italy, and restaurants serve fish in various ways. The most popular (and my favorite) is when the fish is cooked in with pasta.
Below is handmade ravioli with a type of shrimp inside and served in a blush sauce.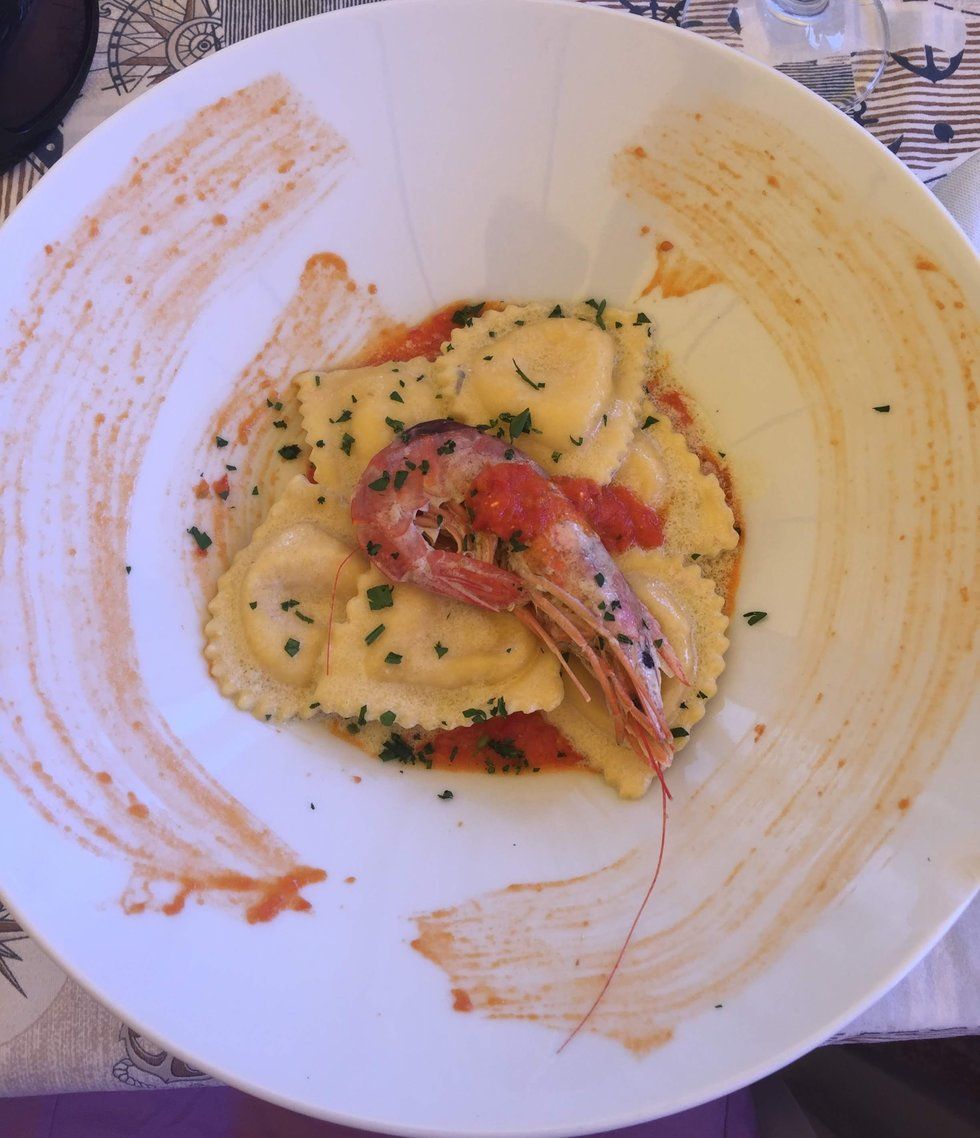 Silvia Cavalieri
Below is a dish called 'La Chitarrina del Mare.' The pasta is an Abruzzese specialty, made with a 'Chitarra,' a tool that looks like a small guitar that creates the stringy pasta. This particular dish is a favorite of my family's; every year we look forward to going to the same restaurant on the beach, Mare Stella, to indulge on this dish that is chittarina mixed in with mussels and a type of shrimp, complete with a fresh and flavorful tomato sauce base.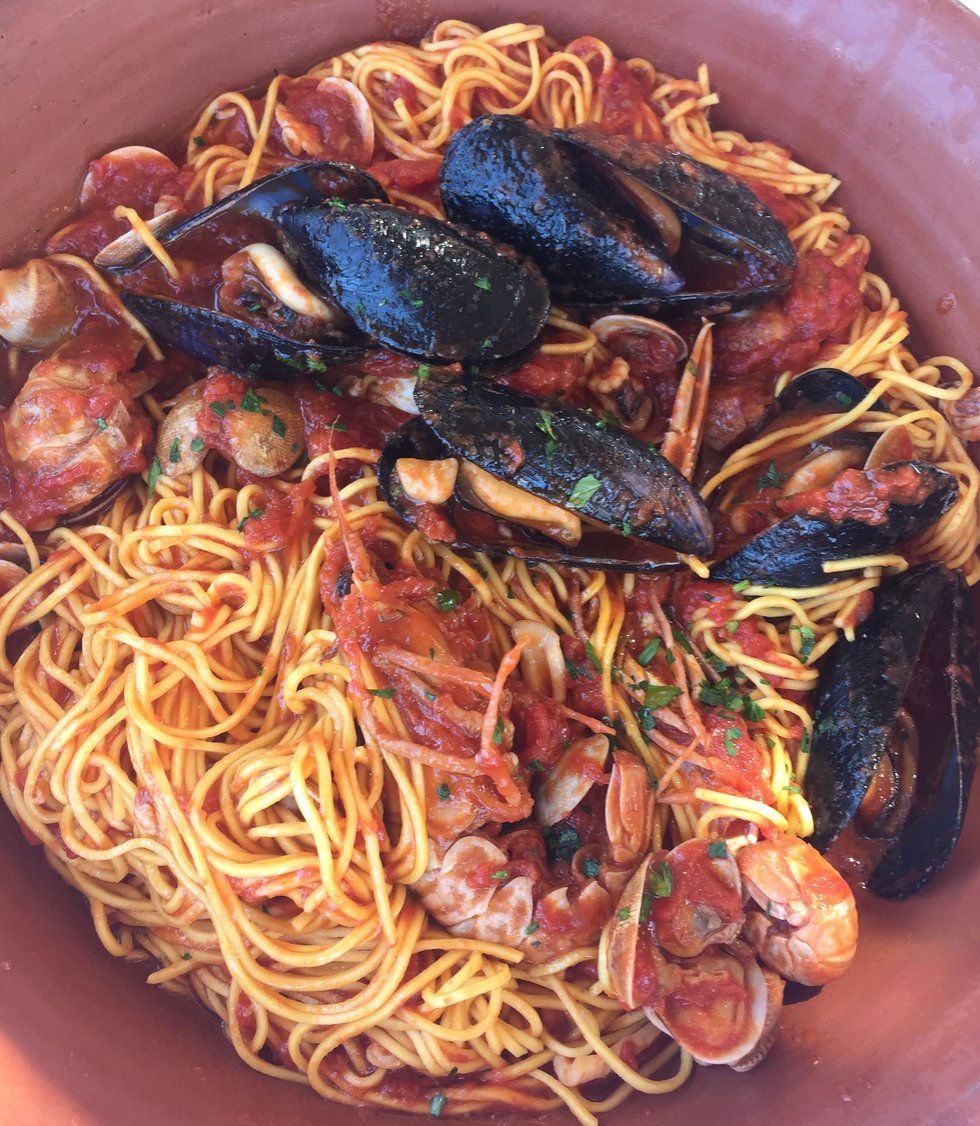 Silvia Cavalieri
Now for dessert, this pastry has a fun, kind of offensive, story to its name and appearance. It's called 'Sise delle Monache,' which literally translate to . . . breasts of the nuns. Despite its strange name, the spongy pastry is filled with an egg-based custard and icing sugar and fills the streets of the Guardiagrele with a lovely sugary scent. This pastry has even been written about by the Italian poet Gabriele D'Annunzio. You can read more about this pastry here.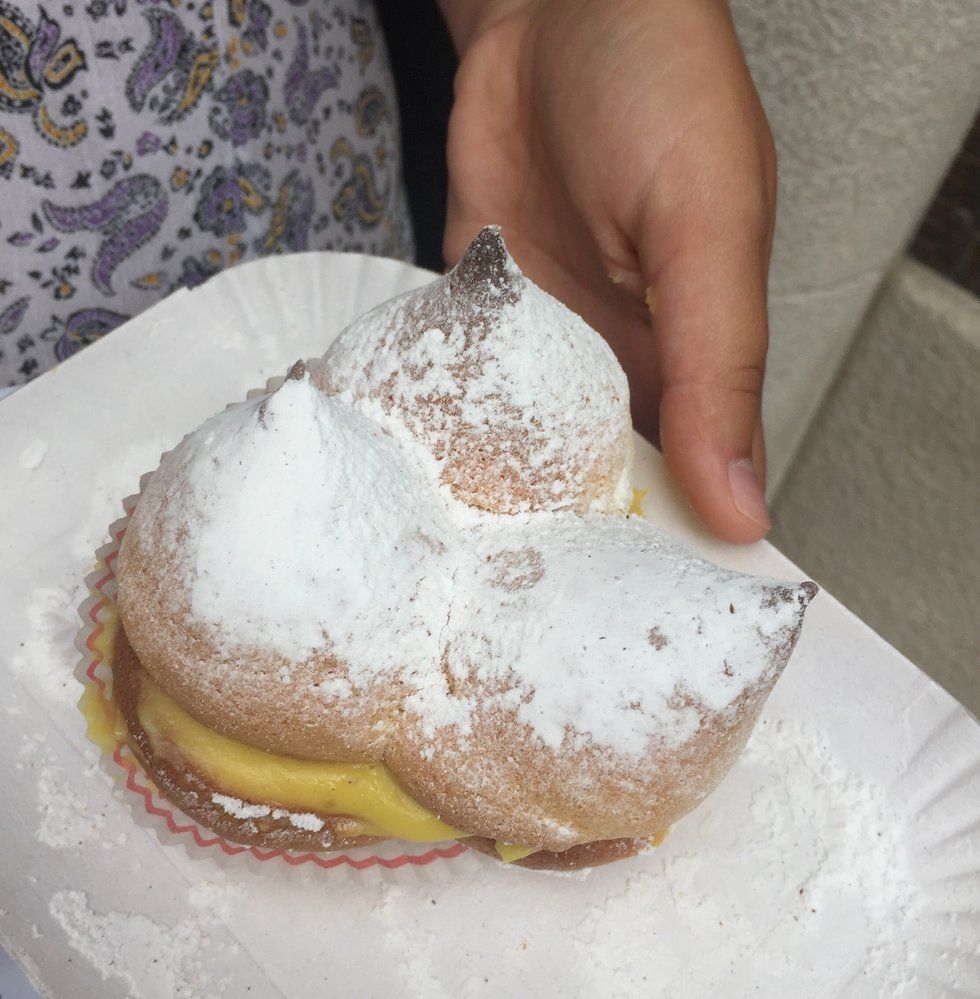 Silvia Cavalieri
There are a lot more foods and traditions that are distinctly Abruzzese, some that I have yet to try myself. Abruzzo is different than other places like Rome and Florence.
Because Abruzzo is not particularly a tourist region, it has managed to contain an authentic culture that is rooted in tradition. The dialect is spoken on a daily basis, everyone is very friendly and talkative with each other, work is not a priority (but enjoying life and taking it day by day is), spending time with family, drinking wine and coffee of the highest quality, and taking a passegiata, or stroll, at night when the weather permits are all important aspects of the culture. So, you tell me, why wouldn't I want to live there?