I hinted at my frustration with the lack of faith in arts education in a previous article, implying it was an argument for another day. Well, it's time for that day.
Let's use this recently-viral Wells Fargo ad as an example. If you haven't seen it yet, here it is: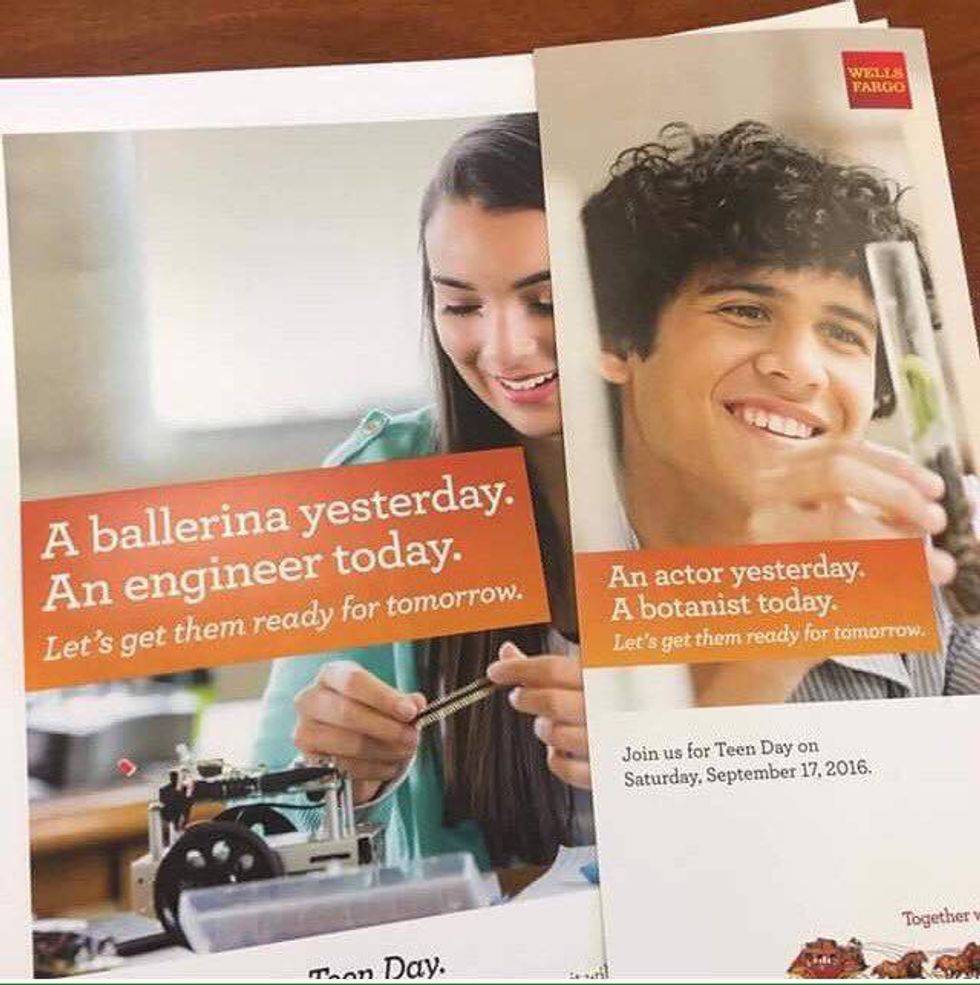 Take a second to consider what's wrong with this. If you come up with nothing, I'm sorry but you're part of the issue. It's not that engineering or botany are unimportant occupations - because they are just as important as an arts-based one - the problem here is that the ad blatantly states that jobs in the arts are completely useless when it comes to innovation and social betterment and science and math centered jobs are a much better choice.
Insert outraged scientists and engineers here! I'm aware you spent years working very hard both in school and outside in order to get to where you are now, and I honestly and thoroughly applaud your work ethic and determination. I'm glad people like you want to do such outwardly predominant jobs like those in order to form the structural base where society grows from. Hear me out for a second though - arts-based jobs are just as important as yours.
"No they're not! It's so easy to be an art/music/theatre/english/dance major, you just have to slap together some bullshit piece/artwork and you get an A! I have to study DIFFICULT CONCEPTS for MULTIPLE DAYS to BARELY PASS!" you say. It's all in the eye of the beholder: say you're back in college and one of your foundation classes requires you to take an arts class, let's say Acting 101. Now, it's an easy class, being a 100-level made for freshmen or new majors. But, imagine you struggle - you struggle with the so-called "easy" acting, and continually pull low C's on the scenes and exercises you must do.
It takes a certain type of brain framework to be easily inclined to the arts or the sciences - this is simply a fact any neurologist could tell you. Since the brain must combine each talent extreme to compute human action, it should be expanded to a larger, societal scale to explain why we need to keep value in arts education.
You can't have a solely science-based culture: sure, it's great for needed technological advances and the sorts of phenomena that have been discovered continues to blow my mind. But how are you going to get that knowledge out to the public? Publishing it in academic journals reaches a select few, likely scholars such as yourselves. What if you want to explain it to children in a fun, interactive way that includes lots of visual or tactile stimulation? Well, you'd need a graphic designer or some other creative mind to help you with that, would you not?
What I find the funniest about the Wells Fargo ad, as one of my old classmates pointed out (mind you, I graduated as salutatorian at an arts-based high school), is that the company needed a photographer to take the picture of the two young people being portrayed. A graphic designer was probably forced to lay out those biting words, ironically demeaning every project they've worked on and the outright debasement sticking with them long after. A print shop had to make sure the ad lay correctly on print or face insult about how they couldn't even do their "job for children" correctly. Secondly, as my other friend pointed out, why the hell is a BOTANIST more important than say, a doctor? Why choose BOTANY as your "better, science-y choice?"
Why is it we have gotten rid of wood/metal shop in schools? Why are arts programs continually being cut before sports?
Unpopular opinion time: it takes more talent to become an artist (or musician, dancer, writer, poet, etc) than it does to become a *sports superstar*.
This lack of faith in creative minds makes me frustrated and angry to the point of tears. It is NOT your choice to decide which academic disciplines should be considered valuable. If it was up to many Americans, I bet "Football" would be a more valuable and desirable major in a college than English, despite the great works of literature spanning history that you revere and teach in schools to better the lives of students.
In short, put value into the arts. In the words of Pablo Picasso, widely considered to be one of the most culturally important artists OF ALL TIME:
"When I was a child my mother said to me, 'If you become a soldier, you'll be a general. If you become a monk, you'll be the pope.' Instead I became a painter and wound up as Picasso."