I can't tell you how many times I've heard someone refer to themselves, or their girlfriend/wife as a Proverbs 31 woman. The term, a Proverbs 31 Woman, comes from a ministry set up by Lysa TerKeurst, a well known Christian author. I think Lysa has done a tremendous job with her ministry, but I also think there is more than she covers!
The Psalm itself is called "The Virtuous Wife". I think Proverbs 31 is a great passage. It's powerful, and yes I do believe it is one of the many examples in the Bible laid out for us to follow. However, I don't think we should base how we live our life off of one small chapter of one book in a very large Bible. Here are some strong Biblical women, some you may recognize, and some you may not, who are amazing examples to live your life by as a Christian woman!
Whether you are married, engaged, dating, or single and pursuing a relationship, all of these attributes are things you should apply to every relationship in your life, whether it's with a significant other or even a friend. You don't have to be married to find inspiration from these stories! Hopefully, they give you a list of things to model yourself towards, so that when the guy comes, you and your heart are prepared!
Be Resilient like Naomi.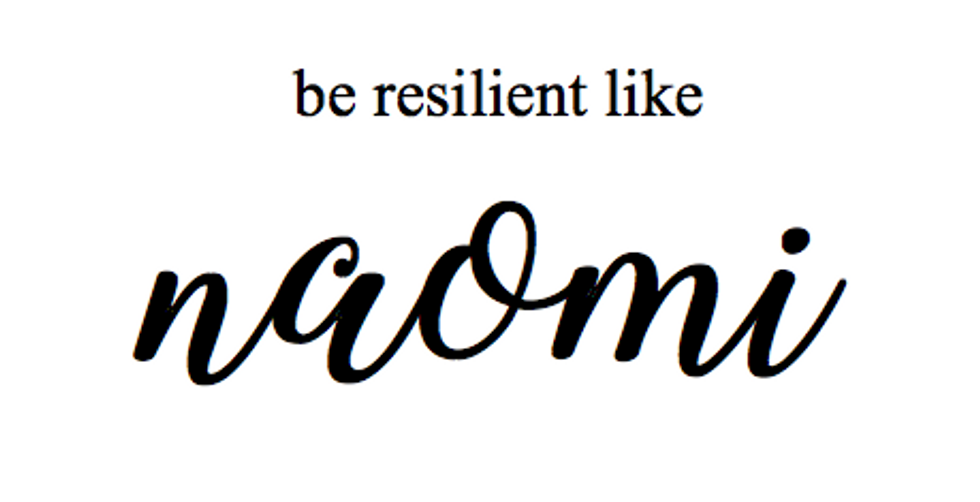 Hannah Spurr
Naomi's story is by far one of my favorite stories in the Bible. Her story begins in the book of Ruth, where you learn that Naomi loses her husband Elimelech, and her two sons, Mahlon and Chilion. She survives both her husband and her two sons with her two daughters in law, Orpah and Ruth. Naomi's story is full of sorrow, as she has lost most of her family. She tells Ruth and Orpah they should return home to their own homelands. Orpah kisses Naomi good-bye and leaves her behind. But Ruth clings to Naomi and is determined to build a better life for the two of them. Instead of turning her back on Ruth, she decides to bring her to Bethlehem, to change their lives for the better.
After Ruth finds Boaz, (which we will get to in a bit), Naomi rejoices. She says, "Blessed be he of the Lord, who has not forsaken His kindness to the living and the dead!" (Ruth 2:20). Naomi, understanding the needs of her daughter in law, and herself, commands Ruth to remain pure with Boaz, instead of rushing her into relations with him. This bodes well for both of them, as Ruth finds favor in Boaz. Naomi's friends then remind her, "Blessed be the Lord, who has not left you this day without a close relative," (Ruth 4:14).
We learn from Naomi that we are called to be resilient in times of pain and suffering. Naomi lost her husband and almost all of her close relatives. Can you imagine? Although we don't want to think about "being a widow", sometimes, life is cut shorter than we may plan for. We have to be prepared for whatever God gives us in a marriage, whether it's death, sickness, anger, or just distance. We are called to be like Naomi. She remained faithful, and the Lord blessed her. If Naomi had turned her back on Ruth, or on her faith, she would have lived a miserable and depressing life. But instead, Naomi was resilient and moved forwards, and the Lord brought favor upon her.
Be resilient like Naomi.
Be Loyal like Esther.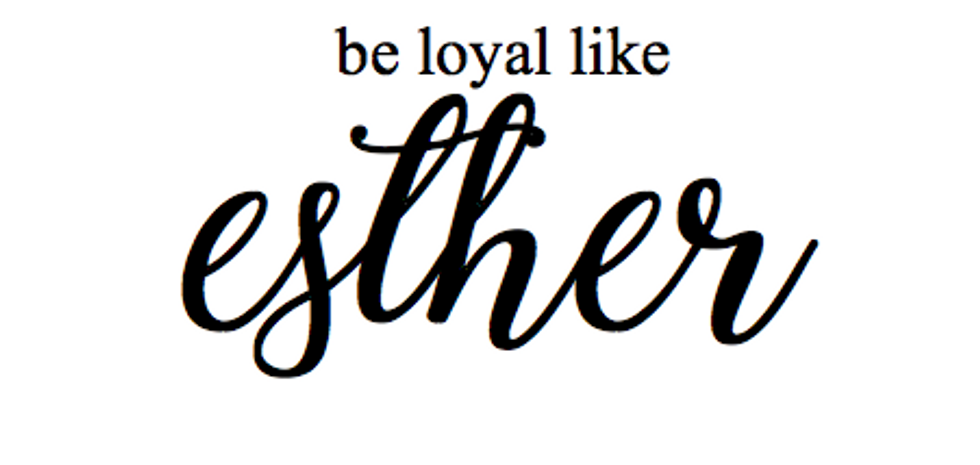 Hannah Spurr
Esther is a name you probably recognize since she has an entire book of the Bible about her, kind of like Ruth. However, I want to focus on a certain part of Esther's story, where she stands up against the king, her husband, in the name of the Jews. Esther's mother and father died when she was young, so her uncle, a man by the name Mordecai, raised her as his own. After King Ahasuerus dethroned Queen Vashti, who would not obey him, he was in search of a new queen. At this time, Esther was, "lovely and beautiful," a perfect suitor for the king (Esther 2:7). There were many young women who lined up to be with the king (almost like that Bachelor TV show or something), but it is said, "The king loved Esther more than all the other women, and she obtained grace and favor in his sight...so he set the royal crown upon her head and made her queen instead of Vashti." (Esther 2:17). While Esther was pursuing the king, however, Mordecai begged of Esther to not reveal her family to the king but to hide her true identity. Although she might not have understood why she obeyed.
Sometime later, two eunuchs, Bigthan and Teresh, became furious with the king and sought to kill him. But Mordecai heard of their plans and warned Esther, who was able to warn the king, and he stopped them. (This becomes important later, don't forget this part.)
There lived a man named Haman, who also had found favor in the king's eyes, and Haman was placed in a seat higher than the princes of the time. Haman had a hatred towards the Jews, "If it pleases the king, let a decree be written that they be destroyed," and wanted to destroy them entirely (Esther 3:9). The king, not knowing that Esther herself was a Jew since she had kept her family background hidden, wrote the decree Haman requested. When Mordecai heard the news, he was overcome with anxiety and fear and went to Esther to ask her for protection from the decree. He warned her, "Do not think in your heart that you will escape in the king's palace any more than all the other Jews," (Esther 4:13). But Esther is strong and remains loyal to her family. She tells Mordecai that she herself will go to the king, "And if I perish, I perish!" (Esther 4:16). What a strong statement Esther makes here. Not only is she true to her family, but true to her faith.
She ends up going to the king, who had heard of Mordecai's protection from Bigthan and Teresh, took back the decree, and had Haman executed.
Esther could have denied her family once she became queen. She could have disobeyed Mordecai and told the king she was Jewish. She could have been silent, and let her people be utterly destroyed, but no. Esther stayed loyal to both Mordecai - her father figure, to the king - her husband, and to her faith, and it brought her an amazing outcome. In a marriage, we are called to be loyal to our husband. To honor his word and his name. But we are also still called to obey, and trust in our parents. And of course, we are called to remain firm in our faith. When we are loyal to our husband, our parents, and our faith, we are following the command of the Lord.
Be loyal like Esther.
Be Cunning like Rahab.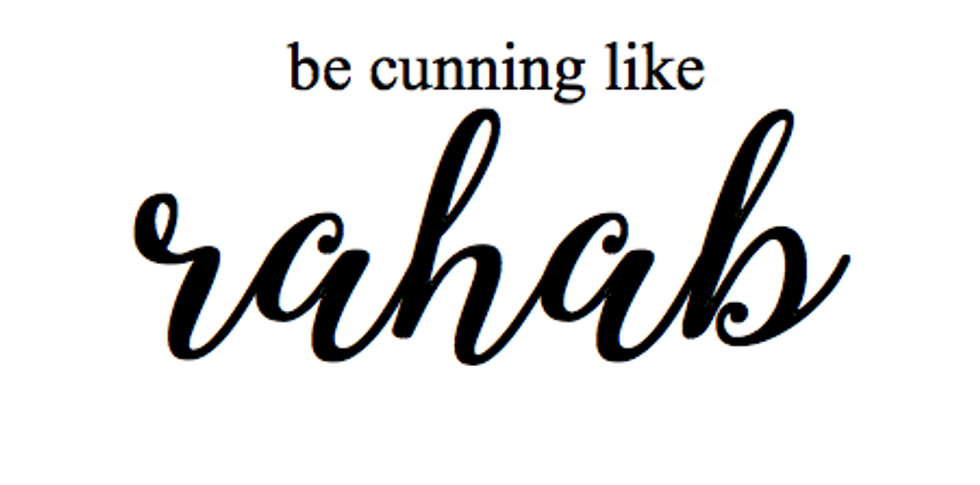 Hannah Spurr
This may be a name you haven't heard of before, and that's ok! Rahab's story takes place at the beginning of Joshua. Rahab is a harlot (prostitute), who lived in the outskirts of Jericho. Joshua commanded two of his men to spy on the city of Jericho. They went and came upon the house of Rahab. She opened her home to them and allowed them to stay with her. Someone heard the news of Rahab's kindness and reported to the King of Jericho that she was housing spies. The king then came to Rahab's house to ask her where the men were, and she hid them on her roof. She tells the king, "Yes, the men came to me, but I did not know where they were from. And it happened as the gate was being shut, when it was dark, that the men went out. Where the men went now, I do not know," (Joshua 2:4).
Once the king left, she came to get the spies from Israel off her roof. She said to them, "I know that the Lord has given you the land, that the terror of you has fallen on us, and that all the inhabitants of the land are fainthearted because of you... Now, therefore, I beg you, swear to me by the Lord, since I have shown you kindness, that you also will show kindness to my father's house..." (Joshua 2:9-12). Rahab asks the spies to spare her and her father's household in the time of destruction, out of her kindness to them. And because of what she did, the spies respond, "Our lives for yours...when the Lord has given us the land, that we shall deal kindly and truly with you," (Joshua 2:14). However, they command her not to cut the scarlet rope, otherwise, she shall be destroyed with the rest of Jericho. And a few chapters later, when Jericho falls, it is written, "And Joshua spared Rahab the harlot, her father's household, and all that she had. So she dwells in Israel to this day, because she hid the messengers whom Joshua sent to spy out Jericho." (Joshua 6:25).
Most people think cunning is somewhat of an evil word. But to me, cunning is a great descriptor for Rahab's deeds. Cunning is defined, "having or showing skill in achieving one's ends by deceit or evasion." If Rahab had not been cunning and had told the truth to the King of Jericho, those spies would have most likely died, and Israel's mission would have failed. But in her faith, she lied to protect the spies, and in turn, protected herself. Sometimes, we have to be cunning in our faith to protect ourselves from evil, and to protect us from the one who hates us the most, satan. I know it may seem weird to say "be cunning in a marriage", but when you are cunning, you protect yourself from harm. If your husband is causing you harm, don't be afraid to protect your heart, to protect yourself, and to most importantly, protect your faith!
Be cunning like Rahab.
Be Trusting like Mary.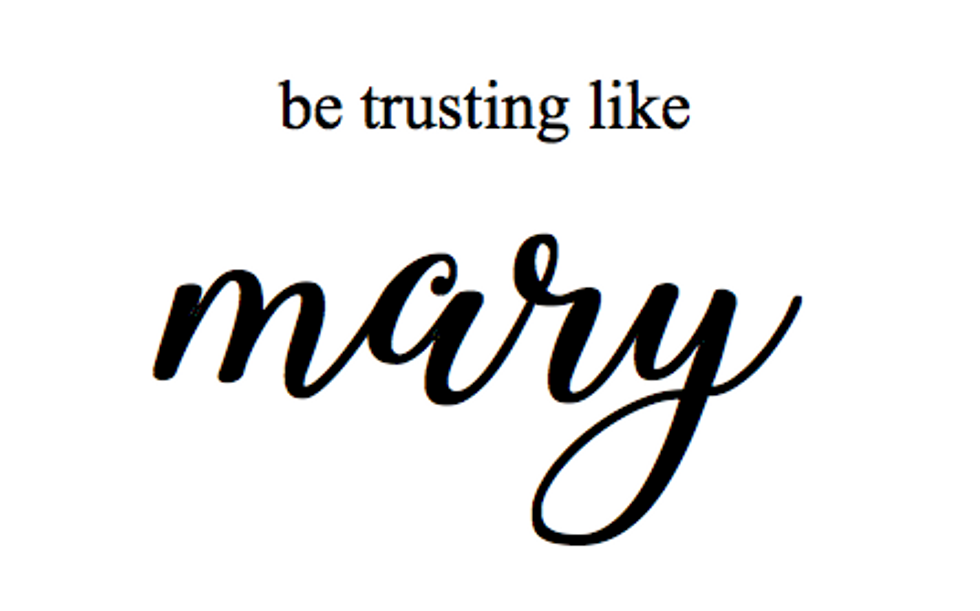 Hannah Spurr
Mary's story is one of the most well-known stories in the Bible. She's Jesus' mother! But instead of just focusing on the part where Jesus is born, let's back it up a bit.
You can find Mary's story at the beginning of Luke. Mary was engaged to a man named Joseph and was a virgin, which means she wouldn't have been able to have a child. The Lord sent Gabriel, an angel, to the city of Nazareth, where Mary resided at the time. Gabriel came to Mary saying, "Rejoice, highly favored one, the Lord is with you; blessed are you among women," (Luke 1:28). Mary was confused with everything going on, and I'm sure she was also scared. So Gabriel reassures her, "Do not be afraid, Mary, for you have found favor with God. And behold, you will conceive in your womb, and bring forth a Son, and shall call his name Jesus," (Luke 1:30-31). The angel tells Mary, a virgin, that she will be having a child.
Mary asks the angel how this is even possible, "since I do not know a man?" (Luke 1:34). The angel explains to her that the Holy Spirit will place the Son of God in her womb, and that, "With God, nothing will be impossible," (Luke 1:37). With that, Gabriel departs from Mary. Instead of freaking out, and doubting God, Mary rejoices in the news brought to her, and goes to tell her relative, Elizabeth.
When Mary tells Elizabeth the good news, she speaks to Mary, saying, "Blessed is she who believed, for there will be a fulfillment of those things which were told her from the Lord," affirming that Mary's trust will, and has, blessed her. Mary's belief in God and her actions brought favor upon her in God's eyes. Her faith is so strong, that rather than questioning in the news, she rejoices. Mary then prays to God in gratitude for the news He has bestowed upon her, saying, "My soul magnifies the Lord, and my spirit has rejoiced in God my Savior," (Luke 1:46-47).
Mary trusts in the Lord, and His plan for her, instead of questioning it. No matter our circumstance, we are called to trust in the Lord, and all he has in store for us. Whether that's in a marriage, or waiting for one, God will never let us down. He has a perfect, and beautiful plan for us, we just have to trust in it. As Elizabeth tells Mary, blessed is she who believed. Believe in God. Believe in His plan for you. Believe in His love for you.
Be trusting like Mary.
Be Virtuous like Ruth.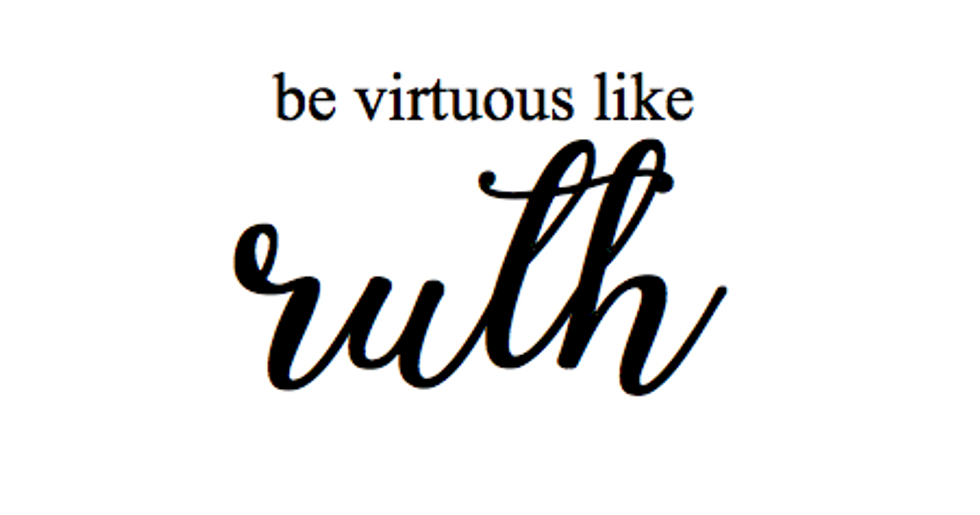 Hannah Spurr
You might have gotten bits and pieces of Ruth's story within Naomi's, who was her mother in law! Ruth, like Esther, also gets her own book in the Bible. Ruth is the daughter in law to Naomi and loses her husband, her brother in law, and her father in law. While Orpah, her sister in law, leaves Naomi behind, Ruth stays, determined to help the two of them find a better future, "For wherever you go, I will go...and your God, my God," (Ruth 1:16). The two women return to Bethlehem, in search of a new life.
There was a relative of Naomi's husband, named Boaz. Ruth goes to Boaz in search of work, but instead of having her complete a man's job, he is kind to her, "Do not go to glean in another field, nor go from here, but stay close by my young women. Let your eyes be on the field which they reap, and go after them." (Ruth 2:8-9). Ruth follows Boaz's instructions for her, and he rewards her, "Let grain from the bundles fall purposely for her." (Ruth 2:16). Boaz had heard of the trouble brought upon Naomi and Ruth and found favor in Ruth. He gave her food for herself and Naomi, in return for following his instructions. Boaz had commanded Ruth, in the beginning, to stay away from young men, and to remain with the young women instead. This, she also follows.
One night, after Boaz gets a bit drunk, Ruth lays at his feet, under instruction from Naomi, "when he lies down, that you shall notice the place where he lies; and you shall go in, uncover his feet, and lie down; and he will tell you what you should do," and waits for Boaz to wake (Ruth 3:4). Now we all know how this goes. Boaz is drunk, and alone with Ruth. Ruth could have tempted him to sleep with her or tried to take advantage of him. But no. She remains at his feet. Not tempting him, not trying to sleep with him, but she is there to take care of him. When Boaz awakes, he was startled by her presence and asks who's laying at his feet. Ruth answers, "I am Ruth, your maidservant," (Ruth 3:9). She had remained at his feet, the whole time.
Boaz is overwhelmed with her actions, and says to her, "Blessed are you of the Lord, my daughter! For you have shown more kindness at the end than at the beginning, in that you didn't go after young men, whether poor or rich...know that you are a virtuous woman," (Ruth 3:10-12). This is one of my most favorite passages in the Bible. Ruth listened to the instructions given to her and found favor in the eyes of Boaz. They end up getting married, by the way, and they have a son.
Ruth follows the instruction of Boaz, and Naomi, as we are called to follow the instruction of the Bible. In the same way that Ruth sleeps at Boaz's feet, we are called to remain pure from young men. What could have been immediate satisfaction (sex) for Ruth, could have turned the entire town against her and Naomi. But she remained pure and was virtuous (which means she had high moral standards for herself), and true to her word, and ended up with a loving, and adoring husband, and a son. I know we all make mistakes. I know we live in quite a different world than Ruth, where sex is almost expected on the first date. But when we follow God's instruction, hold ourselves to a higher standard, and keep our hearts and bodies pure until we are with our husband, it provides for such a beautiful life.
Be virtuous like Ruth.
Be Generous like Rebekah.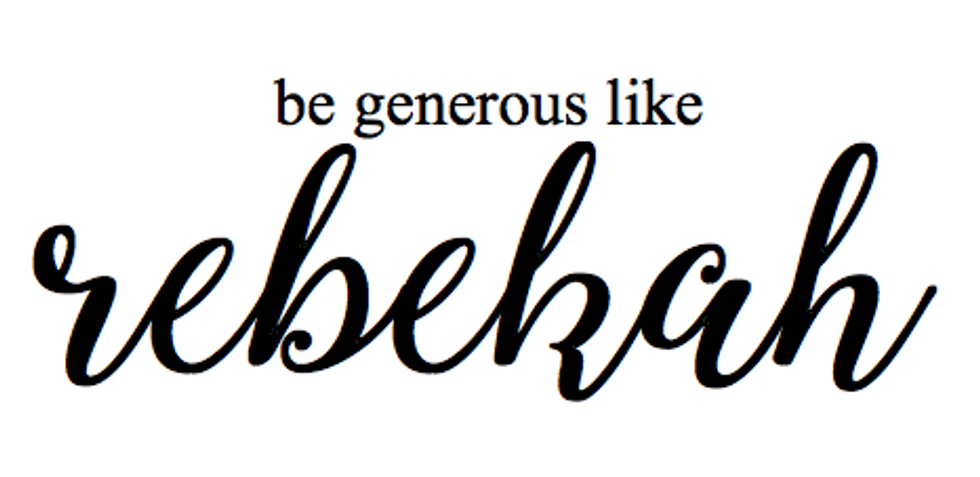 Hannah Spurr
Rebekah's story takes place in the middle of Genesis. We meet Rebekah as she is carrying out a pitcher of water. We learn that Rebekah is also a beautiful young woman, "[she] was very beautiful to behold, a virgin; no man had known her," (Genesis 24:16). A servant ran to her, as she is carrying around this pitcher of water, and asks for a drink of water. She gives him a drink, and then says, "I will draw water for your camels also, until they have finished drinking," emptying the pitcher into their trough (Genesis 24:19). She goes back to the well and gets water for all of the man's camels.
After he and the camels has finished drinking, the man asks her if there would be a place for him to rest. To which she responds, "We have both straw and feed enough, and room to lodge," extending her home to this man (Genesis 24:25). The man is astonished by her generosity, and offers her jewelry for her trouble.
Her brother, Laban, sees the jewelry placed on his sister, and runs out to greet the man, and to bring him into the home. There was straw for the camels, water to wash his feet, and food for the man to eat. The man then tells the story of what happened to Laban, rejoicing in Rebekah's kindness to him. Because the man was so overwhelmed with the generosity of Rebekah, he told Abraham, his master of what had happened. Rebekah ends up leaving her home to follow these men, and eventually is given in marriage to Issac, the man's other master, because of her good deeds.
Rebekah did not know the man who approached her, and asked her for water, but she had a kind heart, and offered many provisions to him, and those who travelled with him. She could have ignored the men, or said no, but she gave them many things because she could. If she had not been kind, she would not have been brought to Issac, who was her husband. We never truly know who is watching us, seeing who we are, and how our heart works. You never know who is around the corner. Generosity is one of the most beautiful things in a marriage. When you give to your husband something he needs, without complaint, you're being a good wife. As women of faith, generosity should come naturally to us, but it is a trait we often hide in our hearts. Don't be afraid to be giving. It looks good on you.
Be generous like Rebekah.
Be Patient like Hannah.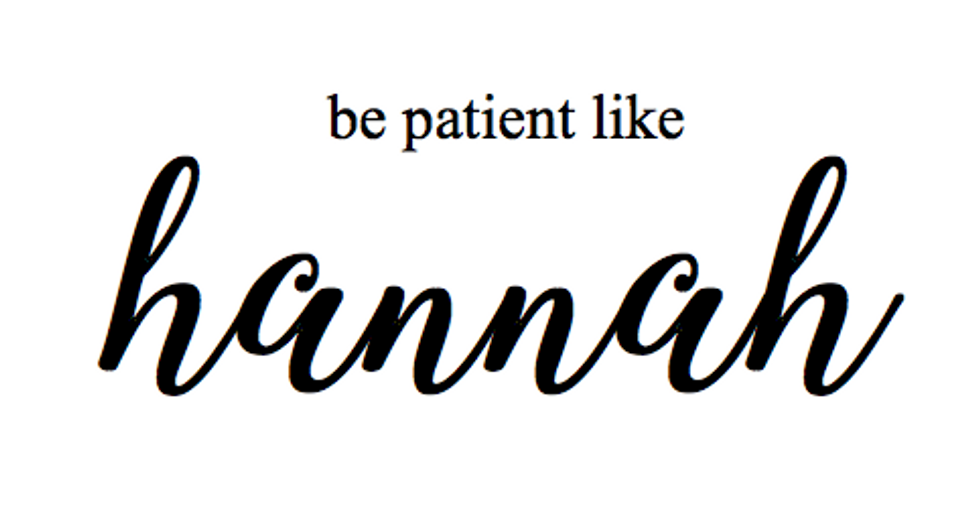 Hannah Spurr
This wonderful woman and I happen to share a name because I was named after her! Hannah's story takes place at the very beginning of 1 Samuel. Hannah is the second wife to Elkanah. His first wife, Peninnah bore him many children, but the Lord had closed Hannah's womb, so she bore her husband no children. But Hannah longed for a child and grew very sorrowful in her barren years.
Her husband, Elkanah, asks why he himself is not enough for her heart, "Am I not better to you than ten sons?", and she decides to leave the house to go pray in the tabernacle (1 Samuel 1:8). Here in the tabernacle, Hannah becomes so full of sadness and pain, that she promises the Lord her child, "O Lord of hosts, if You will indeed look on the affliction of Your maidservant and remember me...but will give Your maidservant a male child, then I will give him to the Lord all the days of his life," (1 Samuel 1:11). In her prayers, the priest of the tabernacle, Eli, watches her mouth, "Hannah spoke in her heart; only her lips moved, but her voice was not heard," and he concludes that she's drunk (1 Samuel 1:13). So he commands her to put her wine away and asks her how long she will be drunk.
She says to Eli the priest, "I am a woman of sorrowful spirit. I have drunk neither wine nor intoxicating drink, but have poured out my soul before the Lord." (1 Samuel 1:15). Eli tells Hannah to be patient in waiting, that the God of Israel will grant what she has asked of Him, and she leaves, no longer bitter about her situation, but hopeful.
After some time, the Lord remembers Hannah and gives her a son, who she names Samuel. She names him this, "Because I have asked for him from the Lord." (1 Samuel 1:20). And Hannah does remain faithful in her promise to God, by giving her son Samuel to God, "As long as he lives he shall be lent to the Lord," (1 Samuel 1:28).
Hannah's story teaches us that our patience can prosper us. The Lord did not say no to Hannah, but rather, "wait". Although she waited years for a child, He still bore her a beautiful son. It can be so hard to be patient, especially in a marriage, or waiting for children in a marriage. But when we wait for God's plan, instead of making our own, it is better and more amazing than anything we could have ever imagined. If you are struggling with pregnancy, pray about it. Pray with your husband, pray over your future family. God has an amazing plan for you. He might just be saying to wait.
Be patient like Hannah.
Be Fearless like Abigail.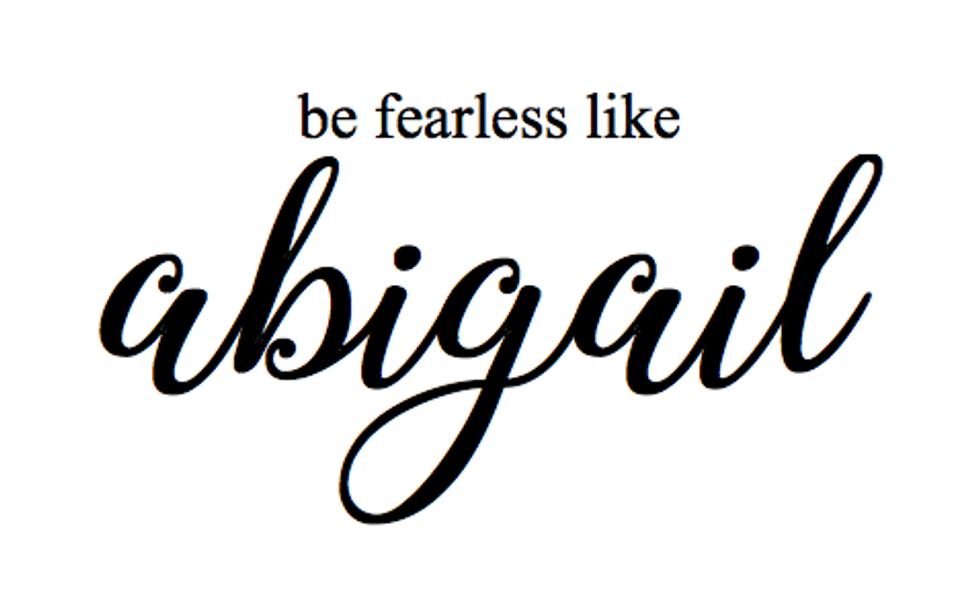 Hannah Spurr
Abigail's story also takes place in 1 Samuel, but towards the end of the book. Abigail was the wife of Nabal, a very rich man who lived in the time of David. The Bible tells us that Abigail was, "a woman of good understanding, and beautiful appearance," but that her husband, Nabal, was, "harsh and evil in his doings," (1 Samuel 25:3).
David sent 10 young men to go to Nabal's house in peace, and to ask Nabal for his favor in them. When the young men approach Nabal and ask for his favor, he replies to them, "Who is David?... Shall I then take my bread and my water and my meat that I have killed for my shearers, and give it to men when I do not know where they are from?" (1 Samuel 25:11). David's men return to him and tell him of Nabal's hostility towards them.
One of the men, however, told Abigail of what had taken place. They told her, "Now, therefore, know and consider what you will do, for harm is determined against our master and against all his household. For he is such a scoundrel that one cannot speak to him," essentially asking her to choose between the actions of her husband, or what is right (1 Samuel 25:17). After this news, Abigail quickly assembled bread, wine, sheep, grain, raisins, and figs, and loaded them up on donkeys. She rode the donkey to David and his men, to take the provisions to them, and did not tell her husband. She knew of his evil.
When Abigail saw David, she fell to the ground and said, "Please not let my lord regard this scoundrel Nabal...since the Lord has held you back from coming to bloodshed and from avenging yourself with your own hand, now then, let your enemies and those who seek harm for my lord be as Nabal," telling David and his men to seek not to vengeance, as the Lord will deliver them instead(1 Samuel 25:25-26). David rejoices in Abigail, and says to her, "Blessed is your advice and blessed are you because you have kept me this day from coming to bloodshed and from avenging myself with my own hand. For indeed, as the Lord God of Israel lives, who has kept me back," agreeing with the advice she gives to him (1 Samuel 25:33-35).
Abigail returned home to meet a very drunk Nabal, feasting on his own. So she did not tell him what she had learned until the morning. In the morning, when he was no longer drunk, she told him of the evil he had done. Ten days later, Nabal died. After Nabal's death, David sought Abigail to be his wife, and she married him.
We can sometimes get stuck in bad situations, just like Abigail. Sometimes relationships don't work out. Even though Abigail knew her husband was evil, and that David sought good things, she still told David to trust the Lord with the situation, instead of trying to start a war. She does not fear speaking to David, and she does not fear her husband in telling him of his wrong-doings. We are all called to stand up for ourselves, and our beliefs, when the situation presents itself, no matter the cost. You and your faith are the most important things in your life.
Be fearless like Abigail.
Be Daring like Jochebed.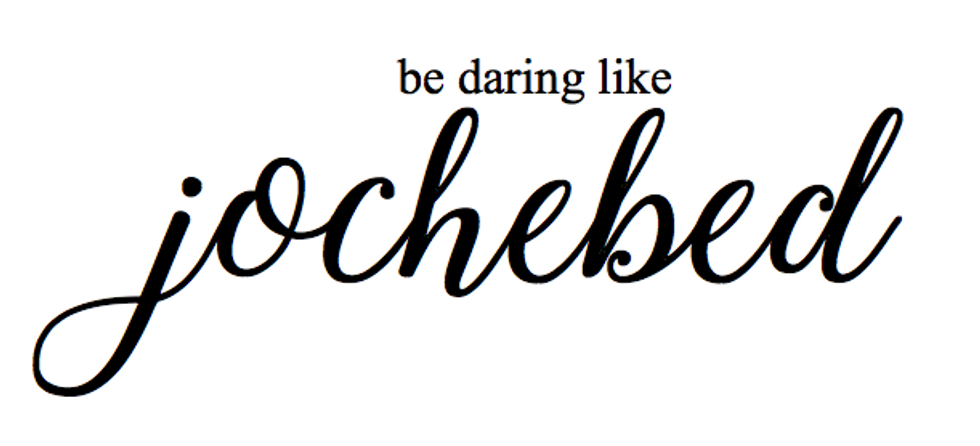 Hannah Spurr
Jochebed's story lies in one of my favorite books of the Bible, Exodus. Jochebed is the mother of Moses. Her story begins with the king of Egypt, who had a hatred towards the Israelites, "look, the people of Israel are more and mightier than we; come, let us deal shrewdly with them, lest they multiply, and it happen, in the event of war, that they also join our enemies and fight against us," (Exodus 1:9-10). From this, they began to make the children of Israel work much harder, and made their lives "bitter with hard bondage," in an effort to weed them out of Egypt (Exodus 1:14). The king then commanded the midwives, "if it is a son, you shall kill him, but if it is a daughter, then she shall live," so that the children of Israel would not be able to reproduce. But the midwives did not listen to Pharaoh, and kept the boys alive. Because of this, God dealt well with them, and provided for them.
Pharaoh however, was determined to rid Egypt of the Hebrew people. So he then commanded his people, "Every son who is born, you shall cast into the river," hoping that this would finally get rid of the Israelites. But there was a woman, by the name of Jochebed, who bore a son, "And when she saw that he was a beautiful child, she hid him for three months," in an effort to keep her child (Exodus 2:2). But it came to a point where she could no longer hide him. Determined to keep her son alive, she placed him in a basket, and sent the basket into the river. As you probably know, the Pharaoh's daughter happened to be bathing in the river at the same time, and saw the child, and kept him as her own, naming him Moses, since "I drew him out of the water," (Exodus 2:10).
Because Jochebed loved her son, and was daring enough to hide him away, then attempt to float him down the river, he lived. Moses eventually leads the Israelites out of Egypt, away from Pharaoh, and into freedom. Jochebed could have followed the commands of the Pharaoh, but rather, she was brave enough to hide Moses away and try to save him, because she knew what Pharaoh was doing was wrong. Sometimes, we have to be daring to protect the people we love. Whether its a child, a parent, or a husband, we aren't called to sit on our hands when someone hurts the people we love. Jochebed shows us we should be brave to protect our loved ones. Although we all imagine our husband being our hero, sometimes the wife is called to be a hero too.
Be daring like Jochebed.
Be Faithful like Tamar.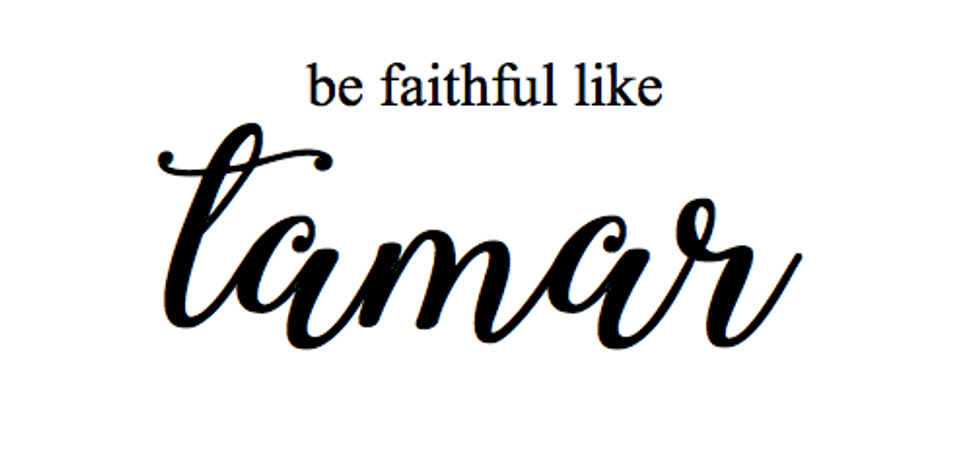 Hannah Spurr
Tamar's story also takes place in Genesis. Controversial it may be, I still find it influential. Tamar is married to a man named Er, the son of Judah. But Er was, "wicked in the sight of the Lord, and the Lord killed him," (Genesis 38:7). So then, Tamar's father in law, Judah, gives her to his next son, Onan. But Onan did not want to conceive with his brother's wife, "lest he should give an heir to his brother," so the Lord killed him also (Genesis 38:9). Judah's third son was too young to be with Tamar, so Judah instructs her to, "remain a widow in your father's house till my son Shelah is grown," (Genesis 38:11).
So Tamar goes back home to her father's home to wait for Shelah. While she is a widow, Judah's wife also dies. Judah does not remain true to his promise to Tamar, and does not give her to Shelah. So when Tamar hears Judah is nearby, she removes her widow clothes, put on a veil, and searched for Judah.
When Judah sees Tamar, "he thought she was a harlot, because she had covered her face," and asked to sleep with her, as he didn't know it was his former daughter in law (Genesis 38:15). She then asks what she will receive in turn for sleeping with him, and he gives her a goat, his signet, his cord, and his staff, "Then he gave them to her...and she conceived by him," (Genesis 38:18).
After the child is conceived, Judah searches for the harlot, but cannot find her. Three months later, someone tells him, "Tamar, your daughter in law has played the harlot; furthermore she is with child," (Genesis 38:24). Of course Judah is enraged, and says, "Bring her out and let her be burned!" wanting to destroy her for her deed (Genesis 38:24). But when she is brought out to Judah, she asks, "Please determine whose these are - the signet and cord, and staff," signifying that the child was Judah's (Genesis 38:25). Then he acknowledged them saying, "she has been more righteous than I, because I did not give her to Shelah my son," knowing that he had wronged Tamar (Genesis 38:26).
It seems extreme, what Tamar did. But she had been promised Shelah, after God had killed Er and Onan. Judah was deceitful, and never gave Shelah to her. Tamar knew that she was entitled to the promise, and found her own way of conceiving from the same bloodline. She knew what she had to do, and did it. Tamar was righteous in what she did, because she did it to show Judah he was wrong. We are called to, in faith, point out when someone has wronged us, and that's exactly what Tamar does. Instead of remaining a widow, and barren, she is blessed with twins. Sometimes, even unintentionally, we are wronged by a husband, or a friend. Rather than remaining quiet, don't be afraid to talk to them about what happened.
Be righteous like Tamar.
The thing that stands out to me the most about all these women is that although they are sinners and harlots, they are loved by God. So don't just aspire to be a perfect "Proverbs 31 Woman" when there are so many women to look up to in the Word!