Here are 5 ways to set boundaries to make your life easier and hopefully help your mental health.
1. Set Work Hours and Set Downtime Hours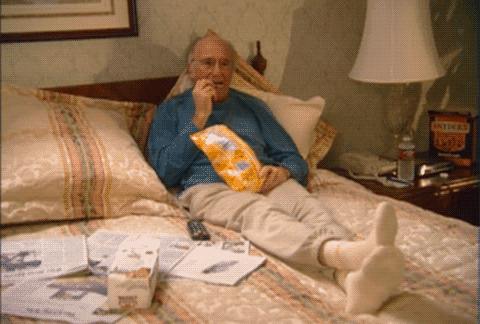 Curb Your Enthusiasm Eating GIF
Giphy
There's always going to be another email, assignment or emergency.
Set strict hours for yourself when it comes to work to avoid feeling like you're working 24/7, probably because you are pretty much doing so.
Setting strict working / off hours will help you feel more accomplished with the time you are allocating to work and way more relaxed during the times you should be focusing on you, whether that be running errands, getting your hair done or catching up on your favorite show.
2. Say No
Saying no is one of the absolute hardest things for me to do. Even if I am completely drowning, I'll agree to dinner with friends or another babysitting job or whatever else it is that is asked of me.
It's great to be wanted and/or needed. What's not great is working yourself into the ground and becoming burnt out.
Say no. It's better for everyone.
3. Take Time Off
Whether this be a late start to the day, an early end to the day or a day off, it is SO important to take time off. If you do not take time off, you are going to become miserable with your routine and start resenting everything you are doing.
I once worked 3 months straight without a single day off. Never again.
4. Take Time Away From Your Phone/Laptop/Devices 
It is so important to take some time away from your devices so that you are not overwhelmed by the thought that someone might reach out needing something. I recently spent 2 hours revamping a room with two girls I babysit and I left my phone in the other room. It felt amazing to not be weighed down by constant notifications!
When you have a device on you, or even near you, you are weighed down by it, even if subconsciously. Take time away from your devices, trust me. It will do wonders for your stress and anxiety levels.
5. Focus on Your Accomplishments, Not Your Failures 
Instead of thinking about it as: I woke up late today and lost so much time I could have been working, think of it as: I woke up late today because my body needed rest and I was incredibly productive when I started working.
Life is all about balance and realistically the average day is not going to be picture perfect. Take the time to embrace your accomplishments, no matter how big or small. You're doing great!