If you've been getting excited for "Jersey Shore Family Vacation" then you may be counting down the days until April 5th, 2018 and binge watching the previous seasons to refresh your memory. What better way to enjoy these marathons than with a drinking game dedicated to this specific show? The answer: there is no better way. This can go along with all seasons, but depending on cast members leaving and going, not all may be applicable at all times, so get creative and think of your own if needed!

To begin, CHOOSE YOUR TEAMS. Grab a drink that will last you. Create your team names using some of the Jersey Shore language we all can't get enough of and get started: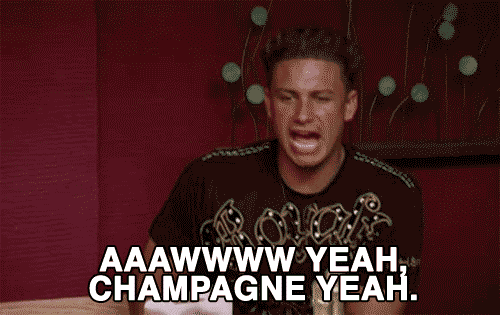 TEAM ONE:
Take a drink when-
-Snooki screams "Waaaaahh"
-Sammi is caught crying or sulking in bed
-Deena refers to herself as "a blast in a glass"
-Mike cooks Sunday family dinner
Chug when-
-One of the guys thinks they're going to get lucky and then doesn't
-Pauly D wakes up with perfect hair
-Mike flexes his muscles in the mirror
-Angelina refers to everyone in the house as "fake" except for her
TEAM TWO:
Take a drink when-
-Mike says "We've got a situation"
-Vinny fistpumps
-Mike or JWoww get mad at someone for not cleaning up
-Snooki mentions "gorilla juiceheads"
-Any of the girls climb and dance on a table at the club
Chug when-
-Anyone is involved in a fistfight at the bar
-Snooki wears furry slippers or furry boots
-The boss has to yell at anyone for not working or not wanting to work

-GTL (gym, tan, laundry!)
EVERYONE DRINK WHEN-
-Ronnie and Sammi argue
-Someone is handcuffed
-Sunglasses are worn inside or at night
-Sammi gets jealous for no reason or for a pointless reason
-Pauly D says "Cabs are here!" or "T-shirt time!"
-Mike makes everyone leave the club early only because he wants to
-The "note" is brought up
-Vinny and Pauly's friendship makes the show worth watching
While "Jersey Shore" usually drives us all insane, we cannot seem to take our eyes off the screen and are constantly ready for the next argument and fight. It's just one of those shows where we need to stay caught up with all of the drama! "Jersey Shore Family Vacation" is less than two months away from beginning and it's time to start preparing by catching up on previous seasons with this drinking game.
What type of drama could there be now? How about the fights? It's been years since the previous season and most of the cast members are now married, some with children. The classic going to clubs and bars every night, dreading working at shops, and taking strangers home must be long gone...for some at least. Whatever could possibly happen now will soon be discovered on April 5th.