Please join Influenster through my referral link! www.influenster.com/r/1643844
Who doesn't love free stuff? Many may find it nearly impossible to get free samples unless you go to Costco with your mom, but there is a way to sample products other than food! Influenster is a product review site for anyone and everyone who loves to try new products and review them. The best part about Influenster? It's 100 percent free! They don't ask for your credit card number at all. The only piece of private information they will ever ask of you is your address so they can send you all the free stuff you'll be trying out!
I have seen a lot of comments on Influenster's Facebook posts or tweets about not ever being able to receive a VoxBox (this is the name of the boxes of free products they send you), and I'd like to share my secret with those of you who have a hard time. Influenster does take a bit of time put into it to receive these products, but I find it worth it in the end because there are times when you receive great full-sized products. I typically work on my Influenster tasks in between classes or during my coffee break at work—any situation in which I have time to spare. So, here are my tips on getting a VoxBox!
Connect ALL of your social media accounts
Influenster has this thing called an "impact score." This score determines the amount of impact you will have on society when you review products. The more friends you have on Facebook, followers you have on Twitter, Instagram, Tumblr, Youtube, etc., the higher your impact score. You do not need to have a super high impact score; I have known people with medium impact scores who have gotten VoxBoxes. However, you are more likely to receive a VoxBox if you have a higher impact score.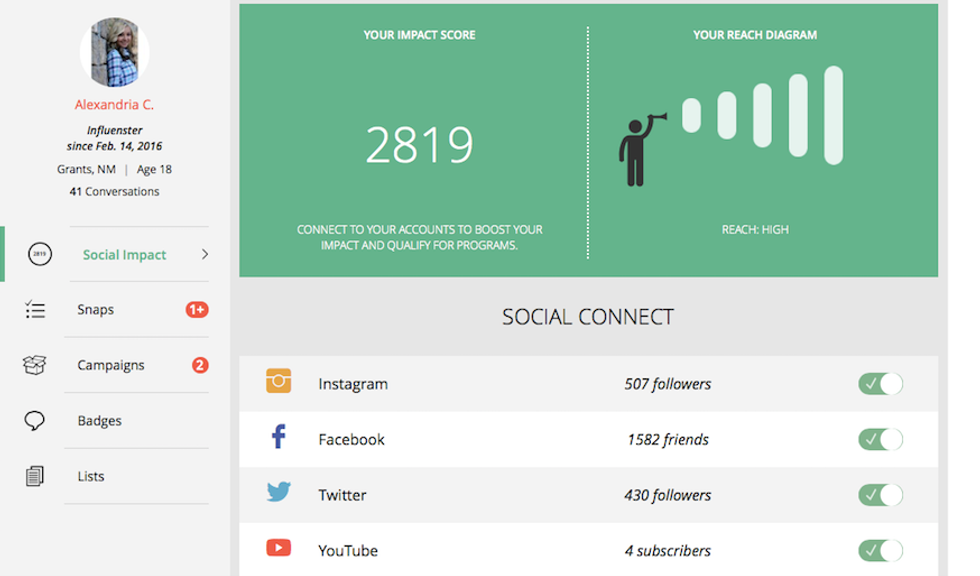 Do explanatory reviews
The entire point of Influenster is to write and read reviews, so you obviously need to write reviews to be an active Influenster. Write reviews on any product you have already previously tried—shampoo, conditioner, lotion, a Snickers bar, etc. You would be surprised at how many products you have tried. I have noticed that a lot of people write "reviews" but don't explain why they like or don't like the product in detail. For example, if you are reviewing a shampoo and you simply say "I didn't like the smell. Wouldn't recommend," this is certainly not a good review, and Influenster will notice it. Instead, one should describe it as "This shampoo has an odd smell that I normally wouldn't enjoy in my hair. It also made my hair feel very dry after using in comparison to my current shampoo. It claims to help revive split ends, but I do not see how it can do this if it dries out my hair itself. I would not recommend this to a friend because the price of this shampoo is $8, and it is far too expensive for the quality of the product." I always try to mention one good thing about a product, one bad thing, and the best price I found it for. Also, try to add pictures of you using the product and the outcome of it!
Make lists and answer snaps
Influenster has a "list" feature on their website, and they love when you use it. Obviously, they are lists of products and can be listed under anything. For example, an individual may label their list "5 Products You Will Need This Summer!" and list products such as sunscreen, sunglasses, a specific hat, etc. Influenster even asks those who receives VoxBoxes to make a list of what was included in the VoxBox. It is a handy tool for anyone looking for specific items for a certain event or occasion. It's simple to use and it can be fun for those who love trying new products.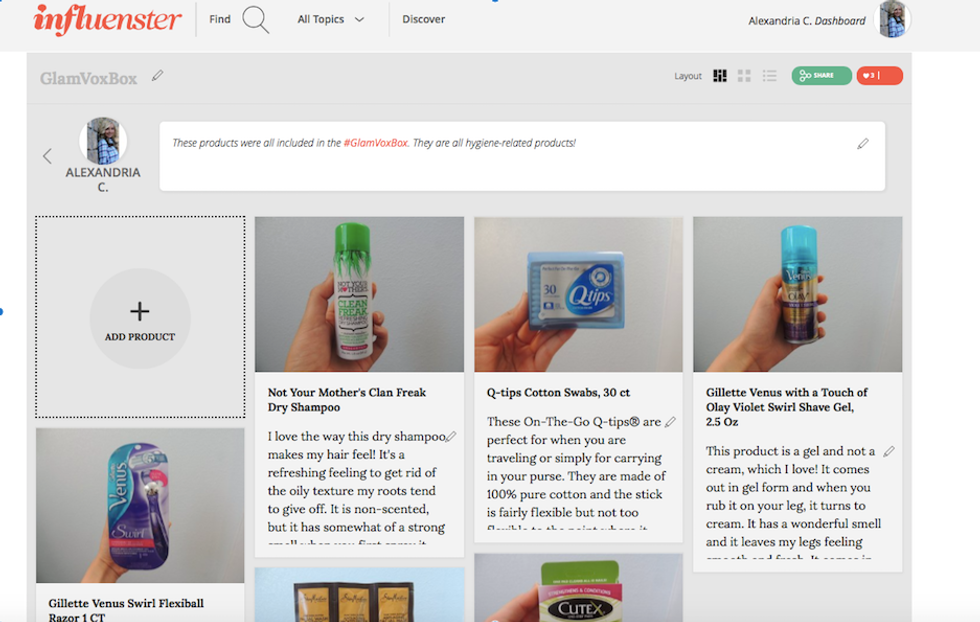 Snaps are questions Influenster asks you about your former experience with different products. They ask things such as "what facial cleansers have you used in the last six months?" or "do you have animals?" and they use your answers to come up with products you may have tried. Plus, by answering these snaps, you get extra points toward different badges that those products are listed under!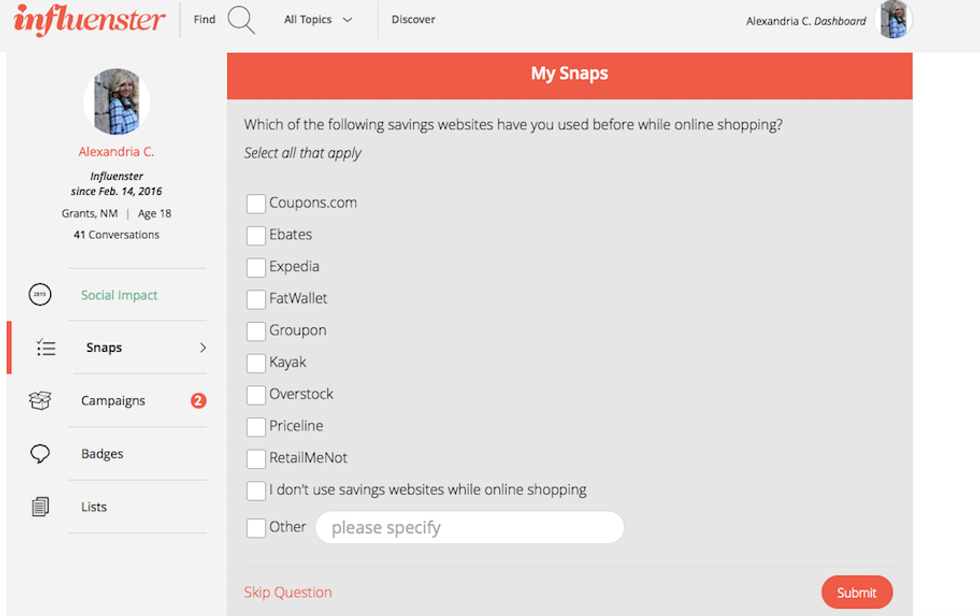 Download the Influenster app and follow all of their social media profiles
Influenster has accounts on Twitter, Facebook, Instagram, YouTube, Pinterest, and even GooglePlus. Following these accounts will keep you updated on all of the VoxBoxes they are giving out, and there are times when they give out things to those who are involved in their Twitter parties. It is not necessary to follow all of their accounts to receive a VoxBox, but it might give you a better chance at getting one.
Do the bonus tasks when you do get a VoxBox
Typically, Influenster offers a VoxBox to anyone who signs up to test them on how well they do with their first VoxBox. Sometimes, if you do not qualify for the VoxBox, you will not get it. For example, if you have a food allergy and the VoxBox involves food, you probably won't receive it. Also, if you do not use foundation very often, they probably will not ask you to review a new one because you are not experienced enough with it. However, if you are qualified and ready to receive your first VoxBox, you will get it. There are certain tasks one has to accomplish in order to get "badges" for the different items in their VoxBox. Sometimes, there are bonus tasks that aren't required to do but are still asked for. I always do these bonus tasks just because it makes me look like a better Influenster. Plus, if you do the bonus tasks on the product badges themselves, you can win even MORE products from that brand and you don't even have to review them!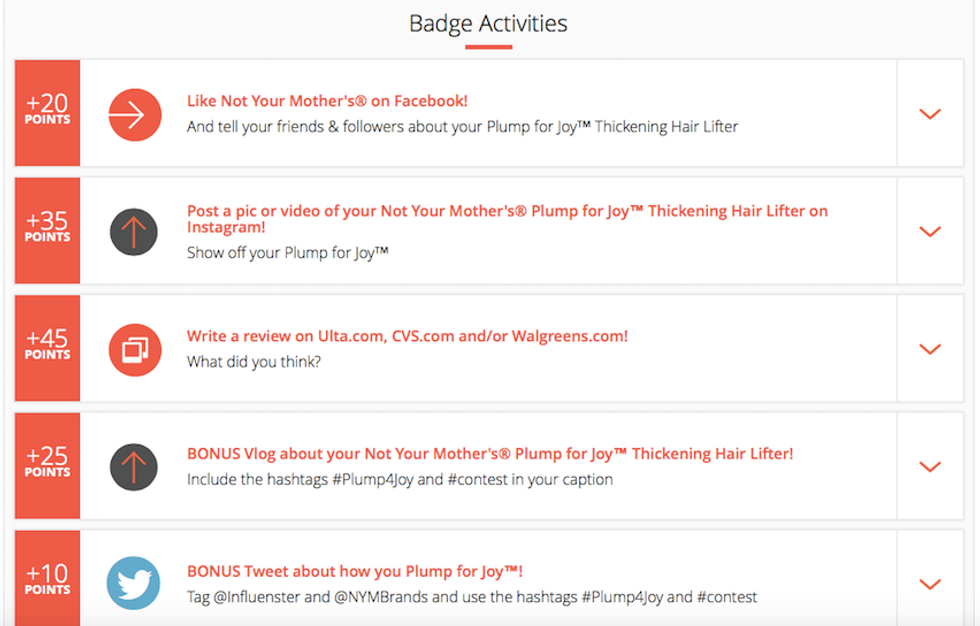 Stay involved! Answer/ask questions on products
There is an option to ask a question on every product listed on Influenster. You can even add new products if you can't find the one you're looking for! It looks good on you if you ask questions about certain products, such as "is this good for oily skin?" Plus, if you answer a question thoroughly, Influenster will see this and rate you a top Influenster. It is good to do things like this often. If I need to take a break from my homework, I get on Influenster and ask a question on a product I've been wondering about or answer one on another I have already tried. As you get into the concept, it doesn't take much time to do these things.
So there you have it! If you want to earn free things or need a new hobby, Influenster is the place for you. Sometimes, it may be hard to complete all of the tasks they put on you, but nothing good in life ever comes easy. Influenster is not for everyone, but it's worth a shot. I love that I get to do things like this in my free time, try new products for FREE, and share amongst people just like me. Try it out and see if you like it; there's nothing to lose in reality. If you decide to join Influenster, please join through my referral link and help me get more impact points! www.influenster.com/r/1643844