Seafood seems to have this stigma that prevents aspiring chefs from progressing in their art. The good news is that seafood is generally fairly easy to cook. The bad news is that to-die-for seafood is a completely different beast. You need to understand the complex flavors and textures that you're working with, and how best to use the spices and tools you have on hand to your advantage.
Types of Seafood
All seafood can be put into one of six different categories.
Fish (flounder, eel, halibut, mackerel, etc)
Roe (caviar, lumpfish, masago, etc)
Shellfish

Crustaceans - (shrimp, lobster, crab, etc)
Molluscs - (octopus, oyster, squid, etc)

Echinoderms (sea cucumber, sea urchin, etc)
Medusozoa (jellyfish)
Tunicates (sea fig)
While the last 3 are not commonly eaten in the United States or Europe, it is useful to know the difference. Different types of seafood have different flavors and textures, and need to be prepared accordingly.
How to Prepare Common Types of Seafood
While seafood is fairly versatile, there are certain spices and flavorings that are a match made in heaven for certain types of seafood. If you're new to cooking seafood, here are some failproof combos:
Crab — steamed with salt and pepper, then serve with melted butter
Whitefish — baked or deep fried with lemon pepper
Shrimp — baked or sauteed in salt, pepper, garlic, and butter
Lobster — steamed and seasoned with butter and Old Bay Seasoning
Scallops — fried with salt, pepper, rosemary, and thyme
Salmon — grilled on cedar planks with blackening seasoning, then garnished with fresh lemon or lime juice
Catfish — deep fried in a batter and seasoned with salt, pepper, Old Bay, and rosemary
Taste test in order to make sure that you don't over spice things. It's easy to add more spice, but it's impossible to take it away. If you're feeling unsure, remember this simple rule: all fish and seafood pair well with salt, pepper, and lemon.
Discounted appliance stores can be your best friend. Don't be afraid to network with friends to borrow their kitchen toys too.
What to Serve With Seafood
Seafood is extremely versatile and can make an incredible main component or ingredient in a variety of dishes. Generally speaking, however, here are a couple rules of thumb keep your dishes simple yet mouth watering.
Fish goes with rice. You can never go wrong with putting fresh baked fish on a bed of seasoned rice and serving it with fresh vegetables like broccoli, asparagus, or carrots. It doesn't matter what fish you use. If you bake it, toss it on a deliciously seasoned rice pilaf and you and your guests will go wild over it.
Crustaceans go with pasta. It doesn't matter which one you choose. You can bake it, broil it, or saute it, and then toss it with pasta. Both white and red sauces go great with shrimp, lobster, and crab. You can even throw scallops and mussels in there for a delightful Italian treat.
Seafood Spice Guide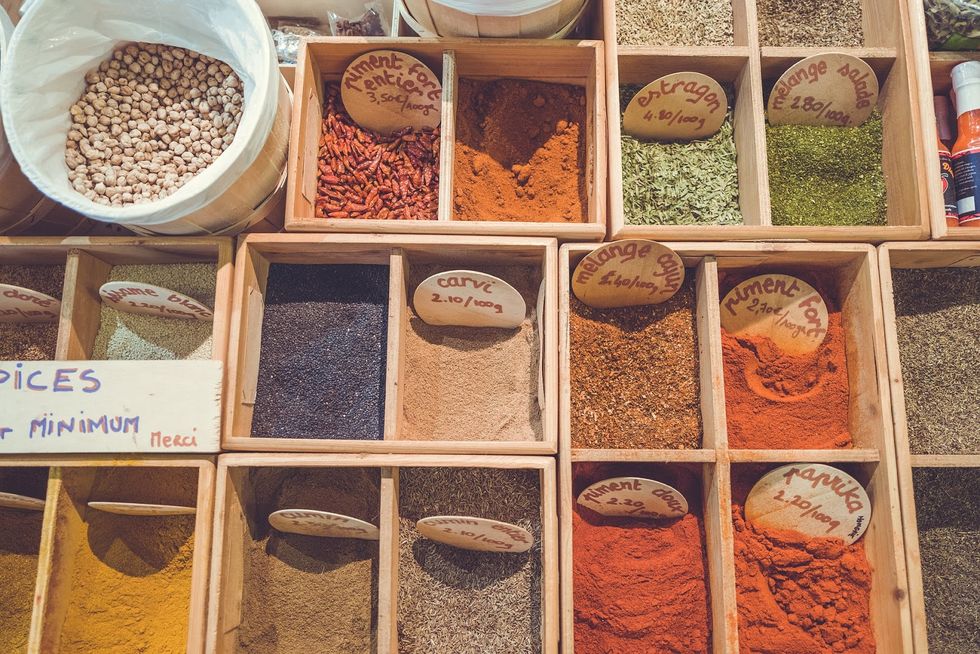 Here are some of the most popular spices that are found in most kitchens and some great ideas for ways that you can use them in your seafood dishes. Using these guidelines will ensure that you have delicious dishes that you, your family, and your friends will keep coming back to for years on end.
Allspice — These dark, reddish brown berries have a very pleasing aroma. It is particularly good for uses in soup and sauces, but whole berries can be used in savory fish marinades.
Anise - This spice has a licorice type flavor that is very useful as a light seasoning in fish dishes.
Bay Leaves — These are great for soups and stews involving seafood. You can also add them to red sauces that go over pasta, just make sure you remember to take out the whole leaves once you finish cooking because it can continue to seep into the food and overwhelm the dish.
Basil — Delicious when crumbled lightly over any baked fish combined with garlic, thyme, and oregano.
Cayenne — This spicy pepper is fantastic for spicy fish or shellfish dishes and is especially good in sauces and fish fry batters.
Chives — This has a light onion flavor to it and is commonly used to substitute onion, combining this with melted butter and lemon and drizzling it over any fresh fish before baking will give you a winning recipe.
Cilantro — Perfect for Mexican fish dishes, add this to your batter for fried fish tacos or shrimp fajitas to give the dish a real kick.
Curry Powder — This is great to give your seafood dish a Indian or Southeastern Asian feel. It's savory and a bit spicy and delicious with baked fish and rice.
Garlic — This is one of the best all around spices for seafood dishes. It pairs well with most other spices and can be used in many different varieties. Mix with butter for a great shrimp dip or rub it in with dry herbs before cooking.
Old Bay Seasoning — This is your best friend when cooking seafood. It is an interesting collection of more than a dozen herbs and spices that are designed specifically for seafood and is wonderful on crab. When in doubt, get out the Old Bay.
Oregano — This is great for an accent spice in your seafood pasta dishes or tossed into seafood salad.
Sweet Paprika — Its mild and sweet flavor makes it great for any seafood. It is also a wonderful and colorful garnish to brighten up your plate. Adding it to melted butter and garlic will make for a great baked seafood dish, however don't add it directly onto your fish or it will burn.
Rosemary — This earthy flavored herb is amazing paired with garlic in stews or in lighter fish dishes. You can also use it to dress your side dishes to give an interesting flavor profile alongside most other spices.
Sage — This herb as a delicious and earthy aroma and a warm flavor that enhances almost any fish recipe. It should be used sparingly as food absorbs its flavor faster than most other herbs and spices.
Sesame Seeds — This is a great additive for fish and curry dishes, giving them a sweet and nutty flavor.
Star Anise — Perfect when used lightly in seafood stir fry dishes. It is similar to fennel, but with a much bolder flavor.
Turmeric — This ground root spice has a rich and warm scent that gives a light and aromatic flavor to your fish and shellfish dishes. It's also a perfect additive for rice pilaf and lentil side dishes.
Vanilla — Most people wouldn't think of using this with seafood, but it gives a great balance to sauces for shellfish and brings out a rich taste.