When I started researching classes for my degree in International Affairs, HFT4866 was on the top of my list. A class dedicated to wine, who wouldn't want to be in that? Of course, I had to wait until I turned 21 but rather surprisingly, I was able to register for the class immediately this semester. Since it is mainly for Hospitality majors, I thought I would have to wait until drop/add to try to secure it. After attending classes for the last month, I thoroughly enjoy it so far and we haven't even gotten to the tastings!
Homework = wine tastings.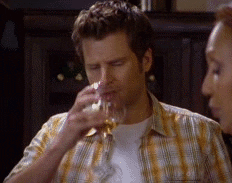 While taking this class, you can actually say that you are completing wine tastings for homework. You have to complete at least ten before the end of the semester. These can be done anywhere with wine, as long as there are different varieties. So far, I have completed four tastings and I already see the difference in my knowledge from the first to the most recent one.
You increase your wine knowledge. 
Even though I am not a hospitality major, I find wine quite interesting and having the ability to learn about it is a wonderful opportunity. Before this class, I rarely drank wine and if I did, it was cheap $10 bottles. Even though cheap wine can be good, it doesn't compare to some of the more expensive wines I have had the privilege of tasting. I have learned a lot in the last month and I can't wait to learn more.
Drinking in class. 
Although the class is not dedicated to drinking, once wine tastings start, it's all about trying the wines. Each class period will involve the tasting of five different wines and any alcohol that is free is good alcohol. All in all, I'm excited to learn about and try a variety of wines.
Dr. Bonn knows what he's talking about. 
One of the worst parts of taking a class is having a terrible professor. Dr. Bonn is an amazing professor who goes in-depth with every lecture. Even though he can be somewhat strict, he does it for a reason. Missing a class means missing a lot of valuable information and why would you want to miss a class where you drink wine?
Hello, wine!