As summer is closely approaching it scares most to think that bikini season is right around the corner. For me personally, summer is one of the hardest times of the year to eat healthily and stay on track. Eating healthy alone is hard for me, especially when being home from school all summer and wanting to eat out at every restaurant I craved when at school. Although it may seem easy to just grab a bagel when you wake up, or pick up Chinese food late at night, learning to prepare healthy food can help you become one step closer to your summer goals. Making it my goal this summer to start to learn how to prepare healthier foods to balance out my eating from all the summer barbecues, I have found some easy, healthy recipes in order to help maintain my summer goals.
Avocado Toast
This recipe is perfect for early mornings to fill you up throughout the day. It is a quick 3 steps with limited ingredients needed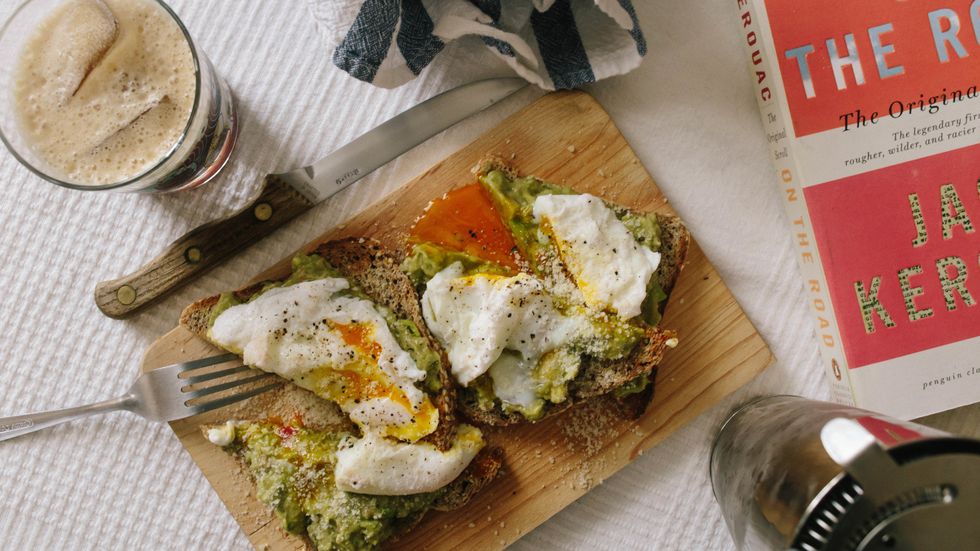 Ingredients:
1 piece of whole wheat bread
1 egg
¼ avocado
How to prepare?
1)Toast your piece of bread in a toaster
2)Spread your avocado on the toast
3)Prepare egg however you prefer and place on top of toast
Grilled Buffalo Chicken Lettuce Wraps
By just eliminating the bread from a wrap you can save up to 500 calories. These buffalo lettuce wraps are not only to die for but also under 100 calories!
Ingredients:
3 large skinless boneless chicken breast cut into small cubes
¾ cup of hot sauce
15-20 butter lettuce cups
¾ halved cherry tomatoes
1 avocado diced
¼ cup of sliced green onions
½ cup of ranch dressing
How to prepare?
1) Put cubed chicken and a hot ½ cup of hot sauce into a bowl in the refrigerator covered for 30 minutes
2) Add chicken to a pan and cook for about 10 minutes
3) Once the chicken is done add the rest of your buffalo sauce onto the chicken
4) Add chicken to the lettuce cups along with tomatoes, avocado, onions, and some ranch dressing
Strawberry Salad
This salad is super easy to make and is perfect for any summer occasion! The strawberry's in the salad add a sweet taste making it not another plain tasteless salad.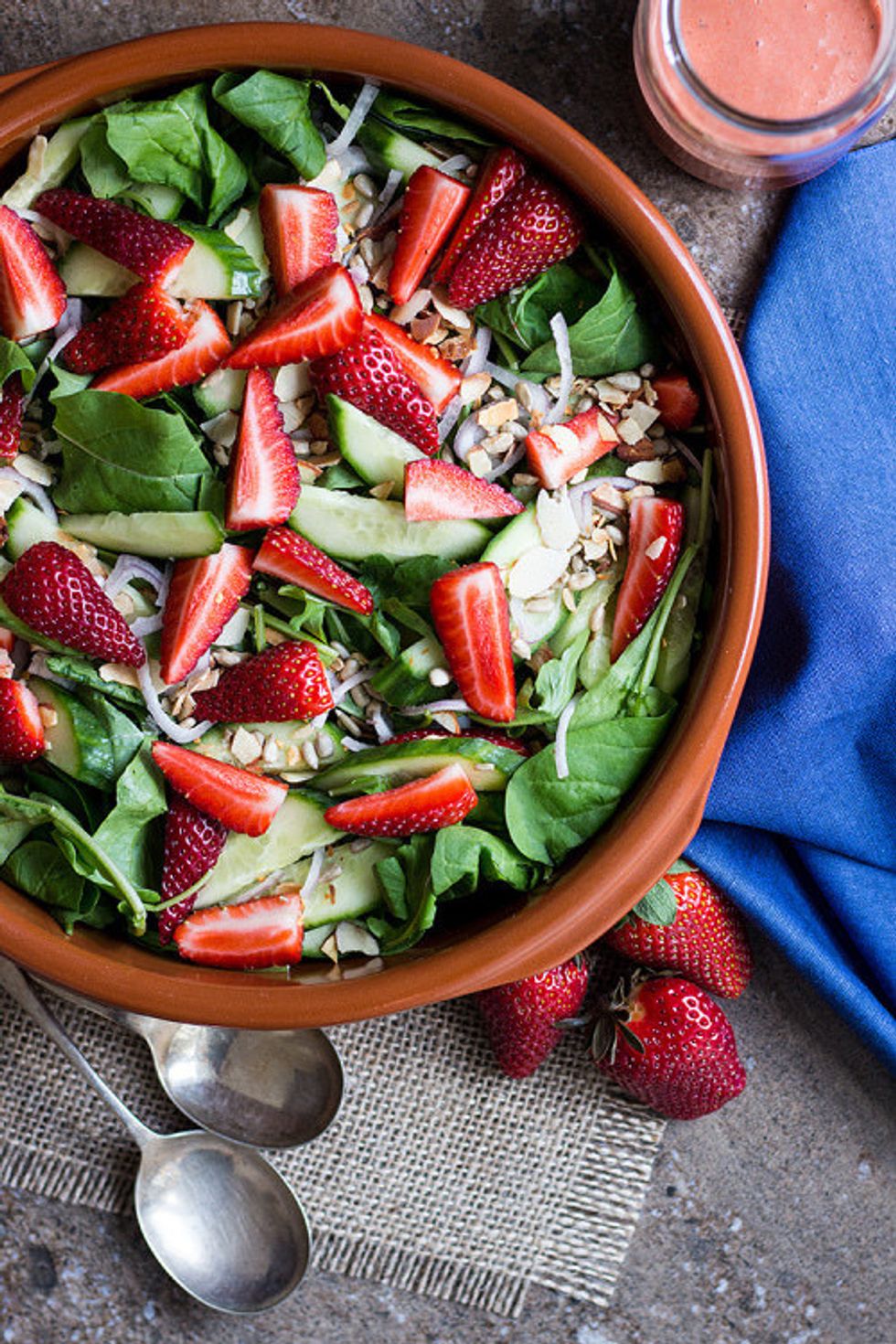 Ingredients:
1 bag of spinach
7 Strawberries
¼ Red Onion
½ Cup of Almonds
½ Cup of olive oil
¼ Cup of Balsamic Vinegar
2 tablespoons of honey
Salt
Pepper
How to prepare?
1)Cut up your strawberries into small slices
2)Cut up your red onion into small slices
3)Chop up your almonds
4)Combine spinach, strawberry's, onions, and almonds in a large bowl
5)Wisp olive oil, balsamic vinegar, honey, a little bit of salt and pepper to create the dressing
Cauliflower Fried Rice
This recipe is my personal favorite because it tastes exactly like fried rice you would buy from a Chinese restaurant yet way healthier.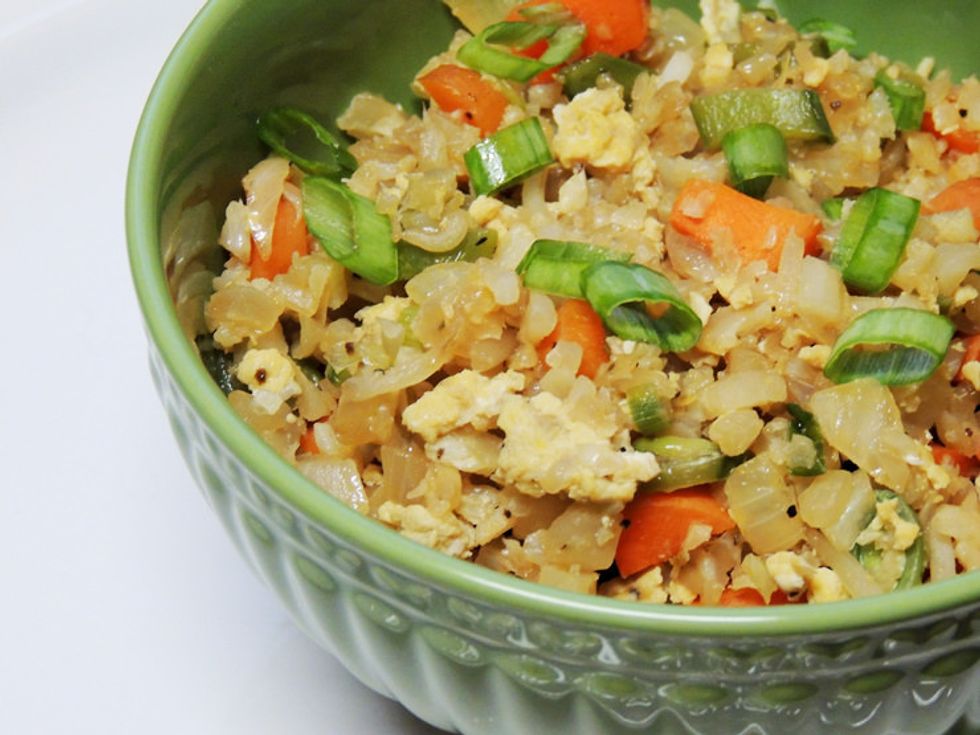 Ingredients:
3 Cups of grated raw cauliflower
½ cup of frozen peas
½ cup of sliced carrots
3-4 minced garlic cloves
½ cup of diced onion
2 tablespoons of olive oil
2 eggs
3 tablespoons of soy sauce
How to prepare?
1)In a pan sauté garlic and onions in olive oil
2)Put peas and carrots in the pan until soft
3)Put eggs in the pan to make the "scrambled eggs"
4)Add the cauliflower and soy sauce and continue to stir
Black Bean & Zucchini Quesadilla
For all the Mexican food lovers out there, this recipe is perfect for when you are craving a bowl from Chipotle or a burrito from Moe's, but don't want to deal with all the extra calories.
Ingredients:
1 cup chopped zucchini
½ cup canned black beans
2 teaspoons olive oil
1 teaspoon cumin
¼ cup shredded cheddar cheese
2 tablespoons of salsa
How to prepare?
1)Combine zucchini, beans, olive oil, and cumin in a pan and lightly sauté
2)After sautéed add ingredients and fold into a quesadilla
3)Put quesadillas back on the pan under cheese is melted
4)Add salsa on the side to dip